August 7
[{(o)}]|[{(o)}]|[{(o)}]|[{(o)}]| [{(o)}]|[{(o)}]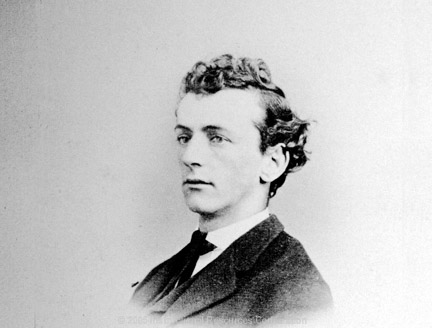 1843 – A pioneering California writer, Charles Warren Stoddard (d.1909), is best known for his homoerotic tales collected as South-Sea Idyls and The Island of Tranquil Delights.
Stoddard was born in Rochester, New York, on August 7, 1843, second son to Sarah Freeman and Samuel Burr Stoddard, a paper merchant. As their fortunes declined during the next decade, the family moved about upstate New York and then left for San Francisco in 1854. Although Stoddard subsequently returned East for two years to live with his grandparents, he regarded himself as a Californian, and his first poems were published, under the pseudonym "Pip Pepperpod," in the Golden Era.
During the 1860s, after he had quit school and dedicated himself to a literary career, Stoddard joined San Francisco's journalistic and Bohemian circles, and he established enduring relationships with Ambrose Bierce, Ina Coolbrith, Bret Harte, and Samuel Clemens. Beloved for his wit and amiability, Stoddard had a genius for friendship; his large literary acquaintance ultimately included both contemporary and younger writers, such as Robert Louis Stevenson, W. D. Howells, Henry Adams, Joaquin Miller, Jack London, George Sterling, Bliss Carman, Yone Noguchi, and George Cabot Lodge.
Stoddard was also connected to the developing gay networks of the nineteenth century through his friendships with Theodore F. Dwight and Dewitt Miller.
In 1864 he visited the South Sea Islands and from there wrote his Idyls — letters which he sent to a friend who had them published in book form as South Sea Idylls. He made four other trips to the South Sea Islands, and gave his impressions in Lazy Letters from Low Latitudes and The Island of Tranquil Delights. Inspired to sexual self-awareness by reading Whitman's "Calamus" poems, Stoddard gained his first experience with the natives of Hawaii and Tahiti, about whom he wrote his best stories, those collected in South-Sea Idyls (1874, 1892) and The Island of Tranquil Delights (1904). The subtle eroticism of Stoddard's tropical tales was evidently lost on his audience — except for "Xavier Mayne" (Edward Prime-Stevenson), who noted their significance in The Intersexes (1908).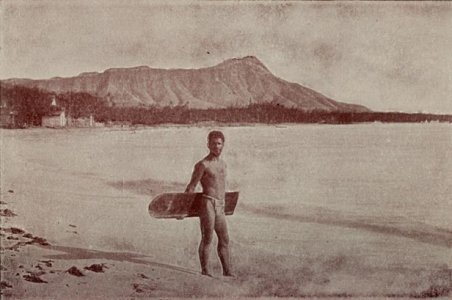 Stoddard in Hawaii 1901
Readers were also mystified by Stoddard's only novel, For the Pleasure of His Company (1903), an (unsuccessfully) experimental work of gay fiction.
Raised a Protestant, Stoddard converted to Roman Catholicism soon after the appearance of his Poems in 1867. Stoddard remained devout in his faith – among his most popular books was a spiritual autobiography, A Troubled Heart (1885) – and he cherished the companionship of priests, including Father Damien, missionary to the lepers of Molokai.
As a respected man of letters, Stoddard was recruited to academic positions at prominent Catholic institutions: Notre Dame, where he clashed with colleagues over his attentions to the male students and resigned after three semesters; and the Catholic University of America, where he taught from 1889 to 1901.
Stoddard fell in love with the painter Frank Millet during the 1870s and lived with him in Venice. But he usually favored youthful companions. Of his several "kids," as he called them, the most important was Kenneth O'Connor, aged fifteen in 1895, when Stoddard unofficially adopted him and took him home to his Washington "Bungalow."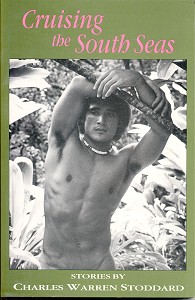 In 1903, his health failing and his relationship with Kenneth deteriorating, Stoddard returned to California. After a triumphal visit to San Francisco, where he was feted as a pioneering California writer, he settled in Monterey, where he died of a heart attack on April 23, 1909. Stoddard's modest literary reputation had already faded before his collected Poems appeared posthumously in 1917. The gayest of the island stories have been collected in Cruising the South Seas (1987).

1885 – The Labouchere Amendment is passed in England. Section 11 of the Criminal Law Amendment Act 1885, commonly known as the Labouchere Amendment, made "gross indecency" a crime in the United Kingdom. In practice, the law was used broadly to prosecute male homosexuals where actual sodomy (meaning, in this context, anal intercourse) could not be proven. The penalty of life imprisonment for sodomy (until 1861 it had been death) was also so harsh that successful prosecutions were rare. The new law was much more enforceable. It was also meant to raise the age of consent for heterosexual intercourse. It was repealed by the Sexual Offences Act 1967, which partially decriminalized homosexual behavior. It was used in 1895 to convict Oscar Wilde which sent him for two years' hard labor in prison.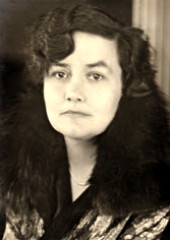 1887 – Anna Elisabet Weirauch (d.1970) is best remembered for her three-volume lesbian novel Der Skorpion (The Scorpion) set during the Weimar Republic.
Born in Rumania, Weirauch moved, with her sister and mother to Germany upon her father's death in 1891. By the turn of the century, they were living in Berlin, where Anna Elisabet studied acting. From 1906 to 1914, she was a member of Max Reinhardt's prestigious ensemble at the Deutsches Theater. Although she had written plays, she discovered after the war that her real talent lay in writing prose. Clearly, she had been writing for some time already since four novels and three novellas all appeared in 1919, the beginning of her long career.
One of these was the first volume of Der Skorpion (The Scorpion), the work for which Weirauch is remembered today. This three-volume lesbian saga follows Mette Rudloff from her troubled childhood, in search of love and of answers about her "different" sexuality, to her acceptance of her nature and the possibility that she can now find the love she has sought.
Over the course of the three volumes, Mette experiences the lesbian and homosexual subcultures, mostly in Berlin, but never finds a home there. Each woman with whom she falls in love proves flawed, or scarred, by the outcast status of lesbians (and bisexuals) within this culture. Alcohol and drug use, promiscuity and psychological role-playing characterize the lives of most of the women she meets in Berlin's lesbian underground. By the end of the third novel, Mette has discarded the false choices of the metropolis--heterosexuality, suicide, "decadent" lesbianism--as being contrary to her nature. Having moved to the country, she learns to live alone and to accept herself. There, she realizes, she is ready to share her future with another woman.
The first edition of the initial volume quickly sold out. Readers, especially lesbians, praised the novel's sympathetic and true-to-life depictions of lesbian characters. They begged Weirauch to tell more of Mette's story, a request she gladly granted.
The novels have been translated into several languages. In English alone, they have had seven editions in various forms.
Weirauch was gifted with a talent for writing prose and plots that afforded easy accessibility to and strong identification with readers. Her career spanned some of the most politically turbulent years in German history. Yet that reality makes only brief appearances in her stories. Much among her oeuvre can perhaps justly be labeled "trivial," but her trilogy Der Skorpion has found a secure place within the canon of literature that depicts homosexual characters with veracity and skill.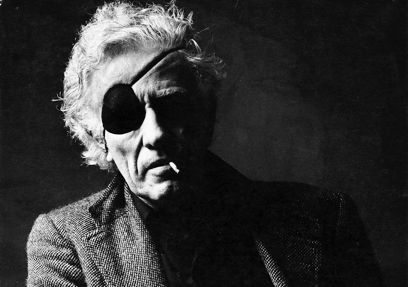 1911 – Nicholas Ray (born Raymond Nicholas Kienzle) (d.1979) was an American film director. Coming from a radio background, Ray directed his first and only Broadway production, the Duke Ellington musical Beggar's Holiday, in 1946. One year later, he directed his first film, They Live By Night. It was released two years later due to the chaotic conditions surrounding Howard Hughes' takeover of RKO Pictures. An almost impressionistic, tender take on film noir, it was notable for its extreme empathy for society's young outsiders (a recurring motif in Ray's films). It was influential in the sporadically popular sub-genre often called 'love on the run' movies, concerning as it does two young fugitive lovers on the run from the law. (Other examples are Gun Crazy, Bonnie and Clyde, Badlands, and Robert Altman's 70's remake of They Live By Night: Thieves Like Us.)
Ray made several more contributions to the film noir genre, most notably the Humphrey Bogart movie In A Lonely Place about a troubled screenwriter, and On Dangerous Ground, a powerful police thriller. The former is noted for featuring one of Bogart's most complex performances.
Ray's most productive and successful period was the 1950s, although his sympathy for society's outsiders and rebels clearly pre-dated the 1960s counter-culture. It was in the mid-50s that he made the two films for which he is best remembered. Johnny Guitar (1954) was an influential, proto-feminist western much loved by French critics (Fran̤ois Truffaut called it 'the beauty and the beast' of the western).
In 1955, however, Ray directed the iconic Rebel Without a Cause. Its legendary status had much to do with its star James Dean, whose premature death followed soon after the film's completion. Looking past its main attraction these days as a vehicle for the poster boy of a generation, Rebel Without a Cause distilled much of the essence of Ray's cinematic vision: expressionistic use of colour, dramatic use of architecture and an empathy for those who struggle to fit in to mainstream society.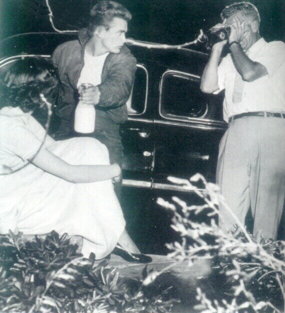 Nicholas Ray directing Natalie Wood & James Dean
Ray also made many other films in multiple genres which, although made with professionalism and flair, were comparatively minor works, often suffering from unwanted studio interference.
A bisexual and heavy user of drugs and alcohol, Ray found himself increasingly shut out of the Hollywood film industry in the early 1960s. After collapsing on the set of 55 Days at Peking (1963), he would not direct again until the mid-1970s.
Ray deserves to be acknowledged as an important figure in queer cultural history, partly because of his own bisexuality but primarily because of the queer perspectives in his films. Although the case for Ray's bisexuality is overwhelming, some friends and family members have attempted to deny it. Ray's mentor, director Elia Kazan; his fourth wife, Susan Ray; and other close friends and family members are among those who have insisted upon Ray's heterosexuality. However, another close personal friend and professional collaborator, John Houseman, noted Ray's sexual interest in other men. In his memoirs, Housman described Ray as "a potential homosexual with a deep, passionate and constant need for female love."

In his recent book on gay men and lesbians in Hollywood, William J. Mann also characterized Ray as a deeply closeted homosexual. Because homosexuality was strictly illegal in the United States during the early and mid-twentieth century, it is difficult to find definitive proof of homosexual behavior by prominent Americans of the era. Nevertheless, throughout Ray's adult life, there were widespread rumors concerning his bisexuality. For example, many of his associates, including actor Farley Granger and writer Gore Vidal, who resided at the Chateau Marmont in Hollywood while Ray lived there during the mid-1950s, claimed that he simultaneously conducted affairs with Sal Mineo, James Dean, and Natalie Wood during the filming of Rebel without a Cause.
The fullest published documentation of Ray's bisexuality is provided by Gavin Lambert in Mainly about Lindsay Anderson (2000). Lambert met Ray in February 1956, while he was in England, publicizing Rebel without a Cause. In the midst of seducing Lambert the night that they met, Ray declared to him that he was not really homosexual or even bisexual because he had slept with more women than men. Nevertheless, Lambert was literally swept off his feet by Ray's passion and accepted his invitation to follow him back to the United States. Ray secured employment for Lambert at Twentieth Century-Fox as a screenwriter and production assistant, and he also used his influence to expedite the processing of a visa and work permit. Arriving in Hollywood in March 1956, Lambert lived with Ray at the Chateau Marmont until November. Lambert characterized Ray as an erratic but very possessive lover. In November, Lambert ended their affair because he had wearied of Ray's alcoholism and his tendency to ignore him for extended periods while entertaining a seemingly endless stream of starlets.
From 1971 to 1973, Ray taught film making at Harpur College (part of the State University of New York) where he and his students produced We Can't Go Home Again, an ambitious autobiographical film employing split-screen images. An early version of the film was shown at the Cannes Film Festival in 1973, but Ray, never satisfied with the project, continued editing it until his death in 1979. He died of lung cancer on June 16, 1979 at the age of 67 in New York City, New York.
Undoubtedly, the most famous line from any film by Ray is Johnny Guitar's declaration: "I am a stranger here myself." That line describes Ray's own attitude to the world, as well as the situation of the protagonists in his films. In movies such as Johnny Guitar and Rebel without a Cause, he depicted outsiders who challenged dominant social and gender conventions and who continue to inspire queer viewers in the early twenty-first century.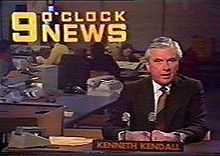 1924 – Kenneth Kendall (d.2012) was a British broadcaster. He worked for many years as a newsreader for the BBC, where he was a contemporary of fellow newsreaders Richard Baker and Robert Dougall. He is also remembered as the host of the Channel 4 game show Treasure Hunt, which ran between 1982 and 1989.
Kendall was born in India, where his father worked, and was brought up in Cornwall.
Kendall was a schoolmaster and later a captain in the Coldstream Guards during World War II, and was injured on D-Day. He joined the BBC in 1948 as a radio newsreader and transferred to television in 1954. Although he was not the first newsreader on BBC television, Kendall was the first to appear before a camera reading the news in 1955. As he was employed on a freelance basis by the BBC, he also worked as an actor for a repertory company based in Crewe, and briefly at the menswear retailer Austin Reed in Regent Street, where he met actor John Inman and offered him a job in the Crewe company.
Kendall became known for his elegant dress sense and was voted best-dressed newsreader by Style International and No.1 newscaster by Daily Mirror readers in 1979. Not surprisingly, given his sartorial panache, Kendall also picked up a Best Dressed Newsreader Style International Award; his only on-screen aesthetic slip-up one night when a false tooth emerged from his mouth.He left the BBC in 1961.
From 1961 to 1969 he was a freelance newsreader, working occasionally for ITN and presenting Southern Television's Day By Day. He appeared as himself in the Adam Adamant episode "The Doomsday Plan", where he is kidnapped and impersonated. He appeared in a cameo role as a newsreader in 2001: A Space Odyssey, as well as in the Doctor Who serial The War Machine
Kendall lived in Cowes on the Isle of Wight with his partner Mark Fear, where he was the owner of a marine art gallery, and a keen beekeeper. Before owning the art gallery, he co-ran a restaurant. Kendall died on 14 December 2012, following a stroke a few weeks previously. He was survived by Mark Fear, his partner for the last 23 years of his life. The couple had entered into a civil partnership in 2006. In April 2013, Mark Fear, Kendall's former partner, was found hanged.


Revised 2021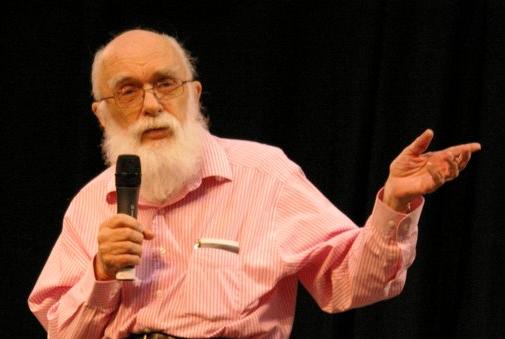 1928 – Today's the birthday of Canadian-born stage magician and scientific skeptic James Randi (better known by the stage name The Amazing Randi). Randi was born in Toronto, Ontario, Canada (d.2020). He took up magic after reading magic books while spending 13 months in a body cast following a bicycle accident. He confounded doctors who expected he would never walk again.
Best known as a challenger of paranormal claims and pseudoscience. Randi is the founder of the James Randi Educational Foundation (JREF). Randi began his career as a magician, but when he retired at age 60, he switched to investigating paranormal, occult, and supernatural claims, which he collectively calls "woo-woo." Although often referred to as a "debunker," Randi rejects that title owing to its perceived bias, instead describing himself as an "investigator". He has written about the paranormal, skepticism, and the history of magic. He was a frequent guest on The Tonight Show Starring Johnny Carson and is occasionally featured on the television program Penn & Teller: Bullshit!
The JREF sponsors The One Million Dollar Paranormal Challenge offering a prize of US $1,000,000 to anyone who can demonstrate evidence of any paranormal, supernatural or occult power or event, under test conditions agreed to by both parties.
Randi entered the international spotlight in 1972 when he publicly challenged the claims of Uri Geller. Randi accused Geller of being nothing more than a charlatan and a fraud, who used standard magic tricks to accomplish his allegedly paranormal feats, and he supported his claims in the book The Truth About Uri Geller. Geller unsuccessfully sued Randi for $15 million in 1991. Geller's suit against the Committee for Scientific Investigation of Claims of the Paranormal (CSICOP) was thrown out in 1995, and he was ordered to pay $120,000 for filing a frivolous lawsuit.
In 1987, Randi became a naturalized citizen of the United States. Randi has said that one reason he became an American citizen was an incident while on tour with Alice Cooper where the Royal Canadian Mounted Police searched the band's lockers during a performance. Nothing was found, yet the RCMP destroyed the room.
In a March 21, 2010 blog entry, Randi came out as gay, a move he explained was inspired by seeing the 2008 biographical drama film Milk, in which Sean Penn portrayed Harvey Milk, the first openly gay man to be elected to public office in California.
Randi married Venezuelan artist José Alvarez (born Deyvi Orangel Peña Arteaga) on July 2, 2013 in Washington. Randi, who had recently moved to Florida, met Alvarez in 1986, in a Fort Lauderdale public library. Arteaga had left his native country for fear of his life, as he was a homosexual. The pseudonym Arteaga had taken, Jose Alvarez, was an actual person in the United States. The identity confusion caused the real Alvarez some legal and financial difficulties. Arteaga was arrested for identity theft and faced deportation. They resided in Plantation, Florida.
Randi died on October 20, 2020, of what the James Randi Educational Foundation reported as "age-related causes".

1931 – Clyde Hicks of North Carolina was stationed in Hawaii, arrested on sodomy charges and sentenced to six years in prison. He was transferred to Alcatraz where he was put into solitary confinement for passing a note to another man. He was released in 1935.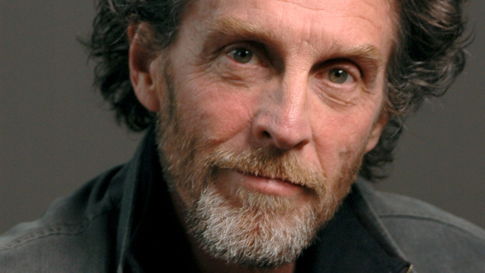 1944 – John Glover is an American actor best known for his usually villanous roles in films and television. Currently to be seen as Lionel Luthor in TV series Smallville, he has also appeared in Scrooged, Batman and Robin, Gremlins 2 and Star Trek: Deep Space Nine and notably, briefly in Annie Hall.
He appeared in the TV movie An Early Frost in 1985, the first TV film to touch on the AIDS issue and received an Emmy nomination for his performance as a gay AIDS patient. He won a Tony for his performance in Love! Valour! Compassion! on Broadway, and reprised his dual roles as twins in the film version. The play is set at a lakeside summer vacation house in orth of New York City where eight gay friends, including the twin brothers, spend the three major holiday weekends of one summer together for Memorial Day, the Fourth of July, and Labor Day. He also appeared in The Drowsy Chaperone on Broadway during Summer 2007.
His partner is the sculptor Adam Kurtzman.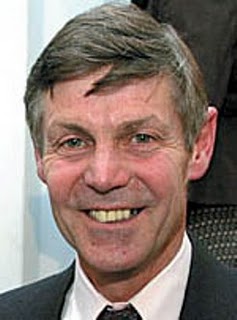 1949 – Today's the birthday of Matthew Parris, former British politician, writer, journalist, radio and television presenter, born in Johannesburg, South Africa
He served as the Conservative MP for the rural parliamentary constituency of West Derbyshire from 1979 until 1986. As an MP he voiced his support for gay rights. Parris eventually left politics to pursue a career in journalism.
Parris is now a radio and television presenter and pundit. He took over from Brian Walden as host of ITV's influential Sunday lunchtime current-affairs series Weekend World in 1986. The series, broadcast since 1977 with Walden at its helm, ran for two more years under Parris before being cancelled in 1988. He now presents BBC Radio 4's Great Lives biography series, and has appeared on the comedy news programme Have I Got News For You and presented After Dark.
Parris "came out as a homosexual in a late-night debate in the Commons in 1984 but, by his own admission, nobody noticed." He later announced he was gay in one of his weekly newspaper columns. In a live interview on Newsnight during the Ron Davies scandal of 1998, he famously told interviewer Jeremy Paxman that there were two gay members of the then current Labour Cabinet, one being Peter Mandelson. He has stated that there are between thirty and sixty unannounced gay members of the UK parliament. In August 2010, in a list compiled by the Independent on Sunday, Parris was voted the 49th most influential LGBT person in the United Kingdom.
In August 2006, Parris entered into a civil partnership with his long-term partner, Julian Glover, a political journalist at The Guardian (not to be confused with the actor of the same name). At the time of their partnership, they had been together for eleven years.
Parris was a keen marathon runner, taking part in the London event several times. His personal best was 2:32:57 which he recorded at the age of 34. He decided he wanted to go out on top and arguing that serious running is not good for health, he stopped running marathons after that. No British MP — sitting or retired — had equalled Parris's marathon timing in the 20th century.


Added 2021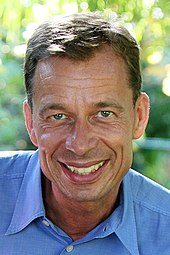 1955 – Lutz van Dijk (until 1992 Lutz van Dick), born in West Berlin, is a German-Dutch author, historian, and educator.
Lutz van Dijk first worked as a special school teacher, then as an author. Today he lives in Amsterdam and Cape Town. Van Dijk took Dutch citizenship .
Van Dijk was involved in nationwide educational peace congresses and later international peace congresses, including in Budapest, Copenhagen, and Paris . His books deal with National Socialism and homosexuality or the connection between the two topics. He has also been publishing children's books since 2018.
At the beginning of 2001 Lutz van Dijk founded the aid organization HOKISA (acronym for Homes for Kids in South Africa) together with the South African Karin Chubb and other activists in a township near Cape Town, which cares for children and young people who have lost their parents to AIDS or who are infected themselves. In 2002 the first HOKISA home was opened near Cape Town.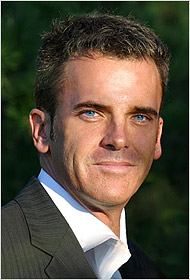 1963 – William J. Mann is an American novelist, biographer, and Hollywood historian best known for his 2006 biography of Katharine Hepburn, Kate: The Woman Who Was Hepburn. Kate was named one of the 100 Notable Books of 2006 by The New York Times.
Mann was born in Connecticut and, after working briefly as a Capitol Hill aide, received his Master's degree at Wesleyan University.
He worked as a journalist at Metroline magazine, New England's oldest gay publication, from 1992 to 1995. Mann published his first novel, The Men From the Boys, in 1997, and continued with a series of books set in Provincetown, although he has also set his fiction in Palm Springs and Los Angeles. In addition, Mann has written the nonfiction books Wisecracker: The Life and Times of William Haines, Hollywood's First Openly Gay Star (1998), a biography of film star Billy Haines, for which he won the Lambda Literary Award; Behind the Screen: How Gays and Lesbians Shaped Hollywood (2001); and Edge of Midnight: The Life of John Schlesinger (2005).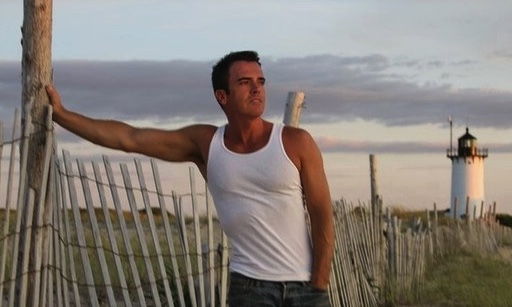 Kate didn't quite get the widespread attention it deserved because the mainstream didn't want to hear their icon was primarily a lesbian and her endlessly hyped romance with Spencer Tracy was cover for their separate same-sex adventures.
Mann's five novels are: The Men from the Boys, The Biograph Girl, Where The Boys Are, All American Boy, and Object of Desire.

1966 – Today's also the birthday of playwright, novelist, and radio host Andrew Howard (d. 2001). Together with his partner Karel Bouley he hosted "The Karel and Andrew Show" on KFI-AM Radio in Los Angeles (1999-2001). This was the first talk show to be hosted by an openly Gay male couple.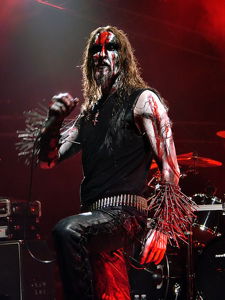 1975 – Kristian Eivind Espedal, better known by his stage name Gaahl, is a Norwegian vocalist, best known as the former frontman of Norwegian black metal band Gorgoroth. He is also the founder and frontman of Trelldom and Gaahlskagg. As of 2008, he has been involved in other projects such as Wardruna.
In July 2008, Gaahl revealed in an online interview that he was involved in the creation of Wynjo, an upcoming fashion collection for women, together with Norwegian modeling agent Dan De Vero and designer Sonja Wu. At the same time, it was also revealed that he and De Vero had a "close relationship" since 2006. It was stated that they were no longer a couple but remained as good friends. In an interview for the November 2008 issue of Rock Hard, Gaahl confirmed his homosexuality.
Shortly thereafter, De Vero stated that he had received threats from various black metal fans, both at his door and by phone and email. It was also alleged that a fight had erupted backstage at Wacken Open Air, triggered by homophobic remarks. Allegedly, the person who made the remarks had to be hospitalised. However, Gaahl denied that anyone had ever "said anything derogatory" to him in person.
When asked by the webzine FaceCulture if he thinks people will see him and his music differently now that he has publicly acknowledged his homosexuality, Gaahl replied:
Mankind is known to be narrow-minded, so... maybe some [will have a negative reaction]. But I guess it will even out the score in a way. I think it will be positive for some and negative for some. It's always good to have some negative as well. Otherwise you would end up with equality and equality is the worst thing in the world. Equality is stagnation. It doesn't let anything grow. It holds back.
On 27 January 2010, Gaahl won the award "gay person of the year" in Bergen at the event "Bergen Gay Galla". He was present and accepted the award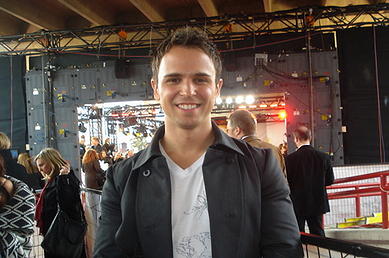 1979 – Jason Ruta, born in Winnipeg, Manitoba, is a Canadian television personality and actor.
Ruta first came to prominence as a participant in the second season of U8TV: The Lofters. The show followed the lives of eight Canadians living and working in a fully wired loft TV studio, producing and hosting shows. Unlike season one's Mathieu Chantelois, who was openly gay from the very beginning of his time on the show, Ruta came out as gay during his time in the loft. He hosted the Gemini-nominated magazine series So Gay TV for U8TV and PrideVision, but later left The Lofters after being voted out by viewers.
Ruta later returned to television in 2007, joining E! Canada as co-host, with fellow U8TV alumna Arisa Cox, of E! News Weekend. The show was cancelled in 2009 when E! Canada's original incarnation was shut down after Canwest Media filed for bankruptcy.
In 2012 and 2013 Ruta narrated season's 1 and 2 (52 episodes) of the HGTV Canada travel series Live Here, Buy This.
In 2012, Ruta appeared as an actor in episode 20 of the TV series The Firm. In 2013 he played Robert Johnson in episode 6 ("Gabby Gabreski") of the Cineflix produced series Air Aces.


1976 – A British Columbia Court dismisses the appeal of the Vancouver Sun against a decision of the Canadian Human Rights Commission's board of inquiry that found the paper discriminated by not publishing an ad from Gay rights group GATE.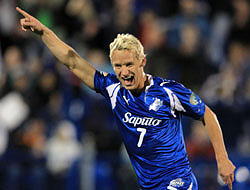 1981 – David Testo, born in Winston-Salem, North Carolina, is an American soccer player. He has played for the Vancouver Whitecaps and the Montreal Impact. He is one of the few openly homosexual athletes in professional sports.
He signed with the Vancouver Whitecaps in 2006. Despite missing several games due to serious injuries in mid-season with the Whitecaps, Dave's quick pivots and brilliant touch passes made him a favourite among fans and teammates in this his first season in Vancouver. He was named Newcomer of the Year and was second in team scoring (7 goals, 7 assists) behind Joey Gjertsen (13 goals, 7 assists) while playing both as a striker and in his preferred midfield positions equally well.
Testo was traded to the Montreal Impact on July 26, 2007 along with Joey Gjertsen for Alen Marcina, and Zé Roberto. He recorded his first goal for Montreal on August 1, 2007 against Carolina Railhawks. During the 2008 USL season Testo played in 20 matches for the Impact, and scored one goal against Miami FC on July 18, 2008. In the 2008 Canadian Championship he appeared in all four matches for the Impact, and scored a goal in 2-0 victory over the Vancouver Whitecaps.
On November 30, 2009 Testo signed a new two-year deal with the club. Testo was released by Montreal on October 12, 2011.
In an interview on with the French Canadian division of Radio Canada that was published on November 10, 2011, Testo stated that he is gay and that his family, friends, teammates, and team management knew of his homosexuality. Since coming out, former teamates have expressed support and respect for Testo.
He says, however, he regrets not going public until now:
"It's hard, like living the life of a professional athlete and being gay is incredibly hard," the athlete told the media. "It's like carrying around a secret, you know, and carrying around luggage and just never being allowed to be yourself."
Testo is a member of the Advisory Board for You Can Play, a campaign dedicated to fighting homophobia in sports.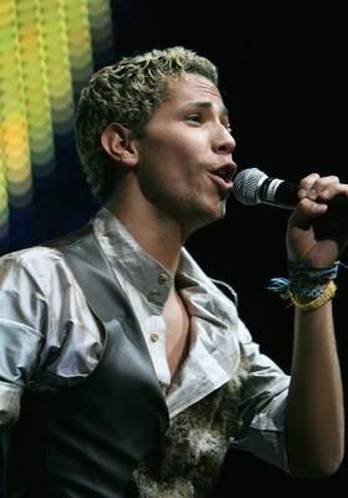 1983 – Christian Chávez is a singer and actor best known for his role as Giovanni Méndez López in the telenovela Rebelde and its spin off pop group RBD. Since 2007 he has been open about his homosexuality.
In early March 2007, a magazine published pictures of Chávez signing documents and exchanging rings with another man, allegedly his Canadian boyfriend (and later identified as B.J. Murphy), outing Chávez with them. The pictures had been taken in 2005, the year in which gay marriages became legal in Canada. Chávez declared in March 2007, that the photos showed a part of him that he had not been willing to discuss previously.
On 30 March 2007, after Chávez's announcement of being gay, Ricky Martín told The Associated Press of his solidarity with Chávez's public declaration, saying, "Life is too short to live closed up, guarding what you say...(Chávez) has to be free in many aspects. I wish him much strength." It took Ricky Martin another 3 years to come out himself.
Though Chávez is outspoken in supporting gay rights and opposing homophobia, he has said that he does not want to be seen as only a representative of the gay community. However, in June 2008, he appeared in the front page of a new Mexican gay magazine, OHM, where he exposed a more relaxed and mature position about those subjects in an interview. Chávez remains one of only a handful of openly gay Latin recording artists.
In 2009, Chávez confirmed divorcing his husband. The reason for their separation has been the subject of much speculation, but Chávez insists that their relationship did not end on bad terms:
"[Murphy] is a person I love and respect; I also admire him as a professional."

1994 Australia: Victoria police raided the Tasty Nightclub in Melbourne, strip-searching and brutalizing 463 patrons. On this day in 2014, exactly twenty years later, the Victoria Police formally apologize.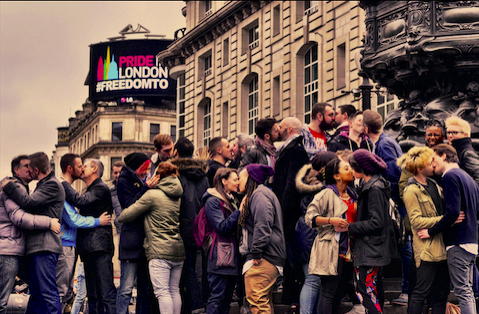 1987 – Over 100 gay men and lesbians gather at Piccadilly Square in London for a kiss-in to protest at Piccadilly Circus in defiance of the Sexual Offences Act, which decriminalized private sex acts between consenting adults but left public displays of same-sex affection a misdemeanor.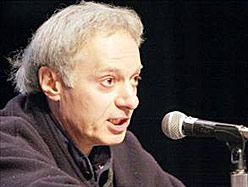 2009 – David Popescu, perennial candidate for public office in the Canadian city of Sudbury, Ontario, is convicted of willfully promoting hatred against homosexuals.
Popescu worked at Inco in his twenties, but quit in 1972 after converting to fundamentalist Christianity. He has said that he does not campaign to win votes, but rather to warn citizens of the judgment he believes will be visited upon them by the Christian God if they do not live their lives in accordance with Biblical commands.
Popescu believes that the decisions of elected officials have made it difficult for citizens to avoid what he considers to be sinful activity. "The casino, pornography and undoing the Lord's Day are opening the door for sin that destroys," he said in the 2000 municipal election. "If we violate (God's) standards, we're doomed from the start." On other occasions, he said that popular music stores should be closed because they "promote Satanic music", and that Sudbury's annual Dragon Boat races should be canceled because the boat designs invoke the devil. Popescu has also said that natural disasters and other catastrophes are divine judgment for earthly sins.
He has used his political campaigns to distribute a self-produced video, in which he delivers a series of sermons. In 2003, the Sudbury Star noted that this recording contained messages directed against homosexuals. In one sermon, Popescu says, "God burnt five homosexual cities alive, including women and children, as an example of what we are supposed to do to them. Instead, our evil government gives them rights."
Popescu was charged with assault against his elderly mother in 2003, after a family member reported seeing a large bruise on her arm. Acting as his own representative at trial, Popescu said that he had committed "unintentional assault" while "disciplining" his mother. He also testified that he had lived with his mother his entire life, had not worked in the community since 1972, and survived off his mother's small pension. Popescu was found guilty of assault following a day-long trial. The presiding judge expressed "very grave concerns" about the effect of Popescu's controlling behaviour over his mother. He was sentenced to three years probation, and required to report for a psychological assessment
At a candidates' debate staged for Sudbury Secondary School students on September 29, 2008, Popescu stated in response to a question on same-sex marriage that
"homosexuals should be executed".
Following these statements, the Greater Sudbury Police Service announced that he was under investigation for violating Canada's hate laws. Popescu repeated his previous statements one day after the debate, arguing that they were based on Biblical passages. He said,
"I said I believe homosexuals should be executed . . . when I say homosexuals should be executed, I am speaking in terms of government actions. That is the way the Bible puts it."
Many students who attended the debate expressed their disapproval of Popescu's remarks, and demanded that his microphone be cut off. At the end of the debate, the school principal personally disavowed Popescu's statement. The Sudbury Star subsequently printed an editorial entitled
"That's enough of Popescu's bile"
, describing him as
"a religious extremist beyond any measured debate"
who
"contributes nothing to the democratic process"
, and calling for him to be banned from future debates.
Gary Kinsman, an advocate for the Sudbury gay and lesbian community, sharply criticized Popescu and his remarks, stating that "He's not simply saying that lesbians or gay men are mentally ill or somehow deviant or criminals. He's saying we should be subject to the death penalty. I think sometimes violence and hatred towards gays and lesbians gets dressed up in sort of a religious guise and is somehow tolerated. I just don't think it should be tolerated at all."
On October 1, the four major party candidates in the riding — Liberal Party incumbent Diane Marleau, Conservative Party candidate Gerry Labelle, New Democratic Party candidate Glenn Thibeault and Green Party candidate Gordon Harris — announced in a joint statement that they would not participate in any further debates in which Popescu was included. The Rainbow District School Board later announced that it would not invite Popescu to any further debates.
Sudbury police stated on October 7 that they had completed their investigation, and were referring the matter to the Ministry of the Attorney General.

John Oakley, a talk radio host on Toronto's CFMJ, subsequently interviewed Popescu and Egale Canada executive director Helen Kennedy regarding Popescu's comments. During the interview, Popescu directly stated that Kennedy herself should be executed, leading to a second hate crimes investigation by the Toronto Police. Popescu later said that said he stood by all the comments that were attributed to him, and that he was not concerned about facing possible criminal charges.
On March 5, 2009, the Ministry of the Attorney General officially charged David Popescu with two counts of willful promotion of hatred under Section 319(2) of the Criminal Code of Canada for calling for the execution of homosexuals. His trial took place on this date in 2009. Popescu represented himself, and said that he was "repeating what was in the bible when he made the comments". The presiding judge disagreed, saying that he was "not at all satisfied with the explanation by Mr. Popescu that his statements are based on his religious beliefs". He said that Popescu "basically picks and chooses what is in his best interest, according to his interpretation of the bible," and "has clothed his disgraceful attitude to this community of people (gays and lesbians) in a religious context". Popescu was convicted of willfully promoting hatred against homosexuals, and was given a suspended sentence and placed on probation for 18 months.

AUGUST 8 →
[{(o)}]|[{(o)}]|[{(o)}]|[{(o)}]| [{(o)}]|[{(o)}]