February 10
[{(o)}]|[{(o)}]|[{(o)}]|[{(o)}]| [{(o)}]|[{(o)}]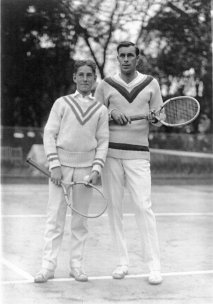 Bill Tilden with a protégé
1893 – The American tennis player legend Bill Tilden was born on this date (d.1953). Born William Tatem Tilden II (often called "Big Bill"), he was an American tennis player who was the World No. 1 player for 7 years, the last time when he was 38 years old. Born in Philadelphia, Pennsylvania, to a wealthy family, he was a "Junior" at birth but changed his name to "II" when he was in his mid-20s.
Tilden was born into a wealthy Philadelphia family. He lost his semi-invalid mother when he was 15 and was sent a few houses away to live with a maiden aunt. The subsequent loss at 19 of his father and older brother marked him deeply. After several months of deep depression, and with encouragement from his aunt, tennis became his primary means of recovery.
According to his biographer Frank Deford, because of his early family losses Tilden spent all of his adult life attempting to create a father-son relationship with a long succession of ballboys and youthful tennis protégés, of whom Vinnie Richards was the most noted. In spite of his world-wide travels, Tilden lived at his aunt's house until 1941 when he was 48 years old. He had no sexual relationships with women at all and apparently very few sexual encounters with members of his own sex until he was well into his 40s and becoming increasingly effeminate in his mannerisms, particularly in the more liberal atmosphere of 1930s Europe.
Although Tilden almost never drank, he smoked heavily and disdained what today would be considered a healthy life style for an athlete; for most of his life his diet consisted of 3 enormous meals a day of steak and potatoes, with, perhaps, the occasional lamb chop.
Tilden was a champion player, one of the most influential persons in the history of tennis. He was also perhaps the most paradoxical figure in the history of any sport: a Gay man who almost single-handedly changed the image of tennis from that of a "sissy" country-club sport played only by rich white people in long white pants or ankle-length skirts to that of a major sport played by robust, world-class athletes. In the United States' sports-mad decade of the Roaring 20's Tilden was one of the five dominant figures of the "Golden Virgins of Sport", along with Babe Ruth, Howie Morenz, Red Grange, Bobby Jones, and Jack Dempsey. His subsequent arrests and convictions on charges of solicitation cast a shadow over his illustrious career.
Although Tilden had been born to wealth, and earned large sums of money, he spent it lavishly, keeping a suite at the Algonquin Hotel. Much of his income went towards financing Broadway shows that he wrote, produced, and starred in. The last part of his life was spent quietly and away from his family, occasionally participating in celebrity tennis matches. He died in Los Angeles, California. He was preparing to leave for the United States Professional Championship tournament in Cleveland, Ohio, when he fell dead of a stroke. Tilden was inducted into the International Tennis Hall of Fame in Newport, Rhode Island, in 1959.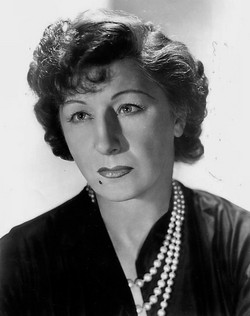 1897 – Today's the birthday of Australian born stage and screen actor Dame Judith Anderson (d.1992). She won two Emmy Awards and a Tony Award and was also nominated for a Grammy Award and an Academy Award. Born in Adelaide, South Australia, Australia, Anderson made her professional debut as Francee Anderson in 1915 at the age of seventeen in Sydney and moved to New York three years later.
By the early 1930s, she had established herself as one of the greatest theatre actresses of her era and she was a major star on Broadway throughout the 1930s, 1940s, and 1950s. In 1931, she played the "Unknown Woman" in the American premiere of Luigi Pirandello's As You Desire Me, filmed the following year with Greta Garbo in the same role. This was followed by Eugene O'Neill's Mourning Becomes Electra, Luigi Chiarelli's The Mask and the Face, with Humphrey Bogart, and Zoe Akins' The Old Maid from the novel by Edith Wharton, in the role later played on film by Bette Davis. In 1936, Anderson played Gertrude to John Gielgud's Hamlet in a production which also featured Lillian Gish as Ophelia.
In Hollywood, her not conventionally attractive features meant that her opportunities were limited to supporting character actress work. However, she did make a handful of significant films. She was nominated for an Academy Award for Best Supporting Actress for her role in Alfred Hitchcock's Rebecca (1940). As the housekeeper Mrs. Danvers, Judith Anderson was required to mentally torment the young bride, the "second Mrs. de Winter" (Joan Fontaine), even encouraging her to commit suicide; and taunt her husband (Laurence Olivier) with the memory of his first wife, the never-seen "Rebecca" of the title. This led to several film appearances during the 1940s in such films as Lady Scarface (1941), Kings Row (1942), All Through the Night (1942), Otto Preminger's Laura (1944) with Gene Tierney, René Clair's And Then There Were None (1945), Ben Hecht's Specter of the Rose (1946), and Jean Renoir's The Diary of a Chambermaid (1946).
In her later years, she played a prominent roles in a production that took her as far away from her Shakespearean origins as possible. In 1984, she appeared in Star Trek III: The Search for Spock as the Vulcan High Priestess "T'Lar" (at the age of 86)
Anderson was married and divorced twice. Neither marriage, both of which occurred after she turned 40, produced children, but she did serve as godmother for friends' children. In his biography Otto Preminger: The Man Who Would Be King (2007), Foster Hirsch states matter-of-factly that Anderson was Gay, extending this speculation into the current day.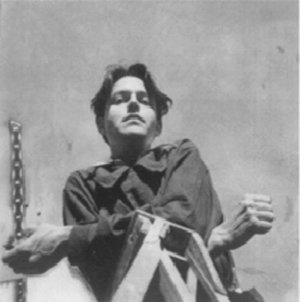 1913 – On this date Charles Henri Ford was born (d.2002). Ford was an American novelist, poet, filmmaker, photographer, and collage artist best known for his brilliant editorship of the Surrealist magazine View in New York City in the 1940s, and as the partner of the artist Pavel Tchelitchew.
Born in Brookhaven, Mississippi, he dropped out of high school and by age 16 he had started his first magazine, Blues (subtitled "A Bisexual Bimonthly"). Not long after, he became part of Gertrude Stein's salon in Paris, where he met Natalie Barney, Man Ray, Kay Boyle, Janet Flanner, Peggy Guggenheim, Djuna Barnes and others of the American expatriate community in Montparnasse and Saint-Germain-des-Près. He went to Morocco in 1932 at the suggestion of Paul Bowles, and there he typed Djuna Barnes' just-completed novel, Nightwood (1936), for her.
With Parker Tyler, who would later become a highly respected film critic, he co-authored The Young and Evil (1933), an energetically experimental novel. The novel portrays a collection of young genderqueer artists as they write poems, have sex, move in and out of cheap rented rooms, and duck into the neighborhood's many speakeasies. The characters' gender and sexual identities are presented candidly; it was this candor which was reportedly the reason for its rejection by several American and British publishers. It was finally picked up by Obelisk Press in Paris.
Ford returned to New York City in 1934 and brought Pavel Tchelitchew (Ford's life partner until the latter's death in 1957) with him. Ford's circle at the time included Carl Van Vechten, Glenway Wescott, George Platt Lynes, Lincoln Kirstein, Orson Welles, George Balanchine, and E. E. Cummings.
In 1957, Tchelitchew died in Rome. Charles Henri Ford died, aged 89, in 2002.

1916 – Mansel Vardaman Boyle, the "Gay Deceiver," appears in a burlesque show. He was a famous and successful female impersonator of the day and was living with gay silent film star J. Warren Kerrigan in Los Angeles from at least 1936 to 1938, though Kerrigan's long-time lover was actor James Vincent.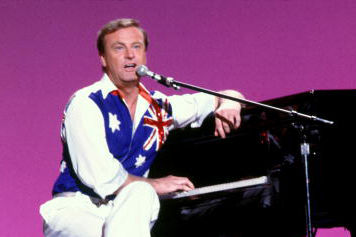 1944 – On this date Peter Allen, the Australian singer and actor, was born (d.1992). Born Peter Allen Woolnough in Tenterfield, New South Wales, Allen began his performing career as one of the "Allen Brothers" who were a popular cabaret and television act in the early 1960s.
He was spotted by Mark Herron the husband of Judy Garland who is credited to have "discovered" him. While Allen was performing in Hong Kong, she invited him to return with her to the United States where he performed with her. His songs were made popular by many recording artists, including Melissa Manchester ("Don't Cry Out Loud") and Olivia Newton-John ("I Honestly Love You"), and one, "Arthur's Theme", won the Academy Award. In addition to recording many albums, he enjoyed a cabaret and concert career, including appearing at Radio City Music Hall riding a camel. His marriage to Liza Minnelli ended in divorce.
From the 1970s to 1984 Allen had a long-time companion, Gregory Connell, who designed the sound and lights for Allen's shows and sang backup on his rendition of "I Go to Rio." Connell died in September 1984 at their home in California. Shortly before Allen's death from an AIDS-related throat cancer, he gave his last performance in Sydney on 26 January 1992. His ashes were scattered at sea.
A documentary titled The Boy From Oz about Allen was produced after his death, featuring clips from his performances as well as interviews with performers who worked with him. A stage musical based on his life, also titled The Boy from Oz, opened in Australia in 1998 using his largely autobiographical songs. In 2003, the musical opened on Broadway to rave reviews, becoming the first Australian musical ever to be performed there. In this production Allen was played by Hugh Jackman, who won a Tony Award for his portrayal in 2004. Due to his limited success as a singer in the U.S., Allen's ten albums are very hard to find. Only seven have been issued on CD.

1950 – A Pennsylvania court convicts a man of sodomy as an accessory before the fact for driving two teenagers to a friends house and watching them have sex.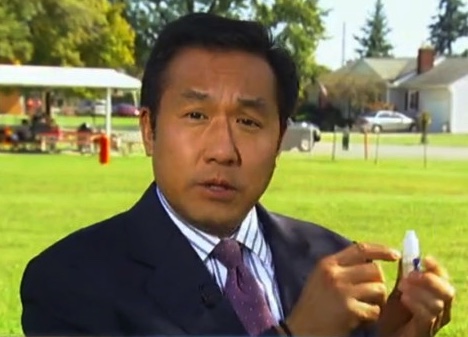 1958 – John Yang is an American Peabody Award-winning television news correspondent, commentator and as of February 2016, a special correspondent for the PBS NewsHour. He previously worked for NBC as a correspondent and commentator, covering issues for all NBC News programming, including NBC Nightly News with Brian Williams, Today, and MSNBC. He has also worked for ABC News as a correspondent. Yang is one of several openly gay national television correspondents.
Yang was born in Chillicothe, Ohio, on February 10, 1958. He attended high school at Western Reserve Academy, a private, coeducational boarding school in Hudson, Ohio, graduating in 1975. He went to college at Wesleyan University, where he graduated cum laude in 1980. Yang quickly became involved in political journalism, often writing about American politics and the United States Congress.
After college, Yang got a job as a reporter with The Boston Globe, where he worked from 1980 to 1981. Yang moved on to Time, where he worked as a correspondent from 1981 to 1986, and he also served as a reporter for The Wall Street Journal from 1986 to 1990. In 1990 Yang became a reporter and editor at The Washington Post, where he worked for nearly ten years. As a reporter he covered domestic politics, including Congress and the White House. As an editor he directed coverage of economic policy in the paper's business section and also directed political features in the Style section.
In November 1999, Yang left The Post when he was offered a job as a Washington, D.C.-based correspondent at ABC News. In 2000, he became well known for covering the George W. Bush presidential campaign during Republican Party primaries. After the primaries and until election, Yang covered the Al Gore campaign, and he continued to cover the campaign during the Florida election recount. After the September 11, 2001 terrorist attacks, Yang frequently reported live from the Pentagon and worked as part of the ABC News team that was awarded a Peabody Award and Alfred I. DuPont-Columbia University Award for its 9/11 coverage.
From 2002 to 2004, Yang was transferred to Jerusalem, working as ABC's Middle East correspondent. He covered every major development of the Israeli-Palestinian conflict, including suicide bombings and Israeli military operations in Palestinian territories. In April 2005, Yang covered the death of Pope John Paul II, working with the ABC News team that also won an Alfred I. DuPont-Columbia University Award for its coverage of the event.
In January 2007 Yang joined NBC News as a correspondent. In November 2007, he was named NBC News White House correspondent. He covered the 2008 presidential race for NBC Nightly News with Brian Williams.
In 2009, Yang was transferred from NBC News' Washington bureau to its Chicago bureau. "NBC is moving me from the city of big egos to the city of broad shoulders," Yang told colleagues in a note.
As of February, 2016, Yang had accepted a position to work as a correspondent for the PBS News Hour.
Yang is one of only a few openly gay national television correspondents.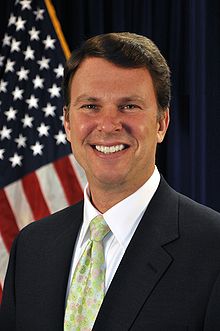 1959 – John Berry iwas the United States Ambassador to Australia from 2013 to 2016. He previously was director of the United States Office of Personnel Management.
Berry was born in Montgomery County, Maryland. He completed degrees at the University of Maryland, College Park and Syracuse University and worked in local government and as a legislative aide in state government from 1982 to 1985. From 1985 to 1994, he worked as legislative director for U.S. Representative Steny Hoyer. He held posts in the U.S. Treasury Department, the Smithsonian Institution, and the U.S. Department of the Interior until 2000, and worked as director of the National Fish and Wildlife Foundation and the National Zoological Park until 2009, when he was nominated by President Barack Obama as director of the United States Office of Personnel Management. Berry took office after being confirmed by the United States Senate in April 2009.
In June 2013, President Obama nominated Berry to replace Jeff Bleich as US ambassador to Australia, the first openly gay U.S. ambassador to a G-20 nation. He was confirmed by unanimous consent of the US Senate in August 2013.
Australian media coverage of Berry's appointment was overwhelmingly positive with a video he posted to the US Embassy website being described as the "friendliest introduction video in diplomatic history" while Berry himself was described as "modest", with an "impressive record". Federal News Radio, in the US, reported that, "more than 200 people had posted responses" to the video, "most of which were warm and cordial".
On August 10, 2013, he married Curtis Yee, his partner for 17 years in Washington.


Added 2022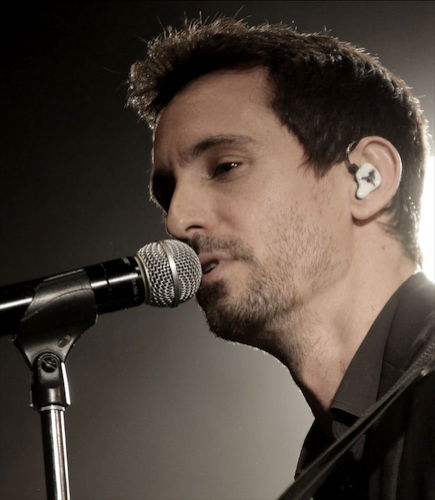 1974 – Ivri Lider is an Israeli pop star and part of the duo TYP, also known as The Young Professionals. He served as a judge on the first season of The X Factor Israel.
In October 2005 Lider received the "Male Singer of the Year" award from all the major national and local radio stations. He composed most of the soundtrack for the movie The Bubble, and sings the song "Loving That Man of Mine".
In 2008 Lider launched a new Hebrew album and announced an upcoming English album. The music video for his English-language song "Jesse" has received a lot of airtime on LOGO TV, and Out magazine recognized him as a member of the "Out 100" for 2007.
Lider is openly gay. In January 2002, Lider spoke openly about his sexual orientation in a cover-story interview to the daily newspaper Ma'ariv, which attracted a lot of attention. He later said, "On a personal level, I felt complete and happy with my life and who I am, and I didn't see any reason to not talk about it … Maybe I can influence people and help younger people that struggle – help them to be able to change their views, and stuff like that." Lider refused to be drawn into the debate about the Jerusalem Gay Pride Parade. He did, however, accept a booking to play at the Sydney Gay and Lesbian Mardi Gras' "Fair Day" in Camperdown, Australia on Sunday, 21 February 2010.
Lider is known for the soundracks of the movies
Yossi & Jagger (2002) – original score and theme song "Bo" (Let's)
Walk on Water (2004) – original score and theme song "Cinderella Rockafella" duet with Rita
The Bubble (2006) – original score, theme song "The Man I Love", "Birthday Cake", and ending credits song "Song to a Siren"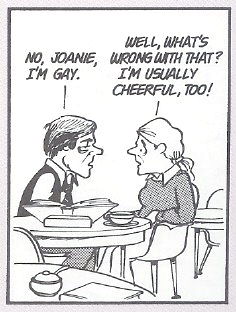 1976 – Andy Lipincott, a character in the comic Doonesbury becomes the first character in a major U.S. strip to come out.

1981 – The Moral Majority (which is neither) announces it will spend 3 million dollars in anti-gay advertising.

1982 – President Reagan nominates an evangelist and noted homophobe, Sam Hart, to fill a vacancy on the U.S. Civil Rights Commission. Hart withdraws as protests mount, blaming the homosexuals for "sabotaging" his nomination.

1983 – The San Francisco Giants announce plans for a special seating section for its gay fans. Equal but separate?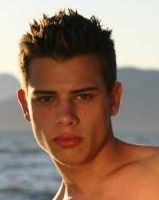 (Click for Full Monty)

1984 – Brent Everett, born Dustin Germaine, in Moose Jaw, Saskatchewan, is a Canadian gay pornographic actor and director. Since 2003, he has appeared in over 40 pornographic films for a variety of studios in the United States.
In his early work Brent was classified by studios as a twink; however, more recently he has become too muscular to comfortably fit in this term.
Everett has performed bareback (unprotected sex) in films for various studios (including his debut in Barebacking Across America for Tipo Sesso when he was 18 years old), but most of these were with his boyfriend at that time, Chase McKenzie, with whom he started his career in porn. (He also has participated in unprotected anal intercourse with other performers on occasion.) McKenzie had appeared in many films that prominently feature Everett as a cover model. In most appearances, Everett is a top in his videos but occasionally bottoms.
To further extend his career in porn, Everett opened his own subscription website in late 2004, offering video streams, image downloads, live web cam shows, and an online shop where he sells his used underwear. Live web cam shows are available for playback at a later date. In addition, he set up his own distribution company under the name of Triple X Studios for which he stars in and directs movies.
In September 2008, Everett made public his plans to marry fellow gay porn star Steve Pena in a ceremony to take place in San Diego, California, in October. The two were wed in a private ceremony on October 3, 2008.
In November 2017, Steve Pena announced via his Instagram that he and Brent would be separating. The two were known to be in an open relationship throughout their marriage.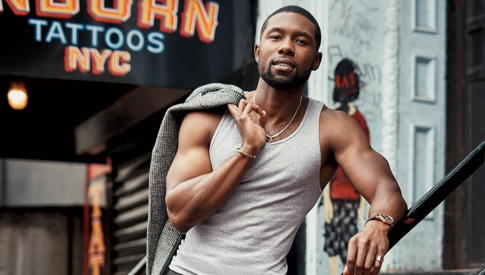 1990 – Trevante Rhodes is an American actor. He won several accolades and achieved recognition in 2016 for his performance as Chiron in the Academy Award-winning film Moonlight. In his youth, he was an accomplished track and field sprinter, winning a gold medal at the Pan American Junior Athletics Championships in 2009.
Rhodes was born in Ponchatoula, Louisiana. His family moved to Little Elm, Texas when he was ten. At Little Elm High School, Rhodes played running back in an option offense with Cole Beasley at quarterback. Over his high school career, Rhodes earned four letters in both football and track and field, where he competed as a sprinter specializing in the 100 and 200 meter dash. As a junior, Rhodes finished second behind Whitney Prevost over both distances at the 2007 UIL Track and Field Championships at Mike A. Myers Stadium. While his senior year was cut short by an ACL injury on the football field, he still earned an athletic scholarship in track and field to the University of Texas at Austin. He studied kinesiology.
Rhodes competed for the Texas Longhorns as a sprinter from 2008 to 2012. At the 2009 Pan American Junior Athletics Championships in Port of Spain, Trinidad and Tobago, Rhodes helped the U.S. squad to a gold medal in the 4×100 metres relay.
Rhodes rose to fame for his much praised performance in the 2016 film Moonlight, directed by Barry Jenkins, where he played the lead role of the adult Chiron. While talking about the movie in an interview with Out, Rhodes said: "Being a black person in America right now is shit, being a homosexual in America right now is shit, and being a black homosexual is the bottom for certain people. That's why I'm so excited for people to see Moonlight. I don't feel like there's a solution for our problems, but this movie might change people. That's why you do it — because you feel like you're doing something that matters. This is someone's story." The film has won the Golden Globe Award for Best Picture – Drama and the Academy Awards for Best Picture and Best Adapted Screenplay.

2009 – On this date the American Civil Liberties Union of Florida filed a suit in federal court on behalf of Yulee High School students Hannah Page , a freshman, and Jacob Brock, a junior. The lawsuit claims violations of the First Amendment and the Federal Equal Access Act. The act requires schools to grant access and recognition to a Gay-Straight Alliance and other groups if the school allows any extracurricular group to meet on campus, said ACLU attorney Robert F. Rosenwald. The lawsuit seeks a preliminary injunction to allow the club to meet at Yulee High while the case makes it way to trial.
Page said the group just wants to meet like others do. "We just want the club so that straight and Gay kids can get together to talk about harassment and discrimination against Gay kids in an open environment. The school is discriminating against us and that's exactly the kind of thing we want to prevent," she said.

FEBRUARY 11 →
[{(o)}]|[{(o)}]|[{(o)}]|[{(o)}]| [{(o)}]|[{(o)}]