July 19
[{(o)}]|[{(o)}]|[{(o)}]|[{(o)}]| [{(o)}]|[{(o)}]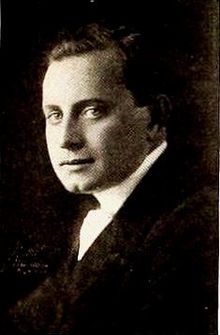 1882 – James Vincent (d.1957) was an American actor and film director of the silent era. He appeared in 23 films between 1910 and 1951, and directed 18 films between 1915 and 1931.
He was born in Springfield, Massachusetts and died in New York, New York. Vincent lived with his partner, actor J. Warren Kerrigan from about 1914 until Kerrigan's death in 1947.
His films include Stolen Moments, The Hidden Hand, Gold and the Woman, and The Pursuit of the Smugglers.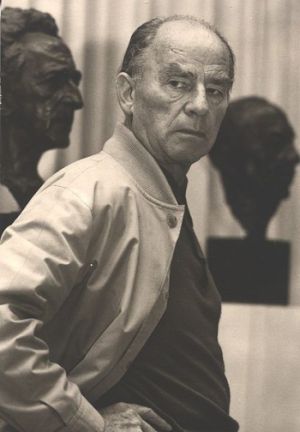 1900 - Born: Arno Breker (d.1991), German sculptor. State-commissioned Nazi sculpture is perhaps one of the last places one might expect to encounter homoeroticism. Given the status of homosexuality as degenerate in Hitler's vision of a new Germany and his subsequent "social purification" schemes, which actively sought to eliminate lesbians and gay men, among a host of other "deviants," the homoeroticism of public artwork designed to advance Nazi ideology is a puzzling contradiction that demands critical attention.
Arno Breker was born on July 19, 1900 in Düsseldorf, the son of a sculptor and stonemason. He studied art in Düsseldorf, then, after a brief stint in Rome, lived in Paris from 1927 until 1933, when he returned to Germany. Soon Breker became the best known sculptor of the Nazi era, receiving numerous commissions to make large-scale public works for the German state. These ranged from sculptures of athletes that decorated the Berlin stadium built for the 1936 Olympic games to programmatic works celebrating Nazi ideals. In 1937, he was named "Official State Sculptor" and soon employed hundreds of assistants.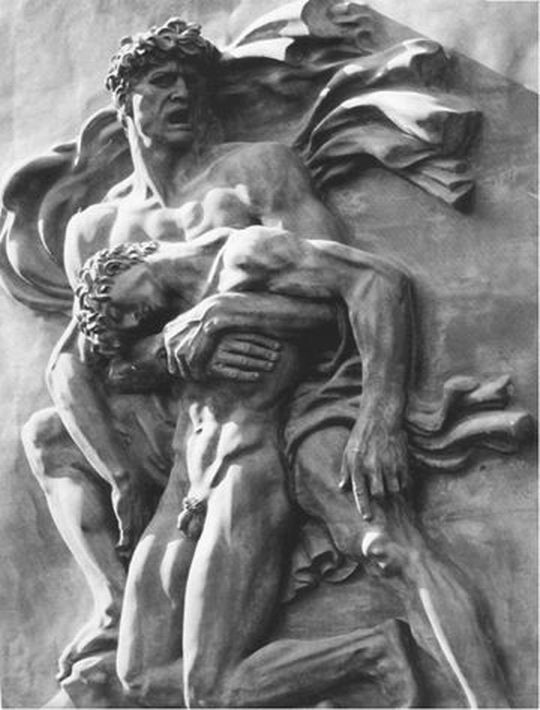 "Kameradschaft"
(Click for larger)
Considered emblematic of the Nazis' program of public art, Breker's work repeatedly featured representations of nude male athletes, soldiers, and workers--central and complex lodestones of fascist ideals of masculinity. While Breker depicted a variety of subjects both before his state commissions and afterward, his most (in)famous sculptures are his Nazi-era male nudes, imbibed with the mythos of Aryan purity and entrenched in the political rhetoric of the Nazi Party. Hitler, an artist himself, was keen on the role art could and should play in suggesting the superiority and invincibility of German culture.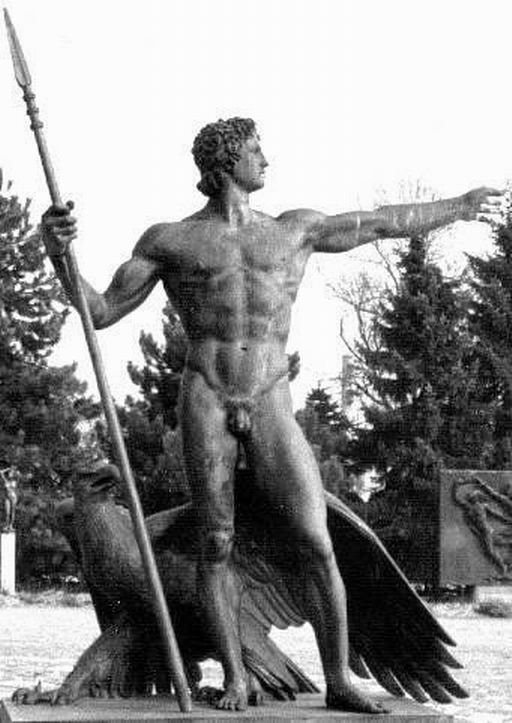 "Alexander"
(Click for larger)
Several of Breker's works, whether multi-part, freestanding sculpture programs or individual reliefs, feature all-male, all-nude scenes that conjure a homosocial narrative verging on the homoerotic. Despite its attendant homoerotic trappings, the idealized depiction of a community of men--strong, close to nature, and devoted to each other--was central to many Nazi social programs. Poised for battle, holding their wounded comrades, bonding in sport, or toiling together at hard labor, Breker's male figures are easily readable as gay superheroes, their hard bodies and inner-directed physicality supplanting their official decency.
After the war, Breker's work was denounced as cold and propagandistic, but he continued to work as a sculptor. Among his post-war works are heads of such prominent gay figures as Jean Cocteau, Jean Marais, and Henri de Montherlant. He died on February 13, 1991.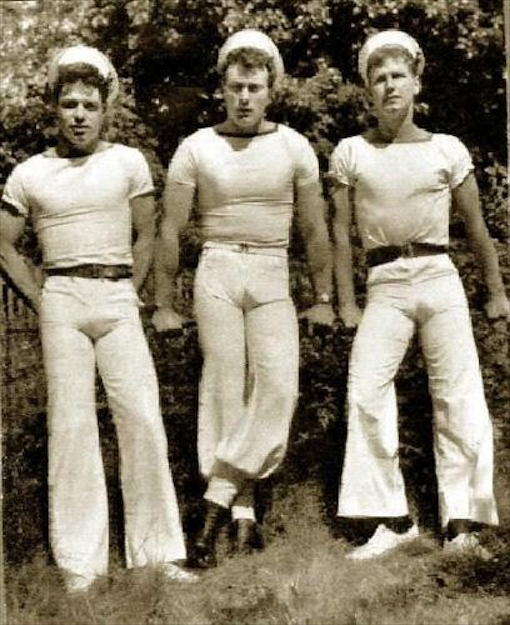 (Click for larger)
1921 – The US Senate Naval Affairs Committee issues its "Report on Alleged Immoral Conditions and Practices at the Naval Training Station, Newport, RI," accusing officers under the command of Franklin D. Roosevelt, former assistant secretary of the US Navy, of ordering enlisted men to engage in 11 immoral practices in order to entrap "perverts" and obtain evidence against them. The report is also one of the first to document gay male cruising areas including Riverside Drive in New York City.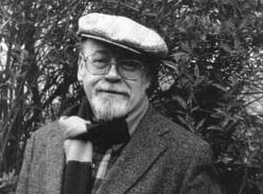 1923 - Best known as the author of the Dave Brandstetter mystery series, Joseph Hansen (d.2004) also published a considerable body of non-mystery fiction and poetry, most of it dominated by homosexual characters and themes.
Born in Aberdeen, South Dakota, Hansen moved with his family to Minneapolis in 1933 and in 1936 to southern California, where he spent the rest of his life. He attended Pasasdena City College, and in 1943 married Jane Bancroft, with whom he had a daughter who later underwent gender reassignment. He made a career of writing, editing, and teaching.
Hansen's fiction, featuring homosexual characters and themes, began to appear in the pre-Stonewall 1960s, when he was forced, for lack of any viable alternative, to publish under a pseudonym (James Colton) with small West Coast publishers who specialized in erotica. Notable among his early novels are Lost on Twilight Road (1964) and Strange Marriage (1965). The latter is an especially good example of gay pulp fiction of the mid-1960s. Internalizing much of the homophobia of its era, it chronicles the experience of a homosexual, Randy Hale, who marries in order to lead a "normal" life, but is irresistibly drawn back into gay sex by a sensitive young man. Reflecting the medically oriented dialogue of the 1950s and 1960s, it is a doctor who explains homosexuality to Hale's wife and makes possible the compromise "strange marriage" that allows the couple to continue their lives together.
In the post-Stonewall Brandstetter mystery series, some of Hansen's characters are able to achieve happiness and stability in gay relationships, but in his two "mainstream" novels of the 1980s, A Smile in His Lifetime (1981) and Job's Year (1983), the gay protagonists are plagued with loss and loneliness.
In the 1990s, Hansen turned from the Brandstetter series to writing novels that chronicle gay life on the West Coast during the 1940s and 1950s. The first of these, Living Upstairs (1993), is a moving account of young love in Hollywood during World War II. The second, Jack of Hearts (1995), is a charming coming-of-age novel set in a small foothill town. Unlike his novels of the 1980s, they capture the joys as well as the pain of gay life before Stonewall. These novels testify to Hansen's continuing vitality as a writer even after he abandoned the Brandstetter novels.
Yet it is the Brandstetter novels, written from 1970 through 1991, for which Hansen is likely to be most remembered. In this series, featuring a handsome gay male detective who ages naturally from middle to old age over its twenty-one years, Hansen pioneers in the mystery genre by presenting gay men and lesbians in all their diversity, without sensation, as simply men and women with understandable desires, triumphs, and frustrations. The series is particularly distinguished for its masterful descriptions of Los Angeles and the small towns and cities up and down the southern California coast.
Hansen's wife Jane Bancroft died in 1994. Of their 51 years of marriage, he remarked:
"something was right about it, however bizarre [the relationship between a lesbian woman and a gay man] may seem to the rest of the world."
Hansen followed her in death on November 24, 2004. A self-avowed conservative in the liberation movement, Hansen called himself "homosexual" rather than "gay"; but in his own fashion, he worked through his novels and short stories to help create a climate of acceptance for all homosexuals in the mainstream of American life.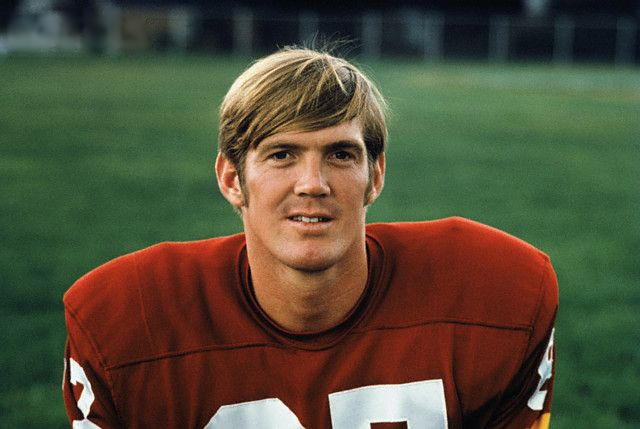 1943 – Jerry Smith (d.1986) was a professional American football player, playing tight end for the NFL Washington Redskins from 1965-1977.
Playing for Otto Graham and George Allen's Redskins, Smith had a stellar career. He played in the 1973 Super Bowl VII, and Sports Illustrated called him 'an outstanding receiver among tight ends, with the ability to break open for a long gain.' In his career Smith caught 421 passes, including 60 touchdowns, a record for Tight Ends at the time. He was named All-Pro twice and held several NFL records that stood for years.
Smith died of AIDS in October 1986. He was the first former professional athlete to die of the disease. Although he acknowledged that he had AIDS, he never publicly acknowledged his homosexual activities. Smith's sexuality was disclosed after his death by a friend, confidant, and former team mate, pro NFL football player David Kopay, who had come out of the closet years earlier. The Redskins logo, along with Jerry Smith's uniform number 87, was part of the AIDS quilt.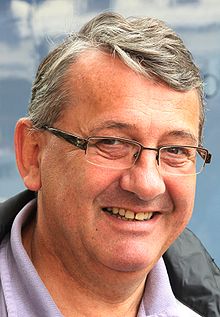 1950 – Per-Kristian Foss, born in Oslo, is a Norwegian politician for the Conservative Party and 2nd Vice President of the Storting.
He was elected to the Norwegian Parliament from Oslo in 1981, and was re-elected on six occasions. He had previously served as a deputy representative during the term 1977–1981.
From 2001 to 2005, when the second cabinet Bondevik held office, Foss was Minister of Finance. He also acted as Prime Minister very briefly in 2002. During this period his seat in parliament was taken by Ine Marie Eriksen.
Foss has received much attention for being the first openly gay minister in a Norwegian government and lives in registered partnership with Jan Erik Knarbakk. He was the first openly homosexual national leader.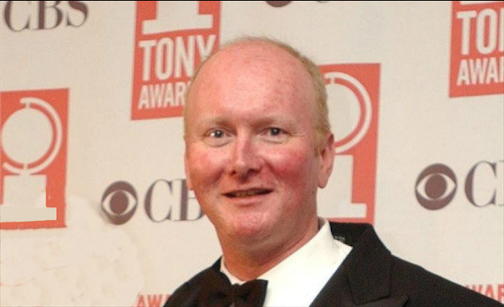 1954 - Mark O'Donnell (d.2012) was an American writer and humorist. He was best known as co-author of the book of the Marc Shaiman-Scott Wittman musical, Hairspray (2003), which was based on the John Waters 1988 film.
A novelist as well as a playwright and librettist, O'Donnell also published humor in magazines such as Esquire, The New Yorker, and The Atlantic.
His novels include Getting Over Homer (1997) and Let Nothing You Dismay (1998), humorous but touching novels set in gay New York. They have sometimes been seen as reminiscent of Armistead Maupin's San Francisco-set Tales of the City. He is also author of a collection of humorous pieces, Vertigo and Other Tall Tales (1993).
O'Donnell, shared the 2003 Tony Award for Best Book of a Musical with Thomas Meehan, for their work on Hairspray. The pair also earned Tony nominations in 2008 for their book based on another John Waters film, Cry-Baby, with music by David Javerbaum and Adam Schlesinger.
O'Donnell - who was openly gay - was the identical twin of television writer Steve O'Donnell - who is hetero-sexual. The twins attended Harvard University, where they worked on the humor magazine, Harvard Lampoon.
In an interview in The Believer, the twins contrasted their careers. Steve O'Donnell, who is best known for his work as a writer on The David Letterman Show and The Jimmy Fallon Show, said,
"I guess I think we should get to the more sensational aspect of our relationship—the fact that we're twin brothers from a large family of ten brothers and sisters, working-class Cleveland, offspring of a welder and a . . . homemaker, who were themselves the offspring of immigrants. And, that most profound as well as lurid portion of the equation, that [Mark is] gay and I'm straight. There's a carnival-act aspect to that, but it opens the doors to more profound questions. Nature versus nurture, environment versus heredity . . .all that stuff."
In 2008, Steve O'Donnell made a video for the No on Proposition 8 campaign urging Californians to vote against the discriminatory amendment that prohibited same-sex marriage. In the video, he referenced the fact that his twin brother was his best friend and that they should enjoy equal rights.

YouTube Video: Mark O'Donnel says NO
In 2012, Mark O'Donnell collapsed and suffered cardiac arrest in front of his Riverside Drive building on Manhattan's Upper West Side.


Revised 2021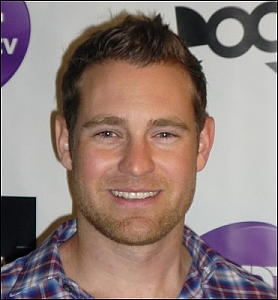 1977 – Danny Roberts, aka Jason Daniel Roberts, born in Rockmart, Georgia, is best known for appearing on The Real World: New Orleans in 2000. Prior to beginning the show, he had recently begun a relationship with Paul Dill, a US Army captain stationed in Vicenza, Italy. Because of the U.S. Military "Don't ask, don't tell" policy toward homosexuals, Paul's face was obscured on TV and much national attention was brought to the issue. In early 2004 MTV aired a special where Paul (then out of the military) revealed his face for the first time and the policy and its effects were discussed. In November 2006, Roberts announced in The Advocate magazine that he and Dill had split up.
Roberts made a few post-Real World appearances on television such as Dawson's Creek, Netflix's DTLA, and hosted the DVD collection of gay-themed short films, Boy's Briefs.
Roberts spoke at schools across the country on diversity in sexuality, coming out, public policy, and the military's "Don't ask, Don't tell" policy for several years after his first TV appearance in addition to other LGBTQ advocacy work. After spending 10 years in New York and Seattle, Roberts returned to Atlanta, Georgia, where he works in human resource recruiting for a tech powered real estate brokerage headquartered in Seattle, WA.
Roberts first met his current partner Wes in college at the University of Georgia. They were both closeted, so their brief affair was hush-hush.
"Fast forward 10 years and I'm living in New York City and out with friends for my birthday," Danny told AfterElton.com. "Guess who approaches me and asks if I remember him? Yep, there's Wes. My reply was, 'Of course, you're the sexy Puerto Rican from college!' So we started dating casually, but eventually I had to move to Atlanta for a job. The decision was made for Wes to join me, so we've been living together since. I guess you can call it all fate!" The couple has been together – "in some fashion on another," Danny says – since 2007.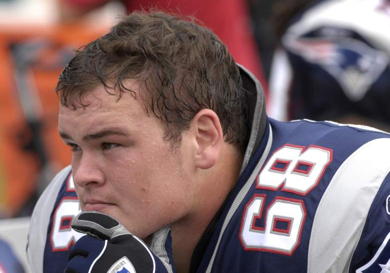 1983 – Ryan O'Callaghan is a former American football offensive tackle. He was drafted by the New England Patriots in the fifth round of the 2006 NFL Draft. He played college football at California. He most recently played for the Kansas City Chiefs.
As a rookie, O'Callaghan started in his first NFL game against the Buffalo Bills in 2006, at right tackle. He would go on to start six games in 2006, as well as a game in 2007, filling in for injured starter Nick Kaczur. O'Callaghan missed the entire 2008 season after being placed on injured reserve with a shoulder injury on August 28. He was waived by the Patriots on September 5, 2009 during final cuts.
O'Callaghan was picked up off waivers by the Kansas City Chiefs on September 6, 2009 after being released by New England the previous day. The Chiefs re-signed O'Callaghan on April 15, 2010. He was not offered a contract after the 2011 NFL season.
On December 20, 2014, Ryan was inducted into the Shasta County Sports Hall of Fame along with several other athletes from Shasta County, California.
O'Callaghan was raised in Redding, California. In June 2017, he came out as gay in an interview with Outsports. He shared his struggle with self-acceptance and that he had convinced himself that no one would accept him as a gay man, reconciling that he would end his life when his football career had ended. The turning point was when he came out to the Chiefs' clinical psychologist, and then later to teammates and family, who were all supportive. He now speaks openly about his struggles and coming out.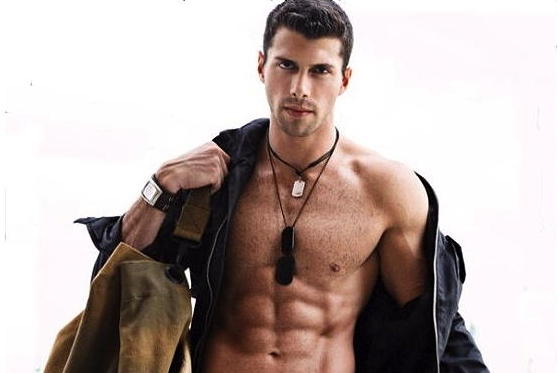 1984 - Jonathan D. Lovitz, in Atlantic City, New Jersey, is an American actor, singer, dancer, and model. He is also is an American lesbian, gay, bisexual and transgender (LGBT) rights advocate, and the Senior Vice President of the National LGBT Chamber of Commerce since 2015. He previously served as Communications Director and acting Executive Director of StartOut. Prior to advocacy, Lovitz was a performer in multiple national tours of Broadway shows, regional theatres, and television shows.
Jonathan was born in Atlantic City, NJ but spent his childhood in Coral Springs, Florida where he excelled in science, history, and the arts. His passion for performing took off while attending high, where he became active in the local theatre scene.
Best known for his work on stages throughout the US and Europe, Jonathan took to the screen in 2010, when he began shooting "Setup Squad" for Logo TV, an MTV network. As the breakout performer in the series, Jonathan began appearing as a guest on several shows and New York based films, as well as commercials, modeling campaigns, and commercial spokesmanships. Jonathan became a bi-coastal actor in late 2011, establishing himself in Hollywood, and plans on continuing to work on both stage and screen for years to come.
Charity work continues to be extremely important to Jonathan, who has dedicated countless hours to organizations such as BroadwayCares/Equity Fights AIDS. He was a special performer at the Broadway Bares: Classic event held to honor the best of the first 20 years of Broadway Bares, and later danced with Vanessa Williams in the opening of Broadway Bares XX: Strip-Opoly. He also appears regularly at events throughout the country for organizations including GLAAD, Freedom to Marry, the Ali Forney Center, and United Cerebral Palsy.
Lovitz serves on the Red Tape Commission for New York City Comptroller Scott Stringer; and is a pro-bono consultant for the Gay Officers Action League (GOAL) of the NYPD, who honored Lovitz with the Sam Ciccone Community Service Award in April 2018.
He lives in Philadelphia with his husband, NBC News meteorologist Steven Sosna. The two were married in New York City in October 2017 in a ceremony officiated by Jim Obergefell, Supreme Court marriage equality plaintiff in the landmark Obergefell v. Hodges case.

JULY 20 →
[{(o)}]|[{(o)}]|[{(o)}]|[{(o)}]| [{(o)}]|[{(o)}]