June 15
[{(o)}]|[{(o)}]|[{(o)}]|[{(o)}]| [{(o)}]|[{(o)}]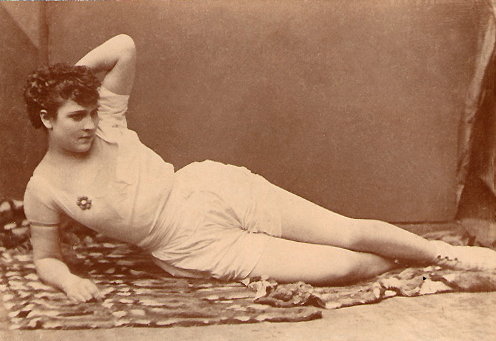 1835 – Adah Isaacs Menken (d.1868), the American actress, painter and poet, dazzled stage audiences across two continents with her daring and beauty. Enhancing her mystique were conflicting tales about her background—rumors of Creole parentage, circus horsemanship, a young romance in Cuba, Indian captivity, and rescue by Texas Rangers.
Most likely she was raised as Ada Bertha Theodore in New Orleans. Certainly she was living in Texas by 1855, when a Liberty newspaper published poems and essays and announced Shakespeare readings by her. In 1856 Adah married Alexander Menken, a traveling musician, in Livingston, Texas. She moved with him to Cincinnati, where she plunged into Jewish issues. Adah claimed to be Jewish by birth. She wrote for The Israelite, fervently advocating for Jewish communities worldwide.
Lured by the stage, Adah played roles in Louisiana and New York. When she and Menken divorced, she retained his name through three subsequent marriages. Adah's career break came in 1860, when she was cast in Mazeppa, a dramatization of Lord Byron's poem. In the grand finale, she rode bareback across the stage apparently nude (actually wearing a body stocking).
It was a sensation. Adah performed to packed houses in New York City, Virginia City, Salt Lake City, San Francisco, London, and Paris. But she craved esteem as an intellectual and writer. Most of Adah's poetry seems flamboyant today, yet she counted among her friends such notables as Walt Whitman, Mark Twain, Bret Harte, Henry Wadsworth Longfellow, Charles Dickens, George Sand, and Alexandre Dumas.
Although she was married several times and had several affairs, including one with Charles Blondin, the famed tightrope walker, Menken was the author of Infelicia, a collection of Sapphic poems, that clearly reveals her delight in women. Her poetry expressed a wide range of emotions related to relationships, sexuality, and also about women's struggle to find a place in the world. Infelicia went through several editions and was in print until 1902. In the late nineteenth century, critics were hard on women writers, and Menken's public notoriety caused even more critical scrutiny of her poems.
Menken wanted to be known as a writer but her work was overshadowed by her sensational stage career and private/public life. In total, she published about 20 essays, 100 poems.
Adah fell ill after a performance in Paris and died at the age of 33. From her deathbed she wrote, "I am lost to art and life. Yet when all is said and done, have I not at my age tasted more of life than most women who live to be a hundred?"
Infelicia, 31 of her collected poems, from 1855-1868, was published several days after her death.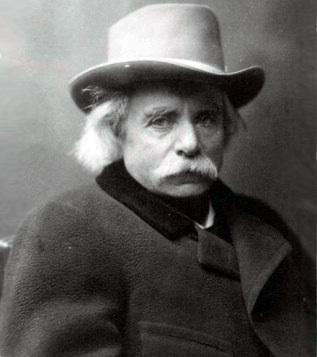 1843 - The Norwegian composer Edvard Grieg was born today (d.1907). Grieg was a Norwegian composer and pianist. He is widely considered one of the leading Romantic era composers, and his music is part of the standard classical repertoire worldwide. His "Peer Gynt Suite" is recognizable everywhere.
In old age he was completely taken with the boyish charms of curly-haired, blond Percy Grainger, whose "Country Gardens" is probably as recognizable today as grieg's music. In 1906, he met the the young Australian composer and pianist Grainger in London. Grainger was a great admirer of Grieg's music and a strong empathy was quickly established. In a 1907 interview, Grieg stated: "I have written Norwegian Peasant Dances that no one in my country can play, and here comes this Australian who plays them as they ought to be played! He is a genius that we Scandinavians cannot do other than love."
"I love him," Grieg declared, "I love him like I love a young woman." Those same sentiments were also expressed by poet Vachel Lindsay about Grainger! So consider Gireig's infatuation when next you listen to his Morning Mood (or was it really called "Morning Wood?")

1884 – Grand Duke Sergei Alexandrovich weds Princess Elizabeth of Hesse (UK). The couple has no children. According to some contemporary reports, Sergei was homosexual. His sexuality conflicted with his intense religious beliefs and the expectations of his position. Contrary to this belief, the marriage was happy. Forced to defend Sergei against rumors, Elizabeth was devoted to her husband and treasured his memory after his death.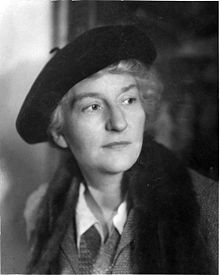 1887 – The American sculptor Malvina Hoffman was born (d.1966). The sculptor, who traveled around the world to model the heads of every racial type, is included here on the most tentative "evidence." Since there is no modern biography, and we have only Hoffman's not-too-candid 1930 autobiography to go on, the slender thread is Mercedes de Acosta's account of her many loves, Here Lies the Heart, in which Hoffman is one of the players. Since none of the cast of characters, including Garbo and Dietrich, uttered a public peep when the book was published, we can only assume that the book was either too silly to refute, or true.

1926 – The Greenwich Village Ball is held. Extravagant gay balls at Webster Hall at 119 East 11th Street were common during the 1920's. This affair was billed as the 15th annual ball and the advertisement read "Come […] with whom you like – wear what you like – Unconventional? Oh, to be sure – Only do be discreet!"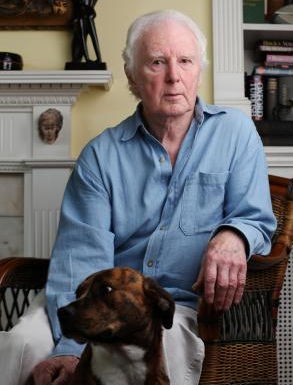 1931 – Brian Sewell (d.2015) was Britain's best-known art critic, despite the fact that he worked for the London Evening Standard and his reviews were seldom seen outside the capital. It hardly mattered; Sewell's distinctive personality and yet more singular voice, and his uncompromising judgments on modern art, made him famous enough to be sent up by impressionists, and picked up by television panel shows.
His voice was a thing of wonder. It was variously described as "Lady Bracknell on acid" and "no more than a series of elongated upper-crust vowel sounds"; he himself conceded it was that of "an Edwardian lesbian" and owed something to Vita Sackville-West.
He first sprang to public notice in connection with his close friend, Sir Anthony Blunt. Blunt, who had been unmasked as a member of the Cambridge Spy Ring in the early 1960s, though the information had not been made public.
But in November 1979, Blunt's involvement as a Soviet agent was made public by Margaret Thatcher, and he was stripped of his knighthood. Sewell emerged as his defender in the media scrum
Tina Brown, then editor of Tatler, signed Sewell up as the magazine's art critic. Though he described the move as "a sad end to a once-promising career", it was undoubtedly his metier. He moved to the Standard in 1984, for which he wrote until his death.
Sewell was born in Leicestershire on June 15 1931. His mother Jessica was an unsuccessful painter and, he later surmised, "something of a prostitute". Sewell's father was the sexually complicated composer Peter Warlock (the pseudonym of Peter Heseltine), who urged Brian's mother to have an abortion. He gassed himself, having put the cat out, seven months before his son was born, and Sewell learned his father's identity only towards the end of his mother's life.
Until 11, he was educated by friends of his mother and by visits to the National Gallery and the capital's other cultural centres.Young Brian had a precocious knowledge of art, classics and music by the time his mother re-married, and he was sent to school in Hampstead. He was turned into a High Anglican, but his homosexuality, which he had identified in himself at an early age, was unaffected.
He disliked his time at school, but managed to take a leaving certificate in art history, in which he gained a distinction. He also claimed that he had managed to have sexual relations with every member of the football team.
He enjoyed his time in the Royal Army Service Corps, where he turned out to be a good marksman and embarked on a lifelong passion for motor vehicles; he also enjoyed the "non-sexual camaraderie" of other men.
Later, under the tutelage of Blunt, he embraced his true vocation: art. Having asked for, but failed to receive, a sign from God, he also re-embraced men, literally, and with a vengeance. In his memoirs he estimated that he had slept with 1,000 men as a young man. He claimed that he and Blunt had never been lovers, but that Blunt's fellow spy, Guy Burgess, had made a pass at him shortly before he defected to the Soviet Union.
He died of cancer in 2015.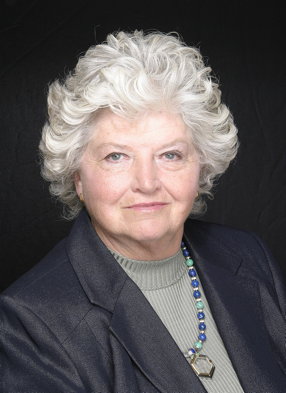 1936 – Born: Patricia Nell Warren (d.2019), Winner of the 1978 Walt Whitman Award for Excellence in Gay Literature, the openly-lesbian author of three successful novels about American gay culture that exemplify post-Stonewall, pre-AIDS, popular adult mainstream fiction. Warren's well-crafted narratives center on stalwart gay protagonists who must deal with the personal and political ramifications of mid-1970s American society confronting a burgeoning gay liberation movement.
Downplaying graphic sex and exoticism in favor of challenging stereotypes and demystifying gay lifestyles, Warren's gay-affirmative novels held appeal for both gay and nongay readers.
In The Front Runner (1974), Warren explores the often-denied issue of the presence of gays in athletics. Primarily the story of a love that develops between a closeted ex-Marine track coach and an "out" gay college distance runner who has set his sights on participation in the Olympic Games, The Front Runner documents the characters' struggles and victories in the parallel challenges encountered while training for and participating in Olympic competition and building and maintaining a gay partnership. In addition to calling attention to heterosexist politics dominant in amateur athletics and resistance to intergenerational gay relationships, Warren foreshadows contemporary issues of gay parenting, media "outing," gay marriages, tabloid journalism, and legal battles to attain gay civil rights.
Warren extends her foray into the explication of same-sex love in The Fancy Dancer (1976). Set in Warren's native Montana, The Fancy Dancer charts the complications that arise when a young Catholic priest and a troubled but freewheeling biracial mechanic residing among the priest's parishioners seduce and mentor each other. By tracing the process of the pair's discovery, acknowledgment, and acceptance of their gayness, Warren is able to address the clash between gay identity and spirituality and the restrictiveness of church dogma and small-town conservatism. Simultaneously, however, she fosters an appreciation for cultural differences and celebrates the diversity of urban and rural gay lifestyles.
An Anita Bryant-like born-again political crusader running on an antigay platform is the strong antagonistic force in The Beauty Queen (1978). In this work, Warren tackles the impact of antigay political rhetoric as well as continues her exploration of homophobic religious fervor and the backlash against demands for gay civil rights. Warren creates a trio of diverse gay characters standing in opposition to the ex-beauty queen turned state senator, including two gay police officers who are her first major lesbian character and first major gay exotic character. Told from four points of view, The Beauty Queen also addresses issues of gay-bashing, gay political activism, discrimination in employment and housing, and the psychological strains of closetedness.
Warren is also commonly known as "the mother of Front Runners" - the Gay, Lesbian, Bisexual, and Transgender running/walking clubs that have been started in Los Angeles and other large cities around the world which was inspired by Warren's novel The Front Runner. There have been several failed attempts to have TFR made into a full length feature movie, but a production with a viable production budget has never materialized.
Warren died on February 9, 2019 at the age of 82 at UCLA Medical Center in Santa Monica after almost a three year battle with lung cancer.
In June 2019, Warren was one of the inaugural fifty American "pioneers, trailblazers, and heroes" inducted on the National LGBTQ Wall of Honor within the Stonewall National Monument (SNM) in New York City's Stonewall Inn. The SNM is the first U.S. national monument dedicated to LGBTQ rights and history, while The Wall's unveiling was timed to take place during the 50th anniversary of the Stonewall riots.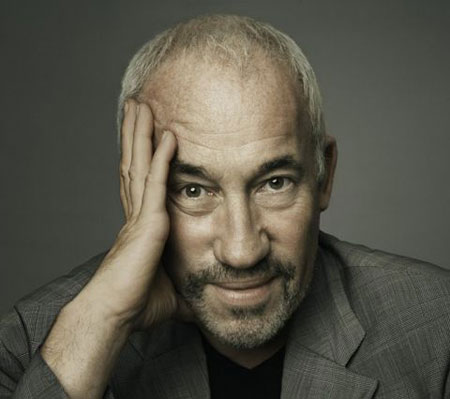 1949 – Today is the birthday of the British actor, author and biographer Simon Callow. Callow is one of the most prominent Gay actors in Britain. He is perhaps better known on this side of the Atlantic for his role in romantic comedy "Four Weddings and a Funeral" where he played one half of "the" Gay couple — he's the one who dies and has the titular funeral in which his widow (played by John Hannah) recites W.H. Auden's stunning "Funeral Blues": ("Stop all the clocks, cut off the telephone/Prevent the dog from barking with a juicy bone ...) The depiction presented one of the most moving and believable Gay couples in film, the friends being surprised by the depths revealed.
Callow has found great success as a director and writer. He's written extensively about Charles Dickens, has even played Dickens on the BBC science fiction series "Doctor Who." In 2008 he appeared at the Stratford Shakespeare Festival in Canada in a one man show There Reigns Love, a play about the poetry of William Shakespeare and also in 2008, appeared at the Edinburgh Festival giving a recital, directed by Patrick Garland, of two stories by Charles Dickens. He has also written two critically lauded biographies of Orson Welles and Charles Laughton.
Callow's last partner was director Daniel Kramer. They shared a house in Camden, North London, but have now ended their relationship. He was one of the first actors publicly to declare his homosexuality, doing so in his 1984 book Being An Actor.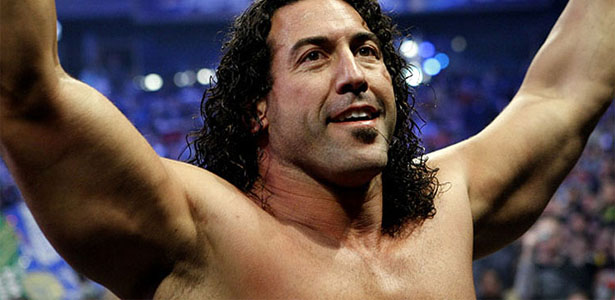 1971 – Chuck Palumbo is an American mechanic, reality television personality and former professional wrestler. He is best known for his appearances with professional wrestling promotions World Championship Wrestling and the World Wrestling Federation in the late-1990s and 2000s, where he held the WCW World Tag Team Championship and WWF/E World Tag Team Championship. He hosted the Discovery Channel series Lords of the Car Hoards.
Chuck Palumbo grew up in Providence, Rhode Island. He attended West Warwick High School, where he earned all-state honors in basketball. He joined the US Navy soon after and spent time in the Persian Gulf, working the flight deck of the USS Carl Vinson. He was initially assigned to an F-18 Hornet squadron VAQ-34 at Lemoore, California before transferring to NAS Miramar in San Diego where he worked on the E-2C Hawkeye. Chuck finished up his stint in the Navy and enrolled at the Community College of Rhode Island earning All-American honors in basketball and a full scholarship to University of Central Missouri. While attending Central Missouri, he saw a sign at a WCW event to call a phone number if you wish to become a pro wrestler. He called the number, and after graduating with a Criminal Justice degree, decided to accept their invite to travel to Atlanta and train at the WCW Power Plant.
Palumbo eventually found a tag team partner in Billy Gunn. The pair started as a tag team working dark matches, but were later given a gimmick that saw the pair grow increasingly affectionate towards each other, showing evidence of a homosexual relationship. Palumbo became known simply as Chuck, and he bleached his hair blond to match Gunn's.
On the February 21, 2002 edition of SmackDown!, Billy and Chuck defeated Tazz and Spike Dudley to win the World Tag Team Championship. Palumbo made his WrestleMania debut at WrestleMania X8, when Billy and Chuck defend their titles in a Four corners elimination match against the APA, The Dudley Boyz, and The Hardy Boyz. They lost the tag team gold to Rikishi and their stylist Rico Constantino, who was forced to team with Rikishi on May 19, 2002 at Judgment Day. Less than a month later Rico helped Billy and Chuck recapture the title, but they later lost it to Edge and Hulk Hogan.
In the second half of 2002, Billy and Chuck were the source of controversy when Chuck apparently proposed to Billy on September 5, 2002 edition of SmackDown! asking him to be his "partner for life". They had a marriage ceremony on the 2002 season premiere of SmackDown!. Just before they tied the knot, however, they revealed that the entire ordeal was a publicity stunt, and both characters disavowed their on-screen homosexuality. When Billy and Chuck decided not to go through with the marriage, Rico turned on them by helping Eric Bischoff and 3-Minute Warning attack the duo. Rico subsequently jumped to Raw as the manager of 3-Minute Warning, who beat Billy and Chuck at Unforgiven. Billy was injured in early October 2002, and Chuck worked on Velocity for a few months using his original ring name Chuck Palumbo once again.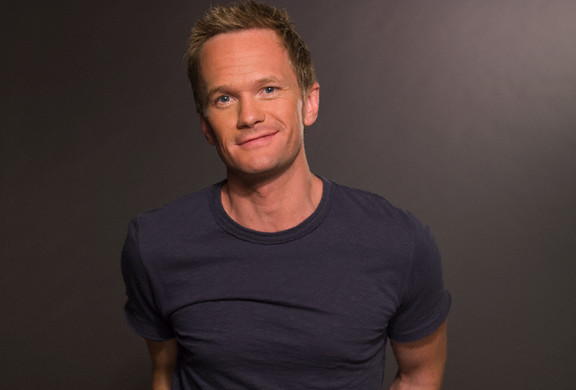 1973 – Today is the birthday of the American Golden Globe and Emmy-nominated actor and singer Neil Patrick Harris. The Albuquerque, New Mexico native is known for many roles in his career including the title character of Doogie Howser, M.D., the womanizing Barney Stinson in "How I Met Your Mother", Col. Carl Jenkins in Starship Troopers, Dr. Horrible of the very funny web series "Dr. Horrible's Sing-Along Blog", and as a fictionalized version of himself in "Harold & Kumar Go to White Castle" and its sequel "Harold & Kumar Escape from Guantanamo Bay."
In November 2006, after a report about Harris' romantic relationship with actor David Burtka surfaced on Canada.com, Harris came out publicly in People. He had been openly Gay in his personal life and in the theater community, but stated,
"the public eye has always been kind to me, and until recently I have been able to live a pretty normal life. Now it seems there is speculation and interest in my private life and relationships. So, rather than ignore those who choose to publish their opinions without actually talking to me, I am happy to dispel any rumors or misconceptions and am quite proud to say that I am a very content Gay man living my life to the fullest and feel most fortunate to be working with wonderful people in the business I love."
Harris and Burtka attended the Emmy awards in September 2007 as an openly acknowledged Gay couple for the first time, an appearance which Harris discussed on The Ellen DeGeneres Show and which was reported in various media outlets. Neil and David have been together since 2004. Harris refers to Burtka as "My better half" and an "amazing chef." Harris also has been a strong advocate for Marriage Equality.
In 2009 he served as host for the Tony Awards and in 2010 hosted the Oscars. Both times Harris was lauded for being entertaining, and witty. Harris performed the lead role of Bobby, in Stephen Sondheim's Company in April of this year with the New York Philharmonic in concert opposite Patti LuPone and others. Harris hosted the 65th Annual Tony Awards on June 12, 2011. This was the second time he hosted the ceremony.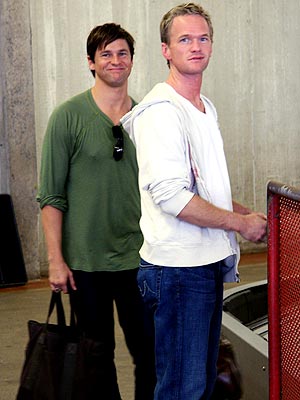 Harris (R) with David Burtka
On September 8, 2014, Harris announced on his Twitter page that David Burtka and he were married over the weekend in Italy. Pamela Fryman, the long-time director of How I Met Your Mother, officiated the wedding, while Elton John performed at the reception.
Harris and Burtka bought a townhouse on Fifth Avenue in Harlem in 2013, the Upper Manhattan, New York City neighborhood where they had been living for many years previously. He and Burtka are parents to fraternal twins Gideon Scott, a boy, and Harper Grace, a girl, born in 2010 via a surrogate mother.


Added 2022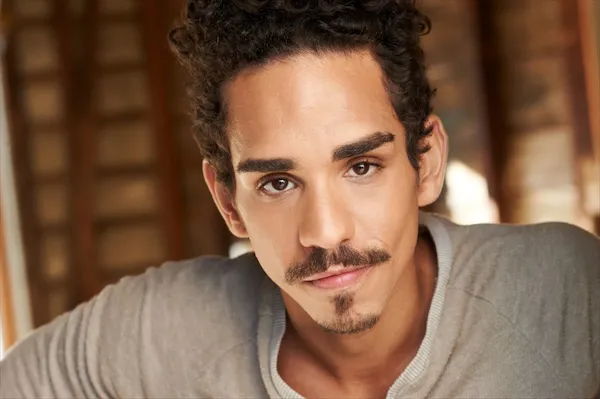 1984 – Ray Santiago, born in South Bronx, New York, is an American actor of Puerto Rican descent.
Santiago graduated in 2002 from Fiorello H. LaGuardia High School for the Arts in New York City.
Raymond Santiago played Jorge Villalobos in the film Meet the Fockers, and had minor roles in 2005's Dirty Deeds and 2006's Accepted. He also starred as Michelle Rodriguez's brother, Tiny Guzman in the 2000 film Girlfight, as Lardo in 2009's Endless Bummer and as Alberto in Suburban Gothic.
He also played in the 2006 film The Sasquatch Dumpling Gang (also known as The Sasquatch Gang), alongside Justin Long, and in American Son along Nick Cannon. He also appeared in the 2011 film In Time. Santiago appeared in episodes of the television series My Name is Earl, Crossing Jordan, Law & Order: LA and Dexter. In the Ash vs. Evil Dead television series from 2015-2018, he portrayed Pablo Simon Bolivar, an immigrant co-worker who becomes Ash's sidekick.
Santiago is openly gay.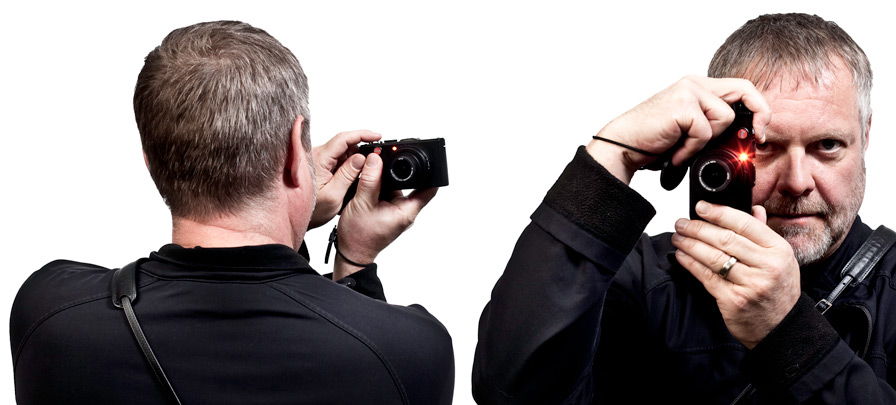 1985 - Nik Sheehan's No Sad Songs is released. Sheehan is a Canadian documentary filmmaker, who established an international reputation with No Sad Songs, the first major documentary on AIDS. The film cited by world renowned specialist Dr. Balfour Mount as "the best film on the planet this year".
In No Sad Songs, Jim Black, a 37-year-old Canadian talks about the AIDS that is killing him. He talks about his life and his friends and how his brother's family has rejected him. Catherine Hunt is a Canadian woman whose brother is dying of AIDS. These personal stories are presented with excerpts from a series of performances by Canadian musicians and performance artists in order to give the viewer a bigger picture of the impact of this disease.
In 1995 he produced and directed Symposium, inspired by Plato's classic and featuring multiple views of gay love as performed by Canadian artists and writers including Brad Fraser, Stan Persky, Patricia Rozema, Tomson Highway, Daniel MacIvor and others. Premiering at the Montréal Film Festival, it was broadcast extensively by the CBC, and created national headlines.
God's Fool (1997), shot in Morocco, tells the story of Scott Symons, a renegade writer of the Canadian establishment who had exiled himself to the seaside town of Essaouira. It premiered at the Toronto International Festival of Authors, where artistic director Greg Gatenby judged it "the best film biography of a writer I have ever seen". God's Fool was broadcast nationally in prime time on Bravo TV. In 2002 the film opened "Freedom to Read Week" on the BookTelevision digital channel, where it remains in rotation. Following Symons' death in February 2009, Sheehan wrote and published an obituary in Xtra!
Sheehan has worked as a literary critic, essayist, and biographer, publishing in Montage, POV, the National Post, Now, Toronto Life, Quill & Quire, Masthead and fab.

1987 – The New York Times decides to allow its writers to use the word "gay" as an adjectival synonym for "homosexual."

1998 – The parliament of Finland votes overwhelmingly to lower the age of consent for homosexual acts from 18 years to 16 to match the age for heterosexual acts.

1999 – Stephen Gately member of the heartthrob Irish boy band Boyzone, came out. Gately made his sexuality known in 1999 and came out in a blaze of publicity. He wed Andrew Cowles, first in a commitment ceremony in Las Vegas in 2003 and more formally in a civil partnership ceremony in London in 2006. Upon Boyzone's reformation, Gately featured as part of the first gay couple in the music video for "Better", in what was to be his last with the band. Gately died of a congenital heart defect on 10 October 2009, in a flat that he and Cowles owned in Mallorca, Spain.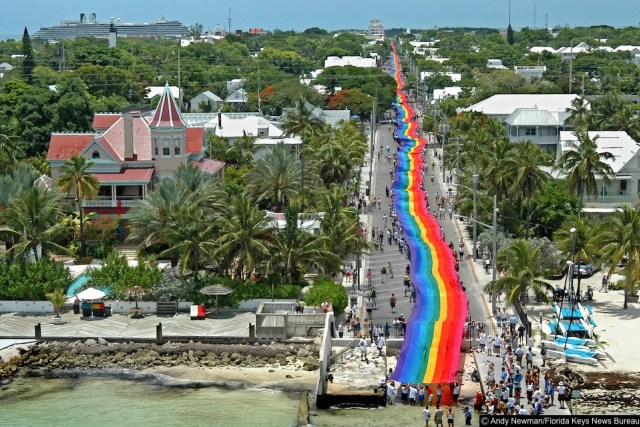 2003 – The world's longest rainbow flag was unfurled in Florida as part of Key West Pride, stretching from the Atlantic to the Gulf of Mexico. The finished flag was a mile and a quarter long and two thousand people were needed to hold it. The Key West flag has had a life of its own, with sections of the historic banner displayed at global events and LGBT festivities around the world — including the 2010 Winter Olympics in Vancouver, Canada, and Australia's Sydney Gay and Lesbian Mardi Gras Parade. They have been shown internationally in Canada, Sweden, Norway, Germany, England and Australia; and domestically in cities including Los Angeles, San Francisco, New York and Atlanta.

2003 – General Wesley Clark, a former NATO commander shoots down the military's "don't ask, don't tell" policy on NBC's "Meet the Press" on this day. The retired four-star general told the late Tim Russert that "we've got a lot of gay people in the armed forces, we always have had, always will. And I think that … we should welcome people that want to serve."

2010 – On this date the Spanish daily newspaper El Pais reported that the Catalan government was investigating a Barcelona clinic for performing "gay cures." If found guilty the Catalan government would impose fines against the Policlinica Tibidabo for offering pills and psychiatric "treatment" to convert homosexuals.
"An investigation has been opened into this clinic," a spokeswoman for the regional government's health department told AFP. "We do not consider homosexuality as an illness, far from it." She said the clinic could face fines if the month-long probe concludes that such treatments are being carried out. A gays and lesbian rights association in Catalonia, the CGL, hailed the decision of the regional authorities.
"It is totally unacceptable, in the 21st century, that health professionals are trying to treat homosexuality," CGL secretary general Antonio Guirado said in a statement. "You cannot treat something that is not an illness."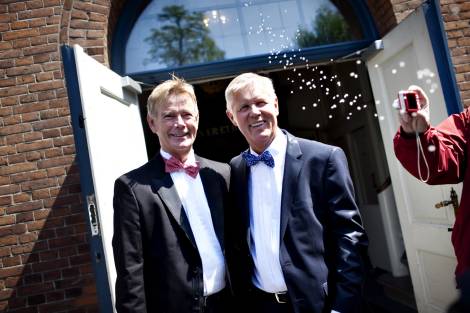 2012 – Denmark - Steen Andersen and Stig Elling have lived together for 27 years, and today they became the first gay couple to be married in church following the recent parliamentary decision to allow homosexuals a full church wedding.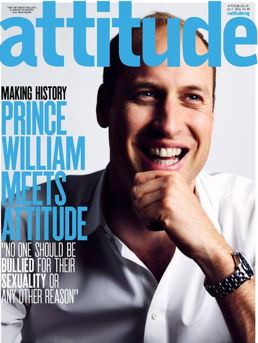 2016 – Prince William graces the cover of LGBT magazine Attitude in the UK. Prince William is offering a show of royal support to the LBGT community in one of its darkest moments. A day after signing a condolence book for victims of the Orlando shooting, he became the first member of Britain's royal family to appear on the cover of a gay magazine with the July issue of Attitude, akin to America's Out. "No one should be bullied for their sexuality or any other reason and no one should have to put up with the kind of hate that these young people have endured in their lives," he told the magazine, according to a Kensington Palace press release Wednesday.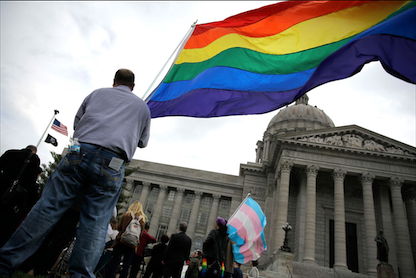 2020 – The U.S. Supreme Court ruled that a landmark civil rights law protects LGBT people from discrimination in employment, a resounding victory for LGBT rights from a conservative court. The court decided by a 6-3 vote that a key provision of the Civil Rights Act of 1964 known as Title VII that bars job discrimination because of sex, among other reasons, includes bias against LGBT workers.
The cases were the court's first on LGBT rights since Justice Anthony Kennedy's retirement and replacement by Trump-Appointee Brett Kavanaugh. Kennedy was a voice for gay rights and the author of the landmark ruling in 2015 that made same-sex marriage legal throughout the United States. Kavanaugh generally is regarded as more conservative.
The Trump administration had changed course from the Obama administration, which supported LGBT workers in their discrimination claims under Title VII. During the Obama years, the federal Equal Employment Opportunity Commission had changed its longstanding interpretation of civil rights law to include discrimination against LGBT people. The law prohibits discrimination because of sex, but had no specific protection for sexual orientation or gender identity.
In recent years, some lower courts have held that discrimination against LGBT people is a form of sex discrimination, and thus prohibited by the federal law. Efforts by Congress to change the law had failed.
The Supreme Court cases involved two gay men and a transgender woman who sued for employment discrimination after they lost their jobs.

JUNE 16 →
[{(o)}]|[{(o)}]|[{(o)}]|[{(o)}]| [{(o)}]|[{(o)}]