June 18
[{(o)}]|[{(o)}]|[{(o)}]|[{(o)}]| [{(o)}]|[{(o)}]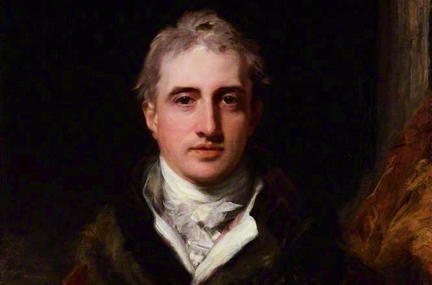 1769 – Robert Stewart, Second Viscount Castlereagh, was born on this date, (d.1822). Castlereagh became British foreign secretary in March 1812. The assassination of Prime Minister Spenser Percival soon threw upon him the leadership of the House of Commons, and this double burden he continued to bear during the rest of his life.
Why did Britain's nominal head of state slit his throat with a penknife on the night of August 12, 1822? Was it, in fact, because he had suffered a nervous breakdown after numerous political defeats, as was the official explanation for his death? Or was it the threat of public exposure as a homosexual?
On 9 August 1822 he had an audience with King George IV in which he appeared distracted and mentally disturbed. Among other surprising remarks he revealed to the King that he thought he was being blackmailed for homosexuality. If so, was Castlereagh actually Gay? Or was he the victim of an extraordinary scam by a gang of blackmailers who, knowing Castlereach's weakness for whores, tricked him in to a rendezvous with a wench who was actually a boy in female attire? For the answers to these and other questions turn to J. Montgomery Hyde's The Strange Death of Lord Castlereagh, a non-fiction mystery as absorbing as any detective novel.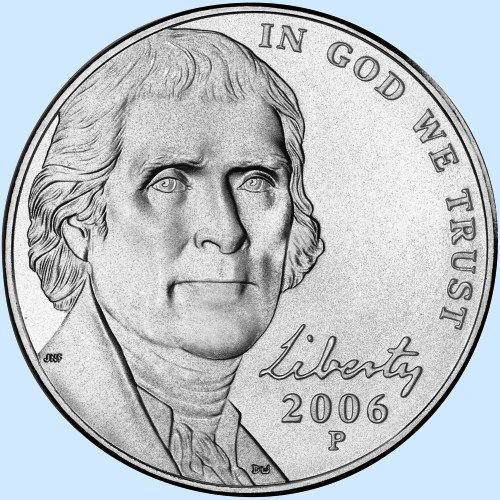 1779 – Thomas Jefferson prepared a draft of Virginia's criminal statute, envisaging that the punishment for sodomy should be castration. The bill read:
"Whosoever shall be guilty of rape, polygamy, or sodomy with a man or woman, shall be punished; if a man, by castration, a woman, by boring through the cartilage of her nose a hole of one half inch in diameter at the least."
.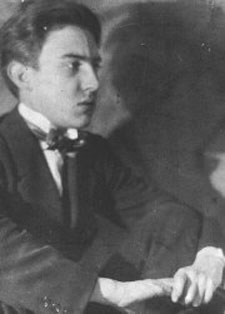 1903 – The French author and lover of Cocteau, Raymond Radiguet, was born on this date (d.1923). Radiguet was born close to Paris, the son of a caricaturist. In 1917 he moved to the city. Soon he would drop out of the Lycée Charlemagne, where he studied, in order to pursue his interests in journalism and literature. He would associate himself with the Modernist set, befriending Picasso, Max Jacob, Juan Gris and especially Francis Poulenc, the composer, and Jean Cocteau, who would both in turn become his lovers and mentors.
Hemingway wrote that Radiguet employed his sexuality to advance his career, being a writer "who knew how to make his career not only with his pen but with his pencil." He wrote his first French masterpiece The Devil in the Flesh at the age of fifteen, his second novel Count d'Orgel's Ball at nineteen and died from typhoid at twenty.
Jean Cocteau wrote:
"Raymond Radiguet was born on June 18th, 1903; he died, without knowing it, on December 12th, 1923, after a miraculous life. The literary tribunal has found his heart arid. Raymond Radiguet's heart was hard, and like a diamond it did not react to the least touch. It needed fire and other diamonds, and ignored the rest. Do not accuse fate. Do not speak of injustice. He belonged to the solemn race of men whose lives unfold too quickly to their close. "True presentiments," he wrote at the end of The Devil In The Flesh, "are formed at a depth that the mind does not reach. Thus they sometimes make us do things that we misinterpret....A disorderly man who is going to die and does not know it suddenly put his affairs in order. His life changes. He sorts his papers. He rises and goes to bed early. He gives up his vices. His friends are pleased. Then his brutal death seems all the more unjust to them. He would have lived happily." For four months Raymond Radiguet became meticulous; he slept, he sorted, he revised. I was stupid enough to be glad of it; I had mistaken for a nervous disorder the intricacies of a machine that cuts crystal."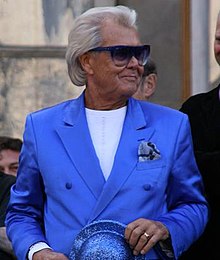 1931 – Michel Georges Alfred Catty (d.2020), better-known as Michou, was a French singer, drag artist and owner of Chez Michou in Montmartre. He was born in Amiens. A local celebrity, he appeared in a cameo as himself in the 1973 film La bonne année directed by Claude Lelouch. In 1973 he also played the part of Beauchamp in the TV series Molière pour rire et pour pleurer, directed by Marcel Camus.
He was the subject of Jean Luret's documentary L'intrigant destin d'un Transformiste. In the 1980s, he was regularly invited on French TV. He was made a chevalier de la Légion d'honneur in 2005.
With no training, he moved to Paris in the early 1950s and worked in odd jobs, then he started dealing with the night scene. He also disguised himself by imitating France Gall or Brigitte Bardot. He was the director of the Cabaret Michou, located 80 rue des Martyrs in the 18th arrondissement of the capital. His cabaret is said to have inspired the film La Cage aux Folles. He also released several singles.
Michou adopted an extravagant and kitschy clothing appearance, including famous blue glasses and a discoloured brushing. Dressed habitually in blue – light blue suit, chunky blue-tinted glasses and blue shoes – he became an institution in France. "They call me the 'Blue Prince of Montmartre'. Around here, I'm treated like a saint," Michou informed an interviewer. Even his flat, overlooking Sacré-Coeur, was decorated entirely in blue, down to the turquoise lavatory seat in the bathroom. He made no secret of his homosexuality. He died at the age of 88 on 26 January 2020 in Saint-Mandé.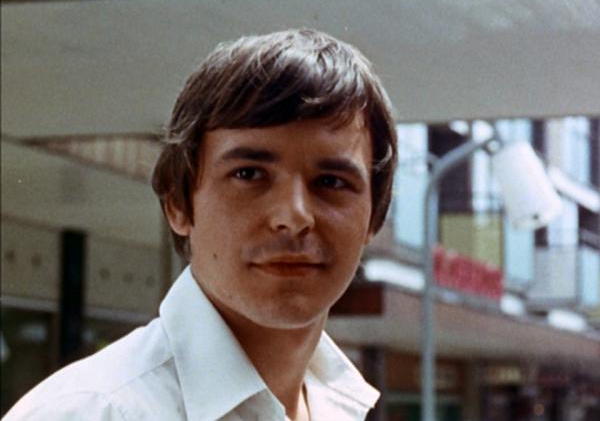 1943 – Barry Evans (d.1997) was an English actor and television performer best known for his appearances in British sitcoms such as Doctor in the House and Mind Your Language.
Born in Guildford, Surrey, and abandoned as a baby, Evans was educated at the orphanage boarding schools run by the Shaftesbury Homes, first at Fortescue House School in Twickenham and then at Bisley Boys' School in Bisley, Surrey. His acting ability was recognised at an early age and he often played the leading roles in school plays. Evans attended the Italia Conti Academy and later won a John Gielgud Scholarship to study at the Central School of Speech and Drama.
One of Evans' first television credits was in the soap opera Crossroads in 1964. He subsequently played the lead role in the film Here We Go Round the Mulberry Bush (1967), where he was cast as a sex-starved boy who finds it difficult to lose his virginity. Ironically, Evans was bisexual with a strong homosexual streak.
His first major television role was in the sitcom Doctor in the House (1969–70), based on Richard Gordon's series of novels already turned in to a feature film series. Evans starred as the earnest but gullible Michael Upton. Following the show's success, he starred in the sequel to the series, Doctor at Large (1971). Evans enjoyed working with his fellow actors and later described these as the best years of his life.
In 1975, he had the lead role in Stanley Long's sex comedy Adventures of a Taxi Driver. Despite the film's commercial success, Evans declined to appear in the sequel.
Evans starred as Jeremy Brown in the ITV sitcom Mind Your Language (1977–79), which was a humorous look at an evening class tutor attempting to teach immigrants English. Most of the characters were foreign stereotypes; it was immensely popular, both in the UK and internationally, and especially in the countries the actors portrayed. The series was written by TV scriptwriter Vince Powell, and was adapted for American TV as What a Country! in 1986. In the same year it was briefly revived for a further 13 episodes.
By the late 1980s, his youthful image was working against him, and he found it difficult to obtain mature acting roles in line with his age. His last role was as Bazzard in the film adaptation of The Mystery of Edwin Drood in 1993. By the late 1990s, he was a minicab driver in Leicestershire, where in 1997 he was found dead aged 53 in his bungalow. The police discovered the actor's body after going to his house to tell him they had recovered his stolen car. The cause of his death has never been confirmed. The Coroner found a blow to Evans' head and an 18-year-old man with whom he had been involved was arrested but later released without charge. The Coroner also found high levels of alcohol in his system which suggested suicide or accidental death. An open verdict was eventually given.

1963 – Tom Kirdahy is a Tony and Olivier Award-winning theatre producer on Broadway and in the West End as well as a lawyer.
After almost 20 years of providing free legal services to people with HIV/AIDS, he transitioned into theatrical producing with productions including Anastasia, Head Over Heels, Mothers and Sons (Tony nomination), It's Only a Play, and The Visit (Tony nomination) on Broadway, and The Inheritance (Olivier Award for Best New Play), The Jungle, Master Class, and Edward Albee's The Goat, or Who Is Sylvia? in the West End.
He recently produced the musical,
Hadestown
, which opened on Broadway in 2019 and subsequently won 8 Tony Awards, including the Tony Award for Best Musical. He is the producer of the Olivier Award-winning play,
The Inheritance
, on Broadway and a new off-Broadway revival of
Little Shop of Horrors
, both set to open in the fall of 2019. He also recently produced the Broadway revival of
Frankie and Johnny in the Clair de Lune
.
He serves as Chair of The Broadway League Government Relations Committee and is a founding director of Berwin Lee London New York Playwrights, Inc. He was named the Broadway Global Producer of the Year in 2014, and received the Commercial Theater Institute's Robert Whitehead Award for Outstanding Achievement in Commercial Theater Producing in 2019.
Kirdahy was married to Terrence McNally, an Emmy and four-time Tony Award-winner, following a civil ceremony in Vermont on December 20, 2003 until McNally's death from COVID-19 on March 24, 2020. They subsequently married in Washington, D.C. on April 6, 2010. In celebration of the Supreme Court's decision to legalize same-sex marriage in all 50 states, they renewed their vows at New York City Hall with Mayor Bill de Blasio, Kirdahy's college roommate, officiating on June 26, 2015.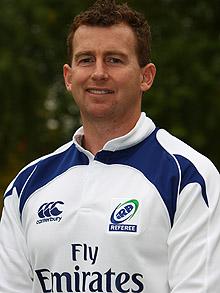 1971 – Nigel Owens, born in Mynyddcerrig, near Llanelli, Wales, is a British international rugby union referee. He is an international and Heineken Cup referee and was the only Welsh referee at the 2007 Rugby World Cup in France and at the 2011 Rugby World Cup in New Zealand. He was referee for the 2015 Rugby World Cup final in England.
Owens was appointed as an international referee in 2005, and that year officiated his first international between Ireland and Japan in Osaka. Along with Wayne Barnes of England and Marius Jonker of South Africa, Owens made his World Cup debut in Lyon, France on 11 September 2007 for the Argentina vs. Georgia match.
In May 2007, he came out as a homosexual to the public in an interview with Wales on Sunday. He had previously come out to his family and boss via text-message. Although reactions have been generally positive, it was a difficult decision to make. He had even contemplated suicide.

It's such a big taboo to be gay in my line of work, I had to think very hard about it because I didn't want to jeopardise my career. Coming out was very difficult and I tried to live with who I really was for years. I knew I was 'different' from my late teens, but I was just living a lie.
In November 2007. Nigel Owens was named sportsperson of the year at the Stonewall Awards in London. He is also now a patron of the LGBT Centre of Excellence Wales and of the Wooden Spoon Society rugby charity. He is also known as one of the presenters on Jonathan, a rugby-themed chat show hosted by former Welsh international Jonathan Davies, broadcast on S4C on the eve of big international matches. He also co-presents the sports-themed chat show Bwrw'r Bar. In November 2008 he released his autobiography in Welsh called Hanner Amser which means Half Time. The English version was launched at the end of October 2009. Owens lives in Pontyberem, South Wales.

1981 – The AIDS Epidemic was formally recognized by medical professionals in San Francisco, California.

1981 – The McDonald Amendment passed the U.S. House of Representatives. The amendment would bar the Legal Service Corporation from assisting in any case which seeks to "promote, defend or protect" homosexuality. The amendment was named after its author, the right-wing Georgia Democratic congressman Larry McDonald. The second president of the right-wing extremist John Birch society, McDonald also (unsurprisingly) opposed honoring Martin Luther King, Jr. with a national holiday saying the FBI had evidence that King "was associated with and being manipulated by communists and secret communist agents." McDonald died two years later as a passenger on the Korean Air Lines flight 007 shot down by Soviet interceptors.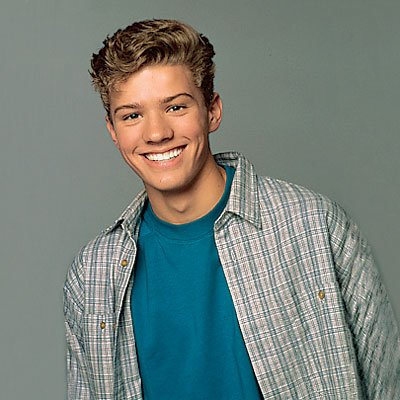 1992 – The American soap opera One Life To Live aired the first openly Gay teen character when Billy Douglas, a high school student, played by Ryan Phillipe, tells his best friend, Joey Buchanan, that he is Gay.
After appearing as Billy Douglas on One Life to Live, he came to fame in the late 1990s with starring roles in films including I Know What You Did Last Summer, Cruel Intentions, and 54. In the 2000s, he appeared in several films, including Gosford Park (2001), Crash (2004), Flags of Our Fathers (2006), Breach (2007), Stop-Loss (2008), MacGruber (2010), and The Lincoln Lawyer (2011). In 2010, Phillippe played photographer Greg Marinovich in The Bang Bang Club, and then in the lead role of Bob Lee Swagger in the USA Network thriller drama Shooter (2016–2018).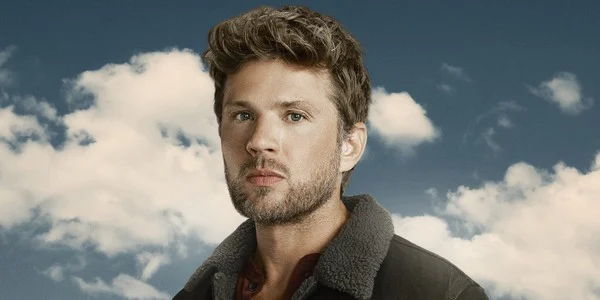 Phillipe in 2020
In February 2020, Phillippe was announced in the role of Cody Hoyt in the ABC crime drama series Big Sky. He appeared in, and was killed off in, the first episode.

1994 – The exhibition "Becoming Visible: The Legacy of Stonewall" opens at the New York Public Library. It is a history of New York's lesbian and gay life. It is history told through unorthodox artifacts, beginning with a blue neon "Stonewall" sign and banks of public telephones at which visitors can hear oral recollections of the Stonewall Inn, a gay bar on Christopher Street, and of the nights in June 1969 when patrons battled the police rather than acquiesce to another raid.

1997 – The Southern Baptist Convention called for a boycott of the Walt Disney Co., protesting what the convention called "Gay-friendly" policies.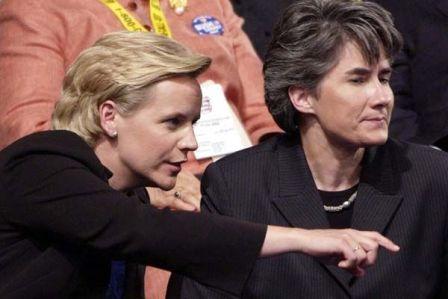 Mary Cheney & Heather Poe
2006 – Mary Cheney, daughter of (at the time) Vice President Dick Cheney, released her memoir My Turn in which she attempted to make sense of her inaction and silence during the Bush/Cheney administration and its anti-Gay record. The book's sales were miserable, prompting the blogger Andrew Sullivan to write:
"There are flops, almighty flops and then there are books by Mary Cheney. Despite saturation media coverage, network interviews, cable interviews, blanket newspaper profiles, blog support, podcast interviews, the book 'My Turn' had a very low first week's sales of 2,445. Last week, a grand total of 574 books were sold. Not too shabby for a first author with not a huge amount to say. But recall that this manuscript cost its publishers a cool $1 million. The publisher therefore spent around $170 for every book sold without even counting the marketing budget."
Mary Cheney has been in a long-term relationship with Heather Poe, a former Park Ranger and UPS Manager.In December 2006, Cheney was reported to be pregnant with her first child. On April 4, 2007 Dick Cheney reported that he was expecting a grandson. "I'm looking forward to the arrival of a new grandson." On May 23, 2007, Mary Cheney gave birth to a son in Washington, D.C. In October 2009, Cheney was reported to be pregnant with her second child. Mary Cheney delivered her second child, a daughter, November 19, 2009. Cheney, Poe, and their children currently live in Great Falls, Virginia.

JUNE 19 →
[{(o)}]|[{(o)}]|[{(o)}]|[{(o)}]| [{(o)}]|[{(o)}]