March 3
[{(o)}]|[{(o)}]|[{(o)}]|[{(o)}]| [{(o)}]|[{(o)}]
1785 – Massachusetts revises its sodomy law and rewords it so that it applies only to two males.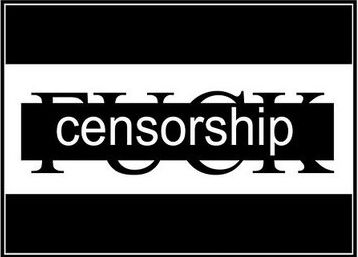 1873 – Censorship: On this date the U.S. Congress enacts the Comstock Law, making it illegal to send any "obscene, lewd, or lascivious" books through the mail. The law was named after its chief proponent, general busy-body prude, anti- obscenity crusader Anthony Comstock. The enforcement of the Act was, in its early days, often conducted by Comstock himself or through his New York Society for the Suppression of Vice.
People literally committed suicide because of this law. Ida Craddock committed suicide on the eve of reporting to Federal prison for distributing via the U.S. Mail various sexually explicit marriage manuals she had authored. Her final work was a lengthy public suicide note specifically condemning Comstock.
This law was used to suppress LGBT literature until the January 13, 1958 Supreme Court ruling in which the Court delivered an astonishing unanimous pro-Gay decision, overturning the rulings of the two lower courts against the magazine One, and limiting the power of the Comstock Act. As a result, Lesbian and Gay publications, like White Crane (at the time, the mere discussion of being Gay was considered "pornography") could be mailed without legal repercussions, though many continued to experience harassment from the Post Office and U.S. Customs.
ONE, Inc., a homophile educational organization, was founded in Los Angeles in 1952 by about a dozen members of the Mattachine Society who wished to publish a monthly magazine. The name "ONE" (also the magazine's name) was chosen from a quote by 19th century British essayist Thomas Carlyle: "A mystical bond of brotherhood makes all men one."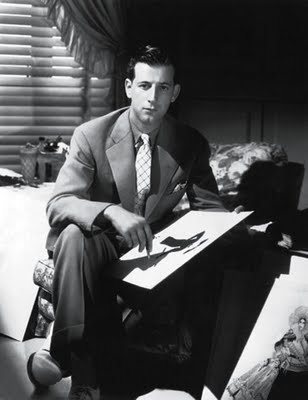 1903 – The American fashion and costume designer Adrian was born on this date (d. 1959). Born as Adrian Adolph Greenberg (sometimes credited as Gilbert Adrian) in Naugatuk, Connecticut, he studied at the School for Fine and Applied Arts in New York and in Paris.
His most famous costumes were for The Wizard of Oz and other Metro-Goldwyn- Mayer films of the 1930s and 1940s. The photo below shows the and the iconic ruby slippers he designed for Dorothy!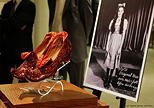 During his career, he designed costumes for over 250 films and his screen credits usually read as "Gowns by Adrian". On occasion, he was credited as Gilbert Adrian, a combination of his father's forename and his own. Among the many he dressed were Joan Crawford, Judy Garland, Greta Garbo and Katherine Hepburn.
Though he was openly Gay, he married Janet Gaynor in 1939, possibly in response to the anti-Gay attitudes of the movie studio heads and the sex-negative atmosphere created by the Production Code.
In 1942 Adrian retired from the cinema and opened a shop in Beverly Hills, California. His reasons for leaving Hollywood? They wanted to mess with Garbo. He famously said "It was because of Garbo that I left M-G-M. In her last picture they wanted to make her a sweater girl, a real American type. I said, 'When the glamour ends for Garbo, it also ends for me. She has created a type. If you destroy that illusion, you destroy her.' When Garbo walked out of the studio, glamour went with her, and so did I."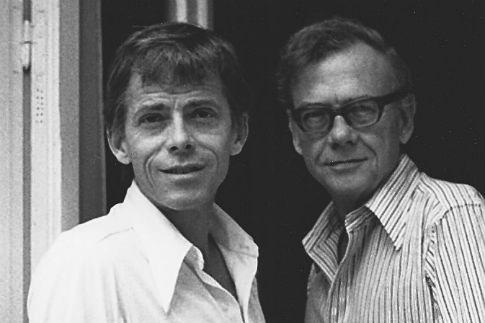 Merrill (L) with David Jackson
1926 – The poet James Merrill was born on this date (b. 1995). His books include: The Changing Light at Sandover, (1982), A Different Person (1993), and A Scattering of Salts (1995). Although most of his published work was poetry, he also wrote essays, fiction, and plays.
James Ingram Merrill was born in New York , son of the founding partner of the Merrill Lynch investment firm. As a boy, Merrill enjoyed a highly privileged upbringing. His parents separated when he was eleven, then divorced when he was thirteen years old. As a teenager, Merrill attended the Lawrenceville School, where he befriended future novelist Frederick Buechner. When Merrill was 16 years old, his father collected his short stories and poems and published them as a surprise under the name Jim's Book. Initially pleased, Merrill would later regard the precocious book as an embarrassment.
Merrill was drafted in 1944 into the United States Army and served for eight months. Merrill returned to college in 1945 and graduated in 1947. The Black Swan, a collection of poems Merrill's Amherst professor (and lover) Kimon Friar published privately in Athens, Greece in 1946, was printed in just one hundred copies when Merrill was 20 years old. Merrill's first mature work, The Black Swan is Merrill's scarcest title and considered one of the 20th century's most collectible literary rarities. Merrill's first commercially published volume was First Poems, issued in 990 numbered copies in 1951.
Merrill's partner of more than four decades was David Jackson, also a writer. Merrill and Jackson met in New York City after a performance of Merrill's "The Bait" in 1953. For two decades, the couple spent part of each year in Athens, Greece. Greek themes, locales, and characters occupy a prominent position in Merrill's writing. In 1979 Merrill and Jackson began spending part of each year at Jackson's home in Key West, Florida. In his 1993 memoir A Different Person, Merrill revealed that he suffered writer's block early in his career and sought psychiatric help to overcome its effects. Merrill painted a candid portrait of gay life in the early 1950s, describing relationships with several men including writer Claude Fredericks, art dealer Robert Isaacson, David Jackson, and his last partner, actor Peter Hooten.
Beginning with the prestigious Glascock Prize, awarded for "The Black Swan" when he was an undergraduate, Merrill received every major poetry award in the United States, including the 1977 Pulitzer Prize for Poetry for Divine Comedies. Merrill was honored in mid-career with the Bollingen Prize in 1973. He received the National Book Critics Circle Award in 1983 for his epic poem The Changing Light at Sandover. In 1990, he received the first Bobbitt National Prize for Poetry awarded by the Library of Congress for The Inner Room. He was awarded the National Book Award for Nights and Days in 1967 and again in 1979 for Mirabell: Books of Number.
Merrill served as a Chancellor of the Academy of American Poets from 1979 until his death. While vacationing in Arizona, he died on February 6, 1995 from a heart attack related to AIDS.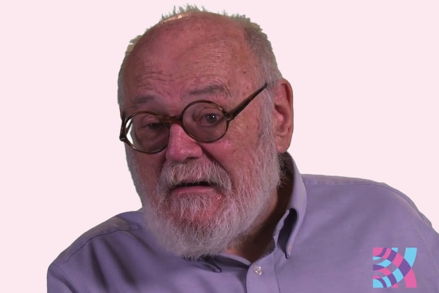 1938 – Dr. Don Kilhefner is an LGBTQ rights activist, community organizer, and Jungian psychologist living in West Hollywood, California.
He founded and co-founded multiple gay organizations, including the Radical Faeries and the LA Community Services Center (now the Los Angeles LGBT Center) and Van Ness Recovery House.
Kilhefner was born in Ephrata, Pennsylvania. He finished high school and enrolled Millersville University, where he majored in history. His attained his first masters degree, in African American History, from Howard University.
After completing college he taught German and world history in high school for a year in suburban Wilmington. He was among the first volunteers in the Peace Corps in 1962. He spent three years of his life living in Ethiopia, while teaching secondary school history.
As a response to what he believed was an assimilationist attitude in the mainstream gay rights movement, he co-founded of the spiritual/countercultural Radical Faeries movement. This loose network explored queer consciousness, one that Kilhefner believed was fundamentally different than that of heterosexuals.
He recently wrote a column for Frontiers, Southern California largest gay newspaper, called Edging Out: Exploring the Frontiers of Gay Consciousness with Don Kilhefner.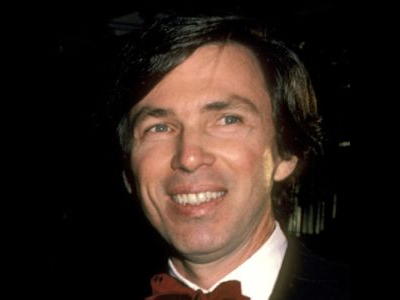 1940 – On this date the American fashion designer Perry Ellis was born (d. 1986) He founded the influential Perry Ellis sportswear house in the mid-1970s. Throughout the 1980s the company continued to expand and include various labels such as Perry Ellis Collection and Perry Ellis Portfolio. By 1982, the company had more than 75 staff. In 1984, Perry Ellis America was created in cooperation with Levi Strauss. In 1985, he revived his lesser-priced Portfolio line. In the early 1980s, wholesale revenues had figured at about $60 million. By 1986 that number had risen to about $250 million.
In his early career in New York, Ellis began to explore the homosexual side of his nature. He had previously dated a few women but had never developed a serious relationship with any of them. He now also started having affairs with men, including one with Robert MacDonald, a young man then working in the film industry. Their romance faded after about six years, but MacDonald would remain one of Ellis's closest and most trusted friends for the rest of his life.
As accolades and award nominations for his designs came Ellis's way, he negotiated a complex deal with Manhattan Industries that gave him his own division within the corporation, Perry Ellis Sportswear, Inc., and also created Ellis's own company, Perry Ellis International. The agreement was signed in August 1978. The arrangement would allow Ellis to branch out, eventually adding lines of men's sportswear, evening clothes, shoes, furs, fragrances, and linens.
Ellis presented his fall collection in April 1978. The show was the first to feature Ellis's men's wear designs. The first model to wear them on the runway was Robert "Beau" Tropper, who had recently become Ellis's lover. Although Ellis was not out publicly as a gay or bisexual man, the nature of his relationship with Tropper, some sixteen years his junior, was an open secret in the fashion world.
A key player in the expansion of Ellis's enterprises—and in his personal life—was Laughlin Barker. The two met in 1980 and immediately fell in love. Shortly thereafter Ellis retained the law firm for which Barker worked as corporate counsel for Perry Ellis International. In June 1982 Barker began working directly for the company as its president and legal counsel, a position created especially for him by Ellis, who held the title of chairman.
Barker proved to be an astute businessman. By the beginning of 1986 sales were up to approximately a quarter of a billion dollars.
Ellis was briefly hospitalized with hepatitis in early 1981 shortly after he and Barker returned from a trip to Africa. Ellis recovered, but following the episode both he and Barker started showing more concern about their health.
Within a few years the two men began to decline visibly, Barker in particular. Although they kept up the demanding task of guiding Ellis's fashion empire, they spent more and more of their time running it from Ellis's luxurious beach house at Water Island, a tiny and isolated community on Fire Island.
Ellis and Barker nevertheless continued to travel frequently. They made several trips to Paris in connection with the development of Ellis's fragrance line, but according to close friends they were also going to the Pasteur Institute, a leader in AIDS research, where patients (including actor Rock Hudson) were able to obtain experimental drug treatments unavailable elsewhere.
Barker was hospitalized in late 1985, but Ellis brought him home at Christmastime. Barker died on January 2, 1986 at the age of thirty-seven. His death was publicly reported as due to lung cancer.
Although Ellis himself was desperately ill, he insisted on attending a benefit for the American Foundation for AIDS Research in late April. A longtime friend later speculated that Ellis may have intended this as a tacit acknowledgment that he had AIDS.
Elis presented his final collection on May 8. Far too weak to close the show with his traditional skip down the runway, he could only walk to the top of it with the support of his two design assistants. The audience rose to give him a standing ovation.
Fashion critics praised the collection, but before the writers had even written their reviews MacDonald was driving Ellis from the showroom to the hospital. He remained there, eventually lapsing into a coma. Ellis died on May 30, 1986.
His demise was attributed to viral encephalitis, a common immediate cause of death in AIDS patients.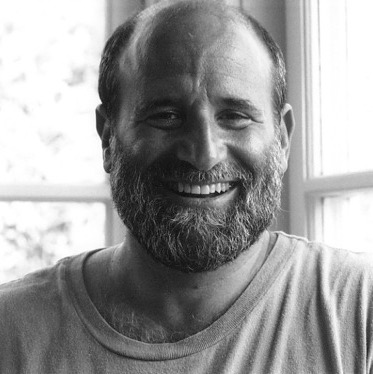 1943 – Roy London (d.1993) was an American actor and acting coach and teacher.
London was born and raised on the Upper West Side of Manhattan, New York City. A math prodigy at age five, London was on the radio show, Quiz Kids, and educated at the experimental elementary school at Hunter College, NYC. In 1948 the school was featured in LIFE Magazine and shows little Roy telling an arresting tale of death, transfiguration and group marriage involving Walt Disney's Mickey Mouse and Donald Duck. To graduate at twenty from Antioch College, in Yellow Springs, Ohio, London wrote a paper that combined mathematical concepts and the precepts of theater.
Upon returning to New York, in 1963, he immediately found work, both on Broadway and in the burgeoning Off-Broadway scene. He studied acting at the Herbert Berghof Studio with Uta Hagen and was an integral member of Joseph Chaiken's avant-garde, "Open Theater." During this era, London lived with Pulitzer Prize winning playwright Lanford Wilson.
In the late Seventies when London was on tour with Lynn Redgrave and performing on stage at the Huntington Hartford Theater in Los Angeles, he decided to stay in Hollywood. As an actor, he appeared on television in programs as widely diverse as WNET's USA Writer's segment about Catcher in the Rye, (London is the only person to have professionally portrayed Holden Caulfield and with J.D. Salinger's approval) to the daytime soap opera, The Edge of Night, where he was popular as a peeping-tom for several seasons. In commercials London was an everyman, playing one of the Tang astronauts, the Williams Lectric Shave man, the Western Auto man, and innumerable others. He appeared on Falcon Crest, Hill Street Blues, Newhart, Momma's Place, Fatal Vision and many more. In feature films, after a bit part in the Magic Garden of Stanley Sweetheart, London went on to roles in Hardcore (film) with George C. Scott, Antonioni's Zabriskie Point, William Friedkin's Rampage and other films.
In the last fifteen years of his life he became the premier acting teacher in Hollywood. He has been cited as a profound new influence on film acting. He taught over two hundred and fifty actors weekly and coached many more privately. In addition to preparing his clients for performances, London was also called upon to help develop and shape their projects. His knowledge of writing, combined with his experience of having acted in over 150 roles on Broadway, Off-Broadway, The Royal Shakespeare Company, feature films and television, led him to discover how to help actors reveal material in dynamic ways that led to exciting performances. Synthesizing techniques from many acting schools, with a focus on results - he had no tolerance for psychobabble - his reputation exploded.
London's partner in life and work for his last ten years was Tim Healey; they had a commitment ceremony in 1988.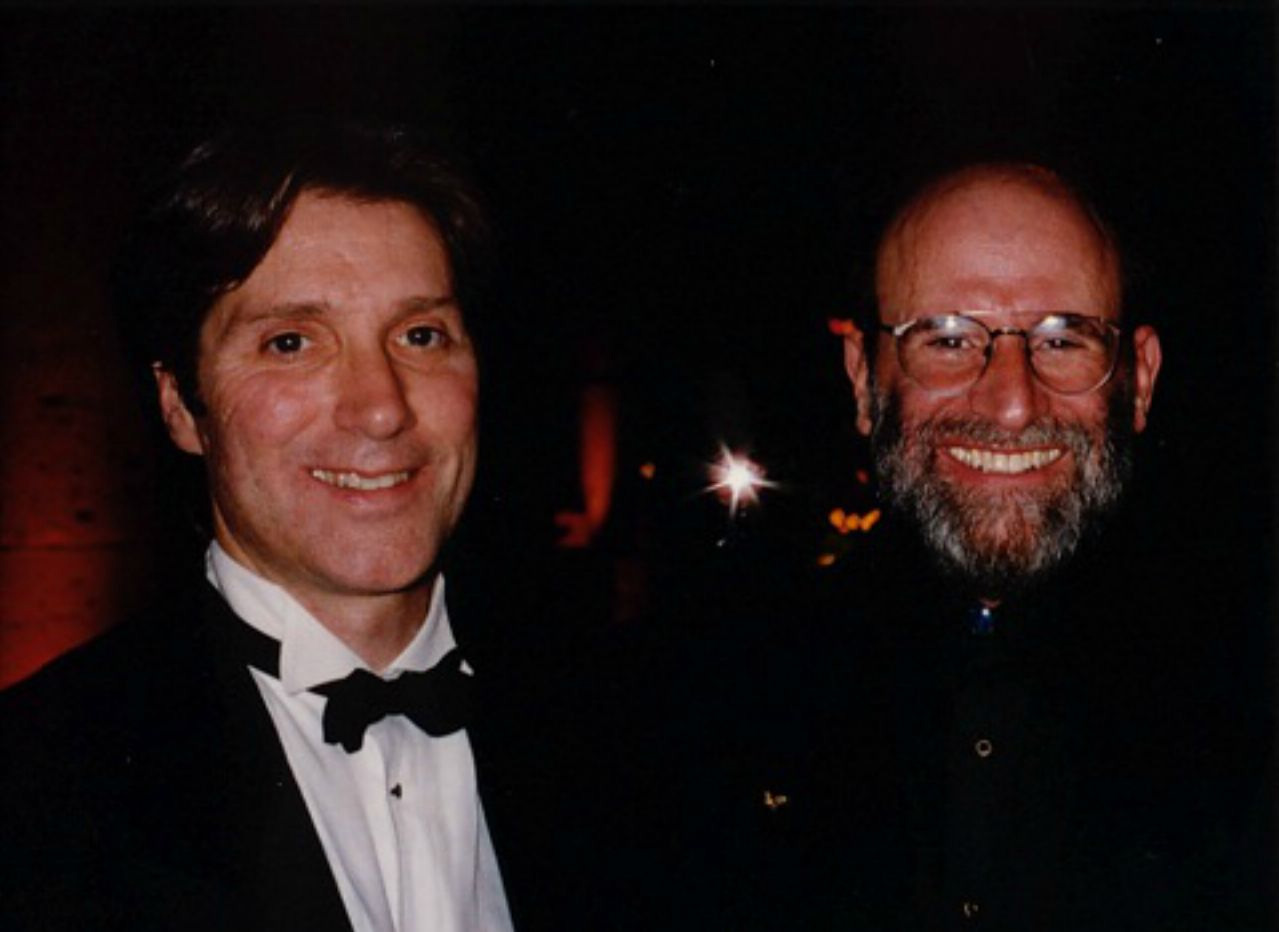 Tim Healy and Roy London
London was mid pre-production for his second feature film as a director when he became ill and died from complications due to AIDS. London is buried in a cemetery overlooking the ocean in Santa Barbara, where he shared a home with Tim.
A documentary about his work, featuring interviews with over 50 of his students and friends, including Sharon Stone, Sherilyn Fenn, Jeff Goldblum, Patrick Swayze, Patricia Arquette, Geena Davis, Famke Janssen, Garry Shandling, Lanford Wilson, Lois Chiles, Elizabeth Berkley, Drew Carey and Janel Moloney, premiered at the Tribeca Film Festival in 2005.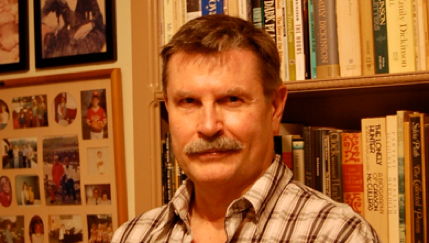 1947 – Clifton Snider is an American poet, novelist, literary critic, scholar, and educator. He has a B.A. and an M.A. from California State University, Long Beach, and a Ph.D. from the University of New Mexico. He has taught at various institutions of higher education in southern California, primarily at Long Beach City College and at California State University, Long Beach. He is openly gay.
Clifton Snider was born in Duluth, Minnesota, the second of five sons. His father was a minister with the Assemblies of God denomination. His mother, had traveled as an evangelist with Olga Olsson before her marriage to Allan Snider. Because the father was a minister, the family moved frequently. By the age of twelve, Snider had lived in Minnesota; Joliet, Illinois; Terre Haute, Indiana; and several cities in southern California.
A political/peace activist, Snider has posted poems on the national web site, Poets Against the War, and maintains his own web page, A Poet Against the War, on which he has posted some of his own poetry. The page includes many news items, photos, and links regarding the war in Iraq, not the least of which are statistics of the dead and wounded and information about the slaughter in Iraq of academics and gay people. He has served as an officer in the Long Beach Lambda Democratic Club.
In the midst of the presidential election during the fall semester of 2004 at Cal State Long Beach, Snider became involved in a national controversy over academic freedom when two of his students, a young woman and a young man, went on Fox News to complain about Snider's comments the first night of a freshman composition class.
In 2000-2001 Snider published in rapid succession three novels he had written in the 1980s: Loud Whisper, Bare Roots, and Wrestling with Angels: A Tale of Two Brothers. All were well received by the critics in journals such as the International Gay and Lesbian Review, Sexuality and Culture: An Interdisciplinary Quarterly, and Chiron Review. The latter two novels are autobiographical stories about the coming of age and coming out of sensitive young men with deep Christian fundamentalist roots. Loud Whisper chronicles the frontman for an 80's rock band who, drunk and drugged out, falls from stage during a concert and becomes paralyzed. As always, Snider is concerned with spiritual decline and revitalization. Through the eyes of the frontman, Adam, his band members, his male and female lovers, and a journalist doing a story on him, Adam's spiritual and physical struggles unfold.
A long-time lecturer at Cal State Long Beach, Snider retired in 2009. His first historical novel, The Plymouth Papers, was published in February, 2014. The short novel examines the relationships between the 17th-century English settlers of Plymouth Colony and the native peoples they encountered, with a frame character from the 19th century who discovers the papers.
On July 7, 2018, Snider was awarded the inaugural Lorde-Whitman Award for "outstanding achievement in the arts and service to the LGBTQ community" from OUT LOUD: A Cultural Evolution, Long Beach, California.
Snider continues to write poetry, fiction, and criticism.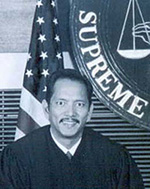 1951 – Benjamin "BJ" Cruz is an American judge and politician from Guam.
In 1984, Cruz was appointed to be a Judge of the Superior Court of Guam. At 33, Cruz would be one of the youngest attorneys ever appointed to be a Judge. His appointment was controversial, and several leaders of local Protestant churches testified against the confirmation, citing sexual preference as disqualifying Cruz from being a good judge. Despite these interventions, Cruz was confirmed by the legislature and began a 17-year career in the island judiciary.
Cruz's nomination to be a Judge in the Superior Court of Guam in 1984 was marked with protests from evangelical and Baptist church groups because he was gay. Cruz was later confirmed as a Judge and was assigned to lead the Family Court for nearly 10 years. Cruz revealed a longstanding homosexual relationship in a local magazine article published in Latte Magazine in 1995. Cruz eventually became Chief Justice of the Supreme Court of Guam and was featured in an article in The Advocate about his homosexuality.
In 2009, Cruz introduced Same-sex Civil Union Legislation on behalf of the Guam Youth Congress. The legislation has been publicly opposed by Arbishop Anthony S. Apuron, Archdiocese of Hagatna, Guam. In July 2009, Cruz revised the legislation to provide for Domestic Partnerships between any two people. This legislation has also been opposed by the Catholic Church on Guam.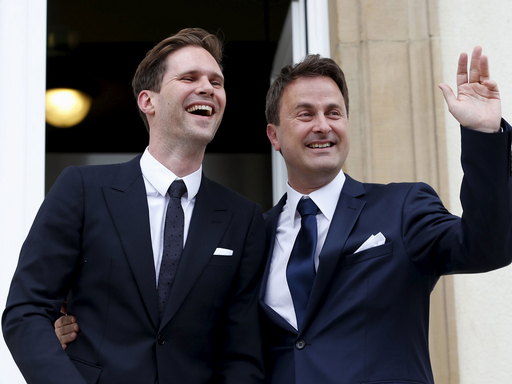 Bettel (R) with husband Gauthier Destenay
1973 – Xavier Bettel is a Luxembourgish politician and lawyer, serving as Prime Minister of Luxembourg. He has previously served as Mayor of Luxembourg City, member of the Chamber of Deputies and member of the Luxembourg City communal council. Bettel is a member of the Luxembourg Democratic Party.
In 2013, Bettel was elected leader of the Democratic Party, and in the 2013 election, led the party to a third-ranked position in parliamentary seats. On 25 October, Bettel was designated by Grand Duke Henri as the formateur for the next government. He assumed his post as Luxembourg's Prime Minister on 4 December 2013. In the government's coalition of the Democratic Party, Luxembourg Socialist Workers' Party and The Greens, he also holds the functions of Minister of State, Minister for Communications and the Media, and Minister of Worship.
His policies were expected to include reforms on same-sex marriage in Luxembourg, replace religious instruction in schools with general ethics classes and cut spending to maintain Luxembourg's AAA credit rating.
His government legalized same sex marriage in 2015, allowing Bettel to marry his male partner.
Bettel is openly gay, and has stated that increasingly in Luxembourg "people do not consider the fact of whether someone is gay or not". Bettel is Luxembourg's first openly gay Prime Minister and, worldwide, the third openly gay head of government following Iceland's Prime Minister Jóhanna Sigurðardóttir and Belgium's Prime Minister Elio Di Rupo. As of October 2014, he was the only openly gay world leader.
Bettel has been in a partnership with Gauthier Destenay since March 2010. In August 2014 Destenay proposed to Bettel, who accepted. Bettel and Destenay married on 15 May 2015. (On 1 January 2015, same-sex marriage law reforms that passed in June 2014 had come into effect.)
Interestingly enough, Bettel's deputy prime minister, Etienne Schneider, is also gay.

1973 – Two California police officers have a shootout in a restroom after one attempts to arrest the other for "an act of oral copulation."

1975 – Arkansas passes a new criminal code that repeals the state's sodomy law, making it the first state in the South to do so. The repeal doesn't last; the law is reinstated two years later.


2010 – On this date Gay marriage in Washington, D.C. became a reality in the nation's capitol, when Angelisa Young and Sinjoyla Townsend applied for and received a marriage license. The African-American couple had been together for 12 years and were married a week later thanks to years of advocacy on the local level to change the laws and offer marriage to all. Most importantly the election of a Democratic party-controlled Congress and White House assured the law would not be overruled.
Gay council-member, and former Republican
David Catania
had waited to introduce the bill until a friendly Congress was in place that would allow the local decision to extend marriage rights to same-sex couples.
Since the Republicans took the house in the last election they've threatened to put roadblocks on the city's law. That is because Washington, DC is still treated like a colony and doesn't have autonomy in its decisions — although the citizens pay taxes and fight in all the wars.

MARCH 4 →
[{(o)}]|[{(o)}]|[{(o)}]|[{(o)}]| [{(o)}]|[{(o)}]