March 11
[{(o)}]|[{(o)}]|[{(o)}]|[{(o)}]| [{(o)}]|[{(o)}]
222 AD – Heliogabalus aka Marcus Aurelius Antoninus, Roman Emperor, Died (b. c.203 AD); Heliogabalis, also known as Elagabalus, the boy emperor of Rome, appears to have been a total madcap, if not completely mad. His great love of swishing ceremony can only be suggested in the space available here.
Since even madcap Gay Roman emperors were expected to produce an heir, a suitable bride was chosen for him, and he went through with the motions of consummation, finding it all rather futile. But he was impressed with the ceremony itself and later went through it twice in one night, choosing as his "husband" a well-hung charioteer named Gorianus, and as his "wife" a boy named Hierocles. His wedding night with both was consummated in full public view. The Augustan History claims that he also married a man named Zoticus, an athlete from Smyrna, in a public ceremony at Rome. He lavished favours on courtiers popularly assumed to have been his homosexual lovers.
Cassius Dio reported Elagabalus would paint his eyes, epilate his hair and wear wigs before prostituting himself in taverns and brothels, and even the imperial palace:
Finally, he set aside a room in the palace and there committed his indecencies, always standing nude at the door of the room, as the harlots do, and shaking the curtain which hung from gold rings, while in a soft and melting voice he solicited the passers-by.
Herodian commented that Elagabalus pampered his natural good looks by wearing too much make-up. He was described as having been "delighted to be called the mistress, the wife, the Queen of Hierocles" and was said to have offered vast sums of money to the physician who could equip him with female genitalia. Subsequently, Elagabalus has often been characterized by modern writers as transgender, most likely transsexual.
He had the makings of a great theatrical producer and virtually invented the casting call by sending out his agents to round up for audition the men with the largest penises in the Roman empire. Eventually his enemies dispatched him with a sword up his bum and dumped his body in the sewer. He was just 18.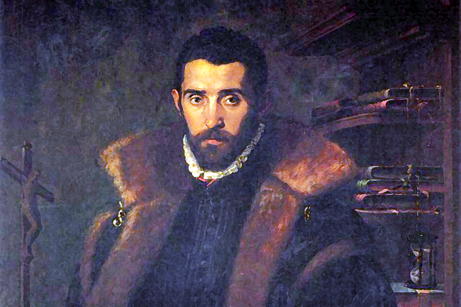 1544 – Italian poet Torquato Tasso was born on this date (d. 1595). Best known for his poem La Gerusalemme Liberata (Jerusalem Delivered) (1580), in which he depicts a highly imaginative version of the combats between Christians and Muslims at the end of the First Crusade, during the siege of Jerusalem. He died a few days before he was due to be crowned as the "king of poets" by the Pope. Until the beginning of the 19th century, Tasso remained one of the most widely read poets in Europe.
In the autumn of 1576 Tasso quarrelled with a Ferrarese gentleman, Maddalo, who had talked too freely about a same-sex love affair; the same year he wrote a letter to his homosexual friend Luca Scalabrino dealing with his own love for a 21-year-old young man Orazio Ariosto.
His poems barely hint at his homosexuality but his letters written to one Luca Scalabrino are very plain about his love of men. Here's a taste from the translated letters by Jill Claretta Robbins in the Columbia Anthology of Gay Literature:
"You Lordship, in your last letter you ask forgiveness of me for not having revealed your sexual desire for me; and in your other ones that you wrote to me before, you have always shown that you believe that I am scornful of you, because you have not revealed to me this carnal desire of yours, and you express a very good reason for your secrecy and silence used with me....speak no longer of these things....In sum, I am all yours."
He suffered from what was most-likely schizophrenia, and spent several years in a madhouse. He died at age 51, having created his best work before he was 30.

1778 – Lt. Gotthold Enslin is the first recorded U.S. soldier to be dismissed for homosexuality.

1647 – In England, Domingo Drago, a colonial black, is accused of "buggery" with William Wraxall, a "boy."

1869 – A cartoon in a Vienna newspaper comments on Gay cruising in public parks.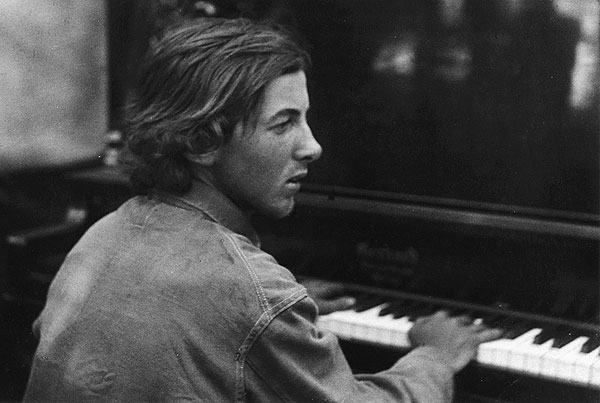 1897 – American composer, pianist, theorist, and teacher Henry Cowell (d.1965) was an important musical innovator who sought to create an "ultramodern" style based on the synthesis of Western, Asian, and African music. His brilliant career as composer and performer was severely damaged when he was arrested at the age of 39 for having sex with a seventeen-year-old male and subsequently imprisoned.
Cowell was an untiring advocate of contemporary music and frequently acted as mentor to other composers. As a teacher in California and New York, his students included Lou Harrison, George Gershwin, and Burt Bacharach.
In 1925 Cowell organized the New Music Society of California. In 1927 he founded the quarterly New Music, which grew to include a concert series and record label. During the late 1920s and early 1930s Cowell guided the Pan American Association of Composers. In 1930 he published New Musical Resources, a book he had worked on since 1919. Besides these efforts, he disseminated his views on music in countless articles and interviews, frequently championing other American composers, particularly Charles Ives.
In 1936 Cowell's career halted abruptly when he was arrested for having sexual relations with a seventeen-year-old male. Hoping for a lenient sentence, Cowell pled guilty, confessing not only the incident with the seventeen-year-old but other homosexual contacts as well. Rather than leniency, he received a sentence of one to fifteen years in prison.
Beginning his term in San Quentin Penitentiary in 1937, Cowell continued to compose, teach, and write. Although he was vilified by much of the press, he received loyal support from his family and many colleagues, including dancer Martha Graham and composer Percy Grainger. Of his close friends, only Ives, whose work he had supported so faithfully, cut off relations with him.
In 1940, Cowell was paroled and moved to White Plains, New York. He accepted work as an assistant to Grainger. In 1942 he received a pardon that enabled him to become a Senior Music Editor in the Office of War Information.
In later years, until his death on December 10, 1965, Cowell continued to write, teach, and (though less frequently) perform. He was the recipient of many grants and honors. A prolific composer, he inspired contemporaries and younger musicians to embrace both world music and innovative techniques.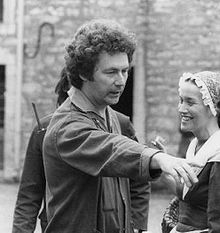 1930 – Claude Jutra (d.1986) was a Canadian actor, film director and writer. The Prix Jutra are named in his honor because of his importance in Quebec cinema history.
Claude Jutra was born in Montreal, Quebec and studied to be a doctor before turning to his first love, the cinema. In 1954 he went to work at the National Film Board of Canada where he trained in all facets of filmmaking. In 1958 he went to France to work with François Truffaut and Jean Rouch.
With financing and production provided by the National Film Board of Canada, Jutra co-wrote and directed the acclaimed 1971 film Mon oncle Antoine as well as directing several cinema verite shorts such as La lutte and The Devil's Toy. He also co-directed with Norman McLaren and starred in the pixilation short A Chairy Tale.
The bohemian counterculture of Montreal in the early 1960s was the backdrop for Jutra's autobiographical feature À tout prendre (1963). Jutra plays a discontented rambler who during the process of terminating an interracial affair with Johanne, a Haitian model, reveals that he's gay. Shot in an improvised style reminiscent of the French New Wave, the film displayed Jutra's fascination with free-spirited, poetry-over-narrative moviemaking.
Jutra's 1971 classic Mon oncle Antoine was named "the best Canadian film of all time" in critics' polls at both the 1984 and 1993 Toronto Festival of Festivals. Set in a small town in Quebec's asbestos region in the 1940s, the film is based on the childhood experiences of screenwriter Clément Perron and was adapted for the screen by Perron and Jutra. Mon oncle Antoine won 21 international prizes and eight Canadian Film Awards, including best feature.
His next feature film, Kamouraska (1973), is a lavish period piece constructed around the 19th-century tempestuous and tragic love affair. A co-production with France, Kamouraska was radically cut for its initial release after the French producers decided it was too long — the result was lambasted as a disappointing follow-up to Mon oncle Antoine. It wasn't until 1993 that Jutra was able to make a director's cut, running 173 minutes.
Jutra returned to form with By Design (1981), a screwball comedy about a lesbian couple who are determined to become parents. This film won over many fans, including New Yorker critic Pauline Kael, who called it a "Lubitsch sex comedy stripped of the glamor but not the fun."
In 1984, he was awarded the Prix Albert-Tessier, given to individuals for an outstanding career in Québec cinema.
Jutra was diagnosed with Alzheimer's disease in the early 1980s. He died, an apparent suicide, in 1986: his body was found in the St. Lawrence river some months after he disappeared, with a note in his pocket reading "I Am Claude Jutra."
In 2016, thirty years after Jutra's death, journalist Yves Lever wrote a biography which claimed that Jutra was a pederast. Lever said that "one of Jutra's victims was under 14 years old." He also maintained that Jutra's proclivities were known by many people in the industry, but nobody made a big deal out of it. Lever's allegations were not officially proven, as no victims publicly came forward; however, in the wake of the allegations Québec Cinéma held an emergency meeting to discuss changing the name of the Prix Jutra.
Culture Minister Héléne David made the request to change the name of the awards after a Montreal resident claimed he suffered multiple sexual assaults at the hands of  Jutra over 10 years when he was a child, beginning when he was only six.
In an interview in La Presse, the man, who wished to remain anonymous, reveals explicit details about the assaults that took place when Jutra would visit his home. Jutra and the man's parents were friends, but they suspected nothing. At the end of adolescence, he says he violently rejected one of the assaults. A few months later, he left the family home to continue his studies far from Montreal and Jutra. During the interview, the man says he told his family about the incidents when Jutra died in 1986.

1932 – Martin Richards (d.2012) was a film and stage producer. He won the Best Picture Academy Award for the production of Chicago. As a Broadway producer, behind hits such as Sweeney Todd, The Will Rogers Follies and Chicago, he won three Tony Awards for Best Musical and one Tony Award for Best Revival of a Musical, out of 10 nominations.
The flamboyant New Yorker's other Broadway credits include Grand Hotel, Crimes Of The Heart and La Cage Aux Folles. He also had producing credits on a number of films such as The Shining and The Boys From Brazil.
Talented, passionate and extrovert, Richards, born Morton Richard Klein, began his showbiz career at the age of 12 when he appeared in the Broadway musical Mexican Hayride.
He was a gifted singer who performed in piano bars during the Fifties but switched to being a casting director for film studios in the early Sixties.
He struck out on his own as a producer in 1972, raising the money for an Off-Broadway show called Dylan. The show garnered critical acclaim and Richards was invited by producers Robert Fryer and James Cresson to help out on Chicago.
Initially director Bob Fosse and star Gwen Verdon didn't particularly like the over-eager newcomer but the show opened in 1975 and ran for 939 performances, only to return in 1996 and cement its status as the longest-running musical revival on Broadway.
In 1978 Richards married Johnson & Johnson heiress Mary Lea Johnson, although she knew he was gay. It was a happy marriage and they set up the production company Producer Circle in 1976.
Richards and his wife helped with the founding of Broadway Cares/Equity Fights AIDS and Meals on Wheels. Richards also created the New York Center for Children to care for abused children and their families.
Richards died on November 26, 2012 from cancer at the age of 80. The marquees of Broadway theatres were dimmed in his memory.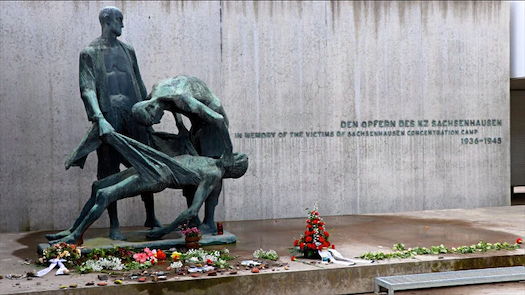 1938 – Hans-Joachim Müller, born in Bitterfeld, Germany, is a German historian who specializes in the academic analysis of the persecution of homosexual men during the Nazi era.
Little is known about Müller's career. In 1959 he moved to West Berlin, studied in the Federal Republic and returned to West Berlin with the "teaching qualification for the intermediate level".
Later he belonged to the "Homosexuality Discussion Group" of the Protestant Church in Berlin-Brandenburg , in which persecution under National Socialism, not only of homosexuals, was an important topic.
Since 1984 he has been committed to the recognition of homosexual men as victims of National Socialism. During this time he began researching the history of gay men in sub-camp brickworks .He made his long-term research on the history of the previously taboo group of victims of homosexual men in Sachsenhausen concentration camp public for the first time in 1992.
He was one of the initiators of the first memorial event for homosexual prisoners at the Sachsenhausen Memorial. Joachim Müller worked at the Schwules Museum in Berlin and was a member of the international advisory board of the Brandenburg Memorials Foundation from 1993 to 2001 . At the suggestion of the Foundation, he was awarded the Cross of Merit 1st Class of the Federal Republic of Germany for his services on April 5, 2013.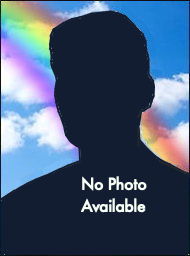 1948
– (William)
Stephen Gardner
was an American Medievalist architectural historian.
Gardner was raised in Arkansas. He graduated with a B.A. in art history from Duke University in 1970, continuing graduate work at Princeton University, earning his M.A. and Ph.D in 1976. He taught as a graduate instructor at Boston University. When his superior, Robert Branner, died in 1973, Gardner was appointed as his replacement. Gardner supervised many of the dissertations of Branner's graduate students and well as attracting his own.
A homosexual, Gardner had been active in the lifestyle but not public to his colleagues. In 1985 his partner died of an AIDS-related disease the same year his bid for tenure appointment at Columbia was denied. Gardner spent his terminal year as a fellow at the Center for Advanced Study in the Visual Arts (CASVA) at the National Gallery of Art, Washington, DC.
He himself contracted the illness and moved to Santa Barbara where he joined the Department of Art History at the University there. In May of 1991, his health declining, a symposium in his honor was organized by his former students and held at Riverside Church, New York. Gardner succumbed to an AIDS-related illness in 1991.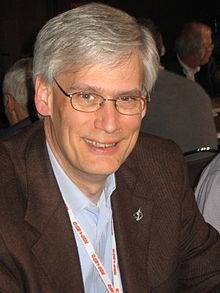 1955 – (William Livingstone) Bill Siksay, former MP, born in Oshawa, Ontario, is a Canadian politician, and was the Member of Parliament (MP) who represented the British Columbia riding of Burnaby-Douglas for the New Democratic Party from 2004 to 2011.
Receiving his high school diploma from McLaughlin Collegiate and Vocational Institute in Oshawa, Ontario, Siksay attended Victoria College at the University of Toronto, graduating with a B.A. in 1978. He then enrolled in the M.Div. programme at the Vancouver School of Theology at the University of British Columbia, studying as a candidate to be a congregational minister in the United Church of Canada. He was one of the first people to come out as gay or lesbian in the process of his ordination and helped start the debate in the church on the ordination and commissioning of openly gay or lesbian candidates. He did not complete the programme and was not ordained.
Prior to running for elected office, he was constituency assistant to Svend Robinson for over 18 years. He also ran in the 1997 election in the riding of Vancouver Centre, but lost to incumbent Hedy Fry.
When Robinson resigned the Burnaby-Douglas seat in April 2004 due to a controversy around his theft of a piece of jewellery, Siksay won the nomination to replace Robinson as the NDP candidate in the upcoming election, and won the riding in the 2004 federal election on June 28.
With his election, Siksay became the first openly gay non-incumbent man to be elected to Canada's House of Commons. All of the previous MPs to come out as gay (Robinson, Libby Davies, Réal Ménard and Scott Brison) came out after they were elected, and Mario Silva came out in a Toronto Star profile shortly after the 2004 election.
In the NDP Shadow Cabinet, Siksay was critic for Ethics, Access to Information and Privacy, and for Gay, Lesbian, Bisexual and Transgender Issues; the NDP's was the only shadow cabinet with this latter position. He was previously critic for Citizenship and Immigration, and then for Canadian Heritage and Housing.
In May 2005, Siksay introduced a bill to amend the Canadian Human Rights Act to prohibit discrimination on the basis of gender identity or expression. He reintroduced the bill in the next parliament. In May 2009 he introduced it again, with additional provisions to add gender identity and expression to the hate crimes provisions of the Criminal Code. By June 2010, the private member's bill (C-389) had proceeded to the Standing Committee on Justice and Human Rights, with little overt opposition from the Conservative Party of Canada minority government evident. It passed at report stage by a vote of 143-131 on December 8, and passed at third reading by a vote of 143-135, in each case including members of all parties voting in favour.
On December 16, 2010, Siksay announced that he would not run again in the subsequent election.
Siksay resides in Burnaby with his partner, the Rev. Brian Burke, and remains an active member of the United Church of Canada.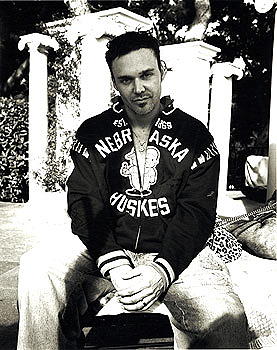 1963 – David LaChapelle is a photographer and director who works in the fields of fashion, advertising, and fine art photography, and is noted for his surreal and often humorous style.
David LaChapelle was born in Fairfield, Connecticut and lived there until he was nine years old. Then he moved to North Carolina with his family, where they lived until he was fourteen. He was bullied in his North Carolina school for being gay. When he was 15 years old, he ran away from home to become a busboy at Studio 54 in New York City. Eventually he returned to North Carolina to enroll in the North Carolina School of Arts.
When LaChapelle was 17 years old, he met
Andy Warhol
, who offered him his first job as a photographer at Interview magazine. Warhol reportedly told LaChapelle
"Do whatever you want. Just make sure everybody looks good."
His photographs of celebrities in
Interview
garnered positive attention, and before long he was shooting for a variety of top editorial publications. LaChapelle's friends during this period included
Keith Haring
and
Jean-Michel Basquiat
.
LaChapelle has four published books of his photographs, Heaven to Hell and Artists and Prostitutes (2006), LaChapelle Land (1996) and Hotel LaChapelle (1999 featuring his vivid and sometimes bizarre portraits.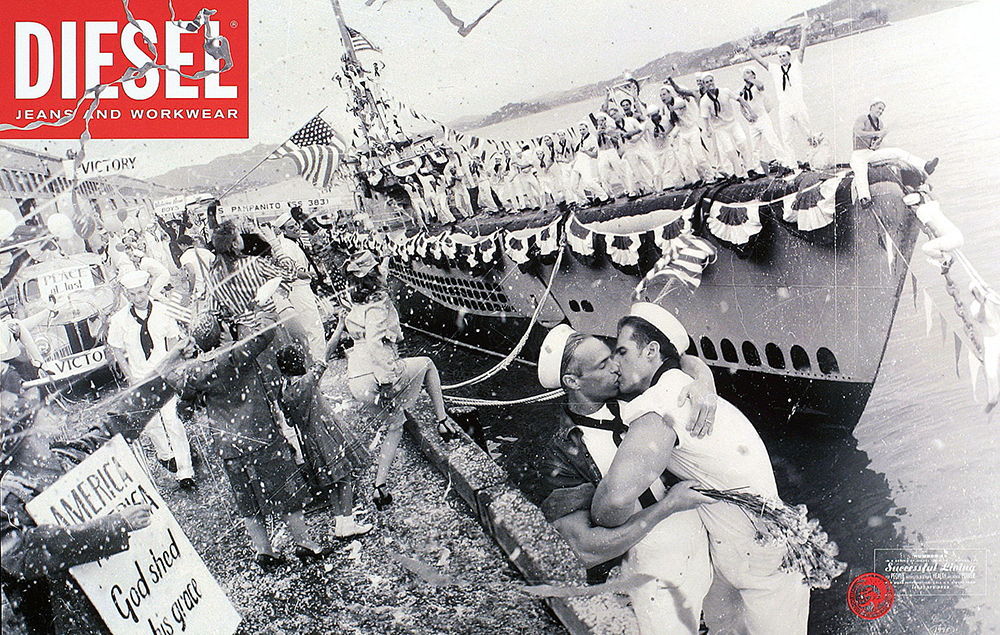 "Kissing Sailors" - Diesel Ad
(Click for larger)
In 1995 David LaChapelle shot the famous 'kissing sailors' advertisement for Diesel. It was staged at the peace celebration of World War II and became one of the first public advertisements showing a homosexual couple kissing. Much of its controversy was due it being published at height of the Don't ask, Don't tell debates in USA, which had led to the U.S. Government to bar openly gay, lesbian, or bisexual persons from military service. On a CNN interview LaChapelle admitted to being a gay escort at the age of 18.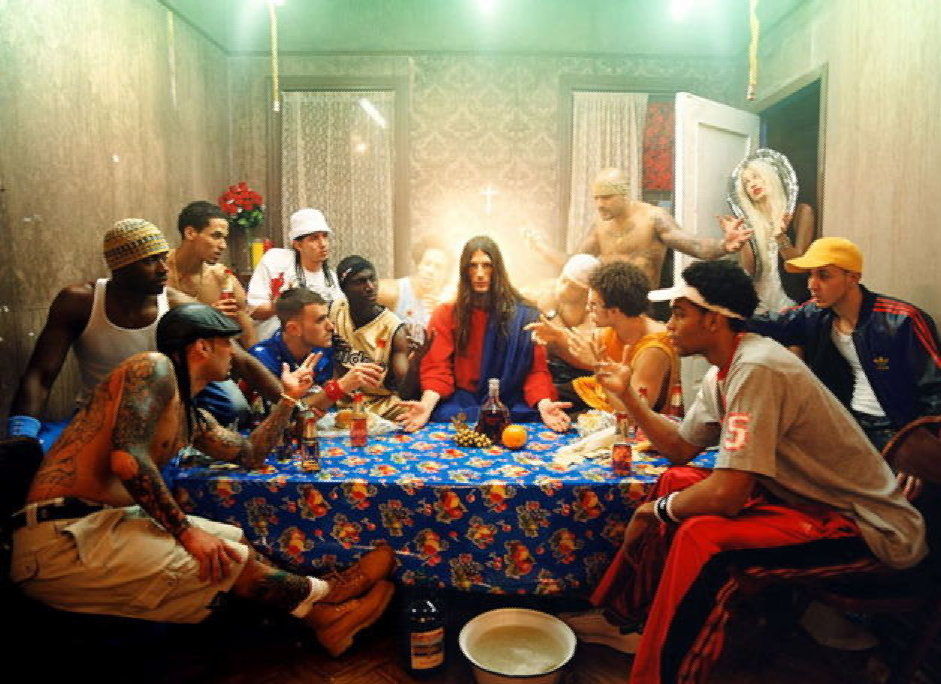 LaChappele's gay "Last Supper"
(Click for larger)
LaChapelle directed singer Elton John's show, The Red Piano at Las Vegas' Caesars Palace, which premiered in 2004. The show features extensive use of video technology on an LED screen backing the show that, when built, was promoted as the largest and brightest of all time. Several of John's songs during the performance are accompanied by short films by LaChapelle.
He has directed advertisements for major stores. In 2006 he directed 'Romeo and Juliet', a 5 minute long commercial for H&M's new denim brand and 'Tis the Season to be Gorgeous', a humorous Christmas commercial for UK retailer Boots showing very glamourous self-indulgent women doing relatively mundane Christmas tasks. Also in the UK, he directed the surreal Lost trailers for Channel 4, which show the cast dancing in 1920s costume amongst the burning wreckage on the beach.
His directing work includes music videos for many artists. In 2006 LaChapelle was presented with the GLAAD Vito Russo Award for outstanding contributions toward eliminating homophobia
Then in 2006, the already established LaChapelle abruptly quit the scene. He moved to a "...very isolated part of Hawaii in this forest. It's off the grid, bio-diesel cars, solar-powered, growing our own food, completely sustainable. I thought 'OK, I'm a farmer now.'" LaChapelle's change in path eventually brought him back to his roots. While in Hawaii, a longstanding colleague invited him to shoot for a gallery, which he hadn't done since his days as a fledgling photographer in New York. "I was really shocked", LaChapelle recalled. "I'm so known as a commercial artist, a big name as a fashion and celebrity photographer, I didn't think a gallery will take me seriously. It's like being reborn; it's like rebirth; it's like starting over. It's back to where I started, where I very first started in galleries when I was a kid. It's just come full circle."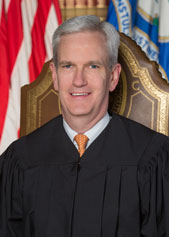 1966 – Andrew J. McDonald is an American judge and former politician from Connecticut. He serves as an associate justice of the Connecticut Supreme Court.
He previously served as a member of the Connecticut State Senate from 2003 to 2011, representing the state's 27th district in Stamford and Darien as a Democrat. McDonald resigned from the legislature on January 4, 2011 to serve as Governor Dan Malloy's chief legal counsel, a post he left to join the bench.
McDonald is gay. His campaigns have won the backing of the Gay & Lesbian Victory Fund. McDonald married Charles Gray in 2009. He is one of eight LGBT supreme court justices in the United States.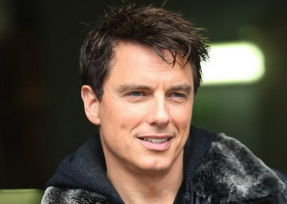 1967 – Today is the birthday of Scottish singer, actor, and activist John Barrowman. Best known for his role as Captain Jack Harkness in the science fiction series Doctor Who and Torchwood. Born in Glasgow, Scotland, Barrowman and his family emigrated to the U.S. when he was nine. Growing up in the state of Illinois, his high school teachers encouraged his love for music and theatre and he studied performing arts at the United States International University in San Diego before visiting the United Kingdom and landing the role of Billy Crocker in Cole Porter's Anything Goes in London's West End.
In addition to appearing in several films and television series, Barrowman has featured on more than a dozen musical theatre recordings including cover tunes found on the certified gold album Another Side (2007), Music Music Music (2008), the second Top 40 album by Barrowman to reach the UK albums and singles charts, and his self-titled release John Barrowman (2010), the highest chart rating of any of Barrowman's albums to date.
Barrowman met his partner Scott Gill in 1993 and in 2005 they registered as civil partners under British law. They do not call their relationship a marriage: "We're just going to sign the civil register. We're not going to have any ceremony because I'm not a supporter of the word marriage for a Gay partnership." Barrowman explained later: "Why would I want a 'marriage' from a belief system that hates me?" A small ceremony was held in Cardiff with friends and family, with the cast of Torchwood and executive producer Russell T Davies as guests. The pair were legally married in the state of California on 2 July 2013, following the United States Supreme Court's decision to deny an appeal to overturning California Proposition 8 in Hollingsworth v. Perry.
In 2009, Barrowman published I Am What I Am, his second memoir detailing his recent television work and musings on fame. In the book, Barrowman reveals that when he was just beginning his acting career, a Gay producer told Barrowman that he should try to pretend to be heterosexual in order to be successful. Barrowman was offended by the incident, and it made him more aware of the importance of his role as a Gay public figure: "One of my explicit missions as an entertainer is to work to create a world where no one will ever make a statement like this producer did to me to anyone who's Gay."
To this end, Barrowman is active in his community supporting the issues that matter to him most. He worked with Stonewall, a Gay rights organization in the UK, on the "Education for All" campaign against homophobia in the schools. In April 2008, the group placed posters on 600 billboards that read, "Some people are Gay. Get over it!" Barrowman contributed his support to the project asking people to join him and "Help exterminate homophobia. Be bold. Be brave. Be a buddy, not a bully." In the same month, Barrowman spoke at the Oxford Union about his career, the entertainment industry, and gay rights issues. The event was filmed for the BBC program The Making Of Me, in an episode exploring the science of homosexuality
In 1998, Barrowman was nominated for an Olivier Award for Best Actor in a Musical, and in 2006 he was voted Stonewall's "Entertainer of the Year."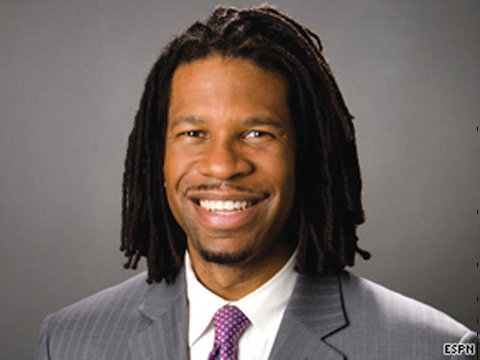 1972 – (Elzie) LZ Granderson is an American journalist and commentator for CNN and ESPN. He writes a weekly column for CNN.com. A senior writer and columnist for ESPN The Magazine and ESPN.com's Page 2, he has contributed to the channel's SportsCenter, Outside the Lines and ESPN First Take and commentates for ESPN's coverage of the U.S. Open tennis tournament. He has also hosted the web-based ESPN360 talk show Game Night.
Granderson was born and raised in Detroit, Michigan, where he developed a passion for ice hockey and the National Hockey League.
Before he moved to ESPN and Page 2, he was a sportswriter at The Atlanta Journal-Constitution and a columnist at I.
Granderson's writings for Page 2 usually center on the social and human aspects of sports. He writes about his own personal struggles, the life of athletes, and occasionally provides social commentary. He submits two articles weekly for Page 2 and writes a weekly op-ed column on CNN.com.
On April 18, 2012, Granderson wrote an opinion article titled "Ted Nugent should be in jail" for the online CNN website, accusing rock musician Ted Nugent of threatening the life of President of the United States Barack Obama, based on comments from a speech Nugent gave.
On June 27, 2012, Granderson published a controversial opinion article titled "Don't be nosy about Fast and Furious" for CNN's website, accusing the American public of being too nosy about the way their government functions, saluting disgraced Lieutenant colonel Oliver North for "taking one for the team" in his role in the Iran-Contra affair, and suggesting that illegal acts by government officials taken in the name of protecting the public should be hidden from public and legal scrutiny.
In 2013, he defended NBA center Jason Collins' decision to announce himself as the first openly gay male professional athlete in a major North American Sport.
Granderson was the 2009 winner of the Gay and Lesbian Alliance Against Defamation award for online journalism, and was nominated for the award again in 2010. He is also a 2008 and 2010 honoree of the National Lesbian and Gay Journalists Association for column writing, and a member of the Advisory Board for You Can Play, a campaign dedicated to fighting homophobia in sports.
In a column for CNN.com, Granderson openly stated that he was gay. Granderson has one son from his previous marriage to a woman. Granderson's partner Steve Huesing is ULTA Beauty's Merchandising Operations Director and Interim President of Chicago's Marriage Equality USA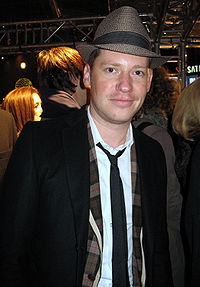 1977 – Marco Kreuzpaintner is a German film director and screenwriter.
Kreuzpaintner was born in Rosenheim in Bavaria, Germany. He studied History of Art in Salzburg. He is a self-taught filmmaker with a background in film, advertising and music video production. He was the assistant to Peter Lilienthal, and then assistant to Edgar Reitz in 1998. In 1999, he assumed the role of German dubbing assistant for the Stanley Kubrick film Eyes Wide Shut.
In the same year, his first short film, Entering Reality, attracted attention at film festivals. In 1999, he founded the production company Die Filmmanufaktur with Oliver Weiss. In 2000, he made the short film Der Atemkünstler, for which he was nominated for the Talent award First Steps.
In 2003, his first feature length film, Ganz und gar, which describes the life of a young leg amputee, was released in theaters. This was followed in 2004 by the drama Sommersturm (Summer Storm), which, according to Kreuzpaintner, resembles his own coming out as a young homosexual. In 2006, he wrote the screenplay for the film version of the youth novel Die Wolke.
In 2007, Trade was releasted internationally. The film focuses on the subject of human trafficking, forced prostitution, and modern slavery.
On October 9, 2008, Krabat, an adaptation of the youth novel of the same name by Otfried Preußler was released, starring Robert Stadlober, Daniel Brühl and David Kross.
In 2009, Kreuzpaintner founded the production company Summerstorm Entertainment in Berlin.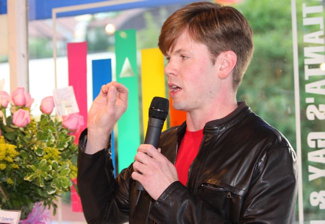 1978 – Christopher Rice, American author, born; an American author. Rice has written six best-selling novels: A Density of Souls, The Snow Garden, Light Before Day, Blind Fall, The Moonlit Earth, The Heavens Rise, and his latest book, The Vines, which was published in 2014.. His parents are Anne Rice, who died recently. and the late poet Stan Rice; his aunt, Alice Borchardt, is a noted writer.
Rice is gay; when asked in 2002 about "being pegged a 'gay writer'", he replied:
"That's not what I do. I might be more open to that label if I hadn't introduced ensemble casts of characters. Granted, " A Density of Souls" is as close to a gay book as you can get. It revolves around a character's homosexuality and others are described in terms of their reaction to the one character's sexuality. In that sense it's at the core of the book. "The Snow Garden" is about identity. With this book, I'm trying to shrug off the term "gay" author."
Nonetheless, Rice is proud of his large following in the gay community, explaining "it was incredibly rewarding when I got a huge positive response from the character Stephen in "The Density of Souls". More than a thousand young gay men contacted me and said that I captured what it was like for them going through those years. That means everything to me." Rice also writes a regular feature for The Advocate called "Coastal Disturbances," in which he discusses various topics and he is currently the President of the Board of the Lambda Literary Foundation.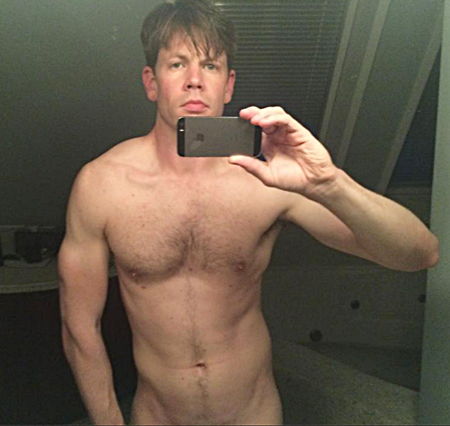 Christopher Rice Near-naked Selfie
In 2012, Rice launched a streaming Internet radio show called The Dinner Party Show. Eric Shaw Quinn, his partner and co-host, was known for having ghost written two books by celebrity Pamela Anderson and a 1992 novel about gay adoption called Say Uncle. The show describes itself as "the Internet's first live comedy variety show" and became known for its hard-hitting satire. After a year on the air, the show dropped its run time to one hour and focused on celebrity interviews and scripted specials. Guests have included Patricia Cornwell, Dan Savage, transgender activist Chaz Bono and Tales of the City author Armistead Maupin.
In 2013, Rice made his first entry into the supernatural thriller genre with The Heavens Rise. It was nominated for a Bram Stoker Award for Superior Achievement in a Novel but lost to Dr. Sleep by Stephen King.
In 2014, Rice announced through his social media channels that he was scheduled to publish several works of erotic romance. The first of them, The Flame, was published in November 2014 as part of the 1,001 Dark Nights series.
He is now married to fellow actor/dancer Clay Thomson, and goes by the name Chris Rice-Thomson.

1994 – The Fifth Circuit rules that a priest can not sustain invasion of privacy damages for release of a videotape of him engaging in sexual relations with another male.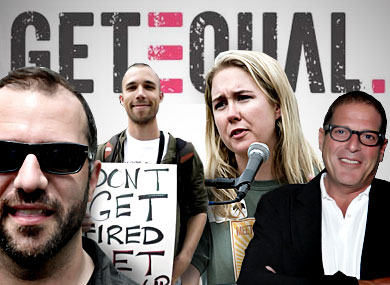 2010 – The direct action group GetEqual has gained attention as a result of its bold action, including civil disobedience, on behalf of the struggle for equal rights.
The organization was founded on March 11, 2010 by young activists Robin McGehee and Kip Williams. It was established to continue the message of anger and frustration presented at the National Equality March of October 11, 2009.
The National Equality March was born out of frustration with the loss of referenda on same-sex marriage and other rights; frustration with the alleged co-opting of the gay rights movement by the Democratic Party; and frustration with the failure of President Obama to fulfill the promises he made in his 2008 campaign for the presidency.
The march was called by veteran activists Cleve Jones and David Mixner, but those who responded to the call were primarily young people who had been angered by the passage of Proposition 8 in California.
Their disappointment with the loss of the campaign against Proposition 8 was compounded by their disillusionment with the Obama administration's failure to end the Don't Ask, Don't Tell (DADT) policy, to pass the Employment Non-Discrimination Act (ENDA), and to repeal the Defense of Marriage Act (DOMA).
The march attracted some 250,000 participants and featured speeches by such new activists as Academy Award-winning screenwriter Dustin Lance Black, actress Cynthia Nixon, DADT protester Lt. Dan Choi, and pop singer Lady Gaga, as well as Jones, Mixner, and civil rights icon Julian Bond.
GetEqual was founded in order to fulfill this need for assertiveness in the fight. Its mission is to empower the glbtq community and its allies "to take bold action to demand full legal and social equality, and to hold accountable those who stand in the way."
GetEqual uses the tactics of nonviolent civil disobedience of the 1960s civil rights and anti-war movements and those utilized by ACT-UP in the 1980s: sit-ins, pickets, disruptions, and a great deal of political theater.
The organization has sponsored actions that range from sit-ins in former Speaker of the U.S. House of Representatives Nancy Pelosi's office, disrupting traffic in Las Vegas and New York City, picketing the Ugandan embassy in Washington, D. C., heckling President Obama at fundraisers, to "glittering" politicians such as Republican Presidential candidates Newt Gingrich and Michelle Bachmann and, most dramatically, to chaining protesters to the fence in front of the White House.
It was the direct actions on behalf of the repeal of DADT that first brought GetEqual to national attention, especially the arrests of McGehee, Lt. Dan Choi, Captain Jim Pietrangelo, and others who chained themselves to the White House fence on several occasions, most notably in November 2010 when it appeared that the long-sought repeal of DADT would fail.
Although GetEqual has been criticized by establishment figures for its tactics—Congressman Barney Frank called them "tacky" and counterproductive—it is almost certain that DADT would not have been repealed in 2010 without the pressure applied by GetEqual through its demonstrations and civil disobedience.

MARCH 12 →
[{(o)}]|[{(o)}]|[{(o)}]|[{(o)}]| [{(o)}]|[{(o)}]