March 25
[{(o)}]|[{(o)}]|[{(o)}]|[{(o)}]| [{(o)}]|[{(o)}]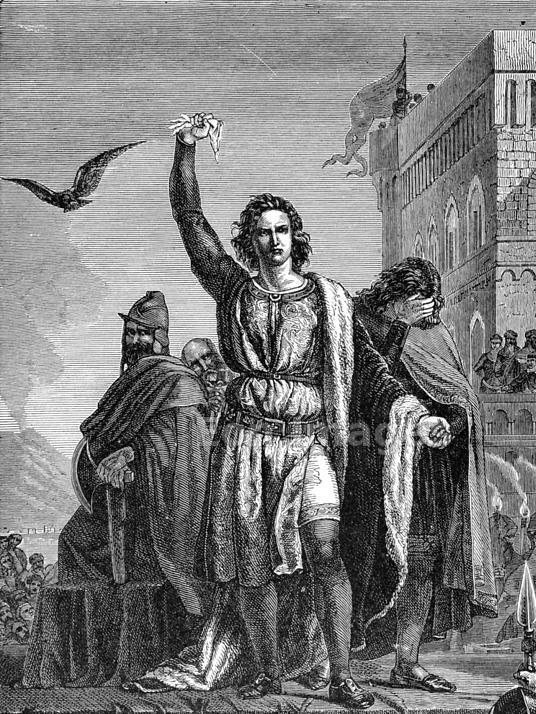 1252 – Conrad, Bavarian royalty, born (d.1268); called the Younger or the Boy, but usually known by the diminutive Conradin, was the Duke of Swabia (1254-1268, as Conrad IV), King of Jerusalem (1254-1268, as Conrad III), and King of Sicily (1254-1258 as Conrad II). He was born in Wolfstein, Bavaria, son of Conrand IV of Germany. He is sometimes known as Conrad V, though he never succeeded his father in Germany.
Conradin was the last legitimate Hohenstaufen, tafter the assassination of Conrad IV. We know little of his appearance and character except that he was "as beautiful as Absalom and spoke good Latin".
While he was still a child in Germany, his uncle Manfred made himself king of Sicily (1258), but when Manfred died eight years later, the kingdom was seized by Charles of Anjou. Conradin was persuaded to come to Italy to recover his kingdom, and, accompanied by his lover, Frederick of Baden, titular Duke of Austria, he gained the support of several Italian cities.
In the end, however, Conradin was captured by Charles, tried as a traitor and beheaded. His lover, Frederick, at his own request, was executed with him. Conradin was just 16; Frederick was 21. To this day Gay lovers make pilgrimages to the church of the monastery of Santa Maria del Carmine at Naples, where the two young men were laid to rest, together.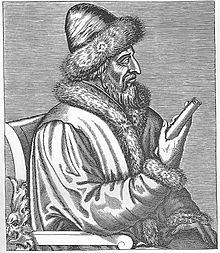 1479 – Grand Prince Vasily III of Moscow, (d.1533), Prince and military general. Vasily was homosexual throughout his life. He went to the extent of announcing this fact to other gay men of his time by shaving off his beard when his twenty-year marriage to his first wife was terminated - being beardless was a sort of gay password at the time.
During Vasily's second marriage, he was able to perform his conjugal duties only when an officer of his guard joined him and his wife in bed in the nude.

1734 – A Georgia man receives 300 lashes for sodomy in a religious colony. No law authorizes the penalty.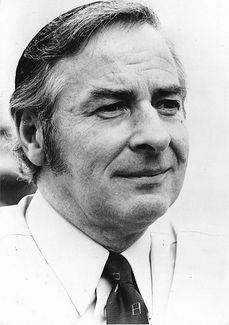 1920 – Paul Scott (d.1978) was a British novelist, playwright, and poet, best known for his monumental tetralogy the Raj Quartet. His novel Staying On won the Booker Prize for 1977.
At eighteen, while working as an apprentice accountant, Scott began an affair with one of his bookkeeping clients. The middle-aged, culturally sophisticated Gerald Armstrong introduced Scott to the worlds of ballet and theater, and encouraged him to think of himself seriously as a writer. The married Armstrong also modeled for Scott how a gay man may pass for straight, treating one's homosexuality as a pleasure to be secretly indulged and, in effect, rendering it something of which one should be ashamed.
Scott's relationship with Armstrong had already run its course when Scott was called up for military service following the outbreak of World War II. He was conscripted into the British Army as a private early in 1940 and assigned to the Intelligence Corps. A sexual indiscretion of some kind caused Scott the loss of his corporal's rank and resulted in his withdrawing further into himself. Evidence suggests that Scott was betrayed, possibly blackmailed, by someone whom he considered a friend.
Possibly in an attempt to cloak his homosexuality, he met and married his wife Penny in Torquay in 1941. Not surprisingly, Scott's initial attempts to repress his homosexual desire coincide roughly with a ten-day drunken binge, the first evidence of the alcoholism that would dominate his adult life.
In 1943, Scott was posted to India, where he was commissioned. He ended the war as a Captain in the Indian Army Service Corps, helping organize the support of the Fourteenth Army's reconquest of Burma, which had fallen to the Japanese in 1942. Despite being initially appalled, he, as many others, fell deeply in love with India.
Returning to England in 1946, after a stint as bookkeeper and company secretary for a failing publishing enterprise, he became a literary agent, successfully representing clients as diverse as science fiction writer Arthur C. Clarke and poet D. J. Enright.
Retiring every night and all weekend to his study to write and to drink, Scott produced a steady stream of novels that received respectable reviews while generating mediocre sales.
Return visits to India that Scott made in 1964 and 1969 became stimulus for the novels that compose The Raj Quartet (The Jewel in the Crown, 1966; The Day of the Scorpion, 1968; The Towers of Silence, 1971; and A Division of the Spoils, 1975).
In 1977, Scott was diagnosed with cirrhosis of the liver, the result of his drinking a quart of vodka and smoking more than sixty cigarettes a day. Worse, his doctors discovered that a previously undiagnosed cancer had already spread from his colon to his liver. He died March 1, 1978, three weeks short of his fifty-eighth birthday.
Scott's greatest success proved posthumous. International acclaim greeted a mini-series of The Raj Quartet initially televised in Britain in 1984 under the title The Jewel in the Crown, and which won enthusiastic new audiences for the novels in both the United Kingdom and North America.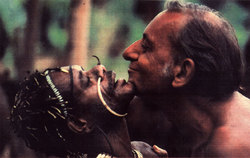 1922 – Tobias Schneebaum (d.2005) was an American artist, anthropologist, and AIDS activist. He is best known for his experiences living, and traveling among the Harakmbut people of Peru, and the Asmat people of Papua, Western New Guinea, Indonesia then known as Irian Jaya.
He was born on Manhattan's Lower East Side and grew up in Brooklyn. In 1939 he graduated from the Stuyvesant High School, moving on to the City College of New York, graduating in 1943 after having majored in mathematics and art. During World War II he served as a radar repairman in the U.S. Army.
In 1947, after briefly studying painting with Rufino Tamayo at the Brooklyn Museum of Art, Schneebaum went to live and paint in Mexico for three years, living among the Lacandon tribe. In 1955 he won a Fulbright fellowship to travel and paint in Peru. After hitch-hiking from New York to Peru, he lived with the Harakmbut people for seven months, where he slept with his male subjects and claimed to have joined the tribe in cannibalism on one occasion.
The Harakmbut treated him well. They taught him words from their language and otherwise communicated through gesture. They shared their food with him and decorated his body in red pigments. At night in their communal hut, the Arakmbut men welcomed him into a warm body pile. These entanglements often turned sexual, to Schneebaum's delight. As he would later write, he had at last found a place where people "would accept me, teach me how to live without a feeling of aloneness, teach me love and allow for my sexuality."
Until 1970 he was the designer at Tiber Press, then in 1973 he embarked on his third overseas trip, to Irian Jaya in South East Asia, living with the Asmat people on the south-western coast. He helped establish the Asmat Museum of Culture and Progress. Schneebaum would return there in 1995 to revisit a former lover, named Aipit. He recounted his journey into the jungles of Peru in the 1961 memoir Keep the River on Your Right. In 1999, he revisited both Irian Jaya and Peru for a documentary film, also titled Keep the River on Your Right.
Schneebaum spent the final years of his life in Westbeth Artists Community, an artists' commune in Greenwich Village, and died in 2005 in Great Neck, New York. He bequeathed his renowned Asmat shield collection to the Metropolitan Museum of Art in New York City and his personal papers are preserved within the Jean-Nickolaus Tretter Collection in Gay, Lesbian, Bisexual and Transgender Studies.

1938 – A California appellate court overturns a sodomy conviction based on hearsay evidence. The "evidence" was merely that the defendant owned a Turkish bath where sodomy was presumed to take place.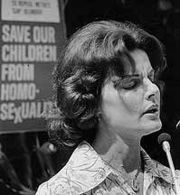 1940 – Anita Bryant is an American singer, former Miss Oklahoma beauty pageant winner, and gay rights opponent. She scored four Top 40 hits in the United States in the late 1950s and early 1960s, including "Paper Roses", which reached #5. She later became widely known for her strong views against homosexuality and for her prominent campaigning in 1977 to repeal a local ordinance in Dade County, Florida, that prohibited discrimination on the basis of sexual orientation, an involvement that significantly damaged her popularity and career.
In 1977, Dade County, Florida, passed an ordinance sponsored by Bryant's former good friend Ruth Shack, that prohibited discrimination on the basis of sexual orientation. Bryant led a highly publicized campaign to repeal the ordinance as the leader of a coalition named Save Our Children. The campaign was based on conservative Christian beliefs regarding the sinfulness of homosexuality and the perceived threat of homosexual recruitment of children and child molestation. Bryant stated:
"What these people really want, hidden behind obscure legal phrases, is the legal right to propose to our children that theirs is an acceptable alternate way of life. ... I will lead such a crusade to stop it as this country has not seen before."
The campaign began an organized opposition to gay rights that spread across the nation. Jerry Falwell went to Miami to help her. Bryant made the following statements during the campaign: "As a mother, I know that homosexuals cannot biologically reproduce children; therefore, they must recruit our children" and "If gays are granted rights, next we'll have to give rights to prostitutes and to people who sleep with St. Bernards and to nail biters." She also added that "All America and all the world will hear what the people have said, and with God's continued help we will prevail in our fight to repeal similar laws throughout the nation."
Gay Rights campaigners organized their own high profile opposition to Bryant's campaign which publicly denounced her and included a boycott of Florida Citrus products for which Bryant was the spokesperson at the time.
On June 7, 1977, Bryant's campaign led to a repeal of the anti-discrimination ordinance by a margin of 69 to 31 percent. However, the success of Bryant's campaign galvanized her opponents and the gay community retaliated against her by organizing a boycott of orange juice. Gay bars all over North America took screwdrivers off their drink menus and replaced them with the "Anita Bryant", which was made with vodka and apple juice. Sales and proceeds went to gay civil rights activists to help fund their fight against Bryant and her campaign.
In 1977, Florida legislators approved a measure prohibiting gay adoption. The ban was overturned more than 30 years later when, on November 25, 2008, Miami-Dade Circuit Court Judge Cindy S. Lederman declared it unconstitutional and "not rational."
Bryant led several more campaigns around the country to repeal local anti-discrimination ordinances including St. Paul, Minnesota, Wichita, Kansas, and Eugene, Oregon. Her success led to an effort to pass the Briggs Initiative in California which would have made pro- or neutral statements regarding homosexuals or homosexuality by any public school employee cause for dismissal. Grass-roots liberal organizations, chiefly in Los Angeles and the San Francisco Bay Area, sprang up to defeat the initiative. Days before the election, the California Democratic Party opposed the proposed legislation. Former Governor and future President Ronald Reagan voiced opposition to the initiative, and it ultimately suffered a massive defeat at the polls.
In 1998 Dade County repudiated Bryant's successful campaign of 20 years earlier, and re-authorized an anti-discrimination ordinance protecting individuals from discrimination on the basis of sexual orientation by a seven to six vote. In 2002 a ballot initiative to repeal the 1998 law called Amendment 14 was voted down by 56 percent of the voters. The Florida statute forbidding gay adoption was upheld in 2004 by a federal appellate court against a constitutional challenge, but was overturned by a Miami-Dade Circuit Court in November 2008.
Bryant became one of the first persons to be publicly "pied" as a political act (in her case, on television), in Des Moines in 1977. Bryant quipped "At least it's a fruit pie", apparently making a pun on the derogatory term for a gay man ("fruit"). While covered in pie, she began to pray to God to forgive the activist "for his deviant lifestyle" before bursting into tears as the cameras kept rolling. Bryant's husband, after promising not to retaliate, later took another pie and threw it at the protesters who had pied his wife. By this time, gay activists had ensured the boycott on Florida orange juice had become more prominent and it was supported by many celebrities including Barbra Streisand, Bette Midler, Paul Williams, John Waters, Carroll O'Connor, Mary Tyler Moore and Jane Fonda.
In a 1980 Ladies Home Journal interview, following her divorce and in the aftermath of her anti-gay activism, Bryant commented on her anti-gay views and said, "I'm more inclined to say live and let live, just don't flaunt it or try to legalize it." However, the biography page on her Anita Bryant Ministries website (written in 2006) continues to defend her earlier anti-gay activism and views.
"Pied" (1 minute 18 secs)
Even many years after her campaign, the gay community, and much of the straight world, continue to regard her name as synonymous with bigotry and homophobia.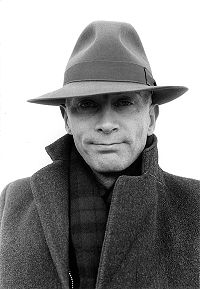 1942 – Richard O'Brien (born Richard Timothy Smith in Cheltenham, England) is a writer, actor, television presenter and theatre performer. He is perhaps best know known for writing the cult musical The Rocky Horror Show and for his role in presenting the popular TV show The Crystal Maze.
In addition to writing The Rocky Horror Show O'Brien also starred in its 1975 film adaptation The Rocky Horror Picture Show as the character Riff Raff. The stage show has been in almost continuous production since, and the cinematic version is one of the best known and most ardently followed cult films of all time.
In 1952, he emigrated with his family to Tauranga, New Zealand where his father had purchased a sheep farm. After learning how to ride horses, a skill which provided him with his break into the film industry as a stuntman in Carry On Cowboy, and developing a keen interest in comic books and horror films, he returned to England in 1964. Upon launching his acting career he changed his name to O'Brien — his mother's maiden name — as there was already an actor named Richard Smith.
He joined several stage productions as an actor without ever excelling or receiving critical acclaim, but that was not his primary objective. In 1972, he met director Jim Sharman who would help make his draft of a gothic-themed, schlock-horror comic-book fantasy romp into a reality. The script took O'Brien 6 months to write, Sharman suggested changing the working title They Came from Denton High to The Rocky Horror Show and the show opened in June 1973.
He became a serial bit-part actor in cult films and has appeared in notable movies such as Flash Gordon (1980), Dark City (1998) and Dungeons & Dragons (2000).
O'Brien has married twice and fathered three children. In a 2009 interview he spoke about an ongoing struggle to reconcile cultural gender roles and described himself as being transgender or possible third sex. O'Brien stated, 'There is a continuum between male and female. Some are hard-wired one way or another, I'm in between.' He expounded on this in a 2013 interview where he talked about using oestrogen for the previous decade, and that he views himself as 70% male and 30% female.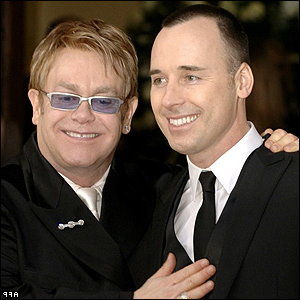 Elton John and David Furnish.
1947 – Elton John, English singer and songwriter, born; (born Reginald Kenneth Dwight) is an English pop/rock singer, composer, and pianist.
In his four decade career, John has been one of the dominant forces in rock and popular music, especially during the 1970s. He has sold more than 250 million albums, and over one hundred million singles, making him one of the most successful artists of all time. He has more than 50 Top 40 hits including seven consecutive #1 U.S. albums, 59 Top 40 singles, 16 Top 10, 4 #2 hits, and nine #1 hits. He has won five Grammy awards and one Academy Award. His success has had a profound impact on popular music and has contributed to the continued popularity of the piano in rock and roll. In 2004, Rolling Stone ranked him #49 on their list of the 100 Greatest Artists Of All Time.
In the late 1960s, John was engaged to be married to his first lover, secretary Linda Woodrow, who is mentioned in the song "Someone Saved My Life Tonight". He married German recording engineer Renate Blauel in 1984, in Darling Point, Sydney, with speculation that the marriage was a cover for his homosexuality. John had come out as bisexual in a 1976 interview with Rolling Stone, but after his divorce from Blauel in 1988 he told the magazine that he was "comfortable" being gay. Elton has a new look, and a sharp wit. "Ever since I had that interview in which I said I was bisexual," he grins, "it seems twice as many people wave at me on the streets."
In 1993, John began a relationship with Canadian David Furnish, a former advertising executive and now filmmaker. John and Furnish entered a civil partnership in 2005. They held a low-key ceremony at the Windsor Guildhall, followed by a lavish party at their Berkshire mansion, thought to have cost £1 million. Their son, Zachary Jackson Levon Furnish-John, was born to a surrogate mother in December 2010 in California. John and Furnish chose Lady Gaga, magazine editor Ingrid Sischy, and Sichy's partner Sandy Brant as Zachary's godmothers
John was inducted into the Rock and Roll Hall of Fame in 1994. He has been heavily involved in the fight against HIV-AIDS since the late 1980s and was knighted in 1998. He continues to be a champion for the LGBT social movements.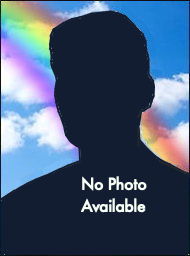 1952 – Andrew Boxer (d.1999), assistant professor of psychiatry, and director of the Evelyn Hooker Center for Gay and Lesbian Mental Health, was a pioneer in the study of the mental health issues facing all adolescents and particularly the social, sexual, and psychological challenges facing homosexual youths.
Born in Denver, Colorado, Boxer earned his BA in 1974 from Goddard College, in Plainfield, Vermont and his doctorate in 1990 from the Committee on Human Development at the University of Chicago. He served as director for the Center for the Study of Adolescence at Humana Hospital-Michael Reese from 1990 to 1991, was an assistant professor of psychology at the University of Illinois at Chicago from 1991 to 1992, and then came to the University of Chicago in 1992, where he was the founding director of the Evelyn Hooker Center. He also served from 1989 on as research director for the Women and Children with AIDS program at Cook County Hospital, where he helped develop a model care program for women and children with HIV.
His 1993 book, "Children of Horizons: How Gay and Lesbian Youth Are Leading a New Way Out of the Closet," co-authored with Gilbert Herdt, at the time a professor of human development at the University, was one of the first comprehensive studies of the psychological development of multiracial gay and lesbian adolescents. That book, combined with some of Boxer's other research projects, continues to serve as a guide for the development of social service programs to help homosexual youths cope with an elevated risk for HIV infection, depression and homelessness.
In 1992, Boxer convened a support group for physicians and dentists with HIV, which became the longest-running group of its kind in the country.
A long-time volunteer with Horizons Community Services, he served as a member of Horizons' board of directors and chair of the program evaluation committee, where he helped develop services for gay and lesbian aging.
He died in 1999 of lung cancer, survived by his life partner Monte Hetland.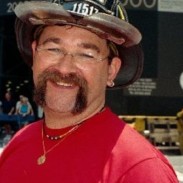 1955 – Gene Walsh, founder of FireFlag, was born in Brooklyn, NY. Walsh was the first New York City Firefighter to risk his career by publicly coming out "on the job" in the traditionally homophobic Fire Department of New York, and later did so at the national level appearing on syndicated television's Joan Rivers Show.
With the support of other closeted gay Firefighters and members of Gay Officers Action League-NY (GOAL-NY), Walsh founded FireFlag, an organization that serves to raise awareness, provide official representation, education and peer support for LGBT fire services personnel. The organization was later renamed FireFlag/EMS to include Emergency Service personnel. Walsh secured the organizations formal incorporation on February 28, 1992, and thereafter achieved FireFlag/EMS' equal and official fraternal organization status within the City of New York and FDNY.
A member of GOAL-NY wrote of Gene's early efforts:
I remember back in the early days, when we would be marching down Fifth Avenue [in the Pride Parade], the only Fireman in the city of New York with the balls to march was Gene. There he was, all alone, wearing his gear and holding up a little sign that simply said FIRE!. He is truly one of our heroes.
In 2001, Gene suffered a massive stroke which left him alone in a nursing home for years. Dan Levins, an old associate from his fire-fighting days stepped in to rescue him from that fate. They became partners and Dan has been more than instrumental in helping Gene regain his life. Dan Levins wites:
Shortly after November of '06, he was subjected to several months of being overdosed on anti-seizure medications - to the point that he was nearing permanent coma. After much negotiation with his family, and the comitment to each other that we would never give up, I brought Gene to his and my new home on December 23, 2007. Since then it has been hope in the future, faith in God and each other, and hard work seasoned with laughter.
Below is a photo of Gene in his wheelchair at the 2011 New York Gay Pride Parade, with founder of GOAL-NY, Sam Ciccone.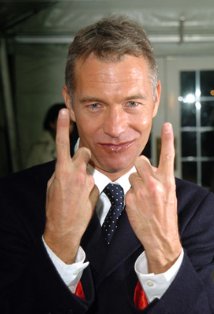 1958 – Today's the birthday of the award-winning British film and music-video director and screenwriter John Maybury. He directed the groundbreaking music video that made Sinead O'Connor a star: Nothing Compares 2U. In 2005 he was listed as one of the 100 most influential Gay and Lesbian people in Britain.
He studied at North East London Polytechnic and St Martins and designed sets for Derek Jarman's 'Jubilee', and worked with him on 'The Last of England', 'War Requiem' and 'The Tempest'.
In 1998 he produced his first full length feature Love Is the Devil: Study for a Portrait of Francis Bacon, a biopic starring Derek Jacobi and Daniel Craig (showing all in a lingering full-frontal). The film was screened in the Un Certain Regard section at the 1998 Cannes Film Festival. In 2005 he directed The Jacket with Adrien Brody and Keira Knightley. In 2008 his film The Edge of Love, a biopic on the life of Welsh poet Dylan Thomas starring Sienna Miller, Cillian Murphy, Matthew Rhys and Keira Knightley premiered. He also directed the final episode of the critically acclaimed HBO/BBC Rome series.

1962 – Thom Bierdz, openly gay American soap opera star and painter, born; Born in Kenosha, Wisconsin, this American actor is best known for his role as Phillip Chancellor III on The Young and The Restless, appearing from 1986 to 1989 and returning for one "dream sequence" in 2004.
Shortly after Thom left Y&R to pursue movie roles, his youngest brother Troy, a paranoid schizophrenic, beat their mother to death with a baseball bat. He is currently serving a life sentence in a Wisconsin prison. In May 2002, his other brother Craig committed suicide. Bierdz had devoted most of his time to painting in recent years, although he has also written a memoir entitled "Forgiving Troy."
On May 15, 2009, Bierdz re-appeared in The Young and The Restless as the mysterious character "Langley," who is eventually revealed to be Philip III, the heir to the Chancellor fortune. Phillip has been alive for the past 20 years and had faked his death after the drunk driving accident in 1989. In another revealing twist, Phillip returns to Genoa City and explains to Nina that the reason he left all those years ago is because he was gay and felt back then he would not have been accepted.
Thom has also written a memoir entitled "Forgiving Troy". In September 2009, The Human Rights Campaign at a Black Tie Gala themed "Speak Your Truth" presented Thom with their Visibility Award for his continued contributions to charity work for human rights, through his art, his acting, his writing, and his painting in the nude.
*(Hope you like my little joke!)

1963 – New Mexico passes a new criminal code, but does not repeal its sodomy law. The sentence is set at 2-10 years and/or $5,000.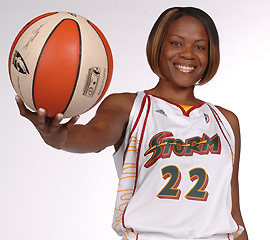 1971 – Today is the birthday of American basketball player Sheryl Swoopes. Born in Brownfield, Texas, Swoopes was the first player to be signed in the WNBA when it was created. She has won three Olympic Gold Medals and is a three-time WNBA MVP. Frequently referred to as the "female Michael Jordan," Swoopes is famous for both her offensive and defensive skills. In 2005, she averaged 18.6 points, 85% free throws, 4.3 assists, 2.65 steals and 37.1 minutes playing time per game. Swoopes is considered "one of the best collegiate players of all time." She most recently played for the Seattle Storm in the WNBA.
Swoopes was married to her high school sweetheart, with whom she had a son. In 2005, with her announcement that she is Gay, Swoopes became one of the most high profile athletes in a team sport to do so publicly. She and her partner, former basketball player and Houston Comets assistant coach, Alisa Scott, whom she would like to someday marry, are together raising Swoopes's son, Jordan. Swoopes said:
"it doesn't change who I am. I can't help who I fall in love with. No one can. .. Discovering I'm Gay just sort of happened much later in life. Being intimate with [Alisa] or any other woman never entered my mind. At the same time, I'm a firm believer that when you fall in love with somebody, you can't control that."
In 2011, Swoopes broke up with Alisa Scott and was reportedly engaged to Christopher Unclesho.
In 2013, Swoopes became Head Coach for Loyola University Chicago.
Swoopes reportedly cried upon receiving a photo of son Jordan's letter of intent to play basketball at her alma mater, Texas Tech, in late 2014.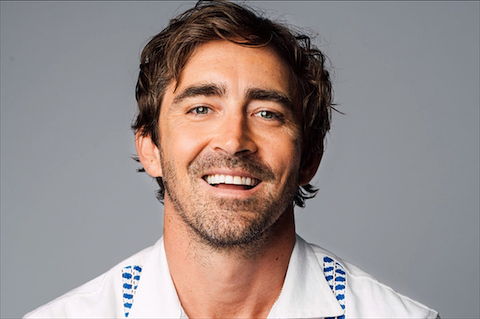 1979 – Lee Pace is an American actor. He is known for starring as Thranduil the Elvenking in The Hobbit trilogy and as Joe MacMillan in the AMC period drama television series Halt and Catch Fire. He has also appeared in the Marvel Cinematic Universe as Ronan the Accuser, a role he first played in Guardians of the Galaxy and reprised in Captain Marvel. He received an Emmy Award nomination for his portrayal of Ned in the ABC comedy-drama Pushing Daisies. From 2021, he stars as the galactic emperor Brother Day in the TV series adaptation of Isaac Asimov's science fiction stories Foundation.
Pace was born in Chickasha, Oklahoma. As a child, Pace spent several years in Saudi Arabia, where his father worked in the oil business; the family later moved to Houston, Texas. Pace attended Klein High School in Spring, Texas, a suburb of Houston, with actor Matt Bomer.
Pace briefly stopped attending high school to act at Houston's Alley Theatre before returning to graduate. At the Alley, he appeared in productions of The Spider's Web and The Greeks.
In 1997, he was accepted by the Juilliard School's Drama Division. While there, he was in several plays, including Romeo and Juliet as Romeo, Richard II in the title role, and Julius Caesar as Cassius. He graduated from Juilliard with a Bachelor of Fine Arts degree.
Pace first gained recognition for his role in the 2003 film Soldier's Girl, based on real events, in which he played the central role of Calpernia Addams.
Of the role, Pace has said:
Not even my excellent training at Juilliard prepared me for my first movie role, where I played a transsexual who falls in love with a military guy in Soldier's Girl. Here I was, this 6 feet 3 inches (1.91 m), 190 pounds (86 kg), lanky kid from Chickasha, Oklahoma, not knowing how to begin being a woman. So I saw documentaries about transsexuals, I lost twenty-five pounds, and I put on prosthetic boobs and hips to become that character. There were times I'd look in the mirror and wonder, 'What am I doing to my life here? My dad is going to kill me!' But the reason I went into acting was to be able to play parts as complicated and important as this one. In playing a transsexual, I got the chance to help change people's perspective about other people, and that is a powerful thing. I'm playing a swashbuckling bandit in my next film, but I'll always be proud of Soldier's Girl ".
Pace's sexual orientation became a topic of public discussion after he was accidentally outed as gay by
Ian McKellen
, who worked with him in
The Hobbit
films, in 2012. McKellen's "outing" was described in the press as a blunder and an accident on his part, as Pace had never addressed the subject. In June 2018, he spoke about being a queer actor in an interview with
The New York Times

.

1981 – The Ontario Court of Appeal rejects an appeal of The Body Politic to overturn a previous order for a retrial on obscenity charges. TBP won in lower court, but the crown had appealed. The gay paper decides to appeal to the Supreme Court of Canada.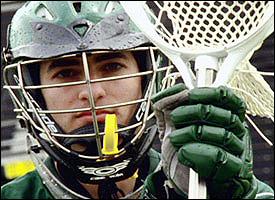 1983 – Andrew Goldstein (born in Milton, Massachusetts) is the first American male team-sport professional athlete to be openly gay during his playing career. He had been a professional lacrosse goaltender for the Long Island Lizards of Major League Lacrosse. He was originally drafted by his hometown team, the Boston Cannons.
The two-time All-American at Dartmouth College in Hanover, New Hampshire, Goldstein made headlines off the field in 2005 when he was dubbed by ESPN to be "the most accomplished male, team-sport athlete in North America to be openly gay during his playing career."
Yet as Goldstein points out, "gay All-American" is a phrase that is still contradictory for some:
"'All-American' is what you think of, you know, the three kids, the white picket fence, 'All-American'. And gay does not fit into that. So it's nice for me to hear 'gay All-American,' and to think it's just the same as 'All-American.' "
He revealed his sexuality to his team after the 2003 season, and an online essay that appeared on Outsport.com elevated his story to national prominence.
It was the first session of weight lifting during the summer term of Goldstein's sophomore year when he officially came out to his team. He pulled aside senior defender Matt Nicholson and told him he had a boyfriend, Ethan.
Nicholson, who had known Ethan previously, admittedly was surprised by the revelation, but he still managed a pretty decent comeback.
"Wow, man," he said, "he's hot."
Later, in an emotional e-mail, Nicholson told Goldstein it didn't change anything.
"I'm here for you," he wrote. "I'm your teammate. I'm your defenseman, and you're my goalie."
Goldstein was touched.
Goldstein asked Nicholson to pass the word to the rest of the team. If anybody had any questions or concerns, Goldstein said, have the player come talk to him. During the first few weeks, there were some uncomfortable moments.
When the news had settled on the team, a number of Goldstein's teammates apologized. It occurred to them that, in the macho, testosterone-charged atmosphere of the lacrosse locker room, they had probably offended their teammate countless times over the seasons.
SportsCenter: "Andrew Goldstein" (8 minutes)
In 2006, Goldstein was honored by being named to the OUT 100. He also received a prestigious 2006 GLAAD Media Award for the feature entitled "Andrew Goldstein" which aired on ESPN's Sportscenter.
A biochemistry and molecular biology major at Dartmouth, Goldstein has earned his Ph.D. in biology at UCLA with a specific focus on cancer. He is now a post-doctoral researcher at UCLA. On August 2, 2013, Goldstein was inducted into the National Gay and Lesbian Sports Hall of Fame.

1993 – Idaho enacts a sex offender registration law that includes consensual sodomy.

MARCH 26 →
[{(o)}]|[{(o)}]|[{(o)}]|[{(o)}]| [{(o)}]|[{(o)}]