March 27
[{(o)}]|[{(o)}]|[{(o)}]|[{(o)}]| [{(o)}]|[{(o)}]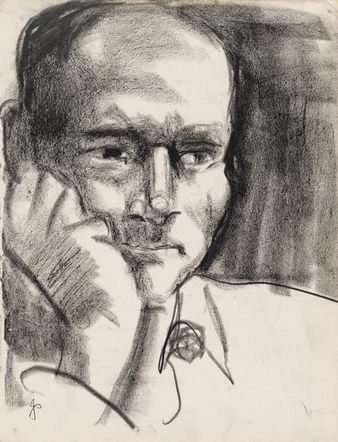 Portrait of de Maistre by Jean Shepeard
1894 – Roy de Maistre CBE (d.1968) was an Australian artist of international fame. He is famous in Australian art for his early experimentation in "colour-music", and is recognized as the first Australian artist to use pure abstractionism. His later works were painted in a figurative style generally influenced by Cubism. His 'Stations of the Cross' series hangs in Westminster Cathedral and works of his are hung in the Tate Gallery, London and in the Art Gallery of New South Wales. He was very close friends with the Australian writer Patrick White.
From his family's very prominent position in Australian society, he helped to make modern art fashionable in Sydney in the late 1920s, or at least as fashionable as it could be., but the anti-modernist criticism he received following his first one-man exhibition in Sydney convinced him that his art could not flourish in Australia.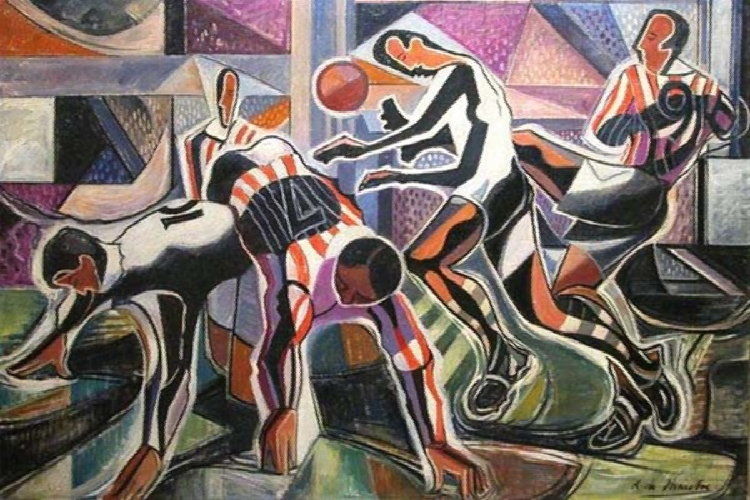 The Footballers
(Click for larger)
In March 1930 he left Australia to live permanently in London. He held one-man shows at the Beaux-Arts Gallery, London (1930); in the studio of his colleague Francis Bacon (1930); at Bernheim Jeune, Paris (1932); Mayor Gallery, London (1934); and at Calmann Gallery, London (1938).
In 1936 de Maistre met the 18 years younger novelist Patrick White. The two men never became lovers, but firm friends. In Patrick White's own words "He became what I most needed, an intellectual and aesthetic mentor". They had many similarities. They were both homosexual; they both felt like outsiders in their own families (for example de Maistre's family disapproved of his painting and described it as 'horrible'); as a result they both had ambivalent feelings about their families and backgrounds, yet both maintained close and life-long links with their families, particularly their mothers. They also both appreciated the benefits of social standing and connections; and Christian symbolism and biblical themes are common in both artists' work.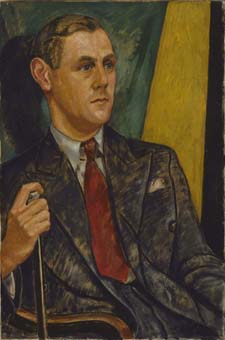 de Maistre's portrait of Patrick White
Patrick White dedicated his first novel Happy Valley (1939) to de Maistre, and acknowledged de Maistre's influence on his writing. He even went to St Jean de Luz during the writing of the novel under encouragement from de Maistre. In 1947 de Maistre's painting Figure in a Garden (The Aunt) was used as the cover for the first edition of Patrick White's The Aunt's Story. Patrick White also bought many of de Maistre's paintings for himself. In 1974 Patrick White gave all his paintings by de Maistre to the Art Gallery of New South Wales.
In 1940 de Maistre started work for the French Section, Joint War Organization of the British Red Cross Society and the Order of St John, London. In 1942 he was posted to Foreign Relations Department, British Red Cross Society. During this time de Maistre scarcely painted. After World War II, however, he had become an artist of the establishment. He had no trouble selling his paintings, and continuing to accept private commissions for society portraits. He died in 1968 in London.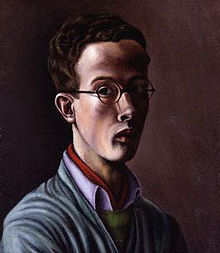 Denton Welch: Self-portrait
1915 – Maurice Denton Welch was an English writer and painter, admired for his vivid prose and precise descriptions.(d.1948)
Welch was born in Shanghai and spent his childhood in China — he recorded this in his fictionalised autobiography of his early years, Maiden Voyage (1935). With the help and patronage of Edith Sitwell and John Lehmann this became a small but lasting success and made his reputation. It was followed by the novel In Youth is Pleasure (1943), a study of adolescence, and by Brave and Cruel (1949). An unfinished autobiographical novel A Voice through a Cloud was published posthumously in 1950.
Welch did not set out to be a writer. He originally studied art in London with the intention of becoming a painter. At the age of 20, he was hit by a car while cycling in Surrey and suffered a fractured spine. Although he was not paralysed, he suffered severe pain and complications, including spinal tuberculosis that ultimately led to his early death.
He met his companion, Eric Oliver, in November 1943 while he was convalescing. Oliver was a farm-worker living in Maidstone, and was a regular visitor. He acted as nurse for Welch, then his secretary, and finally as his literary executor when Welch died at the age of 33.
His literary work, intense and introverted, includes insightful portraits of his friends. He continued occasionally to paint; there is a fine self-portrait (in the National Portrait Gallery), and some line illustrations in the first editions of his books.
What is clear from Welch's writing is that his chief limitation is also his chief virtue: his focus on himself. For his time and place, Welch's novels are surprisingly suffused with homosexuality. His examination of the people around him, very thinly disguised in the novels, and his exploration of his own homosexual feelings and responses to the world show Welch to be a writer of consequence, if an over-looked one.
William S Burroughs cited Denton Welch as the writer who most influenced his own work, and dedicated his novel The Place of Dead Roads to Welch.
It may be that his most lasting work will be his posthumously published Journals, in which he is frank about his homosexuality.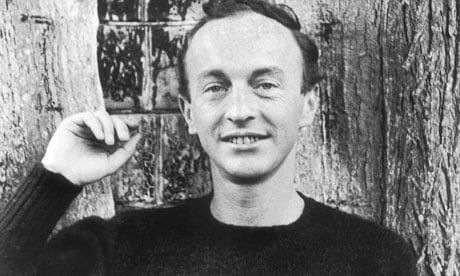 1926 – Frank O'Hara (d.1966) was an American poet who, along with John Ashbery and James Schuyler was a key member of what was known as the New York School of poetry.
Nowadays, the world celebrates O'Hara's birthday on March 27, which is the day he was actually born in 1926. But that was not the day he thought of as his birthday. His parents told him, and the world, that he was born on June 27 in order to cover up the fact that his mother was already pregnant with him at the time his parents got married – which would've been scandalous to their Irish-Catholic families and community.
Frank O'Hara was born in Baltimore and grew up in Grafton, Massachusetts. He studied piano at the New England Conservatory in Boston from 1941 to 1944. O'Hara served in the South Pacific and Japan as a sonarman on the destroyer USS Nicholas during World War II.
With the funding made available to veterans he attended Harvard University. While at Harvard, O'Hara met John Ashbery and began publishing poems in the Harvard Advocate. Despite his love for music, O'Hara changed his major and graduated from Harvard in 1950 with a degree in English.
In 1951, O'Hara moved into an apartment in New York City with Joe LeSueur, who would be his roommate and sometime lover for the next 11 years. Known throughout his life for his extreme sociability, passion, and warmth, O'Hara had hundreds of male friends and lovers throughout his life, many from the New York art and poetry worlds.
Soon after arriving in New York, he was employed at the front desk of the Museum of Modern Art and began to write seriously. O'Hara was active in the art world, working as a reviewer for Art News, and in 1960 was made Assistant Curator of Painting and Sculpture Exhibitions for the Museum of Modern Art. He was also friends with artists like Willem de Kooning, Norman Bluhm, Larry Rivers and Joan Mitchell.
O'Hara died in an accident on Fire Island in which he was struck and seriously injured by a man speeding in a beach buggy during the early morning hours of July 24, 1966. He died the next day of a ruptured liver at the age of 40 and was buried in the Green River Cemetery on Long Island.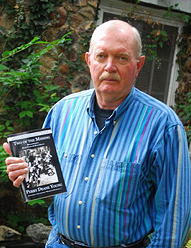 1941 – Perry Deane Young is a journalist, author, playwright, historian, and professional gardener. He is the author of Two of the Missing, about fellow journalists Sean Flynn and Dana Stone, who went missing during the Vietnam War and whose fates remain unknown, and the co-author of The David Kopay Story, a biography of 1970's professional football player Dave Kopay, who revealed in 1975 that he is gay.
He went to work for United Press International in 1967, and took an assignment with UPI in Vietnam, arriving in Saigon on January 29, 1968, and his first story was about the Tet Offensive, which began later that night. While covering the war, he roomed with fellow journalists Tim Page, Sean Flynn, and Nik Wheeler. He left after witnessing the near-fatal injuries to Page. In 1975, his book Two of the Missing was published. The memoir was based on a magazine article of the same name that Young wrote in Harper's Magazine in December 1972, with the intention of later writing a book about the disappearance of Flynn and Stone. He had met and worked with them in Vietnam covering the war, and they went missing after Young had left.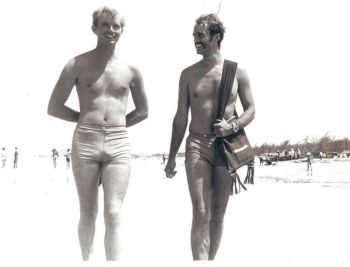 Young and Sean Flynn on Vietnam beach
After reading of Dave Kopay's post-retirement revelation of being gay, Young offered to help Kopay write a book. The offer was accepted, and in 1977, the book appeared on the New York Times Best Seller list.
Young has long acknowledged that he is gay, writing candidly about it in Two of the Missing, and has written or co-written books with gay-related themes, including The David Kopay Story and Lesbians and Gays and Sports.

1943
–
The Netherlands
: A group of resistance activists led by
Willem Arondeus
, a gay man, dress as German soldiers, infiltrate the citizen registration building, and destroy it, hindering the Nazi German effort to identify Dutch Jews. The attack inspires similar ones throughout The Netherlands. Arondeus was a Dutch artist and author who joined the Dutch anti-Nazi resistance movement during World War II. Arondeus was caught and executed soon after his arrest. He was openly gay before the war and defiantly asserted his sexuality before his execution. His final words were
"Let it be known that homosexuals are not cowards".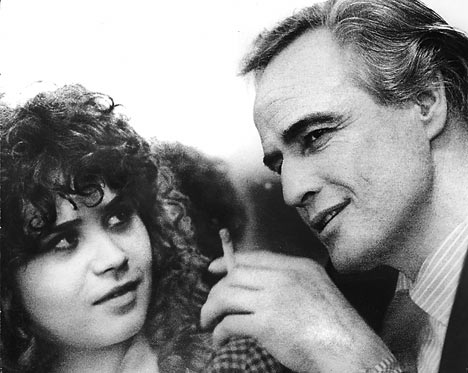 Maria Schneider with Marlon Brando.
1952 – Maria Schneider, French actress, born (d.2011); The talented actress, who claims to be the illegitimate daughter of French star Daniel Gelin, played opposite Marlon Brando, as it were, in Last Tango in Paris.
For several days in 1975 there was a great deal of heavy breathing in tabloids all over the world when Schneider, declaring the "right to be insane," checked into a Rome mental hospital so she could be near her committed lover, American heiress, Patty Townsend.
Recently Schneider revealed that the famous "butter scene' in Last Tango was, in fact, a sexual assault and that she had been unaware of the plans between Brando and director Bernardo Bertolucci.
The scene in question is the most famous from the film; Brando's character anally penetrates Maria Schneider's, using butter as a lubricant. In the recently unearthed 2013 interview, Bertolucci said, "It was in the script that he had to rape her in a way," but the idea to use butter came up while Brando and Bertolucci were eating breakfast. "I've been, in a way, horrible to Maria because I didn't tell her what was going on, because I wanted her reaction as a girl, not as an actress. I wanted her to react humiliated."

1958 – A New York court decides that loitering for sodomy is legal if there is no attempt to breach the peace.

1959 – A California appellate court upholds the revocation of the license of a Turkish bath for allowing sex on the premises. The Court ridicules the defense of privacy and says that morality is more important.


Added 2022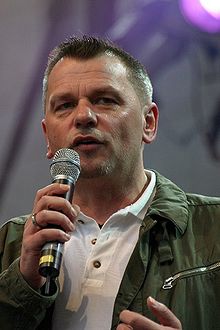 1961 – Thomas Niederbühl, born in Bruchsal, Germany, is a German LGBT activist and Bavarian local politician (Pink List Munich). He has been a member of the Munich City Council since 1996, making him the first openly gay city council member of a gay and lesbian electorate in Europe.
He studied Catholic theology, German and philosophy, first in Heidelberg and from 1982 in Munich. After the first state examination in 1989/90, his license to teach Catholic theology was revoked because of his involvement in the gay movement.
Niederbühl has been active in the gay movement since 1983. In the 1980s he was involved in founding the Federal Association for Homosexuality . Other milestones in his commitment to the gay movement were the gay and lesbian culture week Viorosa 1985 and 1989, contributions to the gay magazine south wind, which he co-founded in 1988, its participation in the Forum homosexuality and literature and the organization of the Christopher Street Day.
At the founding meeting of the Munich Pink List on September 2, 1989, Thomas Niederbühl was nominated as their top candidate. In 1990 he was elected to the district committee Ludwigsvorstadt - Isarvorstadt, and in 1996 to the Munich city council. He was re-elected in the local elections in 2002, 2008, 2014 and 2020.
Since 2008 he has campaigned for a memorial for the lesbians and gays persecuted during the Nazi era.
Thomas Niederbühl has shared his life with his friend and current partner, Heinz Bänziger, since 1989. They were one of the first couples in Munich to register their partnership with the notary on November 16, 2001 . They were then received by Mayor Christian Ude at the registry office. They married in 2017. Niederbühl has a twin brother who is heterosexual.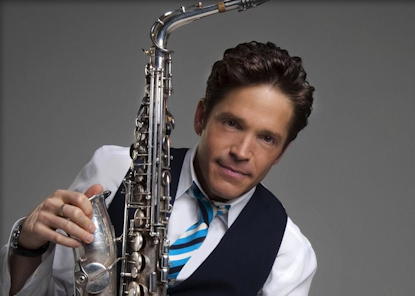 1963 – Dave Koz is an American smooth jazz saxophonist.
Dave Koz was born in Encino, California to Jewish parents. Although he is Jewish, Koz plays both Christmas and occasional Hanukkah songs at his concerts. He attended William Howard Taft High School in Woodland Hills, Los Angeles, California performing on saxophone as a member of the school jazz band. He later graduated from UCLA with a degree in mass communications in 1986, and only weeks after his graduation, decided to make a go of becoming a professional musician.
Within weeks of that decision, he was recruited as a member of Bobby Caldwell's tour. For the rest of the 1980s, Koz served as a session musician in several bands, and toured with Jeff Lorber. Koz was a member of Richard Marx's band and toured with Marx throughout the late 1980s and early 1990s. He also played in the house band of CBS' short-lived The Pat Sajak Show, with Tom Scott as bandleader.
In 1990, Koz decided to pursue a solo career, and began recording for Capitol Records. His albums there include
Lucky Man, The Dance
, and
Saxophonic. Saxophonic
was nominated for both a Grammy Award and an NAACP Image Award. In 1994, Koz began hosting a syndicated radio program,
The Dave Koz Radio Show
(formerly
Personal Notes
), featuring the latest music and interviews with who's who in the genre. Dave co-hosted
The Dave Koz Morning Show
on 94.7 The Wave, a smooth jazz station in Los Angeles for six years. He decided to leave the show in January 2007 and was replaced by
Brian McKnight
. In 2002, Koz started a record label, Rendezvous Entertainment, with
Frank Cody
and
Hyman Katz
.
In an April 2004 interview with The Advocate, Koz came out publicly as gay.

1972 – Idaho reenacts its entire pre-1971 criminal code, reinstating common-law crimes and the sodomy law with a penalty of up to life imprisonment.

1976 – Wisconsin repeals its law prohibiting the publicizing of the names of victims of sexual crimes, including sodomy.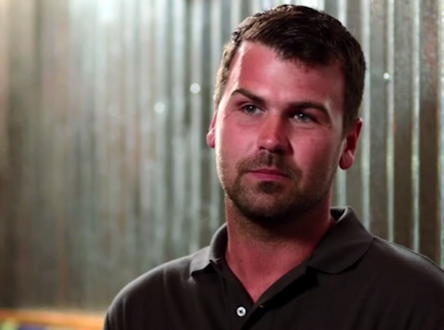 1984 – Stephen Rhodes is an American stock car racing driver. A former competitor in the NASCAR Camping World Truck Series, he is seeking to return to competition in the sport. When he made his debut in 2003, he became the first openly gay driver to compete in a NASCAR national touring series event.
Rhodes was born in Goldsboro, North Carolina. Rhodes is openly gay. He came out at age seventeen, one year before he made his NASCAR Truck Series debut. He co-owns Brown Bag Cafe and Matchbox Restaurant & Bar in Goldsboro with his husband, Andy Mitchell. They were married in Manhattan on July 3, 2013. Rhodes currently resides on Maui.
Rhodes began his racing career in 1992 at the age of eight. He started his career in go-kart racing, competing on dirt tracks before switching over to racing on asphalt-surfaced circuits. In 2001, Rhodes moved up to the NASCAR Late Model Stock Division at Southern National Raceway Park. In 2003, Rhodes competed in two Craftsman Truck Series races, driving the No. 66 Dodge Ram for MLB Motorsports; on March 23, four days before his 19th birthday, Rhodes made his Truck Series debut in the Lucas Oil 250 at Mesa Marin Raceway, where he started 33rd and finished 30th. On April 12, Rhodes competed in the Advance Auto Parts 250 at Martinsville Speedway, where he started 32nd and finished 21st. He finished 87th in the final season point standings.
Rhodes was the first openly gay driver to compete in NASCAR's national touring series. Rhodes later returned to the NASCAR Late Model Stock Division at SNRP, where he competed until 2010. In July 2013, Rhodes stated that he was seeking to return to full-time competition in the renamed Camping World Truck Series in 2014.
Rhodes was featured in the cover story for the "Ride Review" issue of Lavender Magazine (March 19–April 1, 2015).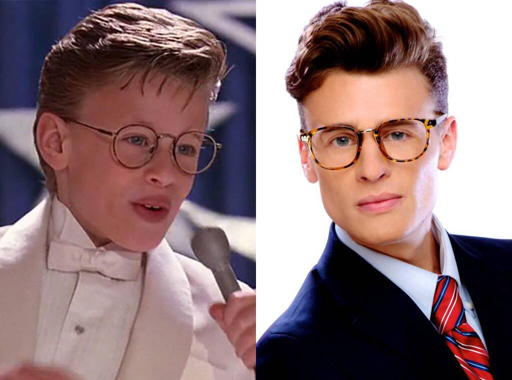 Blake McIver Ewing - Then and Now
1985 – Blake McIver Ewing also known as Blake McIver and Blake Ewing, is an American singer-songwriter, actor, model and pianist. He was known for playing Michelle's friend, Derek, on the sitcom Full House. Ewing also portrayed the role of Waldo in the 1994 feature film version of The Little Rascals, and voiced Eugene on Hey Arnold! during its 5th season. He is currently one of the hosts of the Bravo series The People's Couch.
Ewing co-wrote and performed the song
"Along the River"
, the end credit song for the film E
nd of the Spear
. He has contributed his work to the It Gets Better Project, citing his own experiences as a gay teenager as his motivation. His debut album,
The Time Manipulator
, was released in May 2014. Throughout 2013 Ewing worked as a go-go dancer in Los Angeles.
"The tips were good. In fact, I raised so much money, I was able to finish my record — mission accomplished."
Ewing was nominated for an Ovation Award for his role as "The Little Boy" in the Los Angeles production of Ragtime. He is a graduate of UCLA.
Blake released his equality anthem "This Is Who We Are" on July 14, 2015 and works as a host for AfterBuzz TV.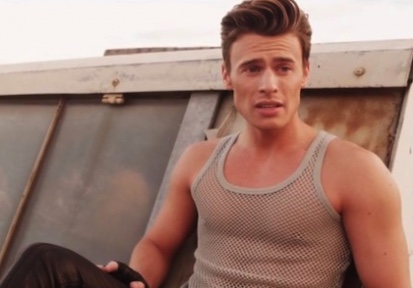 Blake Mciver Ewing has apparently done a lot of growing up over the years and is now a living his life as a proud gay man. He is also a regular fixture on "The People's Couch," providing witty commentary about television shows and viral clips alongside openly gay entertainer Scott Nevins.
"When I was 14 I came very close to becoming a gay teen suicide 'statistic' but I then turned to music, my piano, my loved ones, and discovered that it does in fact get better," the actor noted in a YouTube description of him performing a poignant anti-bullying song. "But that being said, I believe we must raise awareness to protect the LGBT teens who are still being physically and verbally assaulted and fear for their lives every day. We also have a responsibility to end this suicide epidemic."

2009
–
Japan
acknowledges its nationals same-sex marriages to foreigners from countries or states where same-sex marriages are legal.

MARCH 28 →
[{(o)}]|[{(o)}]|[{(o)}]|[{(o)}]| [{(o)}]|[{(o)}]