May 27
[{(o)}]|[{(o)}]|[{(o)}]|[{(o)}]| [{(o)}]|[{(o)}]
1854 – Georges Eekhoud (d.1927) was a Belgian novelist of Flemish descent, but writing in French. Eekhoud was best known for his ability to represent scenes from rural and urban daily life. He tended to portray the dark side of human desire and write about social outcasts and the working classes.
Eekhoud was born in Antwerp. A member of a fairly well-off family, he lost his parents as a young boy. When he came into his own he started working for a journal, first as an editor, but later he contributed a serial. In 1877, his wealthy grandmother helped young Eekhoud to publish his first two books, Myrtes et Cyprès and Zigzags poétiques, both volumes of poetry. In the beginning of the 1880s Eekhoud took part in several of the modern French-Belgian artist movements, like Les XX (The Twenty) and La Jeune Belgique (Young Belgium). Kees Doorik, his first novel was published in 1883, about the wild life of a tough young farmhand who committed a murder. The renowned free-thinking publisher Henri Kistemaeckers brought out a second edition three years later. Eekhoud received some guarded praise by famous authors like Edmond de Goncourt and Joris-Karl Huysmans who both sent Eekhoud personal letters. For his second prose book, Kermesses (Fairs, 1884), not only Goncourt and Huysmans praised him, but also Émile Zola, about whom Eekhoud had written an essay in 1879.
In 1886 his novel Les milices de Saint-François (The Soldiers of Saint Francis Xavier) was published. Until now Eekhoud's usual subject had been the rural Campine, a poor farmers' district east of Antwerp. He concentrated on the roguish young farm labourers and their rough-and-tumble lives. His most famous novel, La nouvelle Carthage (New Carthage) was published in m in 1893, and saw many reprints.. It has also been translated into English, German, Dutch, Russian and Romanian. The rustic Campine was in this book replaced with the brutal life of love and death in the Antwerp city docklands its dirty industries.
In 1899 Eekhoud published a new and daring novel, Escal-Vigor, named for the castle of its protagonist, Count Henry de Kehlmark, but it conveys the name 'Escaut', French for the river Scheldt, and 'Vigor', Latin for Power. Many readers were shocked, because the book is concerned with love between men. According to Eekhoud's biographer Mirande Lucien, Escal-Vigor was Eekhoud's attempt to speak about himself freely. Escal-Vigor is straightforward, its final scene of the martyrdom testifying to the justness of the lovers' cause.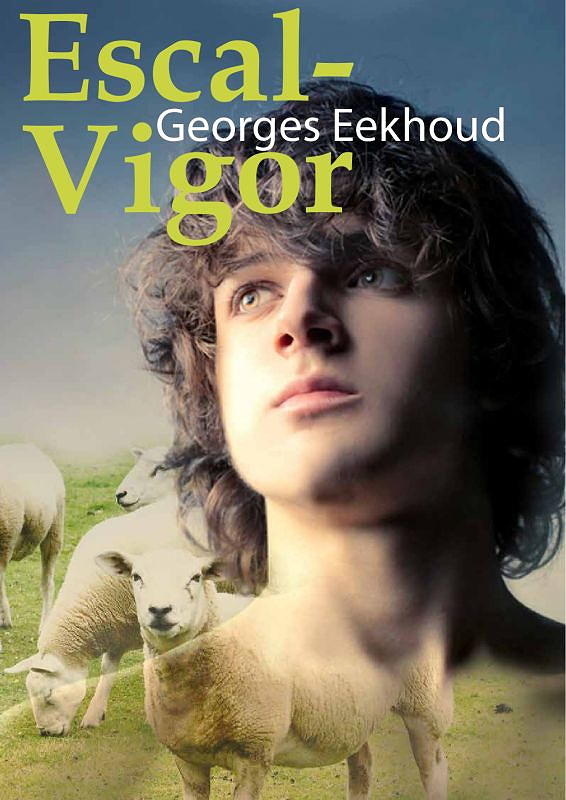 The homoerotic Modern Reprint Cover
(Click for larger)
Openly about homosexuality, Escal-Vigor was bound for trouble. Although it was well received by most critics, like Rachilde and Eugène Demolder, a lawsuit was launched against it. However, a storm of protest, especially vociferous because a number of literary celebrities supported the novel and did their part in acquitting Eekhoud.
Later novels and stories, like L'Autre Vue (1904) and Les Libertins d'Anvers (Antwerp libertines, 1912) also contain homosexual themes of homosexuality or homoerotic concepts, e.g. Dernières Kermesses (1920).
Nowadays, especially the homosexual aspect of his works has enjoyed attention. Escal-Vigor was reprinted in 1982, and Eekhoud's homoerotic correspondence with the journalist Sander Pierron was published ten years later.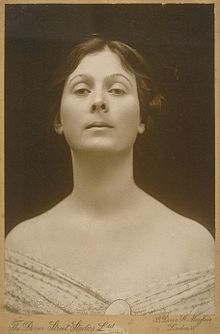 1877 – Isadora Duncan (d.1927) was an American dancer. Born in California, she lived in Western Europe and the Soviet Union from the age of 22 until her death at age 50. She performed to acclaim throughout Europe after being exiled from the United States for her pro-Soviet sympathies.
Isadora Duncan was born in San Francisco, California to Joseph Duncan, a banker, mining engineer and connoisseur of the artsand his wife, Mary. Duncan was the youngest of four children. Her sister Elizabeth Duncan was also a dancer. Soon after Isadora's birth, her father lost the bank and he was publicly disgraced and the family became extremely poor.
Her parents were divorced by 1889 (the papers were lost in the San Francisco earthquake), and her mother moved with her family to Oakland. She worked there as a pianist and music teacher. In her early years, Duncan did attend school but, finding it to be constricting to her individuality, she dropped out. As her family was very poor, both she and her sister gave dance classes to local children to earn extra money.
In 1896 Duncan became part of Augustin Daly's theater company in New York. She soon became disillusioned with the form. Her father, along with his third wife and their daughter, died in the 1898 sinking of the British passenger steamer SS Mohegan.
Duncan began her dancing career by teaching lessons. In these preliminary classes, in which she "followed [her] fantasy and improvised, teaching any pretty thing that came into [her] head". A desire to travel brought Duncan to Chicago where she found a place in Augustin Daly's company. Feeling unhappy and limited with her work in Daly's company and with American audiences, Duncan decided to move to London in 1898. There she found work performing in the drawing rooms of the wealthy and inspiration from the Greek vases and bas-reliefs in the British Museum. The money she earned from these engagements allowed her to rent a dance studio to develop her work and create larger performances for the stage. From London, Duncan traveled to Paris, where she drew inspiration from the Louvre and the Exposition Universelle of 1900.
One day in 1902,
Loie Fuller
visited Duncan's studio and invited Duncan to tour with her. This took Duncan all over Europe creating new works using her innovative dance technique.
Both in her professional and private lives, Duncan flouted traditional mores and morality. She was bisexual, and alluded to her Communism during her last United States tour, in 1922–23; Duncan waved a red scarf and bared her breast on stage in Boston, proclaiming, "This is red! So am I!"
Duncan bore two children, both out of wedlock – the first, Deirdre by theatre designer Gordon Craig, and the second, Patrick by Paris Singer, one of the many sons of sewing machine magnate Isaac Singer. Both children died in an accident on the Seine River on April 19, 1913. The children were in the car with their nurse, returning home after lunch with Isadora and Paris Singer. The driver stalled the car while attempting to avoid a collision with another car. He got out to hand-crank the engine, but forgot to set the parking brake. The car rolled across the Boulevard Bourdon, down the embankment and into the river. The children and the nanny drowned.
Following the accident, Duncan spent several months recuperating in Corfu with her brother and sister. After this, she spent several weeks at the Viareggio seaside resort with actress Eleonora Duse. The fact that Duse had just left a relationship with the rebellious young lesbian feminist Lina Poletti fueled speculation as to the nature of Duncan and Duse's relationship, but there has never been definite proof that the two were involved romantically. In her autobiography, Duncan relates that she begged a young Italian stranger - the sculptor Romano Romanelli – to sleep with her because of her desperation to have another baby. She did become pregnant after the deaths of her elder two children. She gave birth to a son, who lived only a few hours and was never named.
In 1922 she married the Russian poet Sergei Yesenin who was 18 years her junior. Yesenin accompanied her on a tour of Europe and the United States. The following year he left Duncan and returned to Moscow. He committed suicide in 1925, aged 30.
Duncan had an affair with poet and playwright Mercedes de Acosta which is documented in numerous revealing letters they wrote to each other. In one she wrote, "Mercedes, lead me with your little strong hands and I will follow you – to the top of a mountain. To the end of the world. Wherever you wish."
In 1927, Duncan's fondness for flowing scarves contributed to her death in an automobile accident in Nice, France, when she was a passenger in an Amilcar. Her silk scarf, draped around her neck, became entangled around the open-spoked wheels and rear axle, breaking her neck.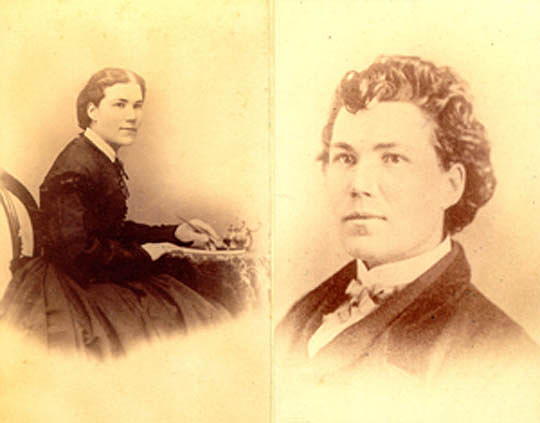 Seelye/Thompson
1883 – The Detroit Post and Tribune published an article about Sarah Emma Edmonds Seelye who, while passing as a man and going by the alias Frank Thompson, fought in the American Civil War, sold books, and nearly married a girl in Nova Scotia. She was one of nearly 400 women who enlisted in the war.

1891 – A jury in Utah acquits two men of sodomy with each other despite the testimony of numerous eye witnesses.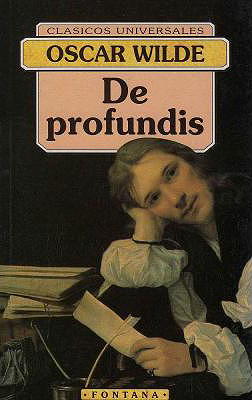 1895 – Oscar Wilde was imprisoned for sodomy. He would write his De Profundis during his stay in prison as a letter to his lover Lord Alfred Douglas. It would not be published in its entirety until 1962.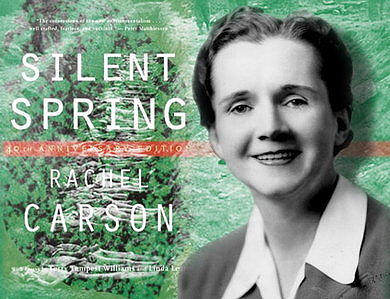 1907 – Marine biologist Rachel Carson was born on this date (d.1964). She was born in Springdale, Pennsylvania and spent the majority of her life outside of Washington, DC with summers in Maine. She is best known as the author of Silent Spring, which is considered one of the foundational documents for the modern environmental movement. Silent Spring, published in 1962, awakened society to its responsibility to other forms of life. Carson had long been aware of the dangers of chemical pesticides and also the controversy within the agricultural community. She had long hoped someone else would publish an expose' on DDT but eventually realized that only she had the background as well as the economic freedom to do it.
Silent Spring provoked a firestorm of controversy as well as attacks on Carson's professional integrity. The pesticide industry mounted a massive campaign to discredit Carson even though she did not urge the complete banning of pesticides but called for research to ensure pesticides were used safely and to find alternatives to dangerous chemicals such as DDT.
The federal government, however, ordered a complete review of pesticide policy and Carson was asked to testify before a Congressional committee. As a direct result of that review, DDT was banned. With the publication of Silent Spring, Carson is credited with launching the contemporary environmental movement and awakening concern by Americans about the environment.
She died from cancer in 1964 at the age of 57. The U.S. Fish and Wildlife Service named one of its refuges near Carson's summer home on the coast of Maine as the Rachel Carson National Wildlife Refuge in 1969 to honor the memory of this extraordinary woman.
In the early 1950s Carson moved with her mother to Southport Island, Maine and subsequently began a extremely close relationship with a neighbor Dorothy Freeman. The relationship would last the rest of Carson's life. The two women had a number of common interests, nature chief among them, and began exchanging letters regularly while apart. They would continue to share every summer for the remainder of Carson's life, and meet whenever else their schedules permitted. Carson and Freeman knew that their letters could be interpreted as lesbian.
Freeman shared parts of Carson's letters with her husband to help him understand the relationship, but much of their correspondence was carefully guarded. Shortly before Carson's death, she and Freeman destroyed hundreds of letters. The surviving correspondence was published in 1995 as Always, Rachel: The Letters of Rachel Carson and Dorothy Freeman, 1952 - 1964: An Intimate Portrait of a Remarkable Friendship, edited by Freeman's granddaughter.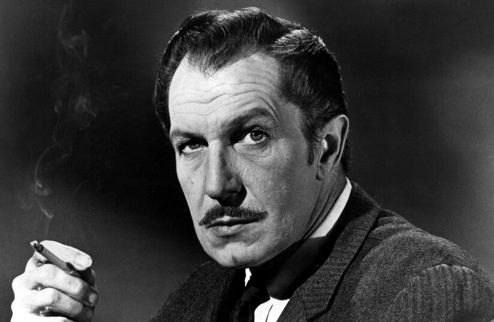 1911 – Vincent Price Jr. was an American actor. born on this date (d.1993), best known for his performances in horror films, although his career spanned other genres, including film noir, drama, mystery, thriller, and comedy. He appeared on stage, television, and radio, and in more than 100 films. He has two stars on the Hollywood Walk of Fame, one for motion pictures and one for television. He was born and raised near St. Louis, Missouri and has a star on the St. Louis Walk of Fame as well.
He was an art collector and arts consultant with a degree in art history, and he lectured and wrote books on the subject. The Vincent Price Art Museum at East Los Angeles College is named in his honor. He was also a noted gourmet cook.
Price, who died in 1993, had a nearly 60 year Hollywood career and starred in many memorable films including House of Wax, House of Usher, Laura, The Fly, and The Raven, among many others.
Price's Lesbian daughter, Victoria Price, recently spoke for the first time about her late father's bisexuality:
"I am as close to certain as I can be that my dad had physically intimate relationships with men," Victoria Price says "I know for 100 percent fact that my dad was completely loving and supportive of LGBT people."
"Everybody asks me: "was your dad bisexual, was he bisexual,'" Price says. "And it was [the late actor] Roddy McDowall who said to me, you know, we didn't have any idea what bisexuality meant in that sense, and if we didn't know, then how can we know the answer to that question?"
When she came out to her dad, he did not come out to her but she was met with absolute understanding.
"The interesting thing for me is that when I came out to him and he said to me, 'You know, I know just how you feel because I have had these deep, loving relationships with men in my life and all my wives were jealous.'"
The family loved across the street from Rock Hudson while Price was growing up and there were always a lot of gay people in their house.
"'Uncle Rupert and Uncle Frank' came to every dinner party and it was very clear that they were together. And while the word [gay] was never mentioned, it was very much the norm," she says.
"I remember at nine-years-old going to drop something off at Rock Hudson's house – of course, I was super excited because I was a huge Rock Hudson fan. So this absolutely beautiful man came to the door and in my nine-year-old mind, I thought, oh, that's – I don't know if I had a word for it – but that's his 'Uncle Frank or Uncle Rupert,' right?"
Victoria Price also makes a revelation about her father's third wife, the actress Coral Browne. "He married a bisexual woman and everybody assumed their marriage was a fraud," the daughter says. "It wasn't a fraud. It was a totally sexual relationship but they were two people with very open minded approaches as to what life should look like. And that to me – people who lived this truth in all aspects of their lives – they should be heroes to every community."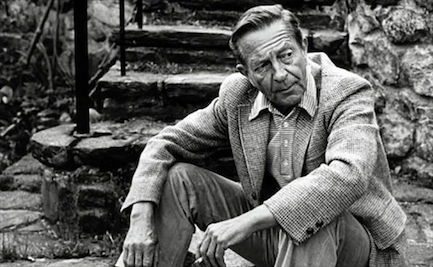 1912 – John Cheever was an American novelist and short story writer, sometimes known as the 'Checkhov of the suburbs' (d.1982). His The Stories of John Cheever won the Pulitzer Prize for fiction in 1979.
Cheever's close relationship with his brother Fred deepened while they were on a walking tour of Germany in 1931. The brothers moved to Boston in 1932 and shared an apartment until Cheever felt their relationship was becoming too "incestuous." But Fred helped Cheever support himself during his lean years even after Cheever moved to New York in 1934
In 1941, Cheever married Mary Winternitz and remained married to her throughout his life despite his alcoholism and numerous affairs with partners of both sexes. Cheever's first book, The Way Some People Live, was published in 1943, the same year the first of his three children was born.
He was a frequent contributor to The New Yorker and was considered one of the purest examples of 'the New Yorker writer'. Cheever's main theme was the spiritual and emotional emptiness of life. He especially described the manners and morals of middle-class, suburban America, with an ironic humour which softened his basically dark vision. Among his best-know works are the Wapshot trilogy and Falconer.
In the summer of 1966, a screen adaptation of his short story "The Swimmer," starring Burt Lancaster, was filmed in Westport, Connecticut. Cheever was a frequent visitor on the set, and made a cameo appearance in the movie.
By then Cheever's alcoholism had become severe, exacerbated by torment concerning his bisexuality. On May 12, 1973, Cheever awoke coughing uncontrollably, and learned at the hospital that he had almost died from pulmonary edema caused by alcoholism. After a month in the hospital, he returned home vowing never to drink again; however, he resumed drinking in August. In April 1973 Cheever was admitted to the Smithers Alcoholic Rehabilitation Unit in New York, where he shared a bedroom and bath with four other men. Cheever never drank alcohol again.
Cheever died from cancer in 1982, and his letters and journals revealed his bisexuality - although he enjoyed a long marriage and fathered 3 children, he had numerous affairs with both men and women.
Cheever's memoir, Home Before Dark (1984), first revealed Cheever's bisexuality, which was confirmed by the posthumously published letters and journals. This was parodied to comedic effect in an episode of the TV sitcom Seinfeld in 1992, when one of the characters, Susan, discovers explicit love letters from Cheever to her father.
His attitude towards his own bisexuality is reflected in his novels and short stories, moving from ambivalence and stereotypical portrayal in his earlier works to later acceptance and redemption.
In Cheever's early work, homosexuality is treated ambivalently, stereotypically, and humorously. The first stories Cheever wrote that contained homosexual overtones are "Late Gathering" (1931) and "The Brothers" (1937). Each of these explores the close bond between two young men that not only parallels Cheever's relationship with his own brother, but also reflects the ambivalence he felt toward it.
As Cheever became more accepting of his sexual orientation, however, it was reflected in his work. In his breakthrough novel Falconer, Cheever invests homosexuality with redemptive and transforming powers. Ezekiel Farragut, who is imprisoned for murder, acquires the ability to love only after his affair with a fellow prisoner.
John Updike wrote of Cheever:
His homosexuality, furtively explored in his boyhood but then suppressed ... seemed criminal; in his last years, he marveled at the insouciance with which younger men, among them Allan Gurganus, accepted their own. Cheever's father, Frederick, a crusty Yankee shoe salesman, was—like his namesake, John's older brother—a vigorous participant in virile sports; he feared that with John he had "sired a fruit."

As an adult, John "flung himself into icy pools and skated with a masculine swagger," and cultivated the reputation of a womanizer. In one of the least coherent of Cheever's late stories, "The Leaves, the Lion-Fish, and the Bear" (published in Esquire in 1974), he most nakedly sought to convince himself, and the reader, that male homosexuality is innocent, of a piece with his beloved world of light and air and female beauty. Two men, Estabrook and Stark, are brought together in a motel room in a snowstorm, drink four whiskeys each, and make love:
"They were both inexperienced but they reverted passionately to the sexual horseplay of adolescence. In the morning, The ungainliness of two grown, drunken and naked men in one another's arms was manifest but Estabrook felt that he looked wonderfully on to some revelation of how lonely and unnatural man is and how deep and well-concealed are his confusions. Estabrook knew that he had done that, which by his lights he should not have done but he felt no remorse at all—he felt instead a kind of joy at seeing this much of himself and of another. There were no concealments at that hour. These men were what they were—bewildered, naked, carnal and content—and instead of freeing himself from Stark's embrace he put both arms around the stranger and drew him closer. . . . "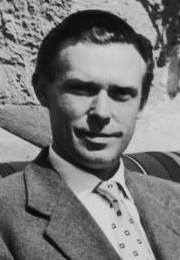 1917 – Major Michael Pitt-Rivers (d.1999) was a West Country landowner who gained notoriety in Britain in the 1950s when he was put on trial charged with buggery. This trial was instrumental in bringing public attention—and opposition—to the laws against homosexuality as they then stood.
In the summer of 1953, Lord Montagu of Beaulieu offered his friend Peter Wildeblood the use of a beach hut near his country estate. Wildeblood brought with him two young RAF servicemen, Edward McNally and John Reynolds. The foursome were joined by Montagu's cousin Michael Pitt-Rivers. At the subsequent trial the two airmen turned Queen's Evidence and claimed there had been dancing and "abandoned behaviour" at the gathering. Wildeblood said it had in fact been "extremely dull." Montagu claimed that it was all remarkably innocent, saying: "We had some drinks, we danced, we kissed, that's all."
Arrested on 9 January 1954, in March of that year Pitt-Rivers was brought before the British courts charged with "conspiracy to incite certain male persons to commit serious offences with male persons" or "buggery". It was the first time this charge had been used in a British court since the trials of Oscar Wilde in 1895 and it led to public criticism that the police were pursuing a McCarthy-like purge of Society homosexuals.
Pitt-Rivers was charged along with Lord Montagu of Beaulieu and Peter Wildeblood. Pitt-Rivers and Lord Montagu denied the charges and denied also that they were homosexual. After an eight-day trial held at the Winchester Assizes, on 24 March 1954 Pitt-Rivers and Wildebood were sentenced to 18 months and Lord Montagu to 12 months in prison as a result of these and other charges. Their case led eventually to the Wolfenden Report, which in 1957 recommended the decriminalisation of homosexuality in the United Kingdom.
His role in the 1967 decriminalisation of homosexuality in the United Kingdom was explored in the 2007 Channel Four docudrama A Very British Sex Scandal.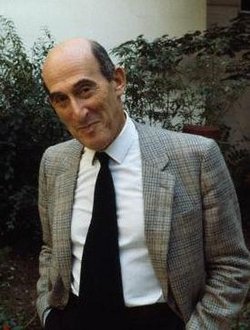 1925 – French writer and intellectual Jean-Paul Aron (d.1988) is widely credited for giving a human face to AIDS and thereby changing the public perception of the disease and those who suffered from it. A rival of philosopher Michel Foucault, who also died of AIDS, Aron contrasted his openness about his diagnosis with Foucault's secretiveness.
Aron published several historical works examining middle-class social practices. The most important of these, Le Pénis et le démoralisation de l'Occident (The Penis and the Demoralization of the West) (1978), co-written with Roger Kempf, studied the emergence of repressive middle-class attitudes toward masturbation and homosexuality.
Aron also produced two novels, several plays, and many newspaper and magazine articles. He frequently appeared in television broadcasts, becoming a noted figure on the French intellectual scene. Always discreet about his homosexuality, he nonetheless started to take part in demonstrations for gay rights in the early 1980s.
Aron began feeling unwell in late 1985 and in January 1986 his brother (a doctor) informed him that he was seropositive. Two years later, in the autumn of 1988, Aron became the first well-known personality in France to break the silence (and shame) that still surrounded AIDS by giving an interview to a weekly magazine, Le Nouvel Observateur. The periodical put Aron on its cover and titled the interview "My AIDS."
In this interview, Aron spoke candidly about his private life, his daily struggle with AIDS, and his "serenity" in the face of impending death. Aron confessed:
"It was probably crazy, maybe dishonest, but I never felt homosexual. The disease alone forces me to admit that I belong existentially and socially to that category. I denied my specific nature, not because I was ashamed of it, but because I never had any desire to be 'one of them'. There was in me a reluctance to be part of that community because I didn't have the vocation for it."
Aron's openness about his health problems (in addition to the published interview, he gave a televised interview in June 1988) made him into an instant celebrity in France. "I've been writing and teaching for thirty years," he told a friend, "and, lo and behold, twenty-five pages make me famous."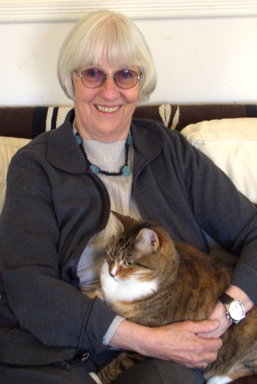 1927 – Marijane Meaker is an American novelist and short story writer, who has used multiple pseudonyms for different genres. From 1952 to 1969 she wrote twenty mystery and crime novels under the name Vin Packer including the immensely popular Spring Fire, that is credited with launching the genre of Lesbian pulp fiction, although the majority of Packer's books didn't address homosexuality or Gay characters.
Meaker received an education from Stuart Hall School, a boarding school in Staunton, Virginia, after asking her parents to send her there when she heard that lesbian activity occurred frequently at boarding schools. In later life, Spring Fire was a response to the immense success of a previous Gold Medal Books publication named Women's Barracks, that sold 4.5 million copies. Eager to continue their financial success, editor Dick Carroll asked Meaker to write a book with a lesbian theme. Her original story idea involved a romance between two students of a boarding school, but Carroll asked her to change it to sorority sisters because the boarding school setting was too risky. "He said, 'Well, it has to be a sorority, because a boarding school is too young.' He added, 'Make sure that these girls turn away from homosexuality because it is immoral, don't just have them talk about it being a hard life. We have to pass postal inspection.'" The response to Spring Fire was beyond all Meaker's and Gold Medal Books' expectations. Meaker states she got "boxes of mail" from women who were thrilled to see a book that addressed a lesbian relationship; gay audiences weren't considered a market at this time.
Using her own observations of lesbians in the 1950s and 1960s, she wrote a series of nonfiction books under the name Ann Aldrich from 1955 to 1972. Meaker said of this series, "The Aldrich books were more like resource books. A lot of the mail I got was from people wanting to know where the bars were in New York, where they could live, where I had lived. You know, they wanted to know how to get to New York and how to get to these bars."
In 1972 she switched genres and pen names once more to begin writing for young adults, and became quite successful as M.E. Kerr, producing over 20 novels and winning multiple awards. She was described by The New York Times Book Review as "one of the grand masters of young adult fiction." As Mary James, she has written four books for a younger children's audience.
In her early life, Meaker admits to dating men because it was expected of her. She said of meeting the expectations of her family and friends despite knowing she was a lesbian: "I dealt with it by playing the game: dating, going steady with a serviceman I really liked, but not 'that way' and in general coping as we all had to do by behaving like everyone else."
Meaker was involved romantically with author Patricia Highsmith for two years. She wrote about this relationship in the 2003 nonfiction memoir, Highsmith: A Romance of the 1950s, and discussed it and her own pulp fiction novels in interviews around the time of the book's release. Meaker explained her reasons behind writing about their relationship: "I knew Pat when she was young and not yet so jaded and bigoted. The internet is filled with stories of her meanness, and prejudice, and also of her introversion, of her being a loner. I met that Pat many years after we broke up."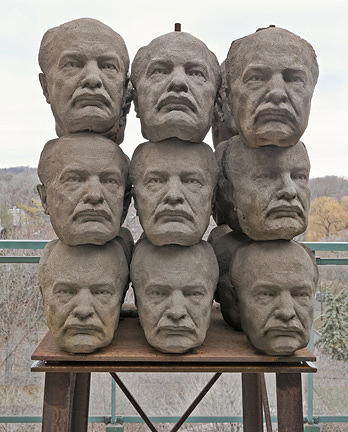 Dukszta Portrait by Evan Penny

1932 – Jan Dukszta is a former politician in Ontario, Canada. He was a New Democratic member of the Legislative Assembly of Ontario from 1971 to 1981. He represented the riding of Parkdale.
Dukszta was born in Poland in 1932. He and his brother, Andrzej, escaped with their mother from Poland near the end of World War II and settled in London where they were educated at Christ College, Blackheath. Their father was responsible for resettling and educating Poles in England. He was trained in medicine in Dublin and served his psychiatric residency in North Bay, Ontario.
He was elected in the 1971 provincial election in the Toronto riding of Parkdale. He was re-elected in 1975 and by more than 2,400 votes in the 1977 before losing by 900 votes in the 1981 provincial election to Liberal Tony Ruprecht.
Dukszta attributed his defeat, in part, to an anti-gay campaign by a group called "Positive Parents" that targeted NDP candidates in several Toronto ridings because of the party's support for an amendment to the Ontario Human Rights Code to prohibit discrimination in housing and employment on the basis of sexual orientation. The group distributed literature that claimed Dukstza was gay while a second group, Campaign Life, distributed literature denouncing him for supporting maintaining coverage for abortions under Ontario Health Insurance Plan.
At one all-candidates' meeting Dukszta held up a hand-made pink triangle and a yellow star to illustrate the danger he saw in anti-homosexual sentiment being used against New Democrats.
"I saw this sort of thing in Poland during the war, when the Germans made homosexuals wear pink triangles and Jews had to wear the star,"
Dukszta told the
Globe and Mail
saying of the anti-gay organizations
"These groups are dangerous… It is the start of fascism… Are we going to go through another McCarthy period when minorities will be attacked allegedly in the name of the moral majority?"
Dukszta claimed he was also the target of a smear campaign that falsely accused the psychiatrist of being an abortionist.
"Some of their canvassers were saying I was doing abortions in the back room. Our canvassers were hearing it."
Dukszta returned to psychiatric practice following his defeat and, by 1986, was head of medical staff at Queen Street Mental Health Centre in Toronto. Since retired, he still sees private patients.
Dukszta is dedicated to the arts, the visual arts in particular. Over his almost half-century living in Canada he has purchased and commissioned hundreds of works of art, many of which have been donated to museums and galleries. In particular, many of the commissioned works include portraits of himself in a variety of poses. In 1985, he had collected about 30 such pieces which were displayed in his Rosedale apartment.


Added 2022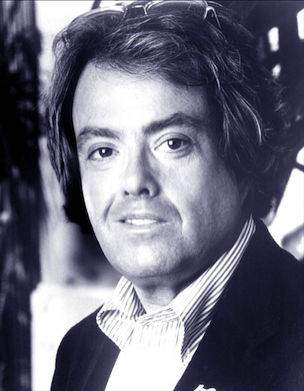 1937 – Allan Carr né Allan Soloman (d.1999) was an American producer and manager of stage for the screen. Carr was nominated for numerous awards, winning a Tony Award and two People's Choice Awards, and was named Producer of the Year by the National Association of Theatre Owners.
Carr was born to an American Jewish family in Chicago, Illinois. He attended Lake Forest College and Northwestern University, but his interest was always in show business. While at Northwestern, he invested $750 in the Broadway musical Ziegfeld Follies starring Tallulah Bankhead. Though the show was not a hit, he had also invested $1,250 in 1967's The Happiest Millionaire, which gave him the success he needed to leave school and embark upon a career in entertainment.
Through the years, he became known as a great planner of promotional events and parties. One such event, a black-tie affair for Truman Capote, took place in an abandoned Los Angeles jail.
Producer Robert Stigwood hired him in 1975 as marketing and promotion consultant, with his first project being for the film version of the rock opera Tommy. The film was a hit and he expanded his involvement for his next film, re-editing and overdubbing a low-budget foreign film about a real-life disaster. The result was Survive! (The disaster in question was also described in Piers Paul Read's book Alive.) The surprise box office success of Survive! in 1976 made Carr a wealthy man and gave him clout at Paramount Pictures.
In 1979, he produced the Village People film musical Can't Stop The Music, a production which, while campy, steered clear of addressing the band members' presumed homosexuality. He orchestrated a lavish series of premieres and a television special that co-starred his friends Hugh Hefner and Cher. But the film was released in 1980, after the crash of the disco craze, and as a result, it was a major flop. Because of this, Carr "won" the first annual Golden Raspberry Award for Worst Picture in 1981. Undaunted, he went on to produce Grease 2 (1982) which, while nowhere near the hit of its predecessor, was not the financial loss that Can't Stop The Music had been.
When Carr was in Paris for the premiere of Grease 2, a friend took him to see a play about a gay couple, La Cage aux Folles. By this time in his career, Carr was ready to face the gay theme head on. Returning to Broadway he produced a musical version of the 1973 play, which had since been made into a French film, and would later be remade as an American film called The Birdcage. With a book by Harvey Fierstein and music and lyrics by Jerry Herman, the show opened in 1983 and was a huge success, running for five years and 1,761 performances. Nominated in 1984 for eight Drama Desk Awards and eight Tony Awards, the show won three Drama Desks and an impressive six Tonys, including a "Best Musical" win for Carr.
Carr kept busy hosting exclusive extravagant events with guest lists that included most show biz legends and those that loved them. The invitations to the gatherings at his opulent mansion, with nine bars, a disco, and plenty of private rooms where guests could indulge in cocaine & sex, were highly coveted even in the homophobic Hollywood of the 1970s.
His reputation for hosting lavish and expensive parties and creating spectacular production numbers led the producers of the 61st Annual Academy Awards to hire him to create the show based on his promise that he would turn it around from the dry, dull show it had been in previous years.
Promising "the antithesis of tacky" it turned out to be the epitome of it, a disaster culminating in the infamous pairing of Snow White (played by Eileen Bowman) and Rob Lowe singing "Proud Mary." The telecast also featured a production number featuring what was introduced as "the youth of Hollywood", with all the participants in their late 20s or early 30s. The show became a laughing-stock and has gone down in history one of the worst moments in awards show and television history.
Adding to the misery, The Walt Disney Company sued for illegal use of Snow White's image. Carr's reputation never recovered, although his decision to change the award announcement from "And the winner is..." to "And the Oscar goes to..." has become the norm, not just for the Oscars, but for awards shows in general. He never worked in Hollywood again and at the time of his death, was employed in an office in Brentwood, CA.
In 2017, a documentary about Carr's life was released entitled
The Fabulous Allan Carr
. The director,
Jeffrey Schwarz
said,
"Although it was no secret that Allan Carr was gay, he never formally acknowledged it publicly. The word 'flamboyant' was used to describe him, a code word."

1946
– The
Pennsylvania
Supreme Court overturns the conviction for sodomy of a man with his 8-year-old son because of vacillating testimony and evidence of malice of a former housekeeper who wanted the man to have sex with her and he refused.

1953 – ONE, Incorporated's Charter granted by the State of California.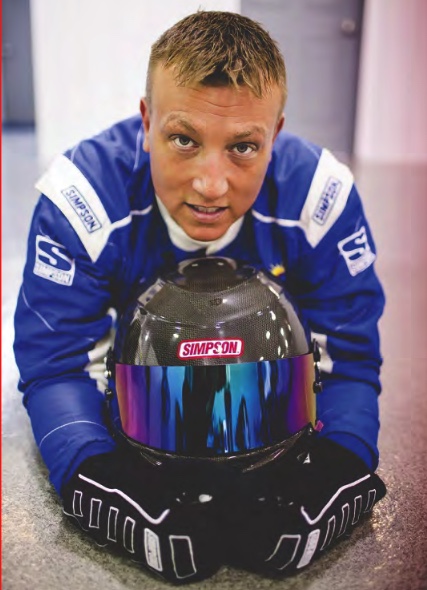 1972 – Freddy Niblack is the first openly gay driver in the Indy Car Series, but that's not all that defines him. As is the case for so many athletes, homosexual or not, he is also a person looking to accomplish a dream–a dream he's had since his childhood days spent carving a race track through neighbors' yards on his go-kart as the sound of the nearby Indianapolis 500 engulfed the air surrounding his family's Speedway, IN home.
"I literally grew up two blocks from the track, and I was born in May, which happens to be the month that all the festivities for the 500 go on," Niblack says. "My mom said I would scream and cry until she'd sit me on the porch and let me hear the Indy cars. They were like a lullaby. As long as there were racecars and motors, I was good."
He came out as a teenager and has traveled down a bumpy road filled with discrimination in his professional career. While he was racing in the mini Indy series in 1992 he was subject of hatred remarks that led to his departure. "Someone put a poster on my race trailer that said 'Aids cures fags,'" he says, "and so that team owner didn't want me anymore.
Niblack then went to Europe, hoping for a better opportunity, but more of the same transpired. "People over there were even less accepting," he says.
Niblack is back home after signing on to race for Indianapolis-based Top Kart USA, which didn't even know he was gay when he was signed.
Below, watch Freddy in action and discussing being gay in the sport.

1977 – Wyoming repealed its sodomy law.


1981 – The Alberta Conference of United Church of Canada passes a gay right resolution and votes to study possibility of ordination of gays.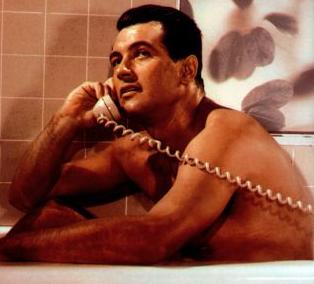 1984 – Actor Rock Hudson was diagnosed with Kaposi Sarcoma as a complication of his having AIDS.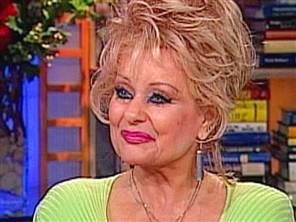 1987 – Tammy Faye Bakker appeared on ABCs new program Nightline to deny that her husband Jim Bakker had a homosexual affair.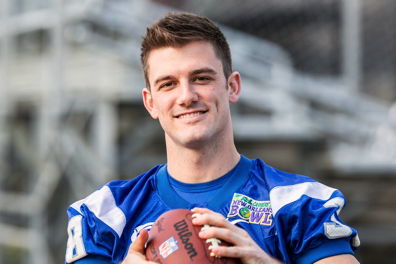 1989 – Alan Gendreau is an American football player who last played college football for the Middle Tennessee Blue Raiders. The placekicker was openly gay to his teammates. He ended his college career as the leading scorer in Sun Belt Conference history.
Gendreau went to high school in Florida, where he was an all-state football player as well as an accomplished soccer player. He came out as gay at age 16. He attended college at Middle Tennessee State University, where he chose to play football over soccer. He began his career being named to the Sun Belt All-Freshman team, and was later named twice to the All-Sun Belt first team. He also made the second longest field goal in Sun Belt Conference history and set multiple school placekicking records.
Gendreau grew up in Apopka, Florida in a deeply religious home. A devout Christian, Gendreau has been openly gay since high school when he came out to his parents at the age of 16. Afterwards, they placed him in church-based counseling that spanned four sessions.
He attended Orangewood Christian High School in Maitland, Florida, where he was a placekicker and a first-team all-state selection as a junior and senior. After making 14-of-16 field goals and 27-of-30 extra points in his senior year, he was selected to play in the Central Florida All-Star game. He ended his career as the school's all-time leading scorer. He also played soccer at Orangewood, twice earning Orlando Sentinel Player of the Year for soccer and setting the all area scoring record with 172 career goals.
Scouting reports leading up to the 2012 NFL Draft rated Gendreau as an average kicker. With only 62 field goal attempts in college—just over one per game—he did not receive attention from many NFL teams. He also did not have an agent and he did not know how to obtain one. He went undrafted. Gendreau stayed in shape through 2013, hoping to become the first openly gay NFL football player.
Outsports
, a Web site specializing in gays and sports, released his story about being a gay football player on April 23, 2013.
"I'm a kicker that happens to be gay,"
Gendreau said.
"It's a part of who I am, and not everything I am. I just want to be known as a normal kicker."
"It's totally legit that he can get into the [NFL]," said Chris Kluwe, punter for the Minnesota Vikings. Kluwe believed that place-kicking, which is limited to one specific skill set, allowed proficient kickers to be successful even if they had taken a break from the game for years.
As of 2015, Gendreau is a flight attendant working for American Airlines.
He has a youtube channel created in 2012 with about 2 thousand followers and a total viewership of about 140 thousand. The contents features his own renditions and cover to several famous songs including Home by Michael Buble, created and edited more professionally.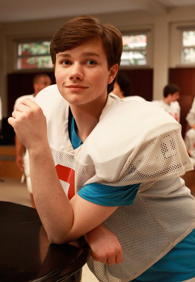 1990 – Today is the birthday of American actor and singer Chris Colfer. He's best known for his portrayal of Kurt Hummel on Glee. At the age of eighteen, Colfer starred as Russel Fish in Russel Fish: The Sausage and Eggs Incident, a short film where an awkward teenager must pass a Presidential Physical Fitness test or fail gym class and lose his admission to Harvard University.
Colfer's first TV role came in 2009 when he was cast as Kurt Hummel on Fox's Glee as a flamboyant singer who is bullied by the school football team. Kurt Hummel was created especially for Colfer and the show's creator, Ryan Murphy, had to scrap another planned character called "Rajish" so they could add Hummel. Colfer has explained that Hummel
"puts on a very confident, 'I'm better than you' persona, but underneath it all he's the same anxious and scared teen everyone is/was at some point. In later episodes, he goes through an identity crisis, accepting and finding acceptance for who he is...He's a tough guy in designer clothes."
The character is also gay, which is at the crux of many of his conflicts on the show. Colfer has a high vocal range, as displayed in the episode "Wheels", in which his character demonstrates the unusual ability (for a man) of singing a "high F." However, his character deliberately pretends to be unable to sing the note in order to spare his father the harassment he would receive for having a gay son.
Colfer is openly gay and shared on Access Hollywood that his parents were accepting of him but he was frequently bullied at school. He originally auditioned for the role of Artie with the song "Mr. Cellophane" but Kevin McHale was selected for the role. However, the casting directors were so impressed by Colfer that they wrote the Kurt Hummel character into the show as a vehicle for him. Colfer commented on his casting, "It's good to have something positive, especially for kids in small towns, like myself, who need a little pick-me-up." Kurt Hummel has gone on to become an audience favorite.
In April of this year, TIME Magazine named Colfer one of the 100 Most Influential People In The World noting:
"Chris, 20, lives by extreme truth, speaking out against the epidemic of bullying that he, too, faced in high school. The honesty that he infuses into his Glee character, Kurt, leaves you reeling."

1993 – Russian president Boris Yeltsin publishes a decree decriminalizing consensual adult male Sodomy.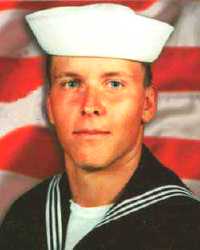 Allen Schindler
1993 – In Yokosuka, Japan, Airman Apprentice Terry M. Helvey was sentenced to life imprisonment for the murder of gay US Navy Petty Officer Allen Schindler in a public restroom in Sasebo, Japan. Another soldier, Charles Vins had also been convicted of Schindler's murder. However, in exchange for his testimony, Vins received a sentence that totaled seventy-eight days.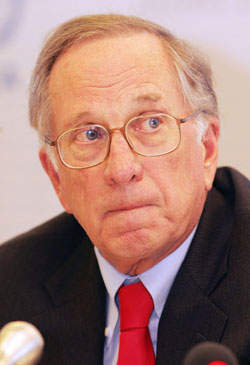 1993 – On that very same date U.S. Senator Sam Nunn voiced opposition to a proposal that would allow gay soldiers to be open about their sexuality off-base. He feared it would provide them a "safe haven" from military life.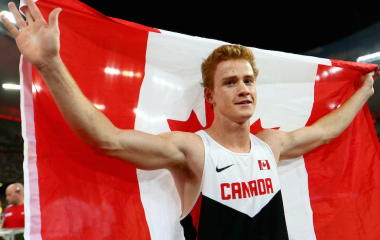 1994 – (Shawnacy Campbell) Shawn Barber is a Canadian track and field athlete specialising in the pole vault. He is the former world champion in pole vault having won the event with a height of 5.90 m at the 2015 World Championships in Athletics in Beijing. Barber also became a Pan American Games champion in winning the 2015 edition of the Games with a height of 5.80 m. Barber won a bronze medal at the 2014 Commonwealth Games in Glasgow as well.
His outdoor personal best jump of 5.93 metres was made on July 25, 2015, it is the current national record. His indoor personal best is 6.00 metres from 2016 (Canadian Indoor Record). Barber is tied for the Pan Am record together with Lázaro Borges. He also holds the NCAA Collegiate Indoor Record at 5.91m.
Barber holds dual Canadian-American citizenship, having been born in New Mexico. His father George Barber grew up in El Paso, Texas, but was himself born in Kincardine, Ontario. At age 10 his mother Ann Barber divorced his father and he moved to New Caney, Texas. He split his time growing up between the Toronto area and the United States and graduated from Kingwood Park High School in Houston. Barber refers to Toronto as his hometown during competitions and says he chose to represent Canada since his particular sport was more important in Canada as well as to follow in his father's footsteps who was a pole vaulter for Canada at the 1983 World Championships and a competitor twice at Team Canada Summer Olympic trials.
Barber came out as gay in April 2017. He came out publicly on Facebook on April 24 when he wrote: "Gay and proud!"

2006 – In Moscow an attempt to stage the first-ever Gay pride march ended with violence and mass arrests, after activists took to the streets despite the ban by mayor Yuri Luzhkov.

MAY 28 →
[{(o)}]|[{(o)}]|[{(o)}]|[{(o)}]| [{(o)}]|[{(o)}]