November 13
[{(o)}]|[{(o)}]|[{(o)}]|[{(o)}]| [{(o)}]|[{(o)}]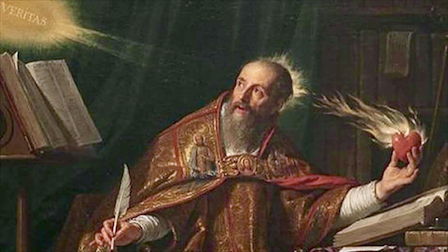 354 AD – Early Christian writer St. Augustine was born on this date (d.430) Following the example of St. Paul, Augustine set the standard for confessional literature that was to flourish in the centuries that followed. The pattern, of course, is a detailed listing of one's sins, followed by a narration of some event or events that made one long for salvation, and then an enunciation of the pains and joys of penance with the hope of future redemption.
Augustine confessed not only to having fathered a son, but to friendship that was classically homoerotic. When he was a young man, his closest friend died and Augustine contemplated joining him in death. "I felt that his soul and mine were `one soul in two bodies'; and therefore life was to me horrible because I hated to live as half of a life; and therefore perhaps I feared to die, lest he should wholly die whom I loved so greatly. My longing eyes sought him everywhere." Augustine, of course, cast off all sins of the flesh and becoming one of the great founders of Christian doctrine, admonished us all to do the same.

1759 – In the Netherlands, minister Andreas Klink is banished for life for having committed sodomy. He defends his attractions as natural.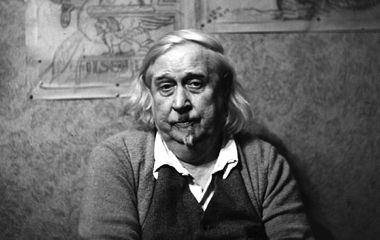 1879 – Marcus Behmer (d.1958) was a German writer and book illustrator, graphic designer and painter.
Marcus Behmer was a son of the painter Hermann Behmer. His uncle Rudolf Behmer, known as a breeder of Merino sheep - was the twin brother of his father. His brother Joachim Behmer was also active as an artist.
His artistic beginnings came with his first major success with the illustrations for Wilde's Salome in 1903. The early works show the influence of the illustrations of Aubrey Beardsley.
On 1 October 1903 Behmer entered military service, was appointed a corporal in 1904 and promoted in 1907 to sergeant. From 1914 he participated in the First World War (in Flanders and in Poland). In the summer of 1917 he fell ill "after an operation in the field" and was six weeks in the military hospital of Jarny . During his time in the army, many so-called "comrades' portraits" emerged, usually reduced, although finely crafted profile views of young soldiers
From 1902 Behmer produced illustrations for books, designed initials and writings, and was responsible for carefully planned publishing facilities. He worked for the Cranach Press of Count Harry Kessler and illustrated numerous articles for the monthly magazine "The Island."
Behmer had been since 1903 a member of the first homosexual organization in the world in Berlin. Because of his homosexuality, Behmer was sentenced in April 1937 by a court in Konstanz to imprisonment of two years. At times he was given the opportunity to work as an artist in prison. The works produced in this period are mostly calligraphic tablets with Greek text (prayers and Bible quotes), and drawings full of bitterness and irony.

1912 – The North Carolina Supreme Court upholds the right of juries to return verdicts of attempt to commit sodomy rather than for the completed act.

1914 – A California appellate court reverses a sodomy conviction for having "carnal knowledge" of one Frank Love. It says that the term "carnal knowledge" can exist only between people of the opposite sex.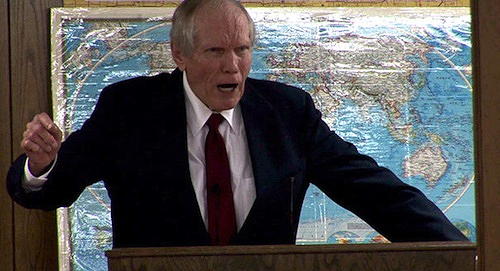 1929 – Fred Phelps, Sr. (d.2014) was an American pastor heading the Westboro Baptist Church (WBC), an independent Baptist church based in Topeka, Kansas. Phelps was a disbarred lawyer, founder of the Phelps Chartered law firm, and a former civil rights activist.
Phelps's followers frequently still picket various events, such as military funerals, gay pride gatherings, high-profile political gatherings, university commencement ceremonies, performances of The Laramie Project, mainstream Christian gatherings and concerts with which he had no affiliation, arguing it is their sacred duty to warn others of God's anger.
In response to Phelps' protests at military funerals, President George W. Bush signed the Respect for America's Fallen Heroes Act into law in May 2006, and, in April 2007, Kansas governor Kathleen Sebelius signed into law a bill establishing a 150-foot no-picketing buffer zone around funerals.
He was known for the slogans that he and his ministry used against people he deems sinful; his church is built around a core of anti-homosexual theology, with many of their activities stemming from the slogan "God hates fags", which is also the name of the group's main website. Gay rights supporters have denounced him as a producer of anti-gay propaganda and violence-inspiring hate speech. The church is considered a hate group and monitored by the Anti-Defamation League and Southern Poverty Law Center.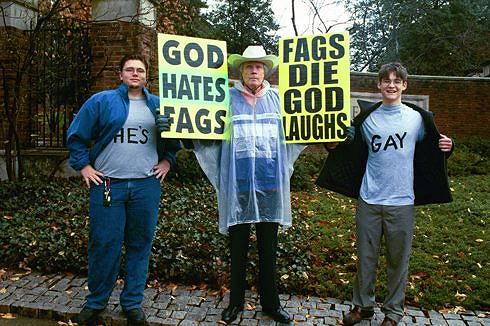 Gays mock Phelps
Phelps has stated that the 9/11 attacks were God's punishment on the United States. In a September 14, 2001 sermon Phelps said "God hates America, and those calamities last Tuesday are none other than the wrath of God, smiting fag America. You need to see in those flames a little preview of the flames of Hell that are going to soon engulf you, my friend. Burn your soul forever!"
In the movie Hatemongers, members of the Westboro Baptist Church state their children were being "accosted" by homosexuals in Gage Park, about half-a-mile from the Phelps' home (and a mile northwest of the Westboro Church). Shirley Phelps-Roper says that in the late 1980s Fred Phelps witnessed a homosexual attempting to lure her then five-year-old son Joshua into some shrubbery. After several complaints to the local government about the large amount of homosexual sex occurring in the park, with no resulting action, the Phelpses put up signs warning of homosexual activity. This resulted in much negative attention for the family. When the Phelpses called on local churches to speak against the activity in Gage Park, the churches also lashed out against the Phelps family, leading to the family protesting homosexuality on a regular basis.
In 2005, Phelps and his family, along with several other local congregations, held a signature drive to bring about a vote to repeal two city ordinances that added sexual orientation to a definition of hate crimes and banned the city itself from workplace discrimination based on sexual orientation. Enough signatures were collected to bring the measure to a vote. Topeka voters defeated the repeal measure on March 1, 2005, by a 53-47% margin. In the same election, Phelps' granddaughter Jael was an unsuccessful candidate for the Topeka City Council, seeking to replace Tiffany Muller, the first openly gay member of the Council.
In his later days, his own church evicted Phelps from his position as church leader and excommunicated him, amid rumors that he had repented his claims and become more liberal, even suggestions that he was in fact a closeted homosexual.

1933 – Top-level members of the Third Reich advised the Head of Police to deliver homosexuals and transvestites to concentration camp Fuhlsbuttel, which had just established homosexuals as a new category.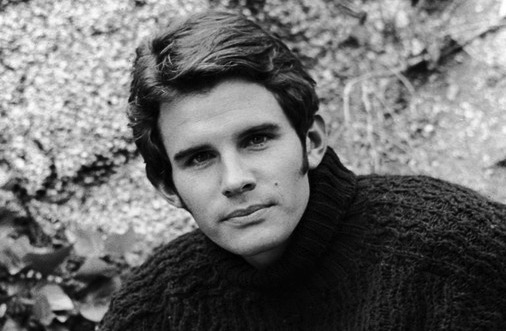 1941 – Norman Jay Rambeau, professionally known as Dack Rambo, (d.1994) was an American actor, most notable for appearing as Walter Brennan's grandson Jeff in the ABC series The Guns of Will Sonnett, as Steve Jacobi in All My Children, as cousin Jack Ewing on CBS's Dallas, and as Grant Harrison on the NBC soap opera Another World.
Born in Earlimart, California, Rambo had a twin brother, Orman Ray Rambeau, who would ultimately go professionally as Dirk Rambo. After moving to Los Angeles in the 1960s, the brothers were discovered by actress Loretta Young and cast in her CBS series, The New Loretta Young Show. On 5 February 1967, Dirk was killed in a road accident. Later that same year, Rambo landed the role of Jeff Sonnett on The Guns of Will Sonnett, and co-starred in the short-lived Gunsmoke spin-off, Dirty Sally, with Jeanette Nolan.
During the 1970s and 1980s, he made guest appearances on Marcus Welby, M.D., House Calls, Wonder Woman, Charlie's Angels, All My Children, Fantasy Island, The Love Boat, Hotel, and Murder, She Wrote.
While working on the soap opera Another World in 1991, Rambo learned that he was infected with HIV. He quit the series shortly thereafter, and retired from acting. Rambo then publicly announced that he was HIV positive, and also revealed that he was bisexual.
Rambo died in 1994 at the age of 52 of complications from AIDS.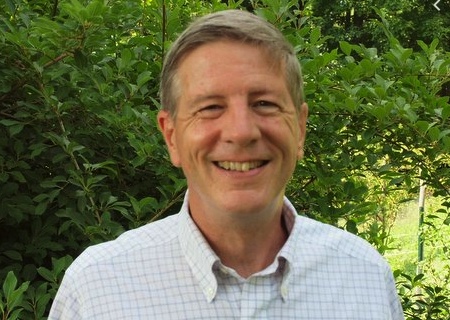 1950 – Charles Kaiser is an American author, journalist and academic administrator. In 2018 he was named Acting Director of the LGBTQ Public Policy Center at Hunter College. He is also a nonfiction book critic for The Guardian (US).
His book about one family in the French Resistance, The Cost of Courage (2015) received enthusiastic reviews from The Washington Post, The Wall Street Journal, and The Christian Science Monitor, among many other publications. It also won the grand prize at the Paris Book Festival (2015). In 2016 it was published in France by Seuil as Le Prix du Courage.
His blog about the media, Full Court Press, originated on the website of Radar Magazine in the fall of 2007. He continued it at the Columbia Journalism Review and the Sidney Hillman Foundation until the spring of 2011.
The son of a diplomat, Philip Mayer Kaiser, he grew up in Washington, D.C., Albany, New York, Dakar, Senegal, London, England and Windsor, Connecticut. He has lived on the Upper West Side of Manhattan for many years.
He is the author of The Cost of Courage, 1968 In America, and The Gay Metropolis. The Gay Metropolis was a Lambda Literary Award winner, as well as a New York Times Notable Book of the Year. He was a guest on the Colbert Report, where he discussed a new edition of The Gay Metropolis. He wrote the afterword for a 2012 edition of Merle Miller's landmark work, On Being Different: What it Means to Be a Homosexual. That afterword was excerpted on the website of the New York Review of Books. In 2015 he was inducted into the LGBT Journalists Hall of Fame.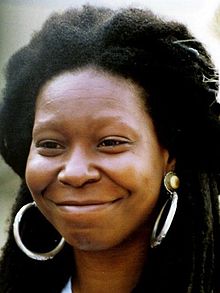 1955 – Caryn Elaine Johnson, best known as Whoopi Goldberg is an American comedian, actress, singer-songwriter, political activist, author and talk show host. She is a strong supporter of the LGBT community.
On April 1, 2010, Goldberg joined Cyndi Lauper in the launch of her Give a Damn campaign to bring a wider awareness of discrimination of the LGBT community. The campaign is to bring straight people to ally with the gay, lesbian, bisexual, transgender community. Other names included in the campaign include Jason Mraz, Elton John, Judith Light, Cynthia Nixon, Kim Kardashian, Clay Aiken, Sharon Osbourne and Kelly Osbourne.
Goldberg's high-profile support for LGBT rights and AIDS activism dates back to the 1987 March on Washington, where she was one of few celebrities participating.

1957 – A Texas appellate court upholds a sodomy conviction even though the facts of the case show that the arresting officer could not have seen what he claimed to see in the dark from a great distance.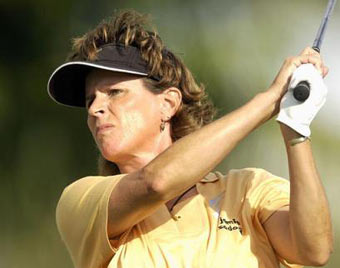 1959 – Rosie Jones is an American professional golfer, with 13 LPGA Tour career victories and nearly $8.4 million in tournament earnings. She is aslo a fully-out lesbian.
At the peak of her career, in 2004 Jones took a step that she realized could cost her some fans: she came out as a lesbian in an article in the New York Times. Although well aware that "as any gay person can tell you, coming out involves making yourself incredibly vulnerable," Jones stated, "I'm optimistic that my fans will see me as the same competitive, hard-working Rosie I've always been and respect this new aspect of my life as I respect their diversity."
Jones had been out to her family since the age of nineteen, and she had made no secret of her sexual orientation to friends or to the people of the LPGA. She explained her decision to make a public statement by saying, "I have reached a point in my life, at age 44, when I have the financial stability and emotional and intellectual wherewithal to make this leap." Adding to Jones's financial security was an endorsement deal with Olivia, a travel and entertainment company for lesbians. She was pleased to receive the offer not only because she could represent a company "with a complementary social mission" but also because she felt that she had had less than her share of opportunities before that. "I was a top player, and I was not getting endorsement deals that other, lesser players were getting," she stated in a 2007 interview. "I have definitely felt in the past that I was scrutinized or looked over because they assumed I was gay. Or dropped from an endorsement deal because I was gay," as those in the world of women's professional golf already knew. Signing with Olivia necessarily entailed a public coming out.
After her revelation, and she did not lose any of her existing endorsements. Nor did her fans desert her. Jones had always been a favorite with lesbian followers of the sport, from whom a positive reaction was to be expected, but she was pleasantly surprised by the warm and favorable response from a wide spectrum of the public: "I had a lot of people come up to me and say that coming out was really great. It would be old people, young people, straight people, gay people, and that was all very touching."
Jones continued playing on the LPGA tour through the middle of the 2006 season, when she retired after recurring back and neck problems made it difficult for her to perform at the level she demanded of herself. During her two final years, her partner, Carrie Sexton, was by her side as her caddie.
Jones's last appearance on the LPGA tour was in the 2006 U.S. Women's Open. It was the twenty-fifth time that she had competed in that event. After putting out at the eighteenth hole on the final day, she removed her golf shoes and glove and set them near the side of the green to symbolize her departure.
Jones was honored with induction into the Georgia Golf Hall of Fame in January 2006.
Jones and Sexton reside in Atlanta, along with their mixed-breed dog, Rosko, whom Jones adopted from a shelter. Jones has described her hobbies as gardening, home improvement, fishing, and woodworking: "You know, regular lesbian stuff. I have the Home Depot credit card."

1963 – The Eleventh Hour, an NBC drama about psychiatry, is the first TV drama to address the subject of homosexuality. ln "What Did She Mean By Good Luck?" a paranoid, neurotic stage actress with lesbian tendencies seeks treatment.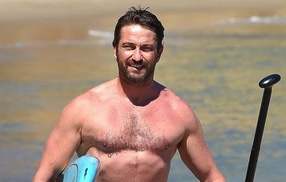 1969 – Today is the birthday of bi-sexual Scottish actor Gerard Butler. He is best known for his portrayal of King Leonidas in the intensely homoerotic film about the Spartans, 300. He also portrayed the Phantom in the 2004 film version of The Phantom of the Opera. He is slated to portray the iconic Scottish poet Robert Burns in an upcoming biopic.
In the gossip mags, there have been numerous stories of his romantic involvements - including several of romantic and/or sexual involvements with other male stars.
In a 2004 Movieline interview he said:
"I talk about my sexuality, but it's always glossed over. People seem to shy away from the issue. Whenever it is discussed, it's distended and exaggerated. Gerard Butler is Gay. No I'm not. I don't know myself what I am so it can be bewildering to see that being plugged. I have been in relationships with women. And men. That doesn't make me Gay. That doesn't make me straight. It's hard enough to go through these things in my mind without being scrutinised about it so there are times when you want to close the door and say my sexuality is my own personal business."

1974 – Kenyon Farrow, born in Cleveland, Ohio, is an award-winning essayist, activist, cultural critic, journalist, director, and educator noted for elevating the visibility of progressive racial and economic justice issues as they pertain to the LGBTQ community. Previously he served as the executive director of Queers for Economic Justice, policy institute fellow with National LGBTQ Task Force, U.S. & Global Health Policy Director of Treatment Action Group, and public education and communications coordinator for the New York State Black Gay Network. Currently Farrow is senior editor with TheBody.com and TheBodyPro.com.
Descended from a long line of African Methodist Episcopal ministers, Farrow began his work as an activist in 1998 at the AIDS Task Force of Greater Cleveland, where he taught and organized sex-education workshops for high school students across his home city. The experience left him intensely interested in social determinants surrounding HIV/AIDS. Just as pertinent to his development as an activist was witnessing HIV/AIDS discrimination in the church. "Since HIV/AIDS was automatically linked to homosexuality back then, you'd hear a lot of the fire-and-brimstone-type speeches, about how being gay was an abomination and a sin."
An alumnus of the Hawken School, after graduating from Ohio Wesleyan University with his BA in Theatre, he moved to NYC in 1999 to pursue an acting career. Arriving 3 weeks before the death of Amadou Diallo, Farrow found himself profoundly affected by the event as well as by pervasive incidents of violence against black and brown queer youth in the West Village. Following an acclaimed performance as James Baldwin in Mr. Baldwin Goes to Heaven at La MaMa Etc., Farrow shifted his focus from performing to combating these acts of social injustice.
Working with the New York State Black Gay Network as communications and public education coordinator in the mid-2000s, Farrow created anti-homophobia social marketing campaigns to combat misconceptions about HIV/AIDS and discrimination against the LGBT community in NYC by collaborating with religious organizations to diminish the impact of homophobia. Farrow joined Queers for Economic Justice as a volunteer shelter project facilitator, later becoming the organization's executive director.

1979 – San Francisco swore in its first openly gay and lesbian police officers.

1985 – Manchester, England, elected Margaret Roff as mayor, making her the first openly lesbian mayor elected in Britain.

1989 – A U.S. federal court ruled that the Armstrong amendment, which would have cut off Washington DC's entire 1989 budget unless the city council exempted religious educational institutions from the gay rights provisions of the city's human rights law, was unconstitutional. William Armstrong introduced the measure after the DC Court of Appeals ruled that Georgetown University was not exempt from the gay rights law and ordered the University to provide facilities to gay & lesbian student organizations that are equal to those provided to other student groups.

1995 – A group of lesbians protested an appearance by Zimbabwe president Robert Mugabe at a meeting of Commonwealth heads of government in Auckland New Zealand. He had told a group of journalists that homosexuals are trying to destroy society.


Added 2021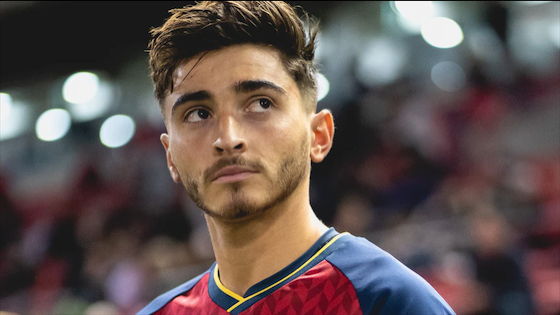 1999 – Josh Cavallo is an Australian professional association footballer who plays as a left back and central midfielder for Adelaide United. Cavallo has represented the Australian under-20 national team.
Cavallo was born in Bentleigh East, Victoria.
Cavallo represented both Melbourne Victory FC Youth and Melbourne City FC Youth. Western United. On 15 April 2019, Melbourne City announced that Cavallo would leave the club at the expiration of his contract at the end of the 2018–19 season.
On 24 June 2019, new A-League side Western United announced that Cavallo would join the club ahead of its inaugural season. He made his debut on 3 January 2020 in a 3–2 loss at his previous club. On as a 71st-minute substitute for Apostolos Stamatelopoulos, he earned a penalty when fouled by goalkeeper Dean Bouzanis, which was converted by Besart Berisha. Western United announced that Cavallo was leaving the club on 10 February 2021.
On 18 February 2021, Cavallo signed a short-term contract to play for Adelaide United. After a successful stint in the 2020–21 A-League, he signed a two-year contract extension on 11 May. He was rewarded with Adelaide United's A-League Rising Star award after a successful 2020–21 campaign, in which he started 15 games and made 18 appearances.
Cavallo came out as gay in October 2021. At the time, there were no other openly-gay male footballers playing professional top-flight football, in the world. In becoming the first to do so, he said in a statement, "I hope that in sharing who I am, I can show others who identify as LGBTQ+ that they are welcome in the football community."

NOVEMBER 14 →
[{(o)}]|[{(o)}]|[{(o)}]|[{(o)}]| [{(o)}]|[{(o)}]