October 6
[{(o)}]|[{(o)}]|[{(o)}]|[{(o)}]| [{(o)}]|[{(o)}]
1791 – France is the first Western European country to decriminalize homosexual acts.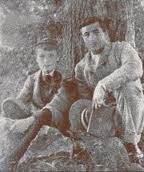 John Gambril Nicholson with Alec Melling
1866 – The English school teacher, Uranian (gay) poet, and an amateur photographer John Gambril (Francis) Nicholson was born on this date (d.1931). He was the quintessential Uranian, forming the center of that semi-underground world, and frequently writing introductions for and receiving dedications from his peers.
He had a love relationship with a young student, William Alexander (Alec) Melling, who was the dedicatee of Nicholsen's collection of Uranian poems, A Chaplet of Southernwood. Nicholson was a member of the Order of Chaeronea, a secret society for homosexuals founded in 1897 by George Ives which included Oscar Wilde and other important writers and artists of the time.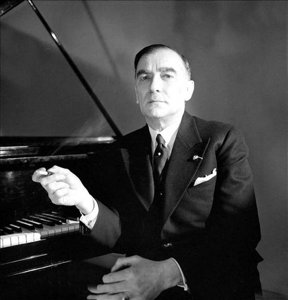 1882 – Karol Szymanowski, the Polish composer, was born (d.1937). In his autobiography, My Life and Loves, the pianist Artur Rubenstein speaks of his friendship with the important Polish composer, Karol Szymanowski, who was Gay. Rubinstein speaks of a wealthy friend and admirer who had invited the composer several times to visit Italy. "After his return," Rubenstein writes, "he raved about Sicily, especially Taormina. 'There,' he said, 'I saw a few young men bathing who could be models for [the famed lover of Hadrian] Antinous. I couldn't take my eyes off them.'" Rubenstein doesn't mention that Szymanowski had been visiting the isle of Wilhelm von Gloeden, and one wonders, in fact, and whether the German photographer was Szymanowski's wealthy friend.
Szymanowski was born to a wealthy land-owning family of the Polish gentry in the present-day Ukraine. From 1901 he attended the State Conservatory in Warsaw, of which he was later director from 1926 until retiring in 1930. Musical opportunities in Russian-occupied Poland being quite limited at the time, he travelled widely throughout Europe, North Africa, the Middle East, and the US.. These travels, especially those to the Mediterranean area, provided much inspiration to the composer and aesthete.
During these trips he also wrote poetry and his novel Efebos, parts of which were subsequently lost in a fire in 1939. He explored religious and homosexual themes in the novel and it was translated by him into Russian and given as a gift in 1919 to his partner Boris Kochno.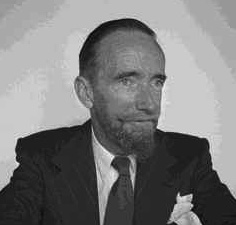 1889 – Gerald Heard, a mystic, counterculture theoretician, and pioneer in consciousness studies, was born Henry Fitzgerald Heard in London. (d.1971) He wrote many articles and over 35 books. Heard was a guide and mentor to numerous well-known Americans, including Clare Boothe Luce and Bill Wilson, co-founder of Alcoholics Anonymous, in the 1950s and 1960s. His work was a forerunner of, and influence on, the consciousness development movement that has spread in the Western world since the 1960s.
As a youth he decided to become a priest in the Church of England and to that end entered Cambridge University. However, during his college years he discovered that he was no longer a Christian. He dropped out and moved to Ireland to work with the Irish Agricultural Cooperative community. While there he came into contact with the Irish theosophists A. E. Russell and magician/poet William Butler Yeats.
When he returned to London several years later he became active in the Society for Psychical Research and acquainted with
Julian
and
Aldous Huxley
. Through Aldous Huxley, he met
Swami Prabhavananda
, a swami of the Vedanta Society, and became his disciple. In 1937 he moved to New York and then on to California where the Swami lived.
In Los Angeles, Heard opened Trabuco College, an experimental school built around a curriculum in comparative religion and emphasizing spiritual practice. The experiment failed. Through the 1950s he explored a variety of subjects on the cultural fringe. He wrote one of the first books on the new phenomenon of flying saucers and explored his own homosexuality as a member of the Mattachine Society. He speculated on what he considered the unique spiritual and cultural reality of gayness and developed the concept of the "isophyl," an individual who was biologically, psychologically, and spiritually distinct from the majority, and explored the unique social life that would be suitable for them, eventually suggesting some form of communal life. While initially developing the concept to explain his own gay orientation, he later expanded it to include others.
In the 1950s, along with his friend Aldous Huxley, Heard also became one of the first to explore the spiritual potentials of LSD and for many years served as a spiritual guide to people who began experimenting with it. He introduced LSD to psychiatrist Oscar Janiger, who pioneered LSD research in the United States and introduced the drug into the Hollywood community. He believed that the LSD experience heralded a new revolution in consciousness that was coming to save the West from its dead mechanistic culture.
In late August 1956, Alcoholics Anonymous founder Bill Wilson first took LSD – under Heard's guidance and with the officiating presence of Dr. Sidney Cohen, a psychiatrist then with the California Veterans Administration Hospital. According to Wilson, the session allowed him to re-experience a spontaneous spiritual experience he had had years before, which had enabled him to overcome his own alcoholism.
Heard came to believe that consciousness interacted with reality to create our map of reality. LSD was a means of making us conscious of that process and then reconstructing the map (or maps) we used to put together our worldview, an idea later championed by Timothy Leary. Heard also came to identify the Greek god Pan as the symbol of the new world of consciousness into which humanity was entering.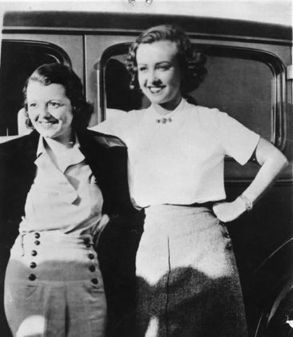 Janet Gaynor (L) with Margaret Lindsay
1906
– Born:
Janet Gaynor
(d.1984), American actress, who in 1928 was the first woman to receive an Academy Award, and the only person to win the award for multiple roles:
Seventh Heaven
(1927),
Sunrise: A Song of Two Humans
(1927) and
Street Angel (1928)
. Her career continued with the advent of sound film, and she achieved a notable success in the original version of
A Star Is Born
(1937).
Although married (three times), she was either bisexual or lesbian and simply closeted. One of her marriages was to the openly gay costume designer, "Adrian" Adrian Adolph Greenberg. This was an obvious marriage of convenience, responding to the homophobia of the studio system, and the publicity machine which needed to surround the stars and other film personalities with (heterosexual) romantic allure. Gaynor's marriage to Adrian has been described as "undoubtedly the most famous" of the so-called New York marriages.
Although closeted herself, Gaynor has been romantically linked with with the openly lesbian Margaret Lindsay, and with Mary Martin.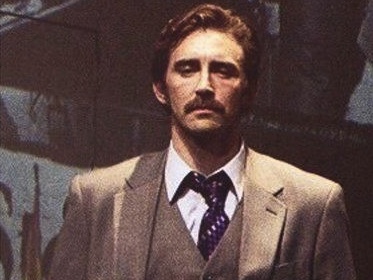 1941 – Paul Popham (d.1987) was an American gay rights activist who was a founder of the Gay Men's Health Crisis and served as its president from 1981 until 1985. He also helped found and was chairman of the AIDS Action Council, a lobbying organization in Washington. He was the basis for the character of Bruce Niles in Larry Kramer's The Normal Heart, which was one of the first plays to address the HIV/AIDS crisis.
He was a Vietnam War veteran who was awarded the Bronze Star Medal for valor in 1966, serving as a first lieutenant in the Fifth Air Cavalry. He retired in 1969 as a Special Forces major in the United States Army Reserve. After his time in the army, Popham worked as a banker on Wall Street for the Irving Trust Company, leaving as a vice president in 1980. Thereafter, he joined McGraw-Hill Inc. as a general manager.
Popham didn't become politically active until reading a newspaper article in 1981 about the disease that became known as AIDS. Richard D. Dunne, president of the Gay Men's Health Crisis at the time of Popham's death said: "His history had been quite the opposite from a gay activist. It was only an issue like AIDS that galvanized people like Paul." Popham was diagnosed with AIDS in February 1985 and remained active with GMHC until his illness became too severe.
Larry Kramer, who later left GMHC to found ACT UP, frequently fought with Popham. Kramer wrote in Reports from the Holocaust that, as a result, when writing the roman à clef play The Normal Heart, Kramer made the protagonist Ned Weeks (the cypher for himself) be obnoxious and Bruce Niles (the cypher for Popham) be a clearly-sympathetic leader, by way of contrition. On his deathbed, Popham repeated to Kramer on the phone, "keep fighting, keep fighting, keep fighting". He was survived by his mother, brother, two sisters and his longtime partner Richard DuLong.

1943 – An Oklahoma appellate court rejects the contention of a man and woman that sodomy can be accomplished only between people of the same sex.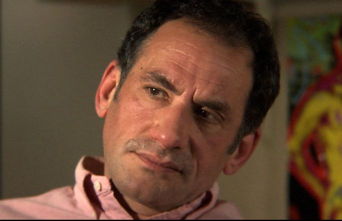 1955 – Richard Berkowitz is a gay American author and activist best known as an early advocate of safe sex in response to the AIDS crisis among gay men in the 1980s.
Berkowitz was born to Jewish parents and raised in New Jersey. While in college, he organized what he believes was the first gay rights protest in the state, demonstrating against an anti-gay effigy hung by the Delta Kappa Epsilon fraternity. After college, Berkowitz moved to New York City in 1978 or 1979, earning a living as a self-described S&M hustler.
Even before AIDS was recognized as a syndrome, Berkowitz became concerned about protecting his clients, many of whom were married, from sexually transmitted diseases. He met physician Joseph Sonnabend and became a patient, learning from Sonnabend the practices for risk reduction that would later become known as safe sex. His early work with Sonnabend and singer and activist Michael Callen noted behaviors including drug use, multiple sexual partners, and unsafe sexual practices in the gay community for transmission. These claims were considered controversial by early leaders of Gay Men's Health Crisis, such as Larry Kramer, and many activists took issue with the language of their message and its implications.
The 1983 pamphlet "How to Have Sex in an Epidemic: One Approach" by Callen and Berkowitz (in consultation with Sonnabend) is widely considered the first sex-positive guide to practicing safe sex.
Berkowitz himself tested positive for HIV in 1984 but was able to avoid taking any anti-viral drugs until 1995.
Berkowitz is the subject of the 2008 documentary Sex Positive directed by Daryl Wein and winner of the 2008 OUTFEST Grand Jury Prize for Best Documentary.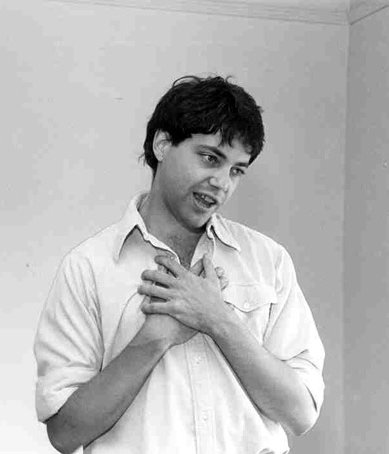 1955 – Born: Peter McGehee (d.1991), American-born Canadian novelist, dramatist and short story writer. Born in Pine Bluff, Arkansas to Frank Thomas and Julia Ann May McGehee, Peter Gregory McGehee moved with his family to Little Rock when he was six. He was the second of three children. McGehee played the trombone at Parkview High School in Little Rock where he graduated in 1973. McGehee studied at Southern Methodist University in Dallas before moving to San Francisco to work in theatre where he graduated from the University of San Francisco. While living in San Francisco, he wrote his first play and first comedic musical revue The Quinlan Sisters. That is where he later met Canadian activist Douglas Wilson, who became his partner. He moved to Saskatoon in 1980 to be with Douglas, and subsequently to Toronto in 1982.
He published his first [novella], Beyond Happiness in 1985 and premiered his second revue, The Fabulous Sirs in 1987.
In 1988, McGehee and Wilson were both diagnosed HIV-positive. McGehee subsequently wrote two novels, Boys Like Us and Sweetheart, and a book of short stories, The IQ Zoo. Boys Like Us was published in 1991, shortly before McGehee's death of AIDS-related causes on September 13; Sweetheart and The IQ Zoo were both published posthumously.
Using notes that McGehee had written in preparation for his third novel, Wilson subsequently wrote Labour of Love before his own death in 1992. That novel was published in 1993.

1967 - A New Mexico appellate court rules that cunnilingus is prohibited by the state's sodomy law.

1968 – On this date the Gay-centric Metropolitan Community Church was founded in a Los Angeles living room.

1969 - The Georgia Supreme Court rules that the testimony of police officers in sodomy cases does not need to be corroborated.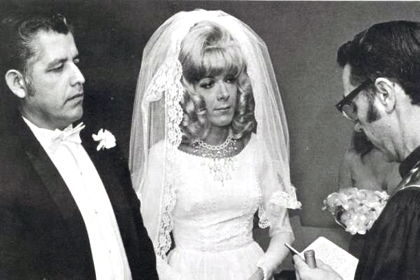 1972 – Antonio Molina and( William) Billie Ert marry in Houston. Ert, a drag queen, and Molina, a shipping clerk, received the license through having Ert dress in drag. The county clerk's office did not ask for their genders and issued them a marriage license, which they used to marry one day later.
At that time, homosexuality was illegal in Texas. Although it was later declared null and void by the Texas Attorney General after a long legal battle, the marriage made international headlines and became a media sensation. The failed lawsuit sparked Texas legislation that specifically defined marriage as between a man and a woman, which it had not yet done, and was seen as a large setback for LGBT rights in the United States.
After the wedding, Ert was fired from his job as a wig salesman, but continued to perform full-time as Mr. Vikki Carr in local nightclubs. The media storm prompted the real Vikki Carr to meet Ert and Molina on CBS in Houston in November 1972, with Ert in drag.


1973 – In Quebec City the first pan-Canadian conference of gay organizations is hosted by Centre humanitaire d'aide de libération.


Added 2021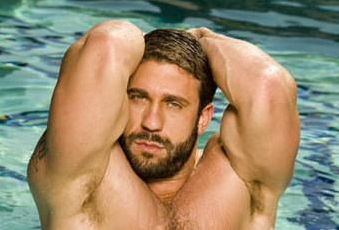 (Click for full Monty)
1976 – Carlo Masi is the screen name of Ruggero Freddi, an Italian mathematics lecturer, and former gay pornographic film actor.
Freddi was born in Rome in 1976 to a "poor" family. His parents divorced when he was three years old. At the age of 14, he began to work out at a local gym, practicing bodybuilding assiduously. In 2002, when he was about to complete his first cycle of study at the Sapienza University of Rome, he moved to Canada, and subsequently to New York.
In 2003, Masi completed a Master of Science (MSc) degree in computer engineering at the Sapienza University of Rome and worked in an artificial intelligence laboratory.
In 2004, after being contacted by a Colt Studio Group (CSG) recruiter, he made his debut in the gay pornography industry participating in his first porn movie, Big N 'Plenty. After his debut, he signed an exclusive model contract with CSG. He has always promoted safe sex, fraternising with the Italian LGBT community.
In 2006, he was selected to appear on the cover of COLT 40, a coffee table book published to celebrate the fortieth anniversary of the production company.
In 2007, Masi and his future husband, Adam Champ (Gustavo Leguizamon), were selected to appear on the cover of the Damron 2007 Men's Travel Guide.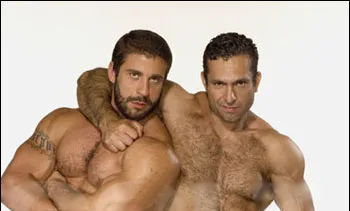 Masi and Champ
(Click for Full Monty)
In 2008, CSG and Calaexotic released a dildo reproduction of Masi's penis. That same year, he was named the first and only Colt Man Emeritus and his contract was extended to life time one. In 2008, Masi and Champ, were selected to appear on the cover of Adam Gay Film & Video Directory Magazine.
Following a disagreement with Colt in 2009, Masi retired from the pornographic industry.
After working in the theatre, Masi decided to return to the Sapienza University of Rome. There he earned a Bachelor of Science degree (cum laude) in mathematics, with a score of 110/110 and then a Master of Science degree (cum laude) in mathematics with a score of 110/110. In 2020, he completed a Ph.D. in Mathematical Models for Engineering, Electromagnetism and Nanosciences at Sapienza University of Rome focusing on the application of Morse theory to a Dirichlet problem traced back to Poisson equations.
In 2017, an article published by la Repubblica brought to light his past as a porn actor causing a media frenzy. The story was picked up by numerous newspapers around the world.
In 2015, he married Prince Giovanni Fieschi Ravaschieri Del Drago  in Porto. In 2016, he became his widower.
During his participation at
Pomeriggio Cinque
, an Italian news program, he proposed to his partner, Gustavo Leguizamon. The civil union was celebrated on May 4, 2018, and was broadcast live on
Pomeriggio Cinque
.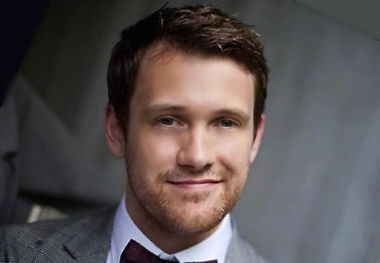 1982 – Michael Jerrod Moore, known professionally as Michael Arden, is an American stage actor, singer, and composer. He was born in Midland, Texas, United States.
Growing up in Midland, Texas, he was active in the Pickwick Players, Midland Community Theatre's youth performing company. He was a student at Trinity School, a college preparatory school in Midland. A Presidential Scholar in the arts, he received a scholarship to Interlochen Arts Academy as a theatre student, where he graduated in 2001. He was accepted on a full scholarship to the Juilliard School, where he was in the Drama Division's Group 34 (2001–2005). He left Juilliard in 2003 to join the Broadway revival company of the musical Big River.
Arden made his Broadway debut as Tom Sawyer in the 2003 Roundabout and Deaf West revival of Big River. He also starred opposite John Hill in the 2004 off-Broadway show Bare, a Pop Opera. In Summer 2005, he played Nick, a sexually promiscuous gay man in love with a shark, in Adam Bock's surreal play Swimming in the Shallows at New York's Second Stage Theatre. He played the title character in Pippin for the World AIDS Day Broadway benefit concert in November 2004. He starred in the new Twyla Tharp musical The Times They Are A-Changin' based on the music of Bob Dylan. The Times ran January 25 to March 5, 2006 at the Old Globe Theatre in San Diego, California and then on Broadway at the Brooks Atkinson Theatre from October 26, 2006 to November 19, 2006. In 2007 he starred as John Robert in Ace, at the Old Globe Theatre from January 13 to February 18. In the summer of 2007 he toured Europe with Barbra Streisand as one of her "Broadway Boys." From July to September 2010 he played the lead role in a revival of Andrew Lloyd Webber's Aspects of Love at the Menier Chocolate Factory in London.
Arden is openly gay and is engaged to fellow Broadway and TV actor Andy Mientus. He and Andy Mientus planned proposals to each other the same day, without the other knowing.

1989 – In reaction to a small, peaceful protest against federal neglect of people with AIDS, 200 San Francisco police officers rioted in the Castro neighborhood, beating protesters and passersby, sweeping seven city blocks of all pedestrians, and placing thousands in homes and business under house arrest for the duration.

1997 – Annie Proulx's short story Brokeback Mountain is published in this week's issue of The New Yorker. The story, later turned into a hit movie, depicts the complex romantic and sexual relationship between two men in the American West from 1963 to 1981. In 2007, the composer Charles Wuorinen approached Proulx with the idea of turning her short story "Brokeback Mountain" into an opera. The opera of the same name with a libretto by Proulx herself premiered January 28, 2014 at the Teatro Real in Madrid, to mixed reviews.

2006 – On this date the Gay Civil Rights Pioneer Franklin Kameny presented his Lifetime Papers and Historic Artifacts to the Smithsonian National Museum of American History in Washington, DC. The collection included Kameny's picket signs carried in front of the White House in 1965. The Smithsonian now has 12 of the original picket signs carried by Gay and Lesbian Americans at this first ever White House demonstration. The Library of Congress acquired in 2006 Dr. Kameny's papers documenting his life and leadership.

2014 –  The U.S. Supreme Court refuses to hear appeals on seven of the petitions arising from challenges to state bans on same-sex marriage. That means that meant that the lower-court decisions striking down bans in Indiana, Wisconsin, Utah, Oklahoma, and Virginia should go into effect, clearing the way for same-sex marriages in those states and any other state with similar bans in those circuits. 

OCTOBER 7 →
[{(o)}]|[{(o)}]|[{(o)}]|[{(o)}]| [{(o)}]|[{(o)}]