October 9
[{(o)}]|[{(o)}]|[{(o)}]|[{(o)}]| [{(o)}]|[{(o)}]
1706 – English sailor James Ball is sentenced to death for sodomy with a ship's boy.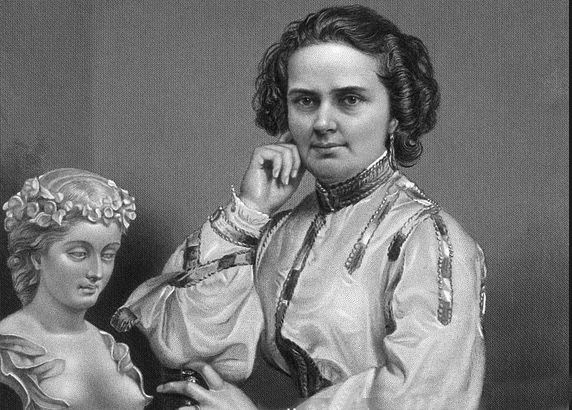 1830 – On this date the American sculptor Harriet Hosmer was born (d.1908).
Hosmer's widowed father raised her as a boy, encouraging her to become a physician, but absolutely supportive of her decision to become a sculptor, too. At about the age of 20, she fell under the spell of Charlotte Cushman, who convinced her to study sculpting in Italy, where Cushman presided over a colony of Lesbians who called themselves the "Jolly Bachelors." Hosmer, with her masculine demeanor and habit of dressing, fit right in. While in Rome, she was associated with Nathaniel Hawthorne, Bertel Thorvaldsen, William Makepeace Thackeray, George Eliot and George Sand; and she was frequently the guest of the Brownings at Casa Guidi, in Florence. Later she also lived in Chicago and Terre Haute, Indiana.
Novelist Henry James snidely referred to the Jolly Bachelors as "The White Marmorean Flock," borrowing a term from Nathaniel Hawthorne in The Marble Faun. These artists included Anne Whitney, Emma Stebbins, Edmonia Lewis and others.
Hosmer and Cushman would shock the Roman gentry by riding astride horses as men rode. Hosmer went on to become one of the most successful sculptors of her day. Hosmer generally concentrated on dignified heroines of history and literature, but her most famous piece "Puck" provided a lucrative alternative. She produced over thirty replicas of her interpretation of this mischievous fairy known in folklore since the Middle Ages and made famous in Shakespeare's A Midsummer Nights Dream. Buyers included England's Prince of Wales. The smooth white surface and the idealized form of the child reflect Hosmer's neoclassical bias, even in depicting such a fanciful subject.
Hosmer died at Watertown, Massachusetts, on February 21, 1908.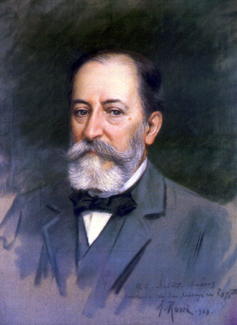 1835 – Camille Saint-Saëns (d.1921) was widely regarded as a virtuoso by his peers and contemporaries, and he was one of the most highly honored French artistic figures of his day. His personal life was both dramatic and glamorous, and he traveled in circles that included many of the most prominent homosexual figures of his times.
Charles Camille Saint-Saëns was born on October 9, 1835 in Paris. His father died of tuberculosis when the boy was three months old. He was subsequently raised by his mother until her death in 1888, and his great-aunt, Charlotte Masson. Saint-Saëns early demonstrated musical gifts. Madame Masson began teaching him piano before he was three years old, and he was able to play difficult pieces within a year; by the age of five he was composing songs.
He began his formal musical training in 1842 and made his debut as a concert pianist in 1846, before his eleventh birthday. After graduating from the Paris Conservatory in 1853, Saint-Saëns gained recognition among his peers as an organ virtuoso and thus won the coveted position of chief organist at the Madeleine Church in Paris, a post he held from 1858 to 1877. Simultaneously, he pursued a career as a pianist and conductor, taught at L'Ecole Niedermeyer in Paris, and composed a prodigious number of musical works of various genres.
Among Saint-Saëns's best-known compositions are his Second Piano Concerto in G minor (1868), Danse macabre (1875), the opera Samson et Dalilah (1875), and the Third Symphony in C minor with organ (1886). His body of works also includes chamber music, masses and other choral compositions, a dozen operas, a wide variety of orchestral music, numerous songs, and solo pieces for organ and piano.
His unique and now-familiar Le Carnaval des animaux (The Carnival of the Animals, 1886), for two pianos and orchestra, was intended as a private entertainment for his friends, and he forbade its public performance during his lifetime. The part of the narrator, now usually included, was added by others after his death.
During his lifetime, Saint-Saën's private life gave rise to many rumors and much speculation, and it continues to do so even now. In some ways he was a solitary, even secretive individual, prone to "disappearing" for weeks. At the same time, he was a remarkable host who entertained lavishly at his Paris home, where his performances in drag (particularly his impersonation of Marguerite, the female soprano lead in Charles Gounod's opera Faust) were well-known among his circle.
He is reputed to have danced in ballerina attire for the benefit of his fellow gay composer, Pyotr Ilich Tchaikovsky. Although he is reputed to have stated—perhaps sardonically—that he was not a homosexual but rather a pederast, Saint-Saëns's homosexuality is now, for the most part, taken for granted.
Long a bachelor, Saint-Saëns married, at forty, a woman less than half his age. Although the marriage quickly produced two sons, it was nonetheless an unhappy one from the beginning. In 1878, both children died (from a fall from a fourth-floor window and from illness, respectively) within a six week period. His wife's purported negligence became a pretext for his deserting her, which he did in 1881. After vanishing while on vacation, he wrote advising her that he was simply no longer able to live with her, and afterwards never saw her or communicated with her again.
Thereafter the composer traveled extensively, and spent his winters in Algeria, which, while still a French colony, became a favored holiday spot for European homosexuals who enjoyed the adolescent male companionship offered there. He died of pneumonia in Algiers, at the age of 86, on December 16, 1921.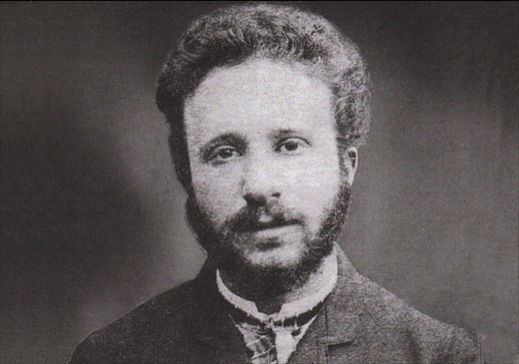 1840 – Simeon Solomon (d.1905)) was an English Pre-Raphaelite painter. Solomon was born into a prominent Jewish family. Solomon was a younger brother to fellow painters Abraham Solomon (1824-1862) and Rebecca Solomon (1832-1886).
Born and educated in London, Solomon started receiving lessons in painting from his older brother around 1850. He started attending Carey's Art Academy in 1852.
As a student at the Royal Academy Schools, Solomon was introduced through Dante Gabriel Rossetti to other members of the Pre-Raphaelite circle, as well as the poet Algernon Charles Swinburne and the painter Edward Burne-Jones in 1857. His first exhibition was at the Royal Academy in 1858. He continued to hold exhibitions of his work at the Royal Academy between 1858 and 1872. In addition to the literary paintings favoured by the Pre-Raphaelite school, Solomon's subjects often included scenes from the Hebrew Bible and genre paintings depicting Jewish life and rituals. His association with Swinburne led to his illustrating Swinburne's Lesbia Brandon in 1865.
The opening of the Dudley Gallery in London in 1865 allowed Solomon and other artists to exhibit works with more daring subjects than those accepted at the Royal Academy. During these years Solomon created such works of homoerotic content as Sappho and Erinna in a Garden at Mytelene (1864), Love among the School Boys (1866), Eton Schoolboys (1867), The Bride and Bridegroom (1866), Sad Love (1866), Love in Autumn (1866), and two versions of Bacchus (1866 and 1867). These works envision an alternative to straitened Victorian ideals of heterosexual love and matrimony.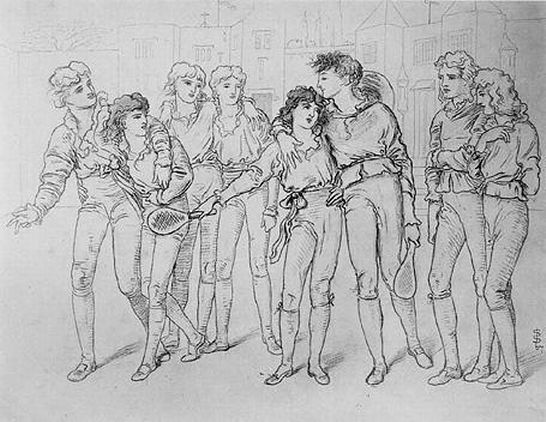 Eton Schoolboys 1867
(Click for Larger)
During 1867, Solomon traveled to Italy as the lover of Oscar Browning, who was later to become headmaster of Eton and a don at Cambridge. The couple journeyed to Rome and Genoa again in 1870. The trip, however, ended on a regrettable note. According to written accounts of some friends, the couple left the country earlier than planned. The trip's abrupt end may have been caused by legal reasons related to their same-sex relationship. If that is true, it is no coincidence that Simeon's troubles with alcohol began around this time.
In 1873 his career was cut short when he was arrested in a public urinal at Stratford Place Mews, off Oxford Street, in London and charged with attempting to commit sodomy with a sixty-year-old stableman, George Roberts. Both men were charged with indecent exposure and the attempt to commit "buggery." They went to court thirteen days later, were judged guilty, fined one hundred pounds, and later sentenced to eighteen months in prison at hard labor. At the intervention of a wealthy cousin, Meyer Solomon, the artist's sentence was reduced to police supervision. (Roberts was not so fortunate.)
Eager to escape the shame he felt, Solomon traveled to France for a time. However, he was arrested there on March 4, 1874 for the same reasons. The French court fined him sixteen francs and sentenced him to three months in prison. The nineteen-year-old man he was with received a lesser sentence.
After these legal experiences, the artist was never the same. Most London galleries, previous patrons, and former friends, including Swinburne, shunned him. He did receive some support: some gallery owners gave him monetary advances, one former patron remained loyal, some friends assisted him, and his cousin Meyer Solomon commissioned several paintings from him. Still, the artist remained depressed and became increasingly reliant on alcohol in an attempt to numb his shame and the pain of society's rejection.
In 1884 he was admitted to the workhouse where he continued to produce work; however, his life and talent were blighted by alcoholism. Twenty years later in 1905, he died from complications brought on by his alcoholism. He was buried at the Jewish Cemetery in Willesden.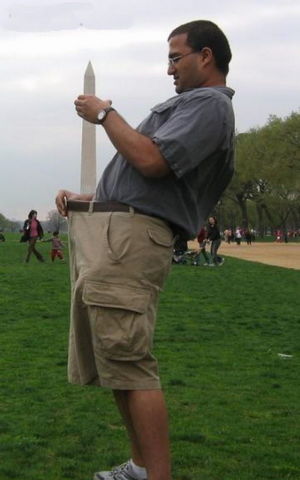 1888 – on this date, one of the largest man-made phallic objects in the world officially opened to the general public. Of course we mean the Washington Monument in Washington, DC.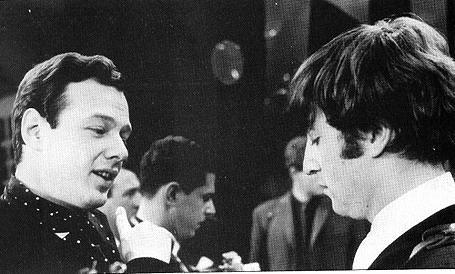 John Lennon (R) with Brian Epstein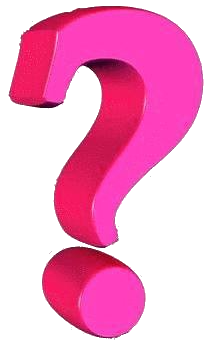 1940 – John Lennon, MBE (d.1980) was an English musician and singer-songwriter who rose to worldwide fame as one of the founding members of The Beatles, one of the most commercially successful and critically acclaimed acts in the history of popular music. Along with fellow Beatle Paul McCartney, he formed one of the most successful songwriting partnerships of the 20th century.
Born and raised in Liverpool, Lennon became involved in the skiffle craze as a teenager, forming his first band, The Quarrymen evolving into The Beatles in 1960. As the group disintegrated towards the end of the decade, Lennon embarked on a solo career that produced the critically acclaimed albums John Lennon/Plastic Ono Band and Imagine, and iconic songs such as "Give Peace a Chance" and "Imagine". After his marriage to Yoko Ono in 1969, he changed his name to John Ono Lennon. Lennon disengaged himself from the music business in 1975 to devote time to his infant son Sean, but re-emerged in 1980 with a new album, Double Fantasy. He was murdered three weeks after its release.
When The Beatles were performing at Liverpool's Cavern Club in 1962, all four Beatles were introduced to Brian Epstein after a midday concert. Epstein was homosexual. According to biographer Philip Norman, one of his reasons for wanting to manage the group was that he was physically attracted to Lennon. Almost as soon as Lennon's son Julian was born to John's first wife, Cynthia, Lennon went on holiday to Spain with Epstein, leading to speculation about their relationship. Questioned about it later, Lennon said, "Well, it was almost a love affair, but not quite. It was never consummated. But it was a pretty intense relationship. It was my first experience with a homosexual that I was conscious was homosexual. We used to sit in a café in Torremolinos looking at all the boys and I'd say, 'Do you like that one? Do you like this one?' I was rather enjoying the experience, thinking like a writer all the time: I am experiencing this."
Soon after their return from Spain, at McCartney's twenty-first birthday party in June 1963, Lennon physically attacked Cavern Club MC Bob Wooler for saying "How was your honeymoon, John?" The MC, known for his wordplay and affectionate but cutting remarks, was making a joke, but ten months had passed since Lennon's marriage, and the honeymoon, deferred, was still two months in the future. To Lennon, who was intoxicated with alcohol at the time, the matter was simple: "He called me a queer so I battered his bloody ribs in".
Lennon delighted in mocking Epstein for his homosexuality and for the fact that he was Jewish. When Epstein invited suggestions for the title of his autobiography, Lennon offered
Queer Jew
; on learning of the eventual title,
A Cellarful of Noise
, he parodied,
"More like A Cellarful of Boys"
. He demanded of a visitor to Epstein's flat,
"Have you come to blackmail him? If not, you're the only bugger in London who hasn't."
During the recording of
"Baby, You're a Rich Man"
, he sang altered choruses of
"Baby, you're a rich fag Jew".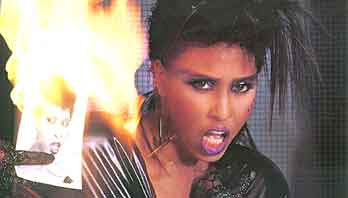 1944 – Today is the birthday of American singer and LaBelle vocalist Nona Hendryx. She is also a record producer, songwriter, musician, author, and actress. Hendryx is known for her work as a solo artist as well as for being one-third of the trio Labelle, who had a hit with "Lady Marmalade." Her music has ranged from soul, funk, dance and rhythm and blues to hard rock, art rock and new age.
Labelle had emerged from the traditional "girl group" Patti LaBelle and the Bluebells, a quartet that became a trio with Cindy Birdsong's departure for The Supremes. It was manager Vicki Wickham who re-imagined the group as Labelle; as glam rock/space age divas, Labelle created a sound and look previously unheard of for a black, all-female crew, what with the "girl group" pigeon-holing of the time.
Hendryx embraced the new concept whole-heartedly (much more so than Patti LaBelle in particular, who stated her own adoration for "big ballads"; bandmate Sarah Dash remained fairly neutral throughout their time together). Hendryx and Wickham paired off on a creative level.
In 2001 she discussed her bisexuality in an interview with The Advocate magazine and has become a Gay-rights activist over the years. In summer 2008, she joined Cyndi Lauper on her True Colors tour, raising awareness of discrimination and the LGBT community and appeared as herself on the Lesbian hit show, The L Word.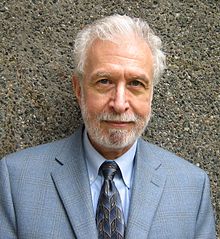 1945 – Ray Blanchard is an American-Canadian sexologist, best known for his research studies and controversial views on pedophilia, transsexualism, and sexual orientation. He has also published research studies on phallometry and several paraphilias, including transvestism and autoerotic asphyxia.
Blanchard was born in Hammonton, New Jersey. He received his A.B. in psychology from the University of Pennsylvania in 1967 and his Ph.D. from the University of Illinois in 1973. In 1976, when he accepted a position as a clinical psychologist at the Ontario Correctional Institute in Brampton, Ontario, Canada . There, Blanchard met Kurt Freund, who became his mentor. Freund was conducting research in chemical castration for sex offenders. In 1995 Blanchard was named Head of Clinical Sexology Services in the Law and Mental Health Programme of the CAMH, and he serves as a Professor of Psychiatry at the University of Toronto. He served on the American Psychiatric Association DSM-IV Subcommittee on Gender Identity Disorders.
Blanchard has conducted research on factors that influence the development of sexual orientation, including biological factors. He has proposed a theory known as a fraternal birth order or older brother effect. This theory is that the more older brothers a man has, the greater the probability is that he will have a homosexual sexual orientation. The number of older sisters has no effect, however. The same is not true for lesbians—neither the number of older brothers nor the number of older sisters appears to be related to the sexual orientation of women. The fraternal birth order effect has been described by one of its proponents as "the most consistent biodemographic correlate of sexual orientation in men", with each older brother increasing a man's odds of being gay by about 33%. Blanchard goes on to state that "A man's chance of being gay is pretty low to begin with – Blanchard goes on to state that "A man's chance of being gay is pretty low to begin with perhaps as low as 2% … So having one older brother ups the chance to only about 2.6%."
Blanchard hypothesizes that the older brother effect is caused by interactions between a male fetus and the immune system of the mother: Because certain proteins (called H-y antigens) are produced by male and not by female fetuses, the mother's immune system reacts only to male fetuses and is more likely to produce a reaction with each successive exposure to a male fetus.

1957 – Stanley Kwan is a Hong Kong Second Wave Hong Kong film director and producer.
Kwan landed a job at the TVB after receiving a mass communications degree at Hong Kong Baptist College. Kwan's first film was Women (1985), which starred Chow Yun-fat, and was a big box-office success.
Kwan's films often deal sympathetically with the plight of women and their struggles with romantic affairs of the heart. Rouge (1987), Full Moon in New York (1989), Centre Stage (1992; a.k.a. Actress), a biopic on silent film star Ruan Lingyu and Everlasting Regret (2005), are all such typical Kwan films. Red Rose White Rose (1994) is an adaptation of an Eileen Chang novel. The film was entered into the 45th Berlin International Film Festival. His 1998 film Hold You Tight won the Alfred Bauer Prize and Teddy Award at the 48th Berlin International Film Festival.
Kwan came out as a gay man in 1996 in Yang ± Yin, his documentary looking at the history of Chinese-language film through the prism of gender roles and sexuality. He is one of the few openly gay directors in Asia and one of the very few to have worked on these themes. His Lan Yu (2001) adapts a gay love story originally published on the Internet.


Added 2021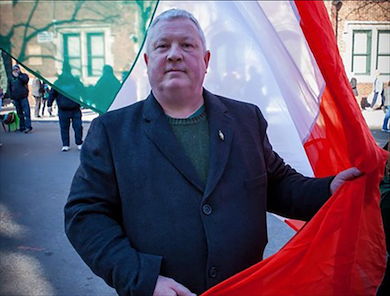 1962 – Tarlach MacNiallais  born Terence Nellis in Belfast, Northern Ireland, on this date (d.2020), the tenth of 11 children of John Nellis, a bus conductor, and Una Nellis, a homemaker. He later adopted the Irish language version of his name.
As a university student, he protested against British imperialism and emerged as a gay rights advocate. He responded to the "Save Ulster From Sodomy" campaign — an ultimately unsuccessful effort to keep homosexual acts illegal in Northern Ireland — by helping to mount a counter campaign with the slogan "Save Sodomy From Ulster."
He moved to New York in the mid-1980s and became involved in the protracted struggle by L.G.B.T. groups to be fully included in the St. Patrick's Day Parade up Fifth Avenue. Many years later, he became a member of the New York City St. Patrick's Day Parade formation committee, and marched in the parade with the Lavender and Green Alliance in 2016.
Brendan Fay
, a friend and fellow activist, emphasized that Mr. MacNiallais's well-publicized activism for inclusive parades should not overshadow an equal passion.
"Most of his life in this city was advocating for people with disabilities,"
Mr. Fay said.
He was known for his decades of advocacy for L.G.B.T. and disability rights. "A battering ram on issues of importance," according to Harriet Golden, a vice president at A.H.R.C. New York City, an organization that serves people with intellectual and developmental disabilities, where Mr. MacNiallais worked for nearly 35 years.
MacNiallais died on April 1, 2020 due to complications of the coronavirus, according to friends and family.

1970 – In New York City, two policemen invade a private club to interrupt a Daughters of Bilitis business meeting. The blatantly harassing nature of the police action persuades many members of the low profile group of the need for action. The Daughters of Bilitis, also called the DOB or the Daughters, was the first lesbian civil and political rightsorganization in the United States.

1971 – Australia: The first gay rights demonstration in Sydney takes place. It's held outside the headquarters of the Liberal Party. Gay writer and activist Dennis Altman is one of about 70 protesters. He is an Australian academic and pioneering gay rights activist.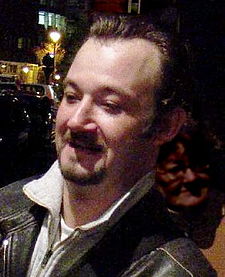 1968 – James Dreyfus is an English actor.
He was born in France but moved to England at an early age and was educated at Harrow School and then trained at the Royal Academy of Dramatic Art. He is openly gay.
In 1998, Dreyfus won the Best Supporting Performance in a Musical Olivier Award for his work in The Lady In The Dark at the National Theatre. In the same year he was nominated for the Ian Charleson Award for his performance as Cassius in Shakespeare's Julius Caesar at the Birmingham Rep.
Dreyfus has created some memorable comedy characters, particularly on British television, including Constable Kevin Goody in Ben Elton's sitcom The Thin Blue Line and Tom Farrell, the gay flatmate of Linda (Kathy Burke) in Gimme Gimme Gimme. Dreyfus played opposite Bette Midler in the short-lived American sitcom Bette.
In November 2004, Dreyfus played Carmen Ghia in the London premiere of Mel Brooks' musical The Producers, at the Theatre Royal, Drury Lane. He played the role for 10 months until August 2005.
He played as Thermoman in the BBC One comedy My Hero, a role he took over in the sixth series from Ardal O'Hanlon. Although the same character, he used the name George Monday, as opposed to Ardal O'Hanlon's character's name, George Sunday. After disappointing ratings following his appointment, the show was axed from the BBC's schedule. Dreyfus also starred as Mr. Teasy-Weasy in the 2004 comedy film Churchill: The Hollywood Years.
In March 2006, he returned to the West End stage in a revival of Michael Frayn's comedy Donkeys' Years at the Comedy Theatre alongside Samantha Bond, David Haig and Mark Addy. He left in August of that year to prepare for his new lead role as the Emcee in a West End revival of Cabaret. In 2008 he appeared in revival of Simon Gray's The Common Pursuit at the Menier Chocolate Factory.
From September 2009 to January 2010 he appeared in Breakfast At Tiffany's at the Theatre Royal, Haymarket, London.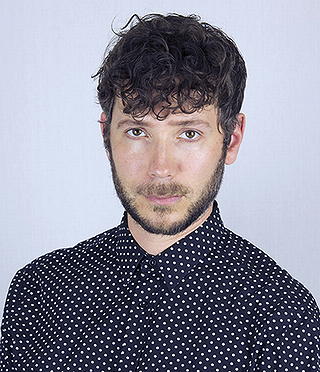 1973 – Michael Venus is a Canadian artist, actor and producer.
Born in Kapuskasing, Ontario, Canada, Venus moved to Windsor, Ontario at the age of 18 where he began working in the arts community of Windsor and nearby Detroit. There, with friends, he formed the artist collective "House of Venus" and began putting on various art shows, club nights and other events including an annual wearable art and wig festival called "Wiggle" which continues to this day.
In 1994 he moved to Vancouver, British Columbia where he worked as an artist and event producer for 18 years.
In 2001, Venus began collaborating with filmmakers including Mark Kenneth Woods with whom he would later help produce the World's first LGBT sketch comedy series called the House of Venus Show. The series began airing nationally in Canada on OUTtv in 2005 and would later air in France, Belgium, Switzerland on Pink TV, The Netherlands on OUTTV and the United States on the here! network.
He also co-produced and co-starred in the feature film Deb and Sisi which premiered at the Out On Screen Vancouver Queer Film Festival in August, 2008. He co-starred with Mark Kenneth Woods in the comedy Vance and Pepe's Porn Start where he played the lead role as Vance Vanderbilt.
Michael's drag alter ego Miss Cotton is a fairy godmother of glamour (and narcissism!).
Venus currently lives in Toronto, Canada.

1985 – New York City mayor Ed Koch wrote a letter to the New York County American Legion asking them to reconsider their decision not to allow the Gay Veterans to participate in the annual Veterans Day Parade. The American Legion did not respond to the request.

1990 – The Maryland Court of Appeals rules that the state's sodomy and unnatural and perverted practices law are unconstitutional as applied to people of the opposite sex, but constitutional as applied to those of the same sex. The Court misconstrues case law history in the state to justify its ruling.

1993 – Following his retirement in 1993, Episcopal Bishop E. Otis Charles becomes the first Christian bishop to come out of the closet at the age of 67. He served as bishop of Utah from 1971-1986. He later marries Dr. Felipe Sanchez-Paris and becomes a prominent gay rights activist.

1998 – The Netherlands sanctions adoption by same-sex couples as long as they meet the same criteria required of heterosexual couples.

1998 – The South African Constitutional Court strikes down the country's sodomy law under the new constitution.

2008 – Stephan Thorne of the San Francisco Police Department is promoted to Lieutenant, making him the highest-ranking transgender law enforcement official in the country.

2011 – California Governor Jerry Brown announces the signing of the Gender Nondiscrimination Act making discrimination based on gender identity or expression in employment, education, housing, and other public settings illegal; and the Vital Statistics Modernization Act allows transgender people to obtain a court order to protect their gender.

OCTOBER 10 →
[{(o)}]|[{(o)}]|[{(o)}]|[{(o)}]| [{(o)}]|[{(o)}]