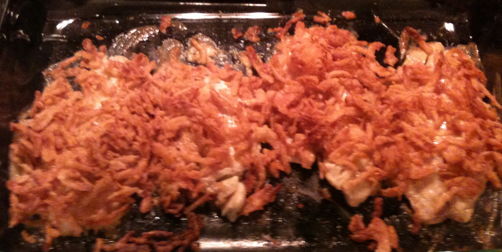 Easy Baked Fish
Bob says:
Here is a very easy and good recipe for baked fish. I use this for family and/or guests, everyone loves it.
Ingredients:
(Serves 4)
4 fillets firm white fish (orange roughy or tilapia are good)
1 can Durkee French Fried Onions
½ cup ranch dressing
½ cup mayonnaise
pepper and salt
Directions:
(Preparation: 10 Minutes. Cooking: 20 minutes)
Dry the fish fillets with a paper towel and sprinkle with salt and pepper.
Crush the onions in a plastic bag and spread on a plate.
Mix the ranch dressing and the mayo.
Coat the fich fillets with the ranch/mayo mixture.
Roll the fish fillets in the crushed onions to cover well on both sides.
Place the fillets on a cookie sheet wwhich has been sprayed with cooking spray. Sprinkle any left over onions on top.
Bake in a pre-heated 350 deg. oven for about 20 minutes.
They are crispy and delicious. No need for lemon on them. Enjoy!
Contributed by Bob (BWilli45409)