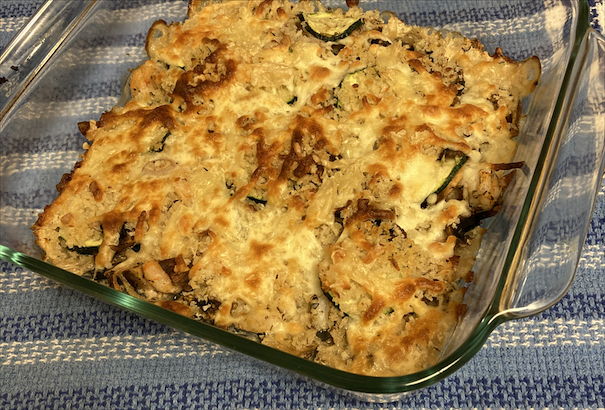 Crunchy Shrimp Gratin
Having grown up where at night we could drag for shrimp in the shallows of the river, or scoop-net them into open boats on outgoing tides, I have a definite love of the tasty morsels, and combining them with cheese just makes them more appetizing.
Ingredients:
(Serves 2)
250 g peeled, deveined shrimp cut into ½ inch pieces
1 small zucchini, thinly sliced into circles.
2 medium white mushrooms, thinly sliced
1 shallot, thinly sliced
1 garlic clove finely chopped
½ teaspoon paprika
¼ teaspoon pepper flakes
Sprinkle of each of thyme, oregano, and basil
Salt and black pepper
2 soup spoons olive oil
½ cup Panko crumbs
&frac14 cup heavy cream (or light cream blended with a teaspoon of grated parmesan)
½ cup shredded Mozzarella
Directions:
(Preparation: 15 Minutes. Cooking: 20 minutes)
Pre-heat over to 425° F
In a medium bowl combine, shrimp, zuccini, mushrooms, shallot, garlic, paprika, pepper flakes, herbs, salt and black pepper. Add one soup spoon of oil and toss all together until mixed well.
Spread mixture into a shallow 9x9 baking dish (or onto a small cookie pan)
In the empty bowl, mix thoroughly the Panko with a dash of salt and a light sprinkle of each of the herbs, and a soup spoon of the olive oil.
Pour the cream evenly over the shrimp mixture in the baking dish.
Spread the Panko mixture evenly over all.
Top with the grated mozzarella, spreading evenly.
Bake until the Panko and cheese mixture is golden brown.
Allow to sit 5 mins after removing from oven.
Serve this with a green salad, or just as it is in slices as a finger food. (The crust lifts of in chunks as a cheesey treat!)
Contributed by Ted