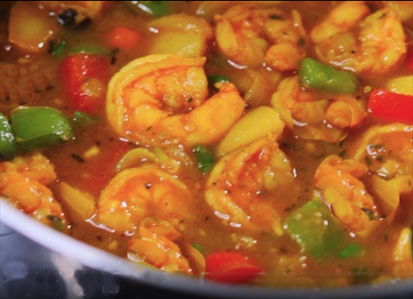 Curried Shrimp
This is a very simple and quick recipe and variations are easy.
Ingredients:
(Serves 2)
200 g shrimp (canned shrimp is not suitable)
1 small onion chopped
½ cup green bell pepper chopped
½ cup red bell pepper chopped
½ cup yellow bell pepper chopped
1 small white potato, cubed (optional)
½ cup carrot, julienned (optional)
½ teaspoon thyme
2 level teaspoon medium curry powder (vary strength and amount to taste)
½ teaspoon ginger powder or fresh ginger finely chopped
½ cup sultana raisins (optional)
½ cup apple, cubed (optional)
2 tablespoons cooking oil
1 level teaspoon cornstarch
Directions:
(Preparation: 10 Minutes. Cooking:15 minutes)
In a suitably-sized pot, heat cooking oil (or butter if you prefer).
Add all the vegetables you are using, and saute quickly, until the onions start to become translucent.
Add the curry powder, thyme, and ginger; stir in, being careful not to burn.
Add the cornstarch blended with about ½ cup water. Pour into vegetables, stirring constantly.
Add the shrimp and continue to stir.
If you want a sweeter curry, at this time add the raisins and/or apple.
Bring all to a boil, then lower heat to simmer for about 10 minutes.
Serve over a bed of white rice.
You can easily vary the hotness of this recipe by type of curry used and amount of curry used. You can also serve it with other condiments such as peanuts, sliced cucumber, and sliced banana.
This recipe is perfect for a light supper on a cold and rainy night. It warms your insides before you warm your outsides in front of a crackling fire!
Contributed by Ted