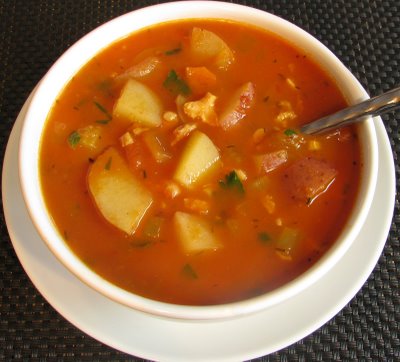 BC Ferries Manhattan-style Clam Chowder
When BC Ferries was still more interested in serving the public than turning a profit, and before they handed their kitchens over to the White Spot Franchise, and a simple sandwich jumped to 8 dollars, there was a time when you could get a hearty bowl of chowder and a bun or crackers for less than $4.00. This recipe is taken from a card they used to give out free from their information booth.
Ingredients:
(Serves 6)
4 slices diced bacon (or 1/4 cup diced salt pork)
¼ cup diced celery
1/3 cup diced onion
¼ cup diced green pepper
¼ cup diced carrot
2 tablespoons flour
2 cups clam juice (or one 10 oz can chicken broth diluted)
2/3 cup diced potato
1 (14 oz) can stewed tomatoes
3 tablespoons tomato paste (or ketchup)
1 (8 oz can baby clams - undrained)
½ teaspoon Worcestershire sauce
1 dash thyme (and or oregano)
salt and pepper to taste
Directions:
(Preparation: 30 Minutes. Cooking: 90 minutes)
In large saucepan over medium heat saute onion or salt pork till lighlty browned.
Add celery, onions, green pepper, and carrots and stir fry until tender.
Blend in flour and simmer a few minutes. Stir in clam juice (or diluted chicken broth) and diced potatoes. Simmer 15 minutes.
Add tomatoes, breaking them up into smaller chunks. Add tomato paste and baby clams, including the juice.
Season with thyme (and/or oregano), worcestershire sauce, and salt and pepper. Simmer for an hour or more.
Serve with fresh garlic bread or dinner rolls.
Like most soups and stews this tastes even better the second day. If you want to spice it up a little added a little cayenne pepper or crushed chilis. It also freezes well, so double the ingredients and save half for a rainy day.
Contributed by Ted