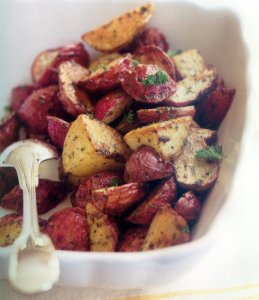 Garlic Roasted Potatoes
Dennis wrote:
It's a killer recipe for garlic roasted potatoes. [I] recommend parboiling the potatoes before putting them in the oven. I make this often, and there's never any left over - people just gobble them up.
Ingredients:
(Serves X)
2 pounds red potatoes, quartered
¼ cup butter, melted
2 teaspoons minced garlic
1 teaspoon salt
1 lemon, juiced
1 tablespoon grated Parmesan cheese
Directions:
(Preparation: 10 Minutes. Cooking: 40 minutes)
Preheat oven to 350 degrees F (175 degrees C).
Place potatoes in an 8x8 inch baking dish. (Dennis recommends parboiling the potatoes before quartering them)
In a small bowl combine melted butter, garlic, salt and lemon juice; pour over potatoes and stir to coat. Sprinkle Parmesan cheese over potatoes.
Bake, covered, in preheated oven for 30 minutes. Uncover and bake an additional 10 minutes, or until golden brown.
Contributed by Dennis Flynn (dennisf878)