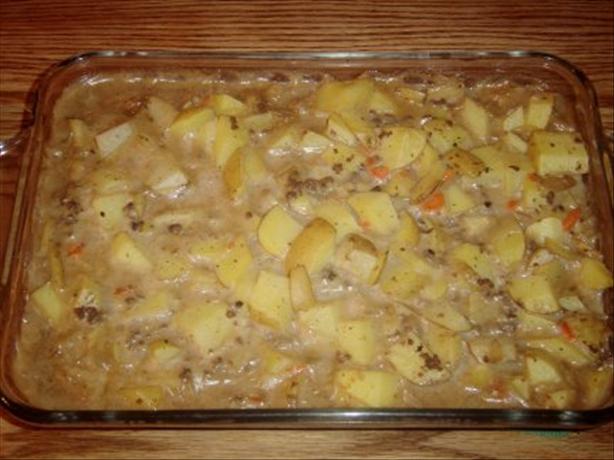 Hobo's Dinner - Crockpot version
Ron sent us this recipe in response to my Bachelor's Budget Beef Stew. The illustration above is of an oven casserole version of the same thing.
Ingredients:
(Serves 3-4)
1 lb raw hamburger
2 medium carrots sliced thin
3 medium sized potatoes sliced à la scalloped potatoes
1 can mushroom or celery soup
Seasonings and garlic of choice
Salt and pepper to taste
Directions:
(Preparation: 15 Minutes. Cooking: 4 hours)
In a medium crockpot, starting with the meat, layer the ingredients in the above order, spinkling the meat with 3 chopped cloves of garlic (optional), spices of choice, or barbeque sauce.
Pour the undiluted soup over the top.
Cook on low for 4 hours, stirring ingredients together after 1 or 2 hours.
*Ted's Note: If you prefer to try the casserole version, lighly brown and crumble the hamburger before layering in casserole. Cover the casserole dish with foil, and bake ina 325 deg oven for 2 hours.
Contributed by Ron Jackson (rone1948)