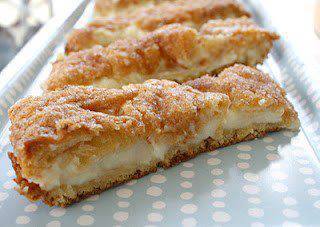 Illegal Dessert Cookies
Luc (Froggy/Frenchy) posted this recipe on his Facebook page with the notation "it had no name … I only know it should be illegal!!!!" So that's what we'll call it - Illegal Dessert Cookies!
Ted
Ingredients:
(Serves 6-8)
2 cans Pilsbury butter crescent rolls
2x8 oz. packages cream cheese (softened)
1 cup sugar
1 teaspoon vanilla
¼ cup butter (melted)
Sugar/Cinnamon topping mix - about ¼ cup sugar & 1 tbsp cinnamon
Directions:
(Preparation: 15 Minutes. Cooking: 20 - 30 minutes)
Unroll and spread 1 can crescent rolls on bottom of ungreased cookie pan.
Combine softened cream cheese, sugar, and vanilla. Spread mixture over crescent rolls.
Unroll and spread remaining crescent rolls over mixture.
Brush melted butter over the top and sprinkle with cinnamon/sugar mixture.
Bake at 350 degrees for 25-30 minutes.
I haven't tried this yet, but I know Luc loves his sweets! - Ted
Contributed by Luc.