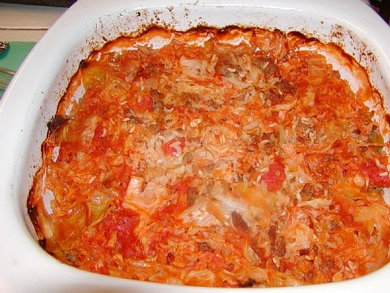 Lazy Man's Cabbage Rolls
Ron insisted this is Lazy Man's Cabbage Rolls, not Lazy Woman's
Ingredients:
(Serves 4)
1 medium cabbage coarsely shredded
1 lb hamburger browned and crumbled with 1-2 tbsp chili powder
1 cup raw rice
1 28 oz can stewed or diced tomatoes
1 can tomato soup or tomato juice
Salt and pepper to taste
Directions:
(Preparation: 20 Minutes. Cooking: 3-4 hours - or 50 minutes)
Place all ingredients in crock pot, stirring well, and cook for 3-4 hours on low ; OR
Place in casserole dish, stirring well, and bake at 350 for 50 minutes.
Ron mistakenly spelled this as Cabbage Rools when he submitted it. Maybe that would be a better name!
Contributed by Ron Jackson (rone1948)