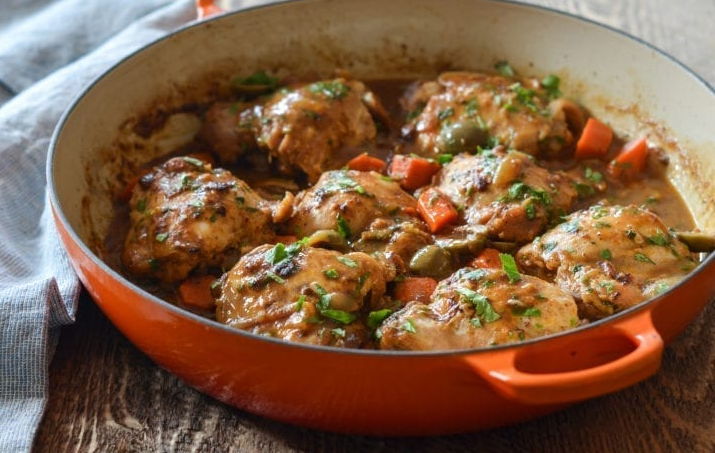 Lemon Chicken Tajine
Daytime posted this as a recipe for an InstaPot pressure cooker, but as most of us don't have one of those, I have adjusted it for a Dutch oven or heavy skillet with a tight fitting lid.
Ted
Ingredients:
(Serves 6, but portions can be frozen)
2.2 lbs. (1kg) skinless, boneless chicken thighs
2 tbsp. olive oil
1 onion, thinly sliced
2 garlic cloves, chopped
1 tsp. ground coriander
1 tsp. ground turmeric
½ tsp. ground cumin
½ tsp. ground ginger
2 celery stalks, cut in pieces on an angle
1 sweet potato, peeled and cut into 6 slices
1 red bell pepper, seeded and cubed
1 can (14 oz.) diced tomatoes
¾ cup chicken broth
¾ cup raisins
2 tbsp. confit lemon peel, diced (or zest of 1 lemon)
¼ cup cilantro, finely chopped
1½ cups couscous
Directions:
(Preparation: 10 Minutes. Cooking: 30 minutes)
Pre-heat olive oil in the skillet or Dutch oven. Brown the chicken pieces on both sides in the hot oil, seasoning with salt and pepper. Remove from skillet and set aside.
In the same skillet, brown the sliced onion lightly, adding oil if necessary. Add the garlic and spices. Cook for one minute while stirriing.
Add the chicken, vegetables, broth, raisins and lemon peel. Mix well, cover, and reduce heat to simmer. Cook 10 minutes. Turn the chicken pieces after 15 minutes and cover again and simmer another 15 minutes.
Add the cilantro and adjust seasoning to taste.
Using a ladle, remove 1½ cups of the liquid to a small pot. Bring to a boil and add the couscous. Cover and let sit for 5 minutes off the heat. Fluff the grains with a fork.
Serve the chicken tajine over a bed of coucous.
Daytimer wrote of this recipe: I am including a North African recipe for chicken thighs that I found in Toronto Star. We've had it several times and it has very interesting flavours.
Contributed by Daytimer