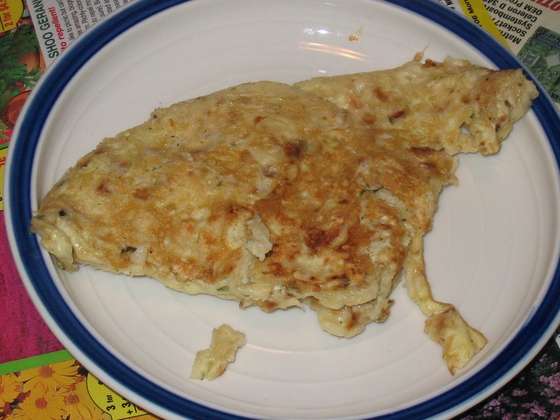 Matzoh Brie
Steve B says:
Passover is probably a good time to try it. Sort of like French Toast for Passover!!!

*Ted's Note: Matsoh is a kosher cracker-like unleavened flatbread, which comes in sheets or slices and can be found packaged in your supermarket.
Ingredients:
(Serves 1 person.)
One flat piece of Matzoh
One Egg
Some oil for frying
Directions:
(Preparation: 5 Minutes. Cooking: 5-8 minutes)
Dampen the matzoh just to moisten.
Beat the egg and then crumble the matzoh into the egg and let it soak up.
Fry until golden brown on one side, then turn.
Serve it with a piece of ham or some bacon for a multi-cultural effect. Or put some maple syrup on it. Yum!

Another member, Vin, commented:
I had completely forgotten about Matzo Brei. When I was a kid, my friend's mother used to make it for us. When she put the dishes in front of us, she gave us a choice of adding some raspberry (?) jam or a drizzle of maple syrup, but not both. (I also have a vague memory of Michael's mother once explaining that if you added both jam and maple syrup, it would no longer be kosher. I assume that was a Jewish mother's equivalent of "because I said so".)

*Ted's note: I added pepper and salt to the mixture and served it to myself with a couple of microwave breakfast sausages. The ham, bacon, or sausage additions are definitely not kosher, but sure taste good.
Contributed by Steve B. (daytimer1947)