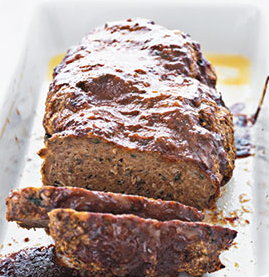 Ted's Easy Meatloaf
No other meatloaf recipe I have ever tried has been as easy, as simple, or as tasty as this one. I was given to me by a schoolteacher with little time for cooking, because after she had taught all day she would have to go find her drunken bum husband, then go home and work their small farm while hubby slept it off or drank some more. She had come from a wealthy family, and the couple had a grown-up gay son who she rarely saw, because her husband had barred him from the property.
Ingredients:
(Serves 2)
1.5 - 2 lbs (about 1 kg) lean hamburger meat.
1/3 package Knorr's dry Vegetable Soup mix
1 clove garlic finely chopped (or garlic powder )
1/2 teaspoon salt
Hefty dash pepper
1/3 cup dry breadcrumbs or cornflake crumbs
1/3 cup milk or half-and-half
Directions:
(Preparation: 20 Minutes. Cooking: 90 - 120 minutes)
In a mixing bowl, place the hamburger. Sprinkle with the soup mix. (Make sure you have stirred the soup mix together well so you get a mixture of all the goodies.)
Add salt, pepper, garlic, and breadcrumbs. Stir all in together well with a knife blade or spatula.
Add the milk and mix in well with your hands and shape the mix into a ball or loaf.
Place the loaf into a baking pan and pour about 13 - 1/2 cup of cooking oil over it.
Place the pan into a 350 degree oven and cook for about 30 minutes.
Remove from oven and turn loaf over to brown evenly.
At this time, you can add to the pan peeled, chunked potatoes, carrots, parsip, and/or squash. Spoon a litle of the pan oil over the loaf and vegetables and reutn to oven. Bake another 30 minutes.
Turn vegetables and baste them and meatloaf once more. Return to oven.
At this time, you can start cooking any other vegetables you wish and prepare the gravy mix:
In a measuring cup place 1 heaped teaspoon of cornstarch. Add salt, pepper, and garlic powder. Add enough water to mix a thin paste. Add more water to make about a cup pf mixture. Finely chop a couple of mushrooms and set aside.
After another half hour, the vegetables and the meatloaf in the oven should be ready. Remove the vegetables and meatloaf to a serving platter.
Drain the oil from the bottom of the pan. Place the pan on a stove-top burner, with heat set to low-medium. Add the mushrooms and the gravy mixture, and stir the bottom of the pan well with a spatula.
At this time you can slice the meatloaf into suitable slices, and put them on serving plates, adding roast vegetables and stove-top cooked vegetables.
Stir the gravy mixture often, until it has browned and thickened. When it is to your liking, pour over meat and veggies on the plates. Eat and enjoy!
The left-over meatloaf (if any) is also tasty cold. It slices easily and can make a tasty sandwich.
Contributed by Ted