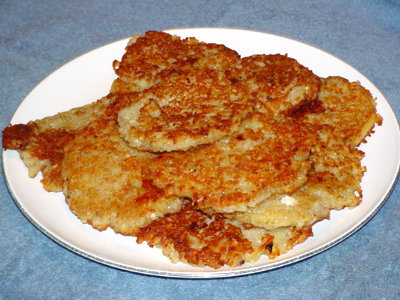 Nana's Mock Fish
When I was a kid, I lived with my Nana for a while because I was allergic to the dust in the desert area of Western Australia where my parents were living. She was a widowed woman and owned a boarding house, catering mostly to retired men on meager pensions and young country boys who were in the city to do the technical school part of their apprenticeships. She fed them ample but plain food for their very cheap room and board.

This recipe is one of hers. Why she called it Mock Fish, I have no idea, because it is basically potato pancakes (Latkes). It is very similar to Steve's recipe for Potato Kugel, just prepared differently.
Ingredients:
(Serves 2-3)
3 medium potatoes
1 small-medium onion
1 egg
¼ teaspoon baking powder
¼ teaspoon poultry seasoning
1 heaped tablespoon sour cream (optional)
salt and pepper to taste
flour to thicken
Canola oil for cooking
Directions:
(Preparation: 20 Minutes. Cooking: 30 minutes)
Finely chop the onion and add to a large bowl.
Grate the potatoes, drain off excess liquid, and add to onions.
Adding about ½ teaspoon of salt now will stop the potatoes from turning too brown.
Add pepper to taste, poultry seasoning, and egg. (and optional sour cream)
Mix all together thoroughly.
Gradually stir in just enough flour so the mixture is not longer a watery mess - until about the consistency of thick porridge.
Heat a heavy skillet on the stovetop and add about a tablespoon of oil.
Drop heaped tablespoons of the mixture into the skillet, about 4 or 5 at a time. Flatten to about 1/2 inch thick.
Cook on one side until the top side is beginning to dry out, turn and cook on second side.
Remove from skillet to a paper-towel-lined plate and continue cooking the rest of the mixture, adding more oil to the skillet as necessary.
These are good hot or cold. For a variety, I sometimes add some finely chopped left-over corned beef to the mixture.
Steve adds:
"This is a similar recipe to Potato Latkes that I have. They even look the same. However, they usually take more than a tablespoon of oil to fry them all.

"My father used to tell the story of when he was in the army during WWII stationed in Newfoundland. My father used to say he fought in the battle of the bulge - he was a chef!!!

"Anyway, late one evening, they suddenly got word that a battalion was arriving momentarily and the men would be hungry. No one knew what to make. My father recalled his mother's recipe for potato latkes and began to organize the grating of 50 lbs of potatoes! The men arrived, were fed and then bedded down. And that's how my father won the war single handedly!

"By the way, latkes are great served with sour cream and/or apple sauce. Yum, I'm getting hungry."
Contributed by Ted