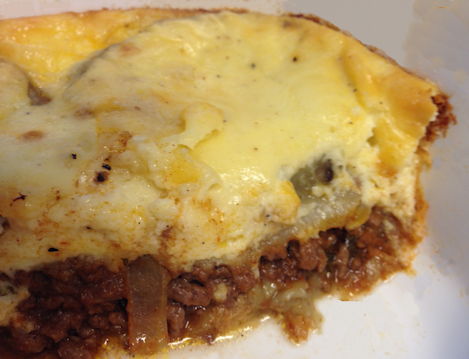 Mmmm Moussaka
Moussaka, a Greek dish, is basically meat and custard shepherd's pie. I first tasted Moussaka in London many years ago. I have also eaten it in Greece and many other parts of the world. My favorite version is the one I have included below. Like all my recipes it is written for two persons. Increase the quantities for more people.
Ingredients:
(Serves 2-3)
1 medium eggplant, peeled and sliced (about ¼" thick).
Cooking oil
1 pound ground beef (or lamb)
1 small to medium onion, finely chopped
¼ cup chopped parsley
⅓ cup water
1 heaped tablespoon tomato paste
Garlic powder (or crushed clove of garlic)
Pinch cinnamon
1 medium potato, sliced
¾ cup medium white sauce (see below)
Pinch nutmeg
1 egg beaten
½ cup grated Parmesan cheese
White Sauce Ingredients
1 Tablespoon butter or margarine
1 Tablespoon plain flour
⅔ cup milk
Salt and pepper to taste
Directions:
(Preparation: 30 Minutes. Cooking: 30 minutes)
Sprinkle eggplant slices with salt on paper towel and let stand.
Heat a tablespoon of oil in skillet and saute eggplant slices. Set aside to drain.
In same skillet, combine beef, onion, and parsley. Brown, stirring to keep crumbly.
Add water, tomato paste, cinnamon, salt, pepper, and garlic to mixture. Stir thoroughly and allow to simmer over low heat until most of liquids have been absorbed.
Grease a suitable sized casserole dish. Place a layer of eggplant slices on bottom of dish.
Spread half the meat mixture over the eggplant.
Spinkle with parmesan cheese.
Layer potato slices on top of meat. Add another sprinkling of parmesan cheese.
Spread rest of meat mixture over potatoes. Add another sprinkling of parmesan cheese.
Layer rest of eggplant over meat mixture. Add another sprinkling of parmesan cheese.
Prepare white sauce as below.
To slightly cooled white sauce, add nutmeg and beaten egg. Add any remaining parmesan. Beat thoroughly.
Pour sauce over top.
Bake at 350° about 30 mins or until bubbly.
Cool 15 mins before serving.
White Sauce
In small saucepan melt butter of margarine over low heat.
Add flour and stir to make a paste. Add salt and pepper.
Add milk all at once, stir constantly until sauce begins to bubble and thicken. Remove from heat.
Serve with a Greek salad or a tossed green salad "Greeked" a little with olives, spinach, cherry tomatoes, red and yellow peppers, and feta cheese.
Note: I find that the potatoes come out better if you microwave the slices for about 45 secs before adding to casserole.
Contributed by Ted