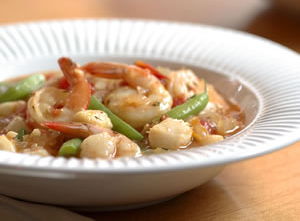 Oriental-style Fish Stew
Kieth sent this in responding to another member's request for a spicy fish stew. He didn't add anything more about it.
Ingredients:
(Serves 6)
1-1/2 lbs (750 g) frozen or fresh firm-fleshed fish fillets, such as halibut, cod or catfish
1 large red onion
1 green or red pepper
1 tbsp (15 mL) olive oil
3 large garlic cloves, minced
1/2 to 1 tsp (2 to 5 mL) hot red chili flakes
3 large tomatoes or 28-oz (796-mL) can diced tomatoes
1 cup (250 mL) sake or dry white wine
240 ml bottle clam juice
1/2 tsp (2 mL) salt
1/2 lb (250 g) frozen, peeled cooked shrimp
2 green onions
1 lime
1/4 cup (50 mL) thinly sliced basil leaves
Directions:
(Preparation: 15 Minutes. Cooking: 30 minutes)
If using frozen fish, remove from freezer. Unwrap and place on a plate while preparing ingredients.
Peel and coarsely chop red onion. Core and seed pepper, then chop into 1/2-inch (1-cm) pieces.
Heat oil in a large saucepan set over medium heat. Add red onion, pepper, garlic and 1/2 teaspoon (2 mL) chili flakes. Cook, uncovered and stirring often, until onion is soft, about 5 minutes.
Meanwhile, peel fresh tomatoes, if you like, then coarsely chop. If using canned tomatoes, drain but do not chop. Stir tomatoes into onion mixture.
Item
Stir in sake, clam juice and salt. Bring mixture to a boil over high heat, stirring occasionally. Reduce heat to medium-low and simmer, uncovered, for 15 minutes.
Cut partially frozen or fresh fish into large chunks, about 1x3 inches (2.5x8 cm). Stir into tomato mixture. Simmer, uncovered, for 3 minutes.
Add shrimp. Stir occasionally until fish is cooked through and shrimp are hot, from 3 to 5 more minutes.
Meanwhile, thinly slice green onions. Cut lime in half and squeeze juice into stew. Stir in green onions and basil.
Taste and add ½ teaspoon (2 mL) more chili flakes if you like it fiery.
Serve immediately over rice or Asian noodles.
Ted's Note* - Try adding some snap peas at the same time you add the green onions and basil.
Contributed by Kieth Watson (kwdwat)