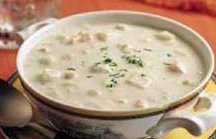 Patriot's Clam Chowder
Bob Lively tells us:
As many get ready to watch this Sunday's Super Bowl, either for the contest, good looking men in tight pants, or for the commercials, I contribute two items. First, a link for many of the ads ( I think VW will win the competition for this year's best ad), and below is a recipe I pefected a few years ago for what I believe is the best ever New England Clam Chowder when the New England Patriots were in the Super Bowl and I hosted a party which included loyal fans from Boston:
Ingredients:
(Serves 12 - 16)
½ lb bacon medium diced
2 cups chopped leeks
1 cup chopped celery
2 cups chopped yellow onion
3 bay leaves
2 tablespoons chopped fresh thyme
2 tablespoons chopped fresh tarragon
1 tablespoon sea salt
1 teaspoon white pepper
½ cup flour
2½ pounds red potatoes diced
8 cups clam juice (see below*)
4 cups heavy cream
1 (51 oz) can Snow's chopped clams (*This will yield 18 oz clams and 4 of the needed 8 cups clam juice)
4 tablespoons broadleaf parsley chopped
Optional: dash of white sherry for each bowl of soup
Directions:
(Preparation: 20 Minutes. Cooking: 40 minutes)
In a heavy stockpot, over medium-high heat, render the bacon, until crispy, about 8 minutes. Set aside, reserving drippings.
Saute onions, leeks, onions and celery in bacon drippings until just beginning to wilt. Season with sea salt and pepper.
Add the bay leaves, thyme and tarragon and sautÈ till they release their odor.
Stir in the flour and cook 2-3 minutes until completely absorbed and distributed but not browned.
Add the potatoes, clam juice and 1/3 of the bacon. Bring to boil and reduce to simmer until the potatoes are fork tender, about 12 minutes.
Add the cream and bring back to simmer. Add the clams and simmer for just 2 minutes.
Stir in the parsley.
Season to taste with salt and pepper if needed. Ladle into bowls and serve with crumbled bacon on top (and an optional 1 tsp of white sherry if you like)
Now sit back and enjoy the game!
Contributed by Bob Lively