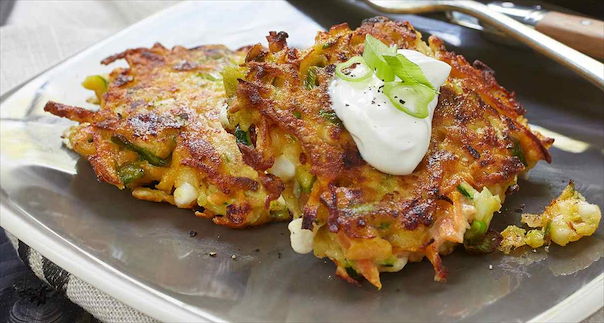 Rainbow Veggie Pancakes with Cottage Cheese
On December 6, 2020, Steve B (Daytimer) wrote
Hanukah is just a few days away and potato latkes are a traditional dish. But here is a gay take on the familiar treat.
Ingredients:
(Makes 16 pancakes)
1 small sweet potato, shredded
1 small Yukon Gold potato, shredded
1 small zucchini, shredded
1 large carrot, shredded
2 green onions, chopped
1 cup Cottage Cheese
¾ cup all-purpose flour
2 eggs
½ teaspoon salt
½ teaspoon pepper
2 tablespoons margarine or butter, or cooking oil as needed
Toppings:
¼ cup Sour Cream
1 cup Shredded Cheddar cheese
Directions:
(Preparation: 15 Minutes. Cooking: 20 minutes)
Preheat oven to 200°f/100°c for keeping pancakes warm later
Shred all the vegetables with a box grater. Add to a large bowl together with chopped green onions.
In another bowl, combine cottage cheese with flour, eggs, salt and pepper and stir together until well-blended.
Pour liquid mixture over vegetables and stir all together for an even consistency.
Heat a large, non-stick skillet over medium heat and add a little margarine, butter, or cooking oil
Scoop ¼ cup (50 mL) portions of vegetable mixture into skillet; flatten using back of measuring spoon.
Cook for 5 minutes per side or until browned and cooked through.
Transfer pancakes to a baking sheet in oven to hold warm.
Repeat with remaining vegetable mixture, adding additional margarine/butter/oil to the skillet as needed.
Serve pancakes with sour cream and cheese (if using).
Freeze extra patties on a parchment paper-lined baking sheet to warm gently in a skillet or the oven for a quick lunch or side dish. (In my experience, they don't last long enough to freeze. I just put the few left-overs in the fridge and have them cold as a delicious late night snack! Ted)
Contributed by Steve B (Daytimer)