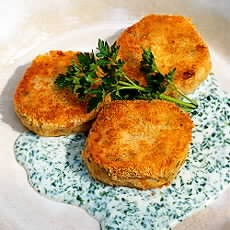 Mickey's Salmon Fish Cakes
Mickey is a young drinking/fishing buddy of mine. He would take me out fishing, crabbing, or prawning in exchange for a blowjob on his boat, which I didn't mind doing at all. Mickey claimed to be straight, but he sure liked me sucking on his nice fat cock. I would sometimes use fresh salmon or home-canned salmon in this recipe he gave me, but I find that store-bought canned salmon is just as good as home-canned, and actually better, and more flavorsome, than fresh salmon fillets.
Ingredients:
(Serves 3-4; about 12 cakes)
2-3 Large potatoes
½ onion, finely chopped
8 finely crushed stoned wheat thins crackers
1 tablespoon mayonnaise or Miracle Whip
1 egg
2 sprigs fresh parsley, finely chopped and/or
2-3 green onions, including tops, finely chopped
pepper and salt
garlic powder to taste
1 7½ oz. can salmon (or tuna)
vegetable oil for frying.
Directions:
(Preparation: 30 Minutes. Cooking: Potatoes: 30 minutes; Fishcakes 30 minutes)
Boil the potatoes till just cooked, mash with pepper and salt to taste. Set aside to cool a little, because you will be handling it to make the fishcakes.
Drain and mash the salmon. Add it to the potatoes. You can include a little of the salmon liquid, but all of it is too much.
Add all the other ingredients, including the egg which you have beaten well. Mix all ingredients together thoroughly.
With wet hands, form the mixture into cakes about 4 inches diameter and ¾ inch thick. Fry them in a little of the hot oil as you go - about 6 at a time.
Turn when golden brown and fry on the other side.
Remove from frying pan and set on a paper-towel-covered platter while you cook the remainder of the mixture.
Serve these with green and colored vegetables of your choice (You already have potatoes in the cakes), or a salad.
They are good hot or cold, and great for lunch-boxes.
Contributed by Ted