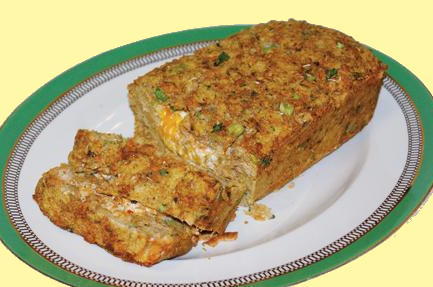 Salmon Loaf
This is one of those recipes I stumbled upon when was too lazy to go to the store so had to be inventive with what ingredients I had on hand. I started with a can of salmon and went from there. As is, the recipe will make one meal for two, but I suggest you double it and have some left over for yummy cold snacks or lunch tomorrow.
Ingredients:
(Serves 2)
1 213g (7.5 US oz) can Sockeye (red) salmon, finely flaked.
1½ cups crushed soup crackers
1 egg, beaten
¼ cup chopped green pepper
¼ cup chopped onion
¼ cup chopped parsley
¼ cup milk
½ teaspoon Worcestershire sauce
½ teaspoon lemon juice
3 or 4 drops hot sauce (Tabasco or other)
1 tablespoon melted butter or margarine
Salt and Pepper to taste
Directions:
(Preparation: 15 Minutes. Cooking: 45 minutes)
Preheat oven to 350 deg F (180 C).
In a large bowl combine all ingredients, mixing well till all is moistened.
Press mixture into a well-greased 8" x 4" loaf pan.
Bake at 350 deg F for 45 minutes.
Let stand for 10-15 minutes before turning out of loaf pan and slicing.
Serve with vegetables of choice.
I wouldn't bother to drain the salmon. The juice adds to the flavour.
These would probably be good if the mixture were spooned into muffin pans also. They would then come out as individual salmon cupcakes.
Contributed by Ted