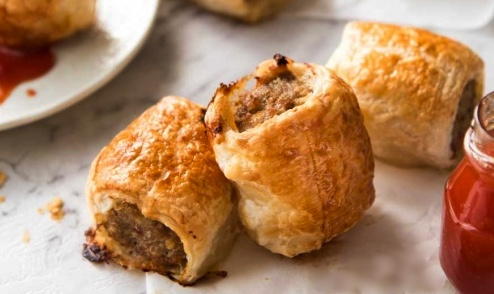 Sausage Rolls
A favorite finger-food in Australia (and Canada and the U.K.) is Sausage Rolls. Most of those bought frozen or from the Supermarket Deli are rather bland and short on meat, however. This is a good recipe which makes 20-24 well-stuffed sausage rolls about 2" long.
Ingredients:
(Serves 3-4 as a meal, 6-8 as appies.)

Filling:
Teaspoon oil or butter
2 Cloves of Garlic, minced
1 small Onion, finely chopped
½ stick Celery, finely chopped
1 rasher fatty Bacon, finely chopped
½ tsp. of ground Fennel
½ tsp. of sage
&frac12 tsp seasoning salt
1 lb (400 g) ground pork (or stuffing squeezed from 12 pork sausages)
½ cup breadcrumbs
½ beaten egg
Sprinkle of Salt to taste
Pepper to taste
Wrap:
1 block frozen Puff Pastry (200 g) cut into 5 slices (not cubes), rolled out into 5 sheets of approximately 8"x5"
OR
2 sheets frozen Puff Pastry rolled out a bit to 10"x15" cut in thirds to make 3 10"x5" pieces from each (6 pieces in all).
½ beaten egg.
Directions:
(Preparation: 20 Minutes. Cooking: 30 minutes)
In small no-stick fry-pan heat oil and add onion, celery, and garlic. Saute for 3 or 4 minutes.
Add bacon and saute a few minutes longer, stirring items together well. Do not brown.
Spoon bacon and vegetable mixture into small bowl. Allow to cool a bit.
Add ground pork, fennel, sage, breadcrumbs, seasoning salt, salt, pepper, and ½ egg.
Mix items together well, using hands. If necessary add more breadcrumbs so meat mixture is not too wet.
Lay out pastry sheets. Brush egg along one long edge.
Shape ⅙ of meat into long log shape on middle of one sheet of pastry. Roll up, sealing with edge brushed with egg.
Repeat step #7 for each ⅙ of meat and sheet of pastry.
If you have time, refrigerate rolls for 1 hour. It makes them easier to cut into smaller sections.
Cut each roll into 3 or 4 smaller rolls of about 2". *(See note below)
Place small rolls on baking sheet lined with parchment paper. Brush tops with remaining egg.
Bake in pre-heated 350° oven for 25-35 minutes until pastry is golden brown.
Allow to cool. Enjoy — maybe with ketchup! (One of the very few dishes I like with ketchup.)
* Note: After step #10 the uncooked rolls can be frozen for later. Layer uncooked sausage rolls with waxed paper or parchment paper in airtight container. Freeze. At later date, proceed with step #11 and cook from frozen in pre-heated 350° oven for 40 minutes

Very yummy! I made 12 of these yesterday afternoon, thinking to have 4 or 5 for supper and the rest for snacks last night and today. There are none left today! Bummer!
Contributed by Ted