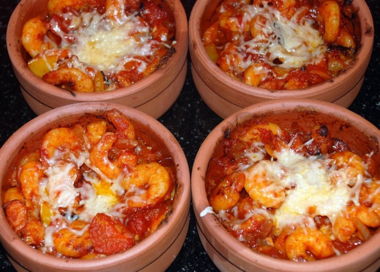 Turkish Shrimp Stew (Karides Guvec)
Gary says:
Another terrific and easy recipe is Karides Guvec, which is a Turkish Shrimp Casserole. You can adapt it by using different seafood or fish.
Ingredients:
(Serves 6)
1 or 2 lb raw, peeled shrimp (use 2 lb if you are having company)
1 onion, finely chopped
4-5 cloves of garlic, finely chopped
3 tbsp olive oil
2 green peppers, chopped
2 red peppers, chopped
sliced white mushrooms (use as much as you want)
3-4 tomatoes, diced (if you will use canned diced tomato, put it in a blender)
4 bay leaves
½ bunch parsley, finely chopped
1 - 2 cups of grated mozzarella cheese
salt and pepper
Optional: crushed red pepper flakes
Directions:
(Preparation: 10 Minutes. Cooking: 35 minutes)
Heat oil in a broad pot. Cook onion and garlic until soft.
Add peppers. Stir for 2 minutes.
Add mushrooms. Cook until almost soft.
Stir in tomato. If the tomatoes you are using are not very juicy, add some water to barely cover the vegetables and mushrooms.
Cover and cook for 5-8 minutes until tomato is cooked.
Stir in shrimps. Cover and cook for 5-6 minutes. Not more!
Add parsley.
Divide it into individual oven safe soup bowls or souffle dishes, or put the whole stew in a big one.
Bake at 350F for 15-20 minutes.
After 20 minutes cover each with grated mozzarella and bake until golden brown.
Serve with white rice.
Contributed by Gary Hochberg