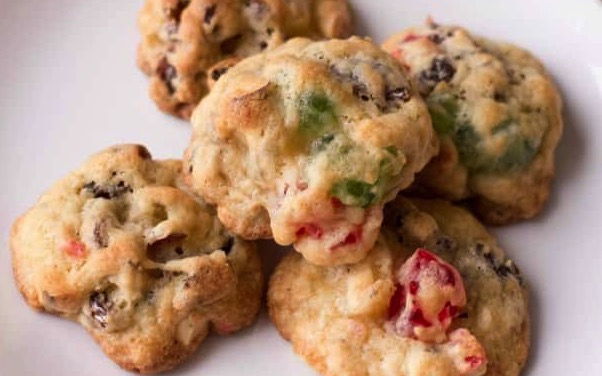 Christmas Cake Cookies
Bruce says: This is my favourite cookie recipe at Christmas time. I hope you will try them and enjoy them as much as I do.
Ingredients:
(Yields about 60 cookies)
1½ cups all-purpose flour
¾ cup brown sugar
½ teaspoon each baking powder and salt
½ teaspoon allspice or ¼ teaspoon ground cloves
½ teaspoon ground ginger
1 teaspoon cinnamon
½ cup melted butter (cooled)
2 eggs slightly beaten
¼ cup brandy, rum, or peach juice.
2 cups pecans (toasted - method below) coarsely chopped
2 cups raisins
2 cups mixed candied fruit
Directions:
(Preparation: 15 Minutes. Cooking: 15-20 minutes)
Preheat oven to 375° F
Lightly grease baking sheet or line with parchment paper
Mix together flour, sugar, baking powder, salt, allspice, ginger, and cinnamon.
Stir in butter eggs and brandy. Mix thoroughly.
Stir in nuts, raisins, and candied fruit. Mix well.
Drop by spoonful about 2" apart onto cookie sheet.
Bake until golden brown, about 15 minutes. Cool on rack
Store in airtight container for up to one week, or freeze.
If you use a small cookie scoop increase cooking time to about 18 minutes. (Yields 44 cookies)
Toasting pecans
Put pecans in a small frying pan and heat them over medium heat until they just start to become aromatic.
Ted added: I halved the pecans and added a cup of chopped walnuts. I also added a tablespoon of cocoa to give mine a chocolate-y color.
Contributed by Bruce/mapucats