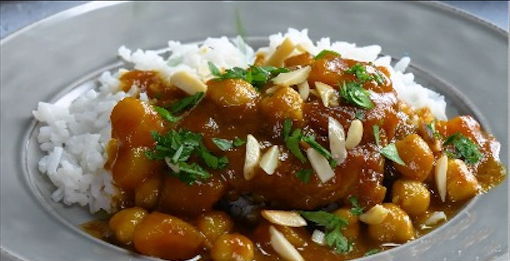 Moroccan Apricot Chicken
Bloste (daytimer1947) says: I found this recipe online. It is fabulous and not that difficult to make. If you don't have a slow cooker, use an oven safe casserole dish or a Dutch oven and a low heat for 4 to 5 hours. Toast the almonds beforehand by putting them in a dry fry pan in a single layer on a low medium heat for up to 5 minutes, stir occasionally.
Ted's note: I have substituted some seasonings and amounts from Daytimer's version on the Forum.
Ingredients:
(Serves 6)
1 teaspoon olive oil
½ cup slivered almonds
6 bone-in chicken thighs (about 2¼ pounds)
¾ cup chili sauce
½ cup apricot preserves
½ cup dried apricots, quartered
¼ teaspoon coriander
¼ teaspoon ground ginger
¼ teaspoon paprika
¼ teaspoon cayenne pepper (adjust to taste)
½ teaspoon salt
¼ teaspoon black pepper
1 tablespoon vanilla extract
1 teaspoon garlic powder
1 can (15 ounces) garbanzo bean/chickpeas, or bean of your preference, such as pinto beans, rinsed and drained
¼ cup orange juice
Chopped fresh parsley, optional
Directions:
(Preparation: 15 Minutes. Cooking: 4½ hours)
In a large skillet, heat oil over medium heat. Add almonds; cook and stir until lightly browned, 2-3 minutes. Remove with a slotted spoon; drain on paper towels.
In the same skillet, brown chicken on both sides. Remove from heat. Transfer chicken to a suitably-sized slow cooker.
Into skillet drippings stir chili sauce, preserves, apricots, all seasonings, vanilla and garlic powder. Pour over chicken in slow cooker.
Cook, covered, on low until a thermometer inserted in chicken reads 170°-175°, 4 to 4-1/2 hours.
Stir in garbanzo beans and orange juice. Cook, covered, on low until heated through, 15-30 minutes longer.
Serve with almonds. If desired, sprinkle with parsley.
Ted says: If you can buy packaged Moroccan Seasoning (Ras El Hanout), use that instead of the spices listed. If not, the spices I have suggested make a reasonable substitute. I halved this recipe for me and a friend. We enjoyed it with white rice as in the picture.
Contributed by Bloste (daytimer1947)