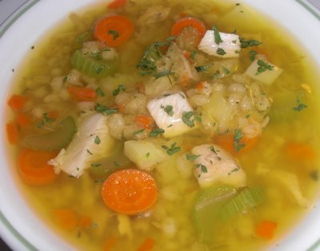 Barley Soup
*Ted's Note: David just calls this Barley Soup, but I should point out that it is Chicken Barley Soup.
Ingredients:
(Serves 6)
1 cup chopped onions
Ω cup chopped celery
2 garlic cloves, minced
2 teaspoons olive oil
2 14 oz cans chicken broth
1æ cups water
º teaspoon salt
º teaspoon black pepper
º teaspoon thyme
1 cup cooked chicken, chopped
Ω cup quick-cooking barley (or regular pearl barley)
Directions:
(Preparation: 15 Minutes. Cooking: X minutes)
In large soup pot, saute onions, carrots, celery and garlic in oil for about 5 minutes.
Add broth, water and seasonings. Reduce heat and cook 25 to 30 minutes.
Stir in chicken and barley, and cook 10 to 15 minutes, until barley is tender. (If you use regular pearl barley, extra cooking time will be 30 minutes or more.)
*Ted's note: I suggested substituting regular barley because none of the supermarkets in my town stock the fast cooking variety. Yours may be the same.
Contributed by David Wilson (salmog)