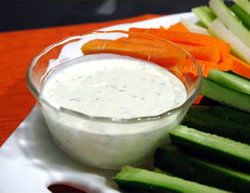 Bart's Dipping Sauce
Bart says:
This is my spin on tartar sauce. I found it really tasty.
Ingredients:
(Serves 12)
2 cups Helman's Mayo (Best Foods). You can use low fat mayo, but it won't taste as good.
½ cup horseradish sauce (or ½ teaspoon prepared horseradish)
3 tablespoons Dill Relish
1 teaspoon Garlic Powder
1 teaspoon dried basil
Directions:
(Preparation: 10 Minutes. Cooking: 0 minutes)
Combine all ingredients. Blend well.
Refrigerate, covered, overnight.
It's the simplest recipe, but I've used this to dip seafood as well as broiled pork blade steak, and it tasted great!
Contributed by Bart (macleod39)