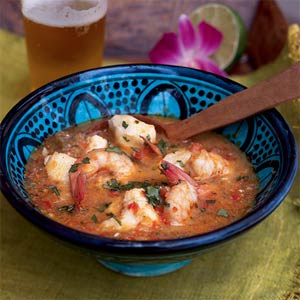 Brazilian Fish Stew (Moqueca de peixe)
Steve B tells us:
I made this for company on the weekend and had rave reviews. It is a Brazilian national dish. I am married to a Brazilian and even he raved!
Ingredients:
(Makes 6 healthy servings)
3 tablespoons lime juice
1 tablespoon ground cumin
1 tablespoon paprika
2 teaspoons minced garlic
1 teaspoon salt
1 teaspoon ground black pepper
1 1/2 pounds tilapia fillets, cut into chunks
2 tablespoons olive oil
2 onions, chopped
3 large bell peppers, sliced
1 (16 oz) can diced tomatoes, drained
1 (16 oz.) can coconut milk
1 bunch fresh cilantro chopped (optional)
Directions:
(Preparation: 30 Minutes. Cooking: 35 minutes)
Stir together the lime juice, cumin, paprika, garlic, salt and pepper in a bowl. Add the tilapia and toss to coat. Cover and refrigerate at least 20 minutes, up to 24 hours (the longer the better).
Heat the olive oil in a large pot over medium-high heat. Quickly fry the onions in the oil 1 to 2 minutes. Reduce heat to medium.
Add the bell peppers, tilapia and diced tomatoes to the pot in succeeding layers.
Pour the coconut milk over the mixture. Cover the pot and simmer 15 minutes, stirring occasionally.
Stir in the cilantro and contuinue cooking until the tilapia is completely cooked through, another 5 to 10 minutes.
I tried reheating the leftovers the next day, but the tilapia became tough, so it is best eaten the day it's prepared.

*Ted's note: You can used halibut if you can't find tilapia, and you can add 8-10 peeled, deveined shrimp, as in the illustration, to make it extra good.
Contributed by Steve B