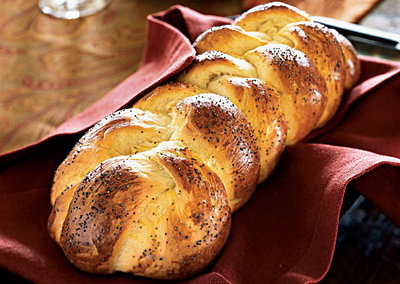 Best Challah Recipe Ever
Challah (also called Egg Bread or Egg Loaf) is the braided bread that Jewish eat on the Sabbath and on many holidays. I've been making Challah for many years and when I first got my bread machine, about 20 years ago now, I began to make it using a recipe from the booklet that came with the machine! Somehow, I lost that booklet. The other day, I googled "challah" and got a whole lot of recipes and found this one. I was amazed at how rich and flakey the result was. You can make it without a bread machine, but I think the ingredients have to be changed a little, and it takes a lot of energy to knead the dough.
Ingredients:
(Serves 6)
1 cup water
2 eggs (beat them up before you put them in the machine)
¼ cup oil
½ cup sugar
½ tsp salt
4 cups flour
1 packet yeast or 2.5 tsp loose yeast
For the glaze: 1 egg yolk and about 1 tbsp luke-warm water
Directions:
(Preparation: 2½ hours. Cooking: 30 minutes)
Put all ingredients in your bread machine pan. In my machine you have to put the water in first and yeast in last.
Set the machine to the "dough" cycle and press start. Let it go! (2 hours in my machine)
When it's done, shape the dough into a long strand (it's a bit like jerking a fantastically long and thick cock) This will make one very large Challah or you can cut the strand in two for two smaller loafs.
Cut the strand into four equal parts and using your hands lengthen them (again, like jerking a beautiful cock. This is an erotic experience.
Braid the equal lengths by pinching the end together and then setting one piece over the others as you would with any braid.
Join at the bottom (you may need to wet your hands to get it to stick)
Pre-heat oven to 350 degrees.
Mix the egg yoke and water together and brush on the loaf using a pastry brush.
Bake for 25 to 30 minutes until golden brown and makes a hollow sound when tapped.
Let cool.
Slice, slather on the butter and enjoy!
Item
*Ted's Note: I think Steve calls this the Best Challah Recipe Ever because he gets off on the erotic yanking on the dough!
Contributed by Steve (daytimer1947)