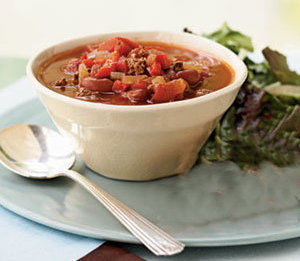 Ted's Chunky Chili
This is adapted from a recipe that claimed to be Tim Horton's Chili. This is NOT Tim Horton's Chili! It's better!
Ingredients:
(Serves 6)
1 lb ground beef
1 tablespoon cooking oil
1 medium onion diced into chunks
2 celery sticks diced
1 medium green pepper diced into 1 inch sq. pieces
1 14 oz can dark kidney beans, drained
1 10 oz can tomato soup. Don't dilute it!
1 10 oz can stewed tomatoes. Don't drain them!
1 10 oz can mushroom bits and pieces, drained.
1 tablespoon chili powder
1/2 teaspoon oregano
1/2 teaspoon salt
1/4 teaspoon pepper
2 garlic cloves, chopped, or 1 teaspoon garlic powder
A couple of drops of vinegar - just enough to give some bite back to the mixture.
Directions:
(Preparation: 20 Minutes. Cooking: 90 - 120 minutes)
Brown the beef in the oil in a large frying pan until it is crumbly. Transfer to a large pot.
In the same frying pan, saute the onion, celery, and green pepper. Add a little of the garlic.
Add half the chili powder to the vegetables. Stir in.
Add the canned tomatoes and break them into smaller pieces. Stir fry a little longer.
Add the vegetables to the beef in the large pot.
Add drained kidney beans, mushrooms, undiluted tomato soup to the pot.
Add rest of chili powder, oregano, salt, pepper, sugar, vinegar, and rest of garlic to the pot.
Cover and simmer for a couple of hours, stirring occasionally.
Serve with a side salad and fresh garlic bread.
This makes about 6 large soup bowls of chili. It is a fairly mild chili. To spice it up, you can double up on the chili powder or add a few drops of Tabasco sauce, some diced jalapeno pepper, some dried crushed peppers, or a good lacing of cayenne pepper. If you are really adventurous, add some of each!
Like all chili, it is even tastier the next day. It also freezes really well, so double the recipe and freeze a batch for those nights you need an instant meal.
Contributed by Ted