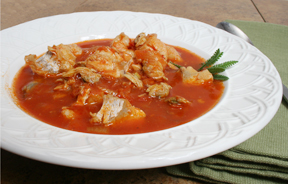 My Favorite Cioppino
Jeff in California says:
Here's my favorite [fish stew], from one of San Francisco's finest...
Ingredients:
(Makes 8 servings)
2 large onions, chopped (2 cups)
2 medium stalks celery, finely chopped (about 1 cup)
5 cloves garlic, finely chopped (about 2 1/2 teaspoons)
1 can (28 oz) diced tomatoes, undrained
1 bottle (8 oz) clam juice
1 can (6 oz) tomato paste
1/2 cup dry white wine or water
1 tablespoon ProgressoÆ red wine vinegar
1 tablespoon olive or vegetable oil
2½ teaspoons Italian seasoning
¼ teaspoon sugar
¼ teaspoon crushed red pepper flakes
1 dried bay leaf
1 lb firm-textured white fish, cut into 1-inch pieces
¾ lb uncooked medium shrimp, peeled, deveined
1 can (6½ oz) chopped clams with juice, undrained
1 can (6 oz) crabmeat, drained
¼ cup chopped fresh parsley
Directions:
(Preparation: 20 Minutes. Cooking: 4 hours)
In 5- to 6-quart slow cooker, mix all ingredients except fish, shrimp, clams, crabmeat and parsley.
Cover; cook on High heat setting 3 to 4 hours.
Stir in fish, shrimp, clams and crabmeat.
Reduce heat setting to Low. Cover; cook 30 to 45 minutes longer or until fish flakes easily with fork.
Remove bay leaf. Stir in parsley.
Serve with bread (preferably sourdough).
Contributed by Jeff in California (J. Keushcher)