.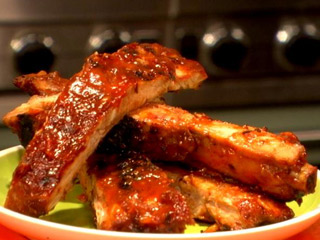 Crockpot BBQ Ribs

A nice, easy recipe which would go well with plain rice and a simple green salad and fresh bread.
Ingredients:
(Serves 2)
1 rack of ribs (Beef, pork, baby-back)
3/4 cup Barbeque sauce
pepper and salt to taste
1/4 cup water
Directions:
(Preparation: 20 Minutes. Cooking: 4 - 6 hours)
Take a rack of ribs (Beef, Pork, Baby-back) and cut into serving sizes.
Salt and pepper each side and put under the broiler in your oven for about 10 minutes, long enough to slightly brown them and get some of the fat off.
Put them in the crockpot and coat them with your favorite Barbeque Sauce (I use Sweet Baby Ray, but any will do!) .
Pour in about a 1/4 cup of water, cover, and then set to low for 4 or 6 hours, and voila, tender ribs that fall off the bone.
Ted's comment: Ken suggests broiling the ribs, but this makes a lot of mess and smoke. I would recommend bringing them to just a boil in a pot of salted water, then browning them in a heavy skillet before addding to the crockpot. I also add a chopped onion to the crockpot and spoon the juices over the rice and ribs when serving.
Contributed by Ken in Boston