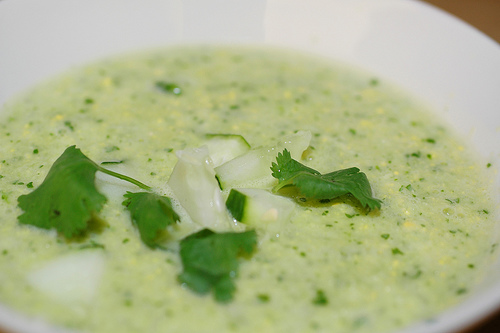 Cool as a Cucumber Soup
Steve says:
Thanks again to all who replied to my request for a spicy fish dish. We had our company on Sunday evening and I served the Oriental-style Fish Stew. It was a big hit and even if I do say so myself, it was delicious. The first course was a cold cucumber soup, and I have sent the recipe in a separate email.
Ingredients:
(Serves 4)
1 English Cucumber peeled and diced (1/4 cup reserved for garnish)
1 avocado, pitted, peeled and diced (1/4 cup reserved for garnish)
½ teaspoon grated lemon zest
1 tablespoon fresh lemon juice
1/4 cup coarsely chopped cilandro, plus sprigs for garnish
1 scallion, white and pale-green parts only, coarsely chopped (about 2 tablespoons)
1 jalpeno, seeded and coursely chopped
1 cup nonfat plain yogurt (I used low fat sour cream)
1 cup cold water
½ teaspoon coarse salt
¼ teaspoon freshly ground pepper
Directions:
(Preparation: 35 Minutes. Cooking: 0 minutes)
Puree ingredients, except reserved garnishes, in a blender.
Divide soup and reserved cucumber and avocado among 4 bowls.
Cover with plastic wrap. Refrigerate 30 minutes.
Garnish with cilantro sprigs.
One of my guests was lactose intolerant so I served him a cold mango-strawberry soup, which I have sent under a seperate mailing.
Contributed by Steve B (daytimer1947)