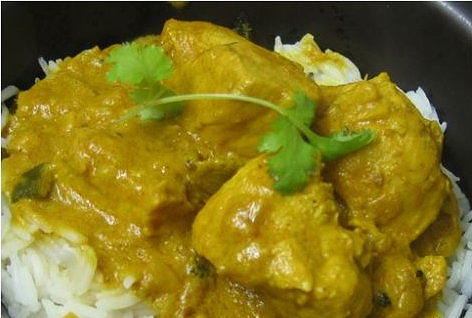 Quick Curried Chicken
Still a lot of meat on that roast/BBQ chicken you cooked last night? Here's a tasty quick, light meal to put it to good use.
Ingredients:
(Serves 2)
1 medium onion sliced thin
1½ - 2 cups cooked chicken cut into bite-sized pieces
1 tablespoon cooking oil
1 teaspoon curry powder
1/8 cup raisins
1/8 cup raw apple in small chunks (optional)
1 heaped teaspoon Branston Pickle (or any tangy chutney)
Pepper and salt and garlic powder to taste
1 tablespoon flour
½ cup water
Directions:
(Preparation: 10 Minutes. Cooking: 20 minutes)
In a heavy pot, heat the cooking oil, and add the onions, separated into rings. Saute until soft.
Add the chicken pieces and toss till coated with oil.
Sprinkle all with 1 teaspoon curry, stir till everything is coated.
Add pepper, salt, and garlic powder as needed.
Add raisins, apple, and Branston pickle. Stir in.
Sprinkle the flour over all, and stir till everything is coated.
Add water, stir till blended, cover and simmer, about 15 minutes. Overcooking will cause the chicken to break down into fibres.
Serve over rice or toast.
For extra flavor delights garnish the curry with sliced banana, peanuts, sliced radish, or parsley -- or all of them!
Contributed by Ted