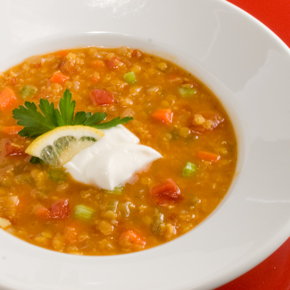 Curried Red Lentil and Tomato Soup

Steve B wrote:
I love the recipes - thanks Ted.
I saw this in the Toronto Star a few days ago, but needed to try it before I sent it on to anyone else. It's great.
Ingredients:
Makes 4 to 6 servings (about 6 cups or 1½ l.)
1 tbsp (15 ml) canola oil
1 yellow onion, chopped
2 large cloves garlic, minced
1 tsp (5ml) curry powder
4 cups (1 L.) vegetable stock (I used beef)
1 14-oz (398 ml) can diced tomatoes
1 cup (250 ml) water
1¾ (330 ml) dried red lentils, rinsed
Item
1 stalk celery, finely diced
1 large carrot, peeled, finely diced
Directions:
(Preparation: 15 Minutes. Cooking: 60 minutes)
Heat oil in large saucepan over medium heat.
Add onions and garlic. Cook, stirring, 6 minutes to soften.
Add curry. Cook, stirring constantly, 20 seconds.
Add stock, tomatoes with juices, water, lentils, celery and carrot.
Raise heat to high, bring to boil, stirring, skim foam.
Reduce heat to low. Simmer, uncovered and stirring occasionally, 40 minutes.
Ted's note:
Although soup recipes often say to skin foam, I usually just stir it in for extra flavor.
Contributed by Steve B (daytimer1947)