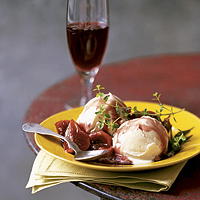 Figs in Port Wine
Steve wrote:
This might be the wrong season for this desert, but it is so delicious that I serve it whenever I want something different and sweet. I'm sorry that the recipe is so imprecise, but that's just how it is. Really, ingredients depend on your own taste. Try not to over-cook so that the figs remain intact. Check every hour or so.
Ted's Note*: I have taken the liberty of adjusting Steve's recipe, as it really was very imprecise.
Ingredients:
(Serves 4)
8 dried figs, split lengthwise
½ cup water
1/3 cup sugar
2 thin slices unpeeled orange (or lemon), quartered
2 cloves
1 drop vanilla extract (artificial will do)
A sprinkle ground cinnamon
A sprinkle ground ginger
A sprinkle of nutmeg
1 cup port wine (or any sweet wine.
Directions:
(Preparation: 10 Minutes. Cooking: 30 minutes on stove or 3+ hours in crockpot )
In a saucepan:
In a small saucepan over medium-high heat, combine all ingredients and cook until the liquid begins to boil.
Reduce heat to medium low and cook until the figs soften and the liquid thickens to a syrup - about 25 minutes.
Using a slotted spoon, remove the figs, and place them in a medium bowl.
Pour the remaining liquid through a strainer over the figs and keep warm.

OR:
In a crockpot:
In a small crockpot, let figs soak in water until they are softened. Add all remaining ingredients, pouring the wine over all last.
Set crock pot on low and cook until the figs are moist - about 3 hours.
Follow step 3 & 4 above.
For a dessert, serve the figs warm over vanilla icecream or yoghurt. They can also be used as a sauce for meats such as roast beef or pork.
Contributed by Steve B (daytimer1947)