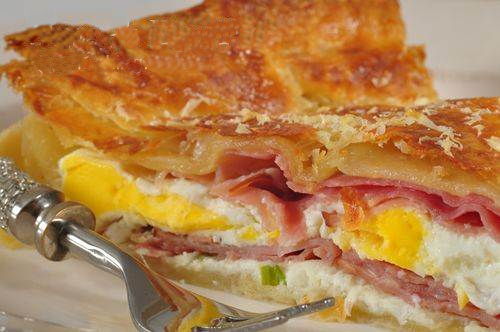 Ham and Egg Pie
I came across this recipe maybe 30 years ago in a pamphlet from the Canadian Egg Marketing Agency, and have been making it ever since. It is relatively easy to make, and is great hot or cold.
Ingredients:
(Serves 2 or 3)
1 package frozen puff pastry, thawed. (If you are frugal and roll out the pastry well, you might get by with half a package for a 9" pie dish.)
1x175gm package sliced cooked ham
5 or 6 eggs
3 green onions including green tops, finely chopped
½ teaspoon salt
¼ teaspoon pepper
Directions:
(Preparation: 20 Minutes. Cooking: 30 minutes)
Roll out half the puff pastry and line a 9" pie.
Cut the ham into thin strips, and use half to layer in the bottom of the pie crust.
Break the eggs over the ham.
Break the yolks of the eggs with a fork and spread around just a little.
Sprinkle onions, salt and pepper over eggs.
Top with remaining ham strips.
Roll out the remaining pastry to form a top for the pie. Crimp edges and cut off excess pastry.
Brush top of pie with a little milk.
Bake in a 400° oven for 30 minutes. Serve hot or cold.
This is great for packed lunches, but as a meal in itself, it goes well accompanied by the Sweet & Sour Tomato-Cucumber Salad also in our recipe book.
Contributed by Ted