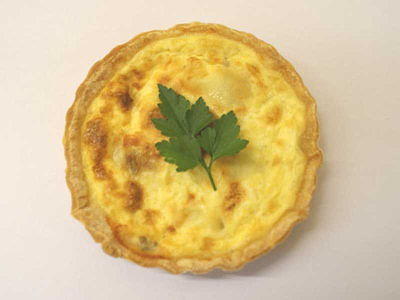 Individual Christmas Quiche
I know it is not December, but that is what I call this dish, because Christmas is when I serve it. 40 years ago an elderly couple started inviting me to their home for Christmas dinner with their family and friends. In turn, I began inviting them all to Christmas breakfast in my small trailer where I served them individual quiches. It turned out to be easier for me to prepare the quiche ingredients the day before, and assemble them at my friend's roomier home Christmas morning and we would all eat and exchange gifts there. The older couple have passed on, as have most of the friends, but their daughter and her husband and son and I continue the tradition to this day. But the quiche are great any time of the year!
Ingredients:
(Serves 6)
1 397 g. package frozen Tenderflake Puff Pastry
2 tbsp butter or margarine
1 large onion sliced
Item
6 lean rashers of bacon
6 eggs
1 cup light cream
¾ tsp salt
1 pinch nutmeg
1 pinch cayenne pepper
1/8 tsp pepper
1½ cups grated Swiss cheese.
Directions:
(Preparation: 60 Minutes. Cooking: 60 minutes)
Thaw the pastry according to package directions.
Saute the sliced onions in butter or margarine until soft but not brown. Set aside.
Fry bacon until crisp. Drain on paper towels till cool, then crumble into small pieces. Set aside.
In a bowl, combine eggs, cream, salt, pepper, nutmeg, and cayenne, and beat with rotary beater until well mixed. Set aside.
Roll the pastry fairly thin (1/8th inch or less). Lightly flour the insides of eight 6" foil pie plates. Use one of the plates as a template to cut pastry into circles about 1" larger than pie plate. Line the pie plates with the pastry, crimping the pastry to the edge and trimming off excess pastry.
Sprinkle the bottom of each pie with the crumbled bacon.
Spread the sauteed onion over the bacon.
Cover with grated Swiss cheese.
Ladle the egg mixture on top carefully.
Bake pies in a pre-heated 425 deg. oven for 15 minutes. Reduce heat to 300 deg. and bake for another 40 minutes.
The cooked pies should slip out of the pie plates easily onto serving dishes.
Serve hot.
I normally prepare all this the morning before, assemble the pie shells with the bacon, onions and cheese, and put them in the freezer; and pour the egg mix into a sealable container and refrigerate it. On Christmas morning at my friends' it is easy to finish assembly and cook.

I normally serve this with side dishes of Sweet and Sour Tomato and Cucumber Salad, which I have included in the salads section.
Contributed by Ted