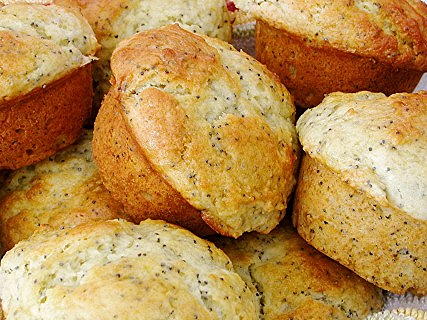 Lemon - Poppy Seed Muffins
Steve writes:
I found this recipe in The Toronto Star a few days ago and finally made them this morning. Just finished one with my coffee. When I go to Starbucks and want a treat with my coffee, I usually have the Lemon Poppy seed muffins. These taste remarkably like them.
Ingredients:
(Serves 12)
2 cups all-purpose flour
1 tsp each: baking soda, baking powder
½ tsp salt
¼ cup poppy seeds
¾ cup unsalted butter at room temperature
1 cup granulated sugar
2 large eggs
1 cup buttermilk
¼ cup plain yogurt
1/2 cup fresh lemon (from 2 to 4 lemons) plus finely grated zest from those lemons

Optional Glaze:
juice of 1 lemon
1/3 cup icing sugar
Directions:
(Preparation: 15 Minutes. Cooking: 20 minutes)
Line muffin tines with liners or butter non-stick muffin tins
In medium mixing bowl, sift or whisk together flour, baking soda, baking powder and salt. Stir in poppy seeds.
In large bowl, using electric mixer on medium (I just used a whisk), cream butter and sugar (I melted the sugar in the microwave first).
Beat in eggs one at a time, scraping down sides of bowl, until pale yellow.
In measuring cup, whisk buttermilk, yogurt, lemon juice and zest.
Add half flour mixture, then half buttermilk mixture to butter mixture.
Stir with wooden spoon until just incorporated. Repeat with remaining flour and buttermilk mixtures. Don't overmix.
Scoop 1/3 cup batter into prepared muffin tins.
Bake in preheated 375 degree over until toothpick inserted in centre comes out clean, about 15 to 20 minutes. Let stand 10 minutes, then transfer to wire rack.
For glaze: whisk together lemon juice and icing sugar. With skewer, poke several holes in top of each warm muffin. Generously drizzle glaze over muffins.
Let cool completely.
This recipe makes 18 muffins, but I halved it and got 6 big ones!
Contributed by Steve B. (daytimer1947)