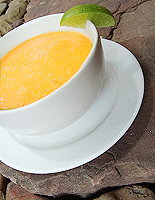 Spicy Mango-Ginger Soup
Steve B says:
We had our company on Sunday evening and ... the first course was a cold cucumber soup. One of my guests is lactose intolerant, so I served him [this] cold mango-ginger soup. It was very hot yesterday and both were well-received.
Ingredients:
(Serves 2)
1 large mango, peeled and destoned
½ onion, chopped
½ cup cold water
1-2 small chilli peppers, minced (or to taste)
juice from 1 lime
½ tsp grated or minced ginger
Directions:
(Preparation: 10 Minutes. Chilling: 30 minutes)
Process all ingredients together in a blender until smooth and creamy, adding a bit more or less water as needed.
Chill before serving.
I added strawberries because I had some that were getting a bit watery.
Contributed by Steve B (daytimer1947)